Basketball is known as a sport where the tallest players have the advantage. While the average man stands about 5'9", the average height of an NBA player is 6'6". It is a game of height and skill, and the NBA is full of above-average players.
So you're not quite 6'6", but you're talented? Don't give up your dream.
Check out this list of the shortest basketball players to ever play in the NBA:
1. Muggsy Bogues - 5'3"
Teams: Washington Bullets, Charlotte Hornets,Golden State Warriors, Toronto Raptors
Years in the NBA: 1987 - 2001
Career Averages: 7.7 points & 7.6 assists
Tyrone "Muggsy" Bogues grew up playing pick-up games in Baltimore. He earned his nickname in high school from fellow Dunbar High star Dwayne Woods. Woods claimed Bogues' physical style of play and defense reminded him of a mugging.
Bogues excelled at Wake Forest, ranking in the top 10 nationally in assists and averaging almost 12 points per game. Known as one of the best point guards, he was part of the 1986 U.S. National team that won the world championship in Spain. After his senior year, his number was retired by Wake Forest.
Despite being the shortest NBA player of all time, Bogues made a huge impact when he was on the court. Although he was selected 12th overall by Washington, he spent the majority of his career with Charlotte. He led them to three playoff appearances before dealing with a chronic knee injury and eventually leaving the NBA.
Since retirement, Bogues has been inducted into the North Carolina Sports Hall of Fame, and has taken on different ventures including coaching, real estate, his autobiography In the Land of Giants, and founding the Muggsy Bogues Family Foundation.
2.Earl Boykins - 5'5"
Teams: New Jersey Nets, Cleveland Cavaliers, Orlando Magic, Los Angeles Clippers, Golden State Warriors, Denver Nuggets, Milwaukee Bucks, Charlotte Bobcats, Washington Wizards, Houston Rockets
Years in the NBA: 1999 - 2012
Career Averages: 8.9 points & 3.2 assists 
As a boy growing up in Cleveland, Earl's father would sneak him into gyms in his gym bag to avoid an entry fee. He grew up playing in rec leagues with his father and other grown men, and learned how to dribble with a tennis ball because his hands were so small. As a senior, Boykins averaged 24.6 points per game, and was offered a scholarship to Eastern Michigan University.
At Eastern Michigan, Boykins still holds the record for assists (624), and eventually had his number retired. He was never drafted into the NBA, but signed short-term contracts with multiple teams before signing a multi-year deal with the Denver Nuggets.
After leaving the NBA, Boykins held many different coaching or administrative positions. He coached at Douglas County High School, he was the director of student-athlete development at the University of Arkansas, and he was an assistant coach with the Orlando Magic. He is now in his second season as the Head Coach for the UTEP Miners.  
3. Spud Webb - 5'6"
Teams: Atlanta Hawks, Sacramento Kings, Minnesota Timberwolves, Orlando Magic
Years in the NBA: 1985-1998
Career Averages: 9.9 points & 5.3 assists
Born into poverty in Dallas, Texas, Webb used basketball as his inspiration. Told at an early age that his height would limit him, he learned to use his speed and incredible jumping ability to compete with taller players. At the height of 5'3" on the junior varsity team he was able to dunk. On the varsity team as a senior he averaged 26 points per game.
He played for Midland College, leading them to a junior college national title over unbeaten Miami-Dade. He was the highest scorer from both teams with 36 points, and the next year was named an NJCAA All-American. When Bill Blakely was fired from Midland, he was introduced to Jim Valvano, who offered him a scholarship to play at NC State.
Webb played for multiple teams after being drafted to the NBA. One of his major accomplishments include leading the NBA in free throw shooting percentage for the 94-95 season with 93.4%. His other major achievement was winning the 1986 NBA Slam Dunk Contest even though he was the shortest participant.
4. Mel Hirsch - 5'6"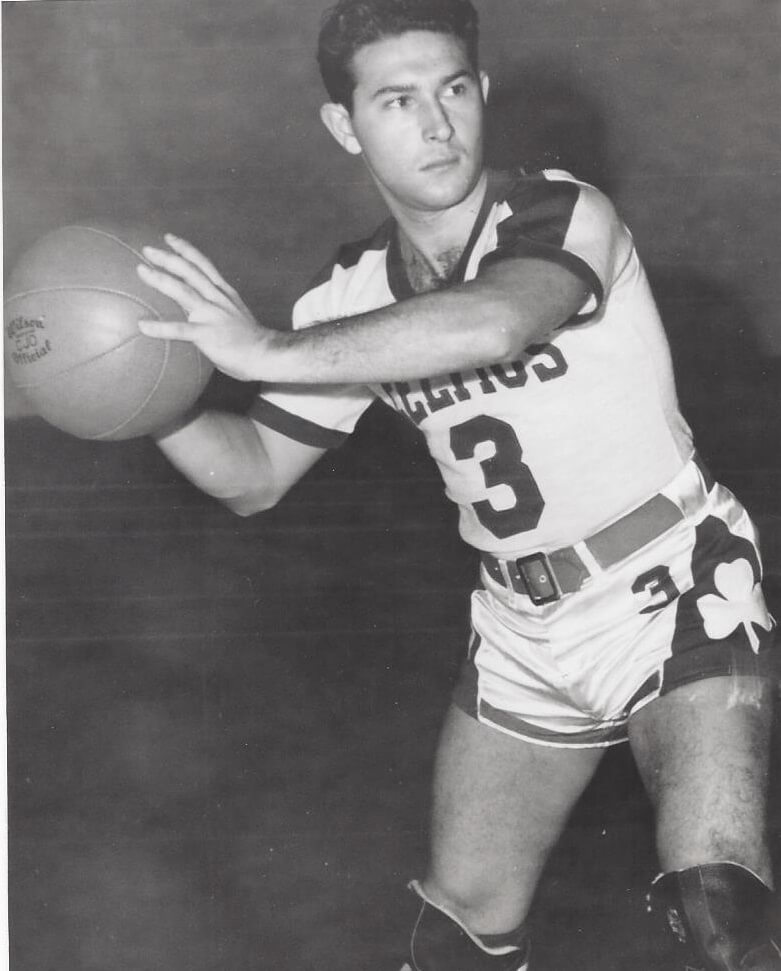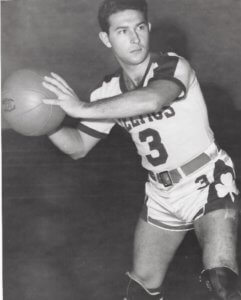 Teams: Boston Celtics
Years in the NBA: 1946-1947
Career Averages:  1.5 points & 0.8 assists 
A standout at Brooklyn College, Hirsch graduated in 1943 and served in the U.S. Army Air Corps. While serving in the South Pacific, he played on the squadron's officer's basketball team.
Returning from service, Mel was signed by the Boston Celtics of the BAA (prior to becoming the NBA). He played in 14 games during the 1946-47 season, and was the shortest player in NBA history until Muggsy Bogues 40 years later. Hirsch died of Leukemia in December of 1968.
5. Greg Grant - 5'7"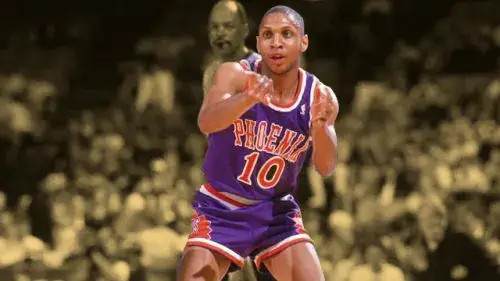 Teams: Phoenix Suns, New York Knicks, Charlotte Hornets, Philadelphia 76ers, Denver Nuggets, Washington Bullets
Years in the NBA: 1989-1996
Career Averages: 2.8 points & 2.7 assists 
Growing up in a broken home, he worked at a fish market while in high school. His talent was discovered on a local playground and he enrolled in Trenton State College (now TCNJ). Here, he led all Division III players in scoring in 1989.
After college he was drafted by the Phoenix Suns. In nine seasons he played for six different teams, never standing out as a point guard. He now runs a sports academy, and helped author his autobiography, 94 Feet and Rising: The Journey of Greg Grant to the NBA and Beyond.
He coached high school basketball in New Jersey for five years, amassing a 100-32 record, a state championship run (ending in a loss), and a 100% player graduation rate.
6. Keith Jennings - 5'7"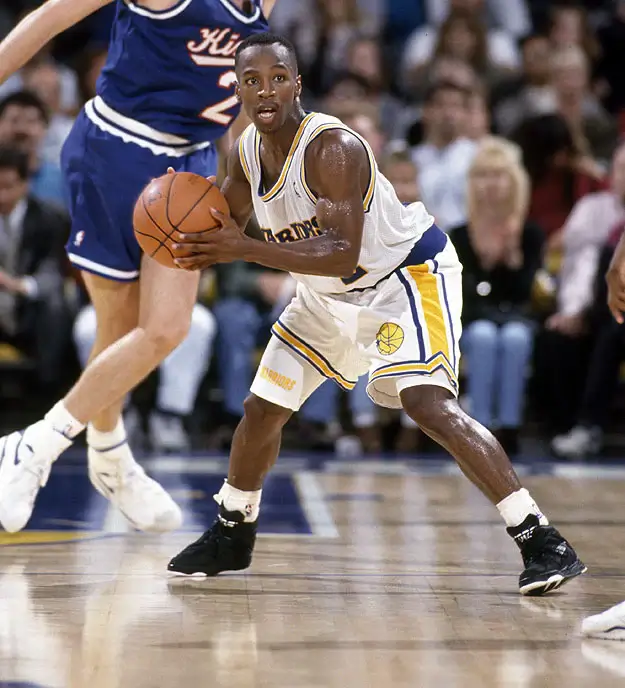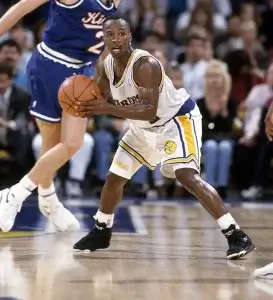 Teams: Golden State Warriors
Years in the NBA: 1992-1995
Career Averages: 6.6 points & 3.7 assists 
A point guard from Culpeper, Virginia, Jennings played at East Tennessee State University for four years. In 1991 he won the 1991 Frances Pomeroy Naismith Award, was a 2nd Team All-American, and led the NCAA Division I in three-point field goals (59%).
Although he started his NBA career as a free agent, he went on to play three seasons with Golden State. He played in 164 games, and his best game was a 23-point performance with 10 assists. He also played professionally in Europe.
Since then, he has held various coaching positions throughout Virginia and North Carolina, at both the high school and collegiate level.
7. Red Klotz - 5'7"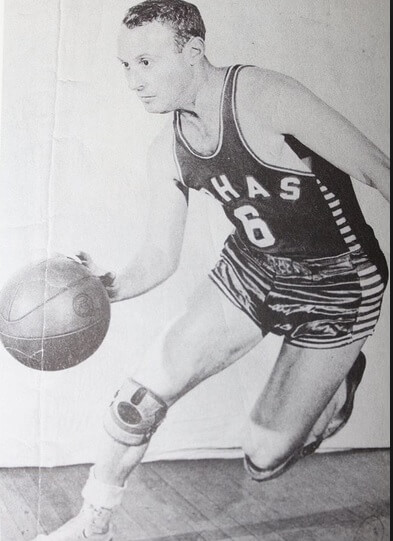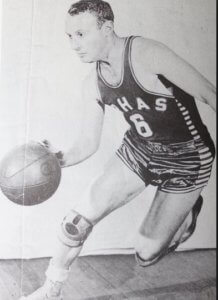 Teams: Baltimore Bullets
Years in the NBA: 1947-1948
Career Averages: 1.4 points & 0.6 assists 
Louis Herman "Red" Klotz was born in Philadelphia and started playing basketball at age 12. At South Philadelphia High School he led his school team to two city championships in 1939 and 1940. Both years he earned Philadelphia Player of the Year.
As a point guard for the Baltimore Bullets for a single season, he is the shortest NBA player to play on a championship team. He played in 11 games, 6 of which were playoff games.
Before and after playing with the Bullets, he played with the South Philadelphia Hebrew Association (Sphas). He eventually went on to coach and manage the Sphas, and was asked to manage a team to play on a regular basis against the Harlem Globetrotters. He called his team the Washington Generals, named in honor of Dwight D. Eisenhower.
Red was honored for his accomplishments on and off the court. In 2001 he was inducted into the Jewish Hall of Fame. He was the first non-Globetrotter to receive their "Legend" award, and was also inducted into their "Legends Ring," or Hall of Fame. In 2009, he also received the Philadelphia Sportswriters Association's "Living Legend" award. 
8. Wataru Misaka - 5'7"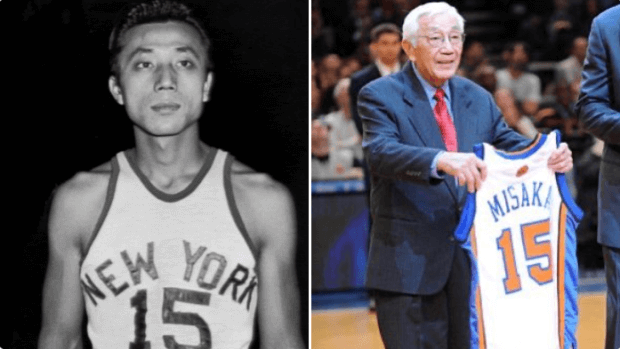 Teams: New York Knicks
Years in the NBA: 1947-1948
Career Averages: 2.3 points & 0.0 assists 
Even though he only played in 3 games, Wat Misaka broke the color barrier in the NBA. He was the first non-white player and the first player of Asian descent to play in the NBA (known then as the BAA).
Wat was born a second-generation Japanese American in Utah. He grew up poor, living with his parents and two younger brothers in a basement beneath his father's barber shop. Even though he faced discrimination and was excluded from extracurricular activities, he still played for his high school basketball team. He led the team to a regional and state championship.
Wat attended Weber Junior College and led them to two championships. He was named the WJC athlete of the year as well as the postseason MVP. The next year, he enrolled at the University of Utah and played in both the NIT and NCAA tournament. He returned to Utah after being drafted and serving two years in World War II, helping the team win the 1947 NIT championship.
After being cut from the Knicks, he declined an offer to play with the Globetrotters. Instead, he returned to Utah to earn a degree in engineering. In 1999, he was inducted into the Utah Sports Hall of Fame.
9. Monte Towe - 5'7"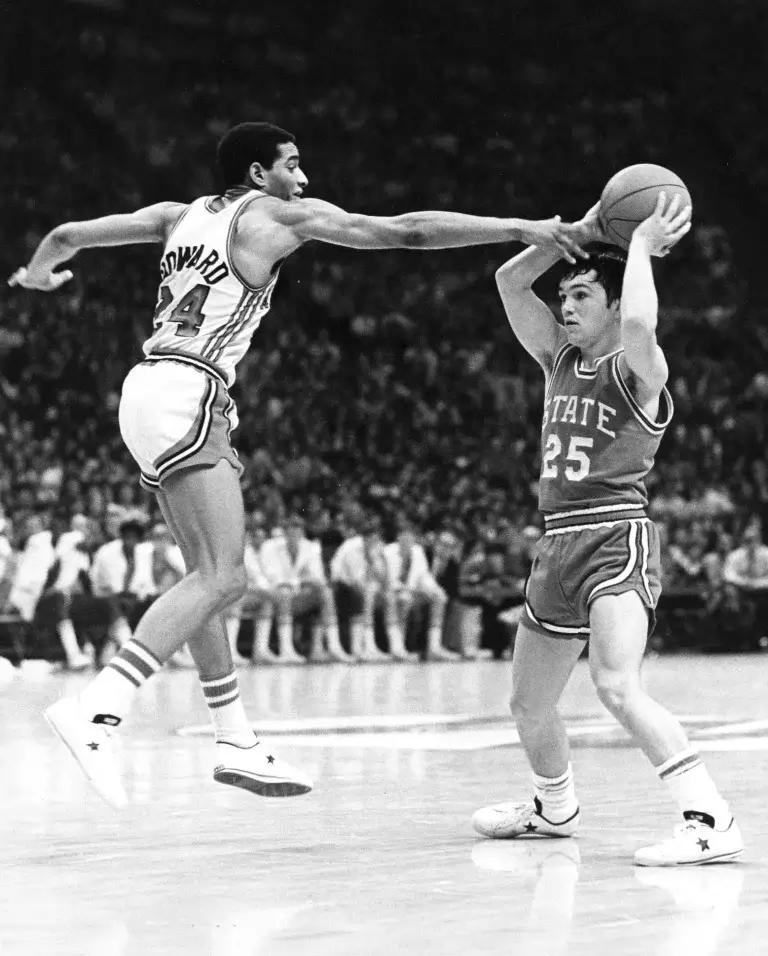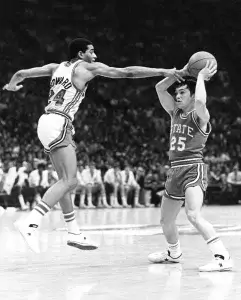 Teams: Denver Nuggets
Years in the NBA: 1975-1977
Career Averages: 2.8 points & 1.9 assists 
From Marion, Indiana, Towe was the starting point guard on NC State's 1974 NCAA championship team. He was one of the rare two-sport athletes on this list, helping NC State's baseball team win an ACC championship in 1974. Known for starting the alley-oop (along with David Thompson), he received the Frances Pomeroy Naismith Award in 1975.
After college, he was selected in both the NBA and ABA, and played two seasons with the Nuggets. He played in 115 professional games, including the 1976 ABA All-Star game.
After leaving the NBA, he was the assistant or head coach at 10 different schools before returning to his alma mater, Oak Hill School, as head coach.
10. Charlie Criss - 5'8"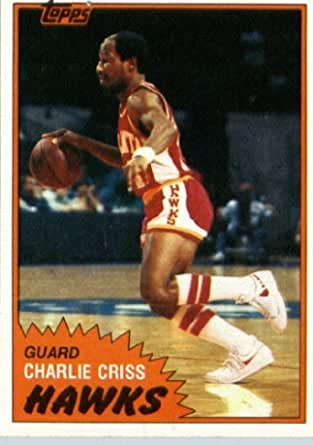 Teams: Atlanta Hawks, San Diego Clippers, Milwaukee Bucks
Years in the NBA: 1977-1985
Career Averages: 8.5 points & 3.2 assists
Born in Valhalla, New York, Criss played at New Mexico State University then began his professional career in the CBA (Continental Basketball Association). He played with the Scranton Apollos and Washington Generals, earning league MVP in 1976.
Signed as a free agent with the Atlanta Hawks, Criss was both the NBA's shortest active player and oldest rookie at age 28. His first season was his best, averaging 11 points and 4 assists in 77 games.
Since retiring from the NBA, Criss has worked as a golf instructor, commentator, basketball coach, and basketball summer camp coordinator.
11. Willie Somerset - 5'8"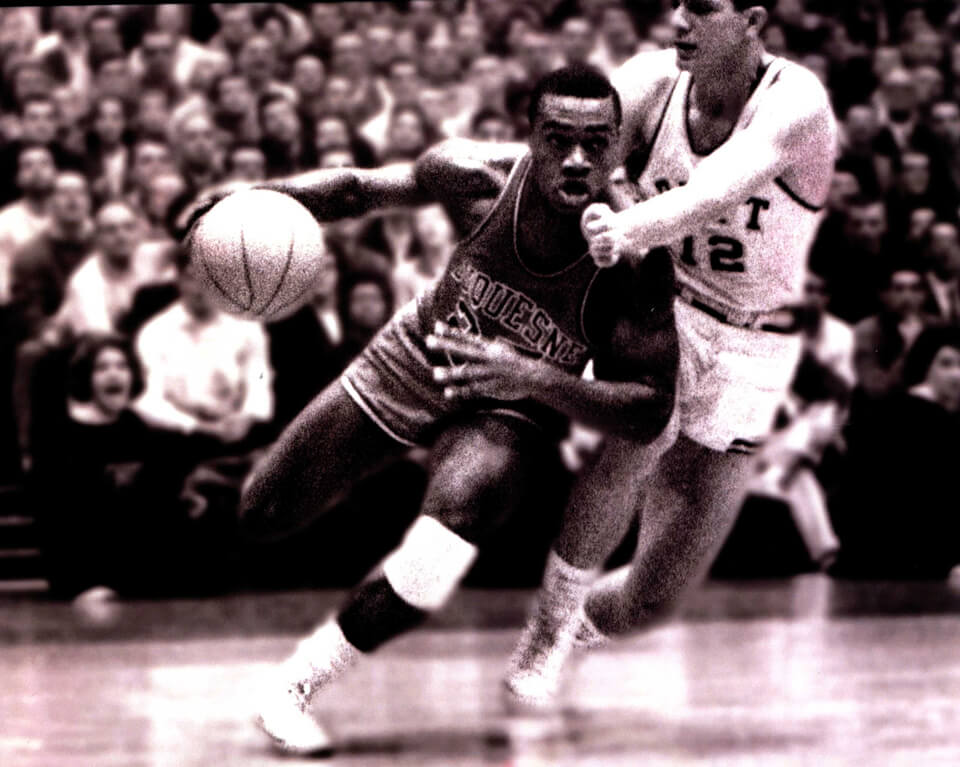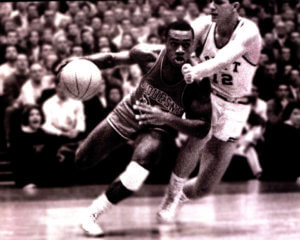 Teams: Baltimore Bullets, Houston Mavericks, New York Nets
Years in the NBA: 1965-1969
Career Averages: 21.9 points & 3.6 assists 
Born in Pennsylvania, Willie played for four years at Duquesne before being drafted to the Baltimore Bullets. After a season with the Bullets, he played for the Johnstown CJ's and the Scranton Miners in the EBA. He really excelled in the ABA, playing two seasons with the Mavericks and the Nets. During this time he was named an ABA All-Star, ranking 5th in the league in points per game, 8th in assists, and 3rd in free throw percentage.
Fun Fact: In 1967, the Mavericks contacted the Miners, interested in Willie and wondering if he's available. Soon after this call, Somerset was playing with the Mavs. The problem with this was that the Miners never knew he left, and Houston refused to speak with them.
A paper in Scranton called the move a "kidnapping." The Miners owner flew to Houston to file a federal lawsuit against the Mavericks, and Somerset was benched while a restraining order was served. The lawsuit was dismissed due to lack of jurisdiction and Somerset became a fan favorite in Houston.
12. Dino Martin - 5'8"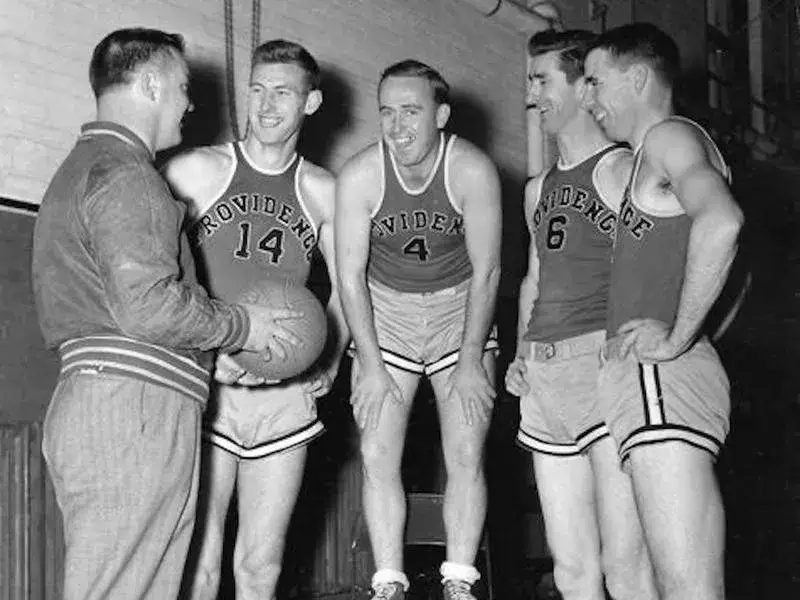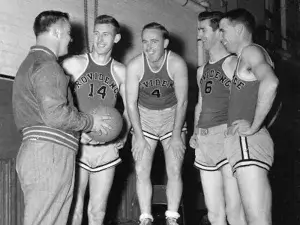 Teams: Providence Steamrollers
Years in the NBA: 1946-1948
Career Averages: 9.1 points & 0.8 assists 
Patrick "Dino" Martin played for four years at Georgetown. After graduating, he was one of three players (along with Buddy O'Grady and Al Lujack) that were the first Hoyas to play professionally.
He played for two seasons with the Steamrollers. He averaged 12.2 points his first season, but that dropped to 3.2 his second season.
After leaving the BAA, he returned to high school alma mater to coach tennis and basketball. He coached for three years before taking a job coaching basketball at Boston College. He led the Eagles to a 109-102 record, and even made it to the NCAA tournament in 1958.
13. Calvin Murphy - 5'9"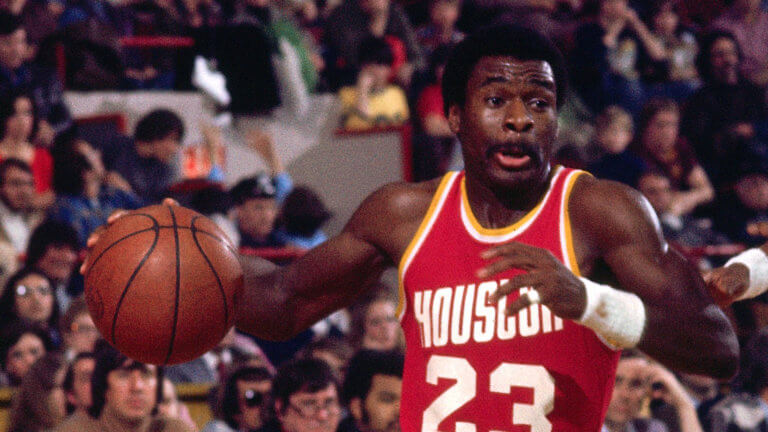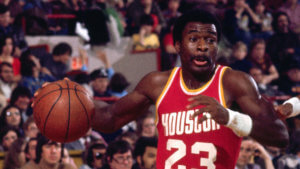 Teams: San Diego/Houston Rockets
Years in the NBA: 1970-1983
Career Averages: 17.9 points & 4.4 assists 
Calvin Murphy was known for three things: his athletic ability, his heart, and baton twirling. Before taking up basketball, Murphy claims he was "bullied" into baton twirling by his mother and six older sisters, who were all also baton twirlers. In 8th grade he won a national championship in baton twirling, and was invited to major events to perform.
He excelled at basketball in high school, attending Norwalk High School. There he was an All-State player three times and an All-American twice. He was inducted into the Connecticut Coaches Association Hall of Fame and was a Connecticut Sportswriters Gold Key Award winner. His high school went so far as to honor him by changing their address to 23 Calvin Murphy Road.
After high school he attended Niagara University, where he was a three-time All-American. In all he played 77 games and scored a total of 2,548 points.
Out of college he was drafted 18th overall by the San Diego Rockets (now the Houston Rockets). Averaging 15.8 points and 4 assists per game in his first season, he was selected part of the NBA All-Rookie team. He was known for his stellar defense and quickness, he helped lead the Rockets to the 1975 Playoffs. In the 1980-81 season, he was a key player in their run to the NBA Finals. He was inducted into the Basketball Hall of Fame in 1993.
14. Chris Clemons - 5'9"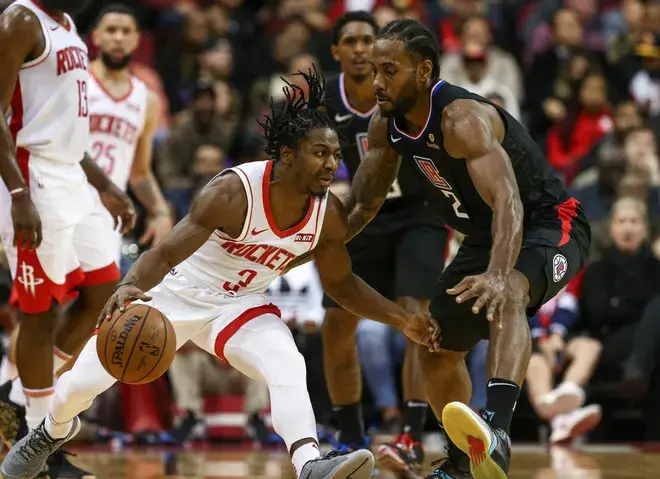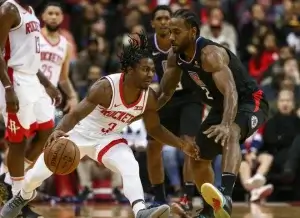 Teams: Houston Rockets
Years in the NBA: 2019-2020
Career Averages: 4.9 points & 0.8 assists 
Growing up in Raleigh, North Carolina, Clemons idolized Allen Iverson and tried to bring Iverson's style of play to his own. A standout at Millbrook High School despite his height, Clemons was recruited by Campbell University. Coach Kevin McGeehan witnessed his 44-inch vertical and ability to dunk and loved his confidence on the court.
Clemons had an outstanding career at Cambell. As a freshman he averaged 18.5 points per game and was named the Big South Freshman of the Year. As a sophomore, he averaged 25.1 points per game, 2nd in NCAA Division I. He also scored 51 points in the Big South Tournament, breaking the tournament record. He was named a First Team All Big South player. 
Altogether, he became Cambell's all-time leading scorer and was named First Team All Big South for three years in a row. His senior year he led the NCAA Division I in scoring, averaging 30.1 points per game. He became the third highest scorer in college basketball history, finishing with 2,556 career points total. Cambell later retired his jersey.
After withdrawing from the draft his junior year to play his final year of college, he declared for the draft in 2019. He signed with the Houston Rockets and played in 33 games. In a preseason game during his 2nd season, he tore his achilles and was waived by the Rockets. Since his injury he has signed with The Boston Celtics and the Atlanta Hawks, but has only played games in the NBA G-League.
15. Howie Carl - 5'9"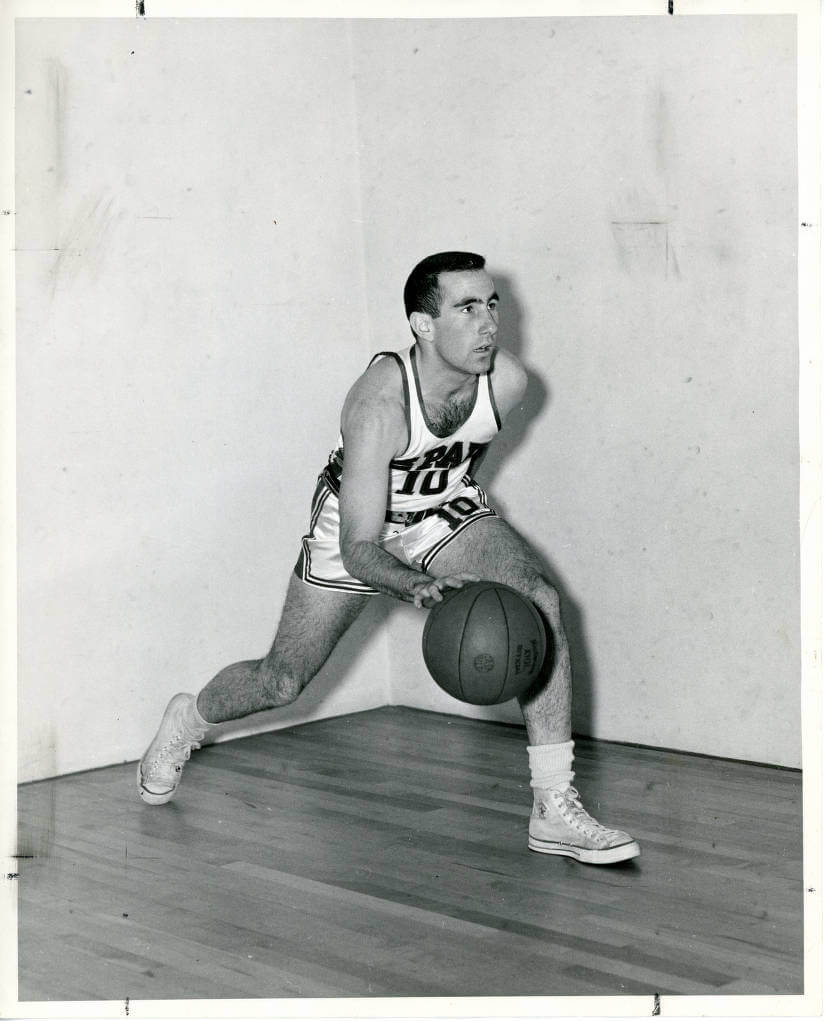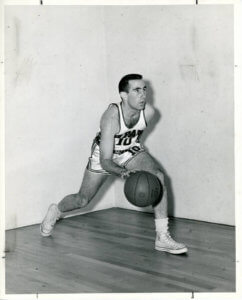 Teams: Chicago Packers
Years in the NBA: 1961-1962
Career Averages: 5.5 points & 1.8 assists 
Howie "Hershey" Carl was best known for his ability to make long-range shots and unbreakable confidence.
At eight years old he started playing neighborhood basketball. According to his brother, Sam, Hershey's work ethic was unmatched. He would practice at Eugene Park, and wouldn't stop to eat. His mom would bring him sandwiches to the court to make sure he was fed.
In high school, he led the Public League in scoring. After enrolling briefly at Illinois, he transferred to DePaul. Blue Demons coach Ray Meyer proclaimed he intended "to start a sophomore that could shoot with any player in the country, college or pro."
In his three seasons with DePaul, he averaged 19.2, 19.7, and 21 points per game. He made Little All-American teams (for players shorter than 6'0"), and as a senior he was selected a "big" All-American. He finished his college career as the program's 2nd-ranked career scorer and a free throw percentage of .853.
After his brief basketball career, he worked at the Chicago Mercantile Exchange.
16. Isaiah Thomas - 5'9"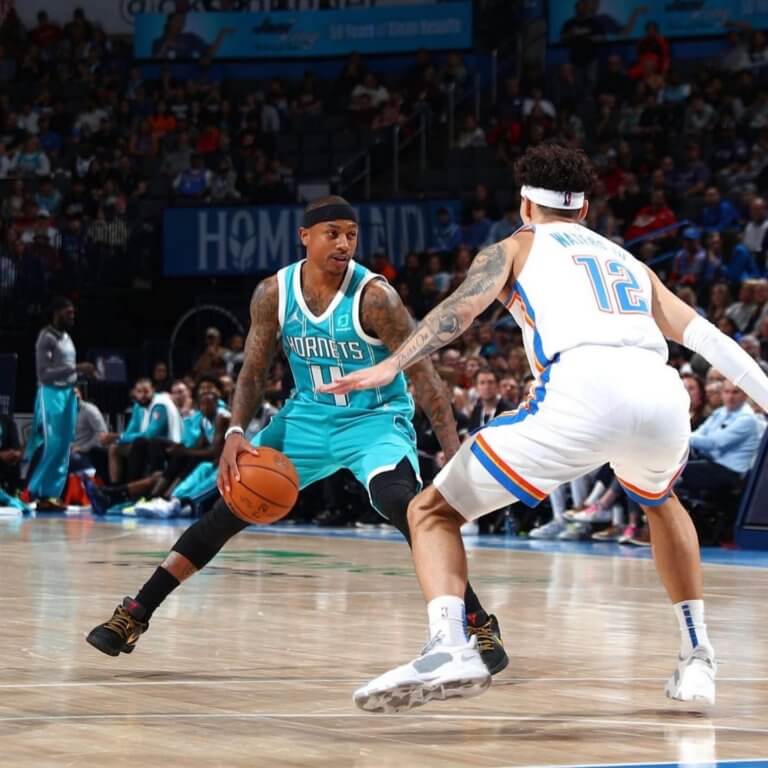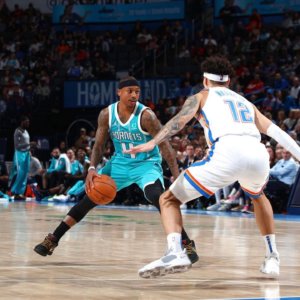 Teams: Sacramento Kings, Phoenix Suns, Boston Celtics, Cleveland Cavaliers, Los Angeles Lakers, Denver Nuggets, Washington Wizards, New Orleans Pelicans, Dallas Mavericks, Charlotte Hornets
Years in the NBA: 2011-Present
Career Averages: 17.7 points & 4.8 assists 
Named after the former Detroit Piston Hall of Famer Isiah Thomas, Isaiah Thomas is the shortest active player in the NBA.
At the University of Washington, Thomas was named Pac-10 Freshman of the Year after averaging 15.5 points, 2.6 assists and 3 rebounds per game. As a sophomore he was named All Pac-10 after his averages improved to 16.9 points, 3.2 assists, and 3.9 rebounds per game. He was again named an All Pac-10 player his junior year, and was also a finalist for the Bob Cousy Award.
After his junior year, he declared for the NBA draft and was selected 60th overall by the Kings. He was named Rookie of the Month in February 2012, and was also named NBA All-Rookie Second Team.
Over the following decade, Thomas was traded and signed contracts with many other teams, but his most notable achievements were with the Boston Celtics from 2015-2017. During this time, he was a two-time NBA All-Star, he was named second team All-NBA, and he received the NBA Community Assist Award. He led the Celtics to the first seed of the Eastern Conference and also finished 5th in MVP voting.
17. Nate Robinson - 5'9"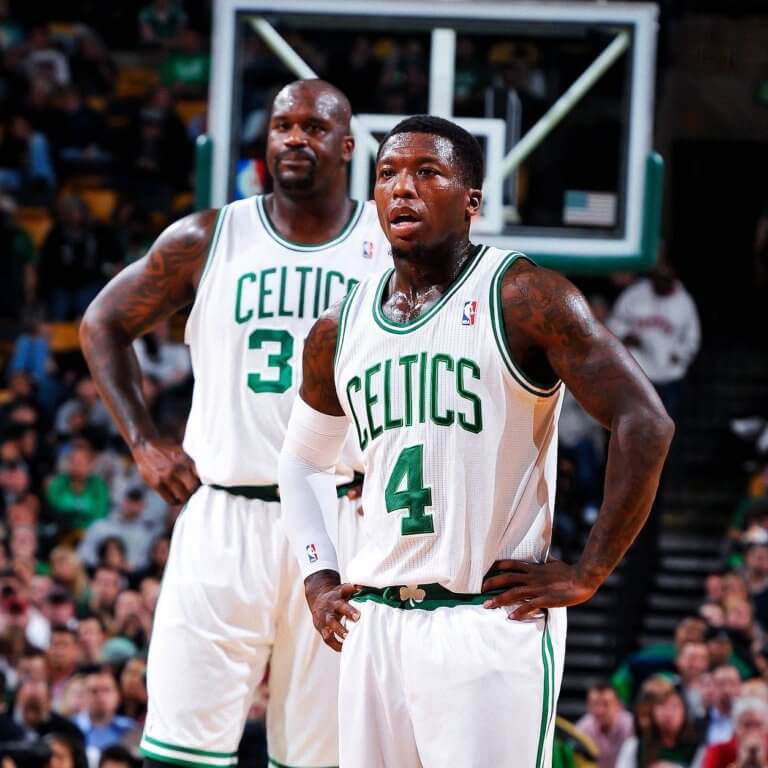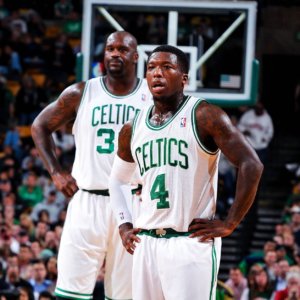 Teams: New York Knicks, Boston Celtics, Oklahoma City Thunder, Golden State Warriors, Chicago Bulls, Denver Nuggets, Los Angeles Clippers, New Orleans Pelicans
Years in the NBA: 2005-2016
Career Averages: 11.0 points & 3.0 assists 
Nate Robinson holds one honor that no one else on this list does. He has been a Slam Dunk champion not once… not twice… but three times. Robinson is the only person in NBA history to win this competition three times. And standing at just 5,9", this is quite the accomplishment.
Growing up in Seattle, he excelled at basketball, football, and track in high school. His team won a state championship his senior year, and he was named the AAA State Player of the Year in Washington.
He was originally attending the University of Washington for football, but decided to focus on basketball his sophomore year. In his freshman basketball season, he earned a place on the All-Pac-10 Freshman Team. As a sophomore, he was named to the All-Pac-10 First Team after averaging 13.2 points per game. As a junior leading Washington the Sweet 16, he received numerous awards and honors, including:
NABC NCAA All-District 14 first team,
NABC All-America 3rd Team,
Pac-10 All-Tournament team,
All-Pac-10 first team
Robinson decided to enter the NBA draft after his junior year, and was selected 21st overall by the Phoenix Suns and traded to the New York Knicks. He had five good seasons with the Knicks, becoming their leading scorer in 2008. His best season came in 2008-2009, averaging 17.2 points, 4.1 assists, and 30 minutes per game.
Along with talent he brought physicality both on and off the court, and got a reputation for being involved in altercations. The next six years brought trades, waivers, injury, as well as key contributions to the teams he played for. He ended his NBA career with 6,807 points, 1,826 assists, and 1,446 rebounds before leaving to play overseas.
18. Yuta Tabuse - 5'9"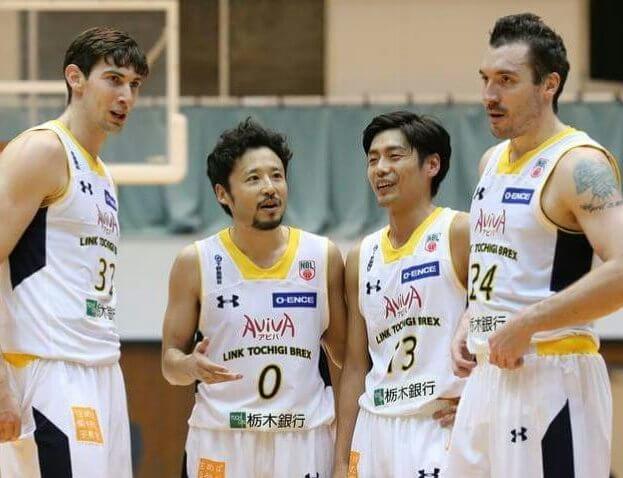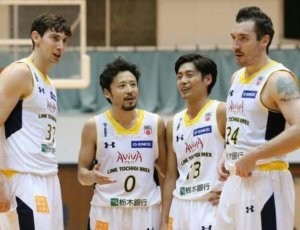 Teams: Phoenix Suns
Years in the NBA: 2004-2005
Career Averages: 1.8 points & 0.8 assists 
Yuta was the first Japanese-born player in the NBA. Born into a "sports family," he started playing basketball at age nine because he wasn't good at baseball and wasn't interested in soccer.
At Noshiro Technical High School in Akita, he led his team to three national championships in as many years, only losing one game in those years. After graduating, he enrolled at BYU-Hawaii, where he had to sit out two seasons due to eligibility rules, and played only one season before turning pro. Playing for the Toyota Alvark, he won the Japan Basketball League Rookie of the Year.
Yuta played in four games with the Phoenix Suns. Despite the energy and quickness he brought to the game, he was not a substantial player and was waived after a month. He returned to the ABA and D-League, where he played for three seasons.
In 2008, he signed with the Japan Basketball League, and the following year he was named to the 22-man roster of the Japan national basketball team. While playing in the JBL, he was a two-time champion and a Finals MVP.
Fun fact about Yuta: he appeared on a 2005 limited edition cover of the NBA Live video game in Japan, even though he did not play in an NBA regular season game that year.
19. Ralph O'Brien - 5'9"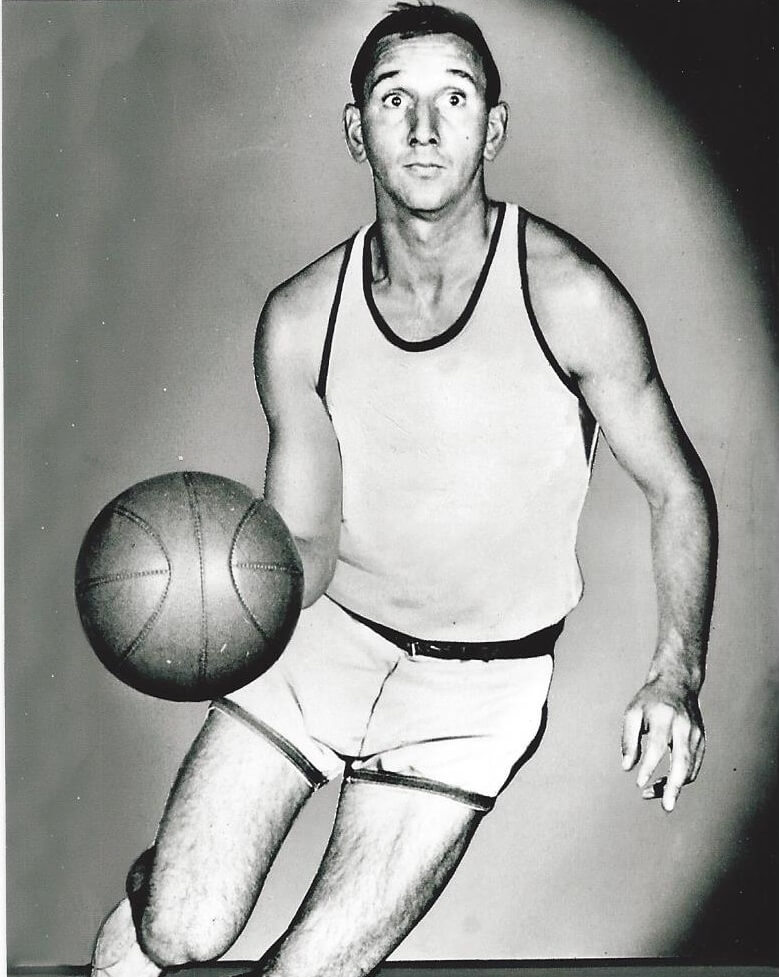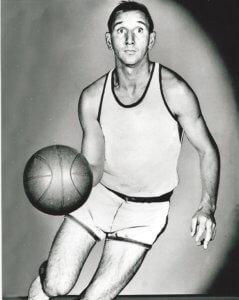 Teams: Indianapolis Olympians, Baltimore Bullets
Years in the NBA: 1951-1953
Career Averages: 7.1 points & 1.5 assists 
For nearly 60 years, Ralph "Buckshot" O'Brien was the only Butler player to go to the NBA. The youngest of 13 children, the greatness he achieved was often to spite those who doubted him because of his size. He became a college All-American, NBA player, honored insurance agent, NCAA award winner, youth sports leader, and motivational speaker.
O'Brien was the first Butler player to reach 1,000 career points, achieving this his junior year. He averaged 18.3 points per game his senior year. Later, a former assistant coach told him the average would have been close to 30 if they had utilized the 3-point line during that time. During his four seasons the Bulldogs were 60-31, reaching 11th in the Associated Press Poll (their highest ranking until 2007).
From 1951 to 1953, he played in 119 games for the Olympians, the Fort Wayne Pistons, and the Baltimore Bullets. Until Gordon Hayward was drafted in 2010, O'Brien was the only Butler graduate to play in the NBA for more than one season.
He was an elite insurance agent for three decades. He was selected in 1975 as one of five to receive the NCAA Silver Anniversary Award. He was active in Boys Clubs around Indianapolis, and helped launch numerous athletic programs.
A multi-sport athlete, his daughter was a member of the first Indiana All-Star girls basketball team in 1976. She was also an All-American golfer at Southern Methodist and LPGA Rookie of the Year in 1981.
20. Kay Felder - 5'9"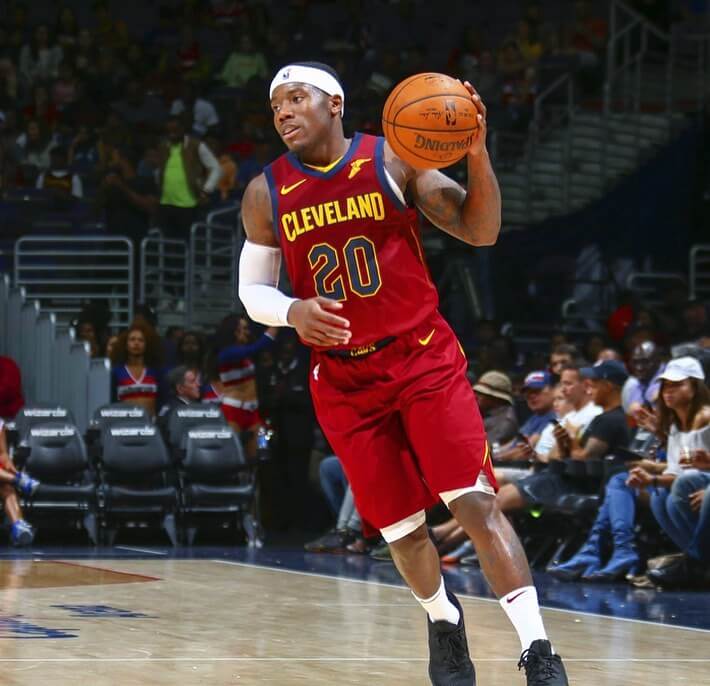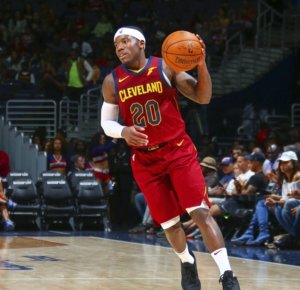 Teams: Cleveland Cavaliers, Chicago Bulls, Detroit Pistons
Years in the NBA: 2016-2018
Career Averages: 3.8 points & 1.3 assists 
Kahlil Ameer "Kay" Felder Jr. is a former NBA player currently playing in the CBA (Chinese Basketball Association).
As a high school player in Detroit, he was named the Public School League MVP his senior year, and was also ranked 4th in Mr. Basketball of Michigan voting.
Continuing to play at Oakland, Felder was named the Horizon League Freshman of the Year. As a sophomore he finished 2nd in the NCAA, averaging 7.6 assists per game, 2 assists behind leader Jalan West. As a junior, he was scouted by NBA teams, having standout games against Virginia, Michigan State, and Washington. He averaged 35 points and 7 assists per game, and made 47.9% of his field goals.
Despite only playing three of his four years of college eligibility, he broke the Horizon League career assists record of 699 and set the record for free throws made in a row (46).
Felder declared for the draft in 2016, but he was not a standout professional player. Despite great marks at the NBA combine, he was drafted 54th overall by the Atlanta Hawks, then traded to the Cavaliers. After a year, he was traded to the Bulls. Waived by the Bulls, Pistons, and Raptors, he signed with the Shanxi Loongs of the CBA.