Anime may have started out in Japan, but nowadays they are a worldwide obsession accounting for 60% of all animated television shows!
The mix of sports action and interpersonal drama is a great recipe for entertaining shows, and anime producers seem to agree. There are shows about boxing, volleyball, cycling, swimming, soccer, baseball, kendo, ice skating. You name the sport – there is an anime about it.
But don't worry basketball fans, there's more than enough animated entertainment out there for you too!
From realistic to superhuman basketball, the following list covers a wide range of choices for hoops lovers. Here are nine basketball anime masterpieces that are worth your entertainment time.
The 9 Best Basketball Anime
9. Ro-Kyu-Bu!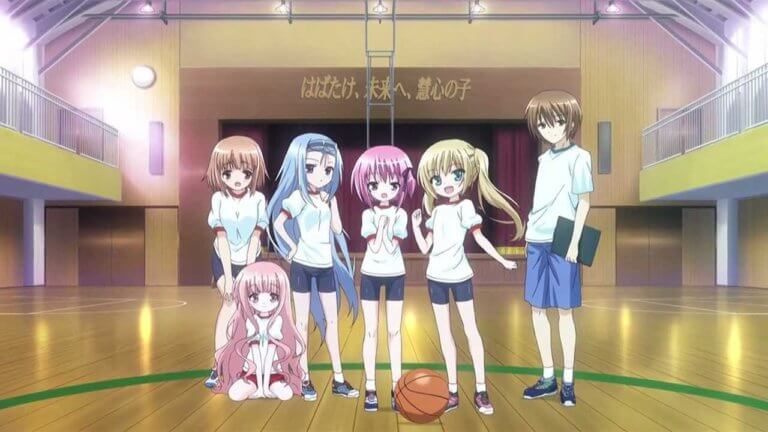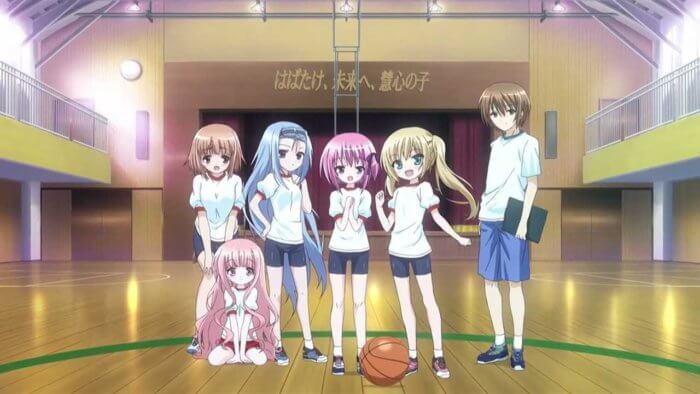 Episodes: 24
Released in: 2011-2013
MyAnimeList Rating: 6.8
Subaru Hasegawa, a high school freshman, becomes the coach of a grade school's girls' basketball team after his own basketball club is disbanded for a year due to a scandal involving its best player.
Initially, Subaru only agrees to train the team for three days, but getting to know the girls and their love for basketball he agrees to be their coach until they graduate.
This series is a cute show following five rambunctious young girls learning how to play basketball. But if you're looking for a more "serious" basketball show, this one is probably not for you.
---
8. Dash Kappei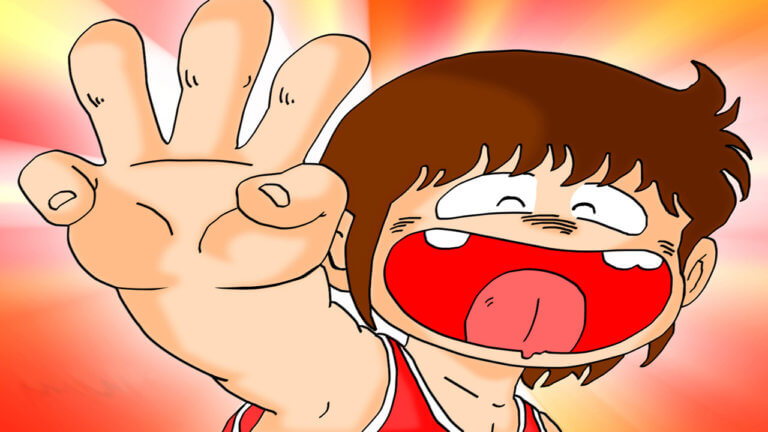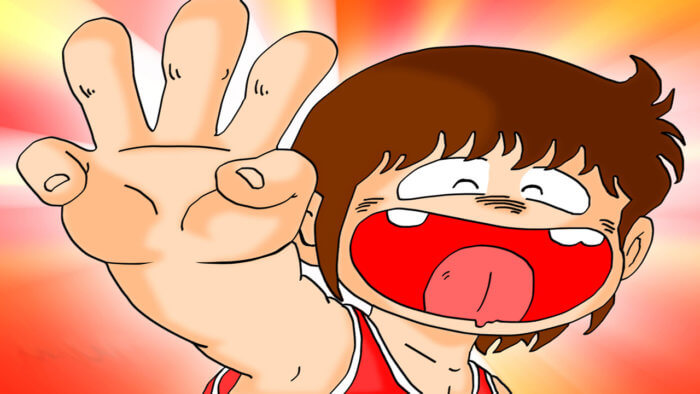 Episodes: 65
Released in: 1981-1982
MyAnimeList Rating: 7.14
Dash Kappei is a quirky anime from the 80's following Kappei Sakamoto who, despite being tiny, has amazing athletic abilities.
In the first episode he is caught peeking into the ladies locker room. During the following chase scene he disrupts the school's basketball practice in the gym and steals the ball from one of the star players before running into Kaori Natsu, the cute female coach of the team.
He reluctantly joins the team after seeing that Kaori is wearing white panties, which he has a fable for.
This anime is clearly not a serious basketball story and the plot is not exactly politically correct by today's standards. But give it a chance if you are a fan of silly humour or feeling nostalgic about the 80's.
---
7. Buzzer Beater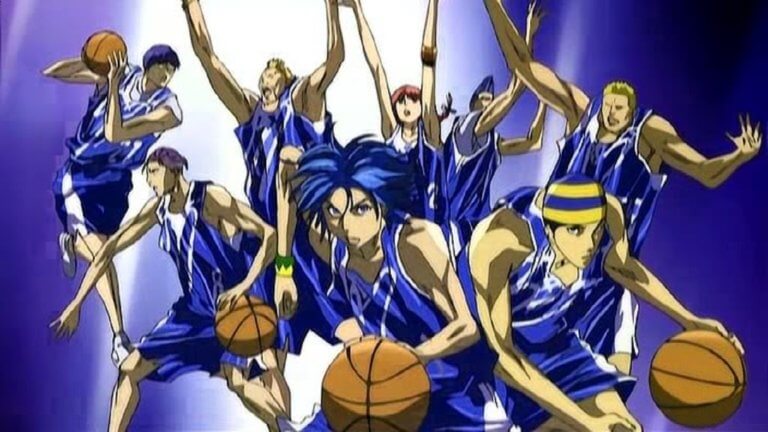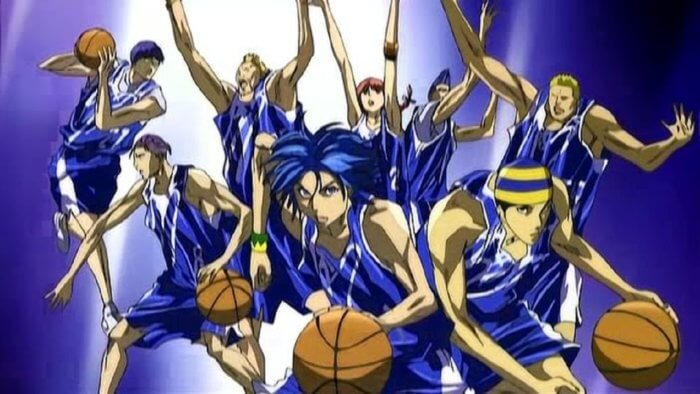 Episodes: 26
Released in: 2005-2007
MyAnimeList Rating: 6.54
Another basketball anime from the one and only Takehiko Inoue! This one takes us to a science-fiction world where not only humans but also aliens play the sport.
In the world of Buzzer Beater, the game of basketball is dominated by powerful alien races. Their ultimate physical and psychic powers are unmatched, and there are only a few human players left that can still compete.
Hideyoshi Tanaka, a 14-year-old orphan, has superhuman speed and is selected to the All-Star Earth squad to fight for the glory of Earth.
The anime is super entertaining because of the physics-defying moves, combined with the excitement of basketball. If you liked Space Jam, you're going to love Buzzer Beater!
---
6. Barangay 143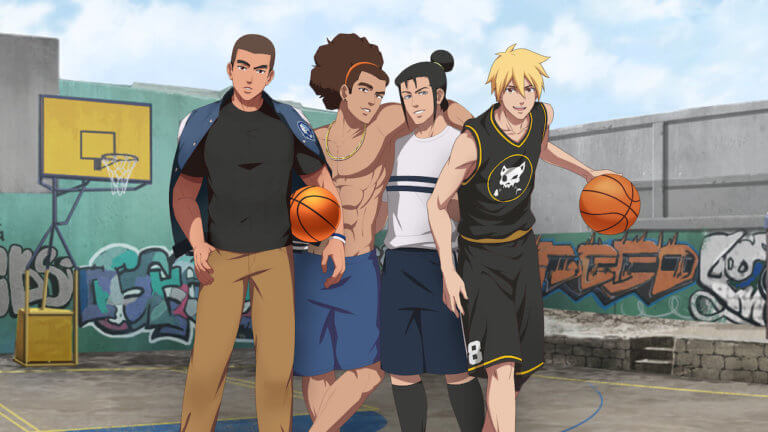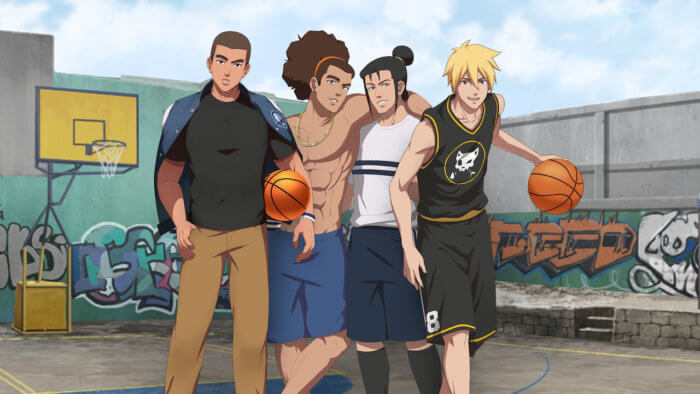 Episodes: 26
Released in: 2018-2021
IMDB Rating: 6.4
This anime is a Japanese-Filipino-Singapore production that follows the story of Bren Park, a player on Korea's national basketball team. After a tragedy in the family, Park goes to the Philippines to stop the business partners from taking over all of the Parks' fortune. Park then finds himself a member of Barangay 143's (District 143) basketball team, whose head coach is a father seeking justice for his son.
The anime centers around Park and his basketball games as well as social justice and family lessons. Barangay 143 is an award-winning anime in the Philippines thanks to its important social message it delivers.
---
5. Basquash!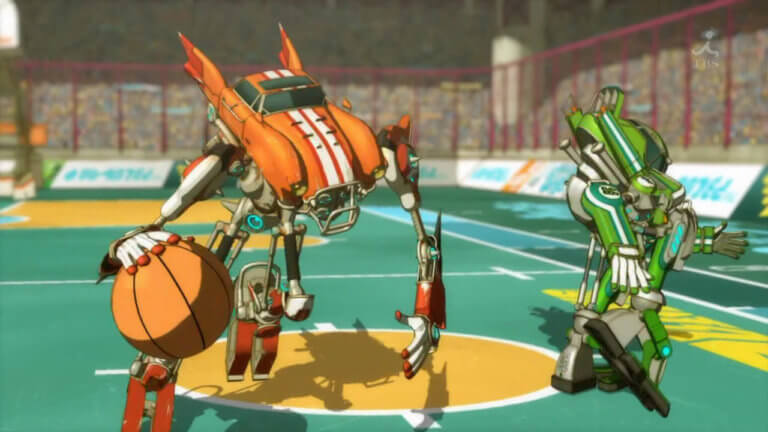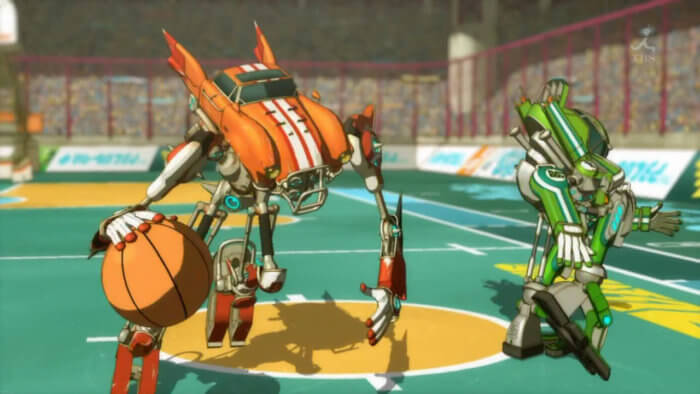 Episodes: 26
Released in: 2009
MyAnimeList Rating: 7.22
This sci-fi version of basketball takes place far in the future on a planet called Earth Dash. Humanity is split between a technologically advanced society on the moon and the poorer earthers.
On the moon, the most popular form of entertainment Big Foot Basketball, a game played with giant mechas in huge arenas. The hero of the story, Dan, hates BFB because an accident crippled his sister. But when he invades a game of BFB with his own mecha, he ends up making the game even more popular and ends up with a large debt as well as one year in prison.
After these events, we follow Dan's attempt to make enough money to pay back his debts and send his sister to the moon to treat her paralyzed legs.
Basquash! is an over-the-top show that will take you on an emotional and visual rollercoaster.
---
4. Dear Boys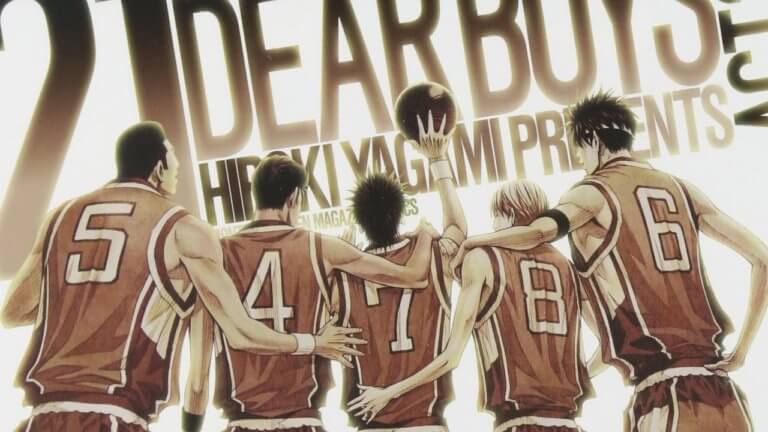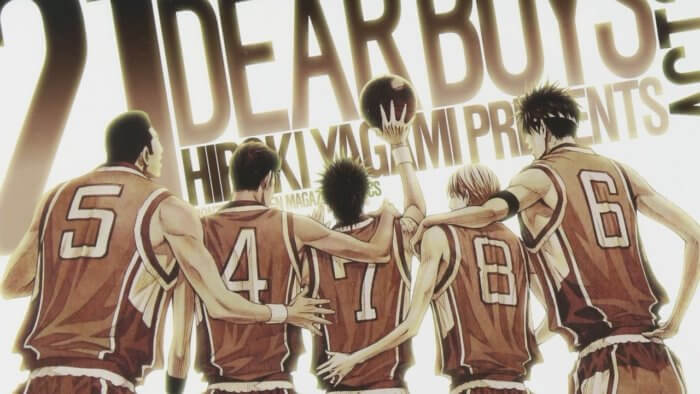 Episodes: 26
Released in: 2003
MyAnimeList Rating: 6.81
If you love basketball, Dear Boys should be a fun and inspirational watch. The anime offers a more serious and dramatic plot around the five members of a basketball team, no substitutes, no benchwarmers.
We follow the Mizuho High School basketball team which is going through tough after the team captain punched their coach. As a result, he was punished with a one-year ban that left the Mizuho team with only four players.
Things get better when the main character, Kazuhiko Aikawa, a basketball star who moved from another high school to Mizuho, becomes the fifth member. By spreading his love for the game, Aikawa revives the basketball team and inspires his teammates to make their way to the national championship.
The school women's basketball team is also a fun part of the anime and garners bonus point since there are little to no anime depicting women's basketball.
---
3. Ahiru no Sora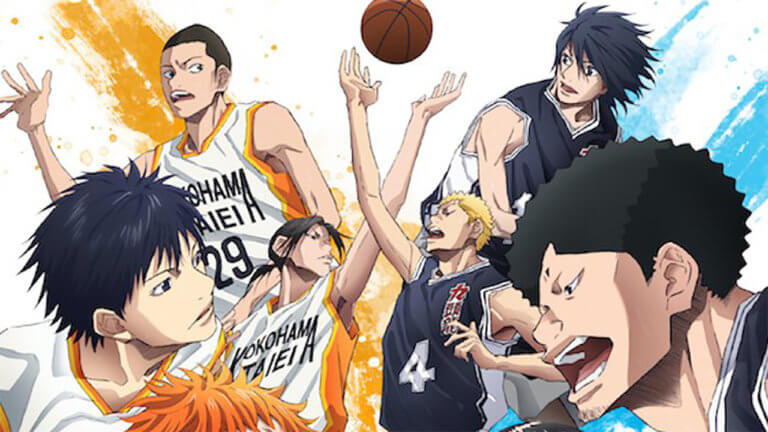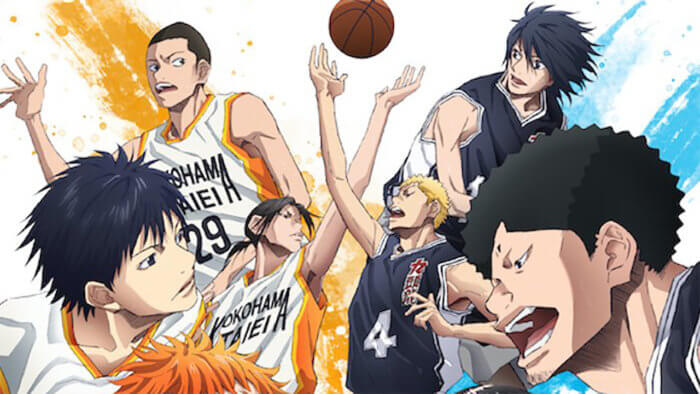 Episodes: 50
Released in: 2019-2020
MyAnimeList Rating: 7.3
This underdog story follows Sora Kurumatani, an undersized basketball player who is trying to prove to his mother he can win his first high school tournament.
Unfortunately, it turns out that his teammates at Kuzuryū High School are a bunch of delinquents who couldn't care less about basketball in the beginning.
Sora tries to reignite their passion for basketball by beating them in a game of basketball despite being much smaller and less physical.
Ahiru no Sora is a down-to-earth story, about real people with real struggles. It shows a more realistic depiction of basketball and is a great change from the superhuman action we see in a lot of other shows.
---
2. Kuroko no Basket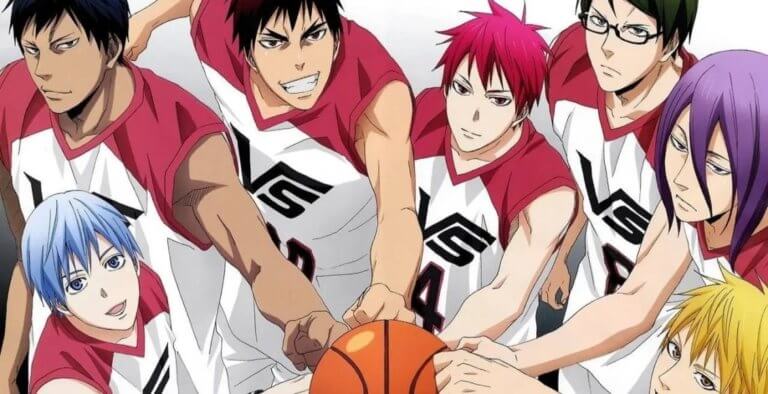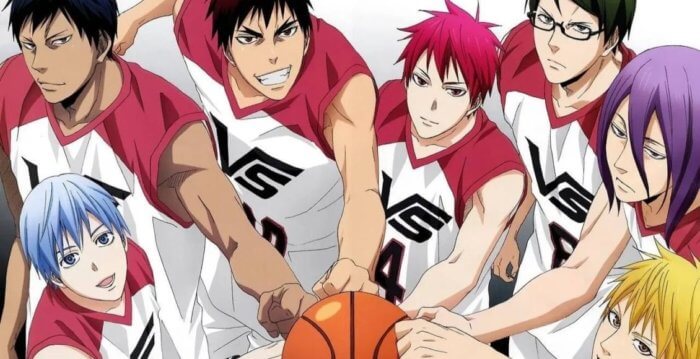 Episodes: 75
Released in: 2012-2015
MyAnimeList Rating: 8.09
This show follows Kuroko, an "invisible" player from Teiko Middle School. His team dominated the nation with a team called the "Generation of Miracles." but split up after graduating from Junior high.
During his first year in high school, Kuroko meets his best friend Taiga Kagami, and the two try to help their Seirin team make it to the national tournament. However, this turns out to be a very challenging journey because they have to defeat Kuroro's former teammates, who are freaks of nature.
Superhuman athleticism and eye-popping acrobatics are performed throughout the anime, which makes Kuroko no Basket highly entertaining. However, if you are looking for a realistic depiction of the game of basketball, this is not the anime for you.
Overall, Kuroko no Basket is an easy watch with entertaining, but not very challenging, storylines.
---
1. Slam Dunk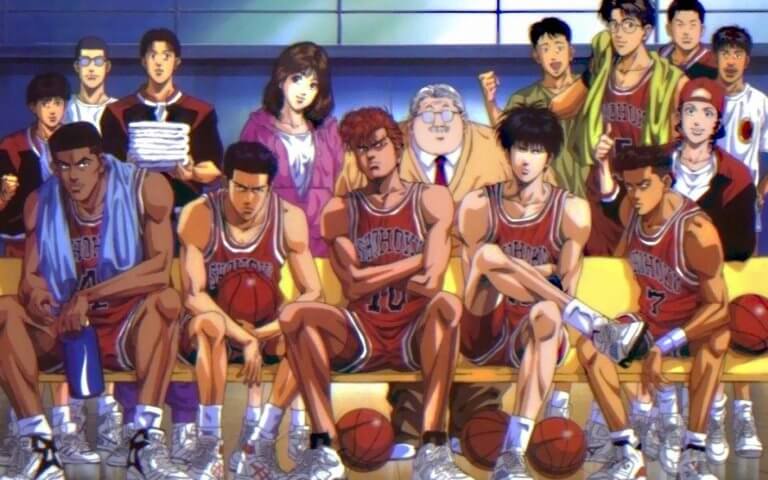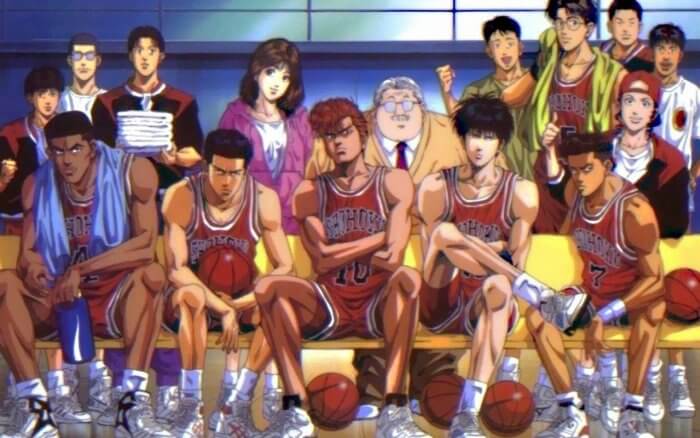 Episodes: 101
Released in: 1993-1996
MyAnimeList Rating: 8.53
Takehiko Inoue's Slam Dunk is one of the best sports anime shows ever. The series is adapted from the best-selling sports manga of the same name and was first aired in 1993. It is still popular to this day and there are constant rumors about a follow-up series or movie.
Slam Dunk follows the story of Sakuragi Hanamichi who picks up basketball to impress girls after being rejected by pretty much every girl in school. There he meets Haruko, the basketball team captain's sister. Although Hanamichi has to learn everything from scratch, his outstanding athleticism helps him thrive and find happiness in the game of basketball.
The best thing about Slam Dunk is that it displays a realistic basketball game with fundamental knowledge throughout episodes. The players in the anime miss a lot of shots and don't always win games – a real-life portrayal of the sport.
Slam Dunk is also praised for its worldwide inspiration since many hoopers start to pick up their basketball after watching the anime. A must watch for every basketball fan!
---
Final Thoughts
These shows should keep you entertained for a while! Is there another basketball anime that you enjoyed and should be added to the list? Let me know in the comments!