I'm going out on a limb and guess that at least 99% of all basketball players out there dream of being able to dunk. I know I did!
And the good news are: this is a totally achievable goal for most people (unless you are much smaller than 6 feet) thanks to some very good training methods available today.
Unfortunately, the market for vertical jump programs is very intransparent and full of overly salesy promises and scammy-looking websites.
So which program should you trust? In this post I'll try to bring some light to the matter and make it easier for you to pick the program that is best for you!
Overview of the most well-known vertical jump training programs:
starstarstarstarstar_half
4.5 / 5 Stars
Intense 8-week training focused on explosiveness and plyometrics
No gym required and exercises are easy to learn
Shows first results very quickly
starstarstarstarstar_border
4 / 5 Stars
12-week training focused on strength and power
You learn a lot about vertical jump theory and training
Recommended when you have weightlifting experience and access to a gym
starstarstarstar_halfstar_border
3.5 / 5 Stars
Up to 7 months long program
Includes a ton of scientific information
Creator Shawn Myszka is a highly regarded athletic coach
starstarstarstar_borderstar_border
3 / 5 Stars
12 week training with 4-5 workouts per week
Created by professional dunker Jordan Kilganon
Only for experienced athletes due to heavy weightlifting
starstar_halfstar_borderstar_borderstar_border
1.5 / 5 Stars
Very old vertical jump program that doesn't hold up to todays science
Insane workout volume towards the end of the program
Not a very efficient way to work on your vertical jump
starstar_borderstar_borderstar_borderstar_border
1 / 5 Stars
Focus on calf muscles does not make sense
Was very popular in the 90's but training concept is out of date
Unnecessary injury risk
How Does Vertical Jump Training work?
Your vertical jump height is mostly determined by what sports science calls "Power".
Power is often confused with strength, but it's not the same thing! In the context of a vertical jump, it defines the amount of force you are able to generate during the jump itself.
Power = Strength x Quickness
It doesn't do you any good if you are the strongest person in the world if it takes you seconds to "activate" this strength. You need to be able to put as much force as possible into the ground within the blink of an eye. Thankfully, this is a skill that can be trained by using a training method called "plyometrics".
But that's not to say that you don't require strength at all. A good vertical jump training program will make sure that you improve your lower body strength but also teach you how to use this new strength in an explosive matter.
Other factors that impact your vertical jump height:
Skill and Technique:
The vertical jump is a complex movement that requires a lot of skill that can only be acquired through countless repetitions. And having to dribble and gather a ball while jumping just makes it even harder!
Flexibility:
Very stiff tendons and muscles can be an additional obstacle to jumping high. You want to makes sure you are loose and stretched (especially in the hip flexors) if you want to maximize your hops!
Which training is a good fit for me?
Not every workout is a fit for every athlete. Make sure to pick one that fits you!
If you don't have access to a gym make sure to pick a program like Vert Shock that can be done without a lot of equipment.
Also take a look at the schedule (and length) of the workouts. Some are more easily integrated into a busy life while others take a lot of time and determination.
If you are a slower (or older) but more powerful two foot jumper (think Dwight Howard), programs that focus more on strength and less on plyometrics like the Jump Manual make sense.
On the other hand, bouncy one foot jumpers (think Zach LaVine) should focus on plyometrics (e.g Vert Shock) and less on achieving crazy weights doing deep squats.
---
6 Vertical Jump Training Programs
Vert Shock
Requires Gym: No
Duration: 8 weeks
# of workouts: 4 to 6 per week (41 in 8 weeks)
Length of workouts: <60 min
Summary:
Vert Shock is an intense 8-week workout that focuses on explosive plyometric exercises and bodyweight strength training. The workouts are presented in short, high-quality videos accompanied by worksheets that tell you exactly what to do.
Pros:
I improved my vertical jump by 8 inches (check the video above!)
At 6ft I am now able to dunk with two hands
Exercices are well-explained, can be done by everybody, and don't require access to a gym
Cons:
No theoretical explanation of vertical jump training or why these specific exercises where picked
Rating:
starstarstarstarstar_half
(4.5 / 5 stars)
In my opinion, Vert Shock is the best vertical jump training program available. The plyometric exercises are easy to learn, fun, super effective, and had me dunking within 4 weeks. If you want to improve your vertical jump, this is the way to go!
Get 50% Off Vert Shock Here
---
Jump Manual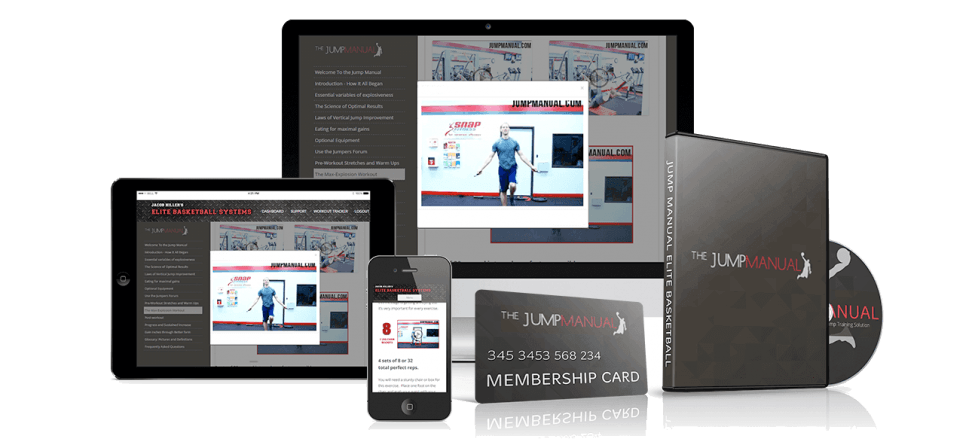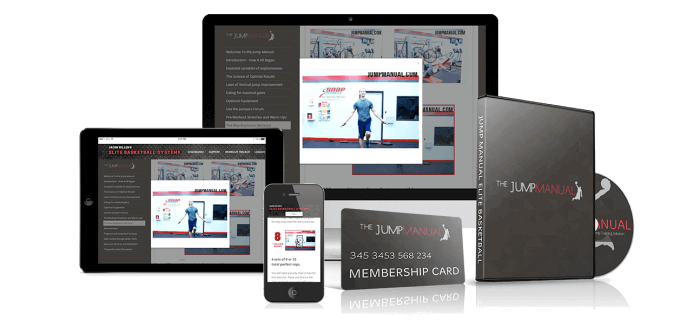 Requires Gym: Yes
Duration: 12 weeks
# of workouts: 5 per week
Length of workouts: 60 -120 min
Summary:
Jump Manual is a comprehensive 12-week program that mixes weightlifting and plyometric exercises with stretching, technique workouts and even a dieting plan.
Pros:
Teaches you a lot about vertical jump training
Especially great for slower two-feet "force jumpers"
One of the most well-known and very established vertical jump programs that has worked for thousands of athletes
Cons:
Includes weightlifting exercises which are not meant for beginners
Presentation is outdated
Rating:
starstarstarstarstar_border
(4 / 5 stars)
Jump Manual was developed in 2008 and it shows. It is no longer cutting edge, but it still works!
If you want a program that focuses on strength then this is the perfect program for you!​
---
Boing Vert

Requires Gym: Yes
Duration: Up to 27 weeks
# of workouts: 3 to 4 per week
Summary:
BoingVert is a vertical jump training program that's made up out of two separate programs: "Animal" a 16-week long program that focuses on plyometrics and "Monster" which is an 11-week long program that is more dedicated to weight-training.
The programs where created by Shawn Myszka a well regarded certified trainer who is known for working with NFL players on their strength and explosiveness and Kelly Baggett the author of the legendary Vertical Jump Bible.
Pros:
Deep scientific background with a ton of information
Videos do a good job of explaining the exercises
Cons:
Poor presentation of the program with a web site straight from the 90's
The program is long and complex and hard to follow
No basketball specific exercises and hard to integrate with a basketball season
Rating:
starstarstarstar_halfstar_border
(3.5 / 5 stars)
It's clear that there is a lot of gold hidden in BoingVert! But overall it's just not a very well thought out program. It's too complex (and too long) for most athletes to follow and the presentation should be much more streamlined and user friendly than it is.
If you are a more experienced athlete, and you are interested in a more theoretic understanding of vertical jump training, there is a lot of knowledge here. But you'll have to put a lot of work in to reap the rewards.

---
BounceKit

Requires Gym: Yes
Duration: 12 weeks
# of workouts: 4 to 5 per week
Length of workouts: up to 2 hours
Summary:
Created by professional dunker Jordan Kilganon, this 12-week program features a mix of weight training, core workouts, plyometrics, and exercises that focus on increasing power.
It is split into three 4-week programs that begin with an emphasis on strength training and slowly move to more explosive exercises and plyometrics.
Pros:
Well done videos demonstrate each exercise and show you the correct movements
Progression of strength training to more explosive movements covers all the bases
Cons:
Heavy weightlifting exercises (dead lift and squats at 5reps) should only be done by experienced weightlifters
Long workouts, complex exercises and confusing presentation make it hard to follow the program
Lack of information, scientific background and credibility
Rating:
starstarstarstar_borderstar_border
(3 / 5 stars)
As we all witnessed during the 2016 All Star Game, Jordan Kilganon is without a doubt one of the best dunkers in the world. But, unfortunately, that doesn't automatically make him one of the best vertical jump trainers in the world.
While the program covers all bases, it suffers from a lack of clear vision and unnecessary complexity. If you are just getting started with working on your vertical jump, the heavy weightlifting workouts and complex power exercises are too challenging and pose a huge injury risk.
However, if you are a more experienced athlete and you can fill in the gaps of the program, you might be able to reap the benefits of the BounceKit.
---
Air Alert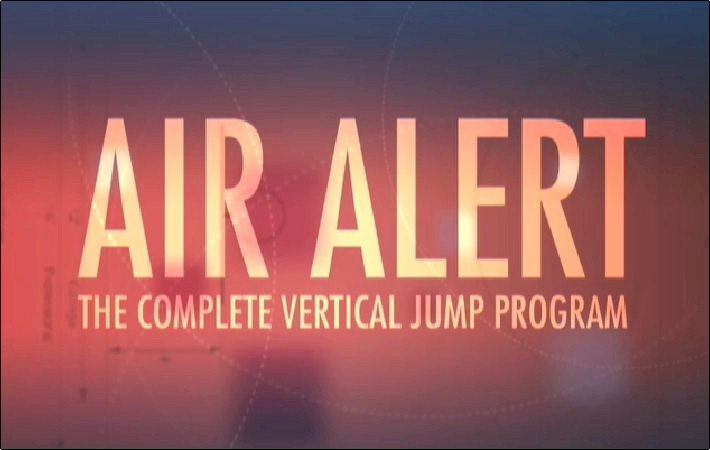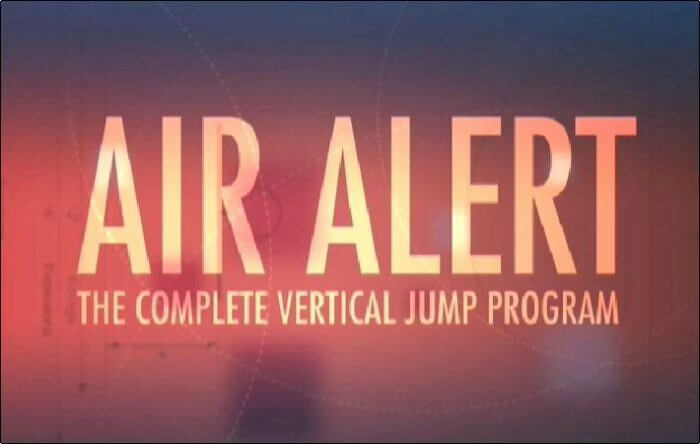 Requires Gym: No
Duration: 15 weeks
# of workouts: 3 per week (41 in 8 weeks)
Length of workouts: 270 - 3600 jumps per workout (increasing week by week)
Summary:
Air Alert was one of the first vertical jump programs on the internet and has gained a lot popularity because of it. The exercises are all very simple and easy to do. But instead of increasing intensity of the exercises along the program, Air Alert just increases the volume of exercises. By week 15 you will be doing 2600!!! jumps per workout.
This philosophy does not hold up by modern scientific standards and is just straight up outdated, inefficient, and might even be dangerous because it leads to overtraining and increased injury risk.
Pros:
Cons:
Injury risk
Insane amount of repetitions
No scientific backing for "habitual training" theory
Rating:
starstar_halfstar_borderstar_borderstar_border
(1.5 / 5 stars)
The program is available for free, however, I still wouldn't recommend Air Alert because of the outdated training philosophy and presentation.​
---
Jump Soles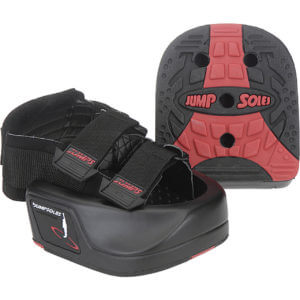 Summary:
Jumpsoles are a simple rubber platform you attach to your own shoes. They make it impossible to touch the ground with the heels thereby increasing the workload of the calf muscles.
They come with an 8-week training program of specific plyometric exercises like skipping, fast two-footed jumps (like lateral cone hops), and slower, two-footed jumps (like box jumps).
Pros:
The plyometric exercises of the program will get you to jump higher
Cons:
The product is a gimmick and the focus on the calves makes no sense as they only contribute 10-20% to jump height
Possibly dangerous for ankles
Might ruin your jumping technique
Rating:
starstar_borderstar_borderstar_borderstar_border
(1 / 5 stars)
The exercises of the workout plan that come with the Jump Soles make sense, but the product itself is a potentially dangerous and useless gimmick that you should avoid.
---
Conclusion
Overall I would give a recommendation to two programs:
Pick Vert Shock if you are looking for a program that will bring quick results, is easy to follow, proven to be successful.
If you are looking for a more advanced program that requires gym access and more experience with heavy weightlifting and you can tolerate an outdated presentation I would give the Jump Manual a chance.