Like every other basketball player in the world, I always dreamed of being able to dunk. The only problem: I'm a 6ft white guy who wasn't born with crazy hops and at 29 years my peak athleticism might already be in the past.
So when I stumbled upon the Vert Shock program I figured: "What's there to lose?" and decided to give it a shot.
In this article, I'm going to share my experiences with the workout and show you the results I got after 8 weeks of vertical jump training.
Vert Shock Review: My Results of Week 0 to 9
Summary:
Vert Shock is an intense 8-week workout that focuses on explosive plyometric exercises and bodyweight strength training. The workouts are presented in short, high-quality videos accompanied by worksheets that tell you exactly what to do.
Pros:
I improved my vertical jump by 8 inches (check the video above!)
At 6ft I am now able to dunk with two hands
Exercices are well-explained, can be done by everybody, and don't require access to a gym
Cons:
No theoretical explanation of vertical jump training or why these specific exercises where picked
Rating:
starstarstarstarstar_half
(4.5 / 5 stars)
In my opinion, Vert Shock is the best vertical jump training program available. The plyometric exercises are easy to learn, fun, super effective, and had me dunking within 4 weeks. If you want to improve your vertical jump, this is the way to go!
Get 50% Off Vert Shock Here
Let Me Introduce Myself!
Hi! I am Andy, a 29-year old basketball addict from Düsseldorf, Germany.
When I was little, my Dad mounted a basketball hoop to the garage in our driveway and I immediately fell in love with the game! I loved it so much, I shot free throws for hours even if there was snow in the driveway!
Some of my fondest childhood memories are my first dunks on that shaky little hoop - about 8 feet tall. So much fun!
One day, I did my best Shaquille O'Neal impression and tore down the whole hoop with a violent tomahawk jam. 
We replaced it with a solid, regulation 10-foot hoop and my driveway dunking days were over...
As a basketball player, I never got anywhere near professional level. I'd call myself a recreational basketball player, but I always enjoyed playing in different local leagues. And like a lot of guys out there, I always dreamed of putting on a show in the layup line before a game.
About two years ago I did four weeks of the Jump Manual program with a friend. After that, I could squeeze in a one-handed dunk on a very good day. (Check out my detailed comparison of Vert Shock vs Jump Manual if you want to know more.)
If you have ever dunked a basketball, maybe even on a smaller basket, you know how great it feels. Since I was a kid, I have dreamed of being a high riser like Vince Carter or Lebron James. I wanted to rattle the rim consistently and with authority!
Unfortunately, once I got my first real job I did not have the discipline to hit the gym as often and I spent WAY too many evenings on the couch, eating potato chips and binging on Netflix.
My athleticism suffered. I got slower and less explosive every year. I was hobbling around like Tim Duncan—if Tim Duncan had zero knees instead of one. After last basketball season ended I was so annoyed by my lack of hops, I vowed to change!
I set one goal: To be able to dunk before I turn 30!
Sure, I wanted to improve my overall athleticism - to regain my first step. But, I really wanted to hammer the ball through the net (and maybe hang on the rim for a while).
About the Vert Shock Program
In order to reach my goal, I had to find a good training program. So, one boring day at work I browsed the Internet searching for the perfect workout program. That's when I stumbled on Vert Shock.
The program promises an increase of 9-15 inches on your vertical jump in only 8 weeks. And to be honest, that sounded a lot like "Lose 20 pounds in 5 days" or "Make millions with no risk," You see that stuff every day on the internet...
But, the web page looked very professional and they offer a 60-day, money back guarantee. So, I thought, "What do I have to lose?"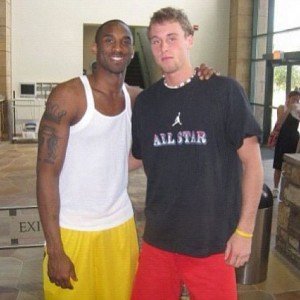 The Vert Shock program was created by Adam Folker, a former college basketball player and now a professional basketball player, in cooperation with Justin "Just Fly" Darlington, perhaps the best dunker in the world. If you haven't watched have his mixtapes, make sure to find him. He's incredible!
Get your free Ebook!
Adam Folker also offers a free Vert Shock ebook where he shares great advice on:
Best stretching exercises to increase your vertical jump instantly
What kind of shoes to wear
Correct jumping technique to maximize height
And other sneaky "hacks" directly from the NBA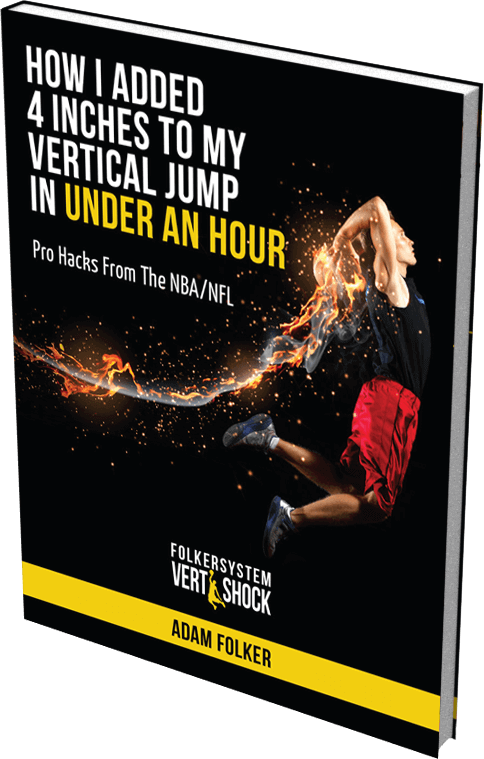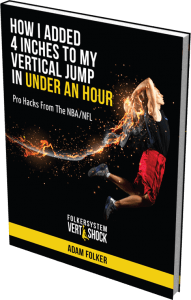 Get Your Free Ebook Here!
The Structure of Vert Shock
The 8 week training program is divided into three parts:
1. Pre-Shock Phase
The Pre-Shock phase is the first week of the program. This week is going to "shock your body" and prepare you for the following weeks of the program. You will be working 6 out of 7 days. You rest on Day 4.
2. Shock Phase
Weeks 2 - 7 make the Shock Phase, the meat of the program featuring 4-6 workouts a week. These workouts range from strength exercises for your legs and core to jumping-specific movements to intense plyometric exercises.
3. Post Shock Phase
Week 8 is called the Post Shock Phase. It is a week of six very intense training sessions with only one day of rest. After seven weeks of training, you should be feeling a little stiff, so the warm-ups are very important.
The Vert Shock Exercises
Adam explains everything in high-resolution videos. Warm-up, cool-down, every exercise - everything you need to know.
The exercises do not require any heavy weightlifting which is great for people without access to a weight room. Strength exercises are all performed with bodyweight or a basketball. The training program itself is available as a PDF and can be downloaded and printed or saved on any PC, mobile phone or tablet.
(Side note - full disclosure here, folks. I would have liked some more text explaining the background for the workout. I am a bit of a bookworm and I like to understand the theoretical foundation of workouts. I know this point won't be relevant to most readers, but if you are interested in a deeper knowledge about the mechanics and the training of the vertical jump, I recommend the book Vertical Foundation by Joel Smith.)
During the 8-week training program you will be doing 41!!! workouts in 56 days. These workouts are tailored towards different goals:
Advanced plyometrics: Intense jumping specific exercises with an emphasis on short ground contact-times
Core strength: Planks and different static core strengthening exercises are important to prepare the body for high-impact jumping exercises
Power: Exercises like deep squat jumps increase the strength and power in your lower body which is very important if you want to increase your vertical jump.
The different focal points of the exercises allow different parts of your body enough time to rest between workouts. For example, you will never do two heavy plyometrics workouts on subsequent days.

When I first bought the program and had a look at the actual training program, the first thing that came to my mind was: "Damn that's a lot of workouts er week!"
Truthfully, the workload is hard, but manageable. Just once after week 6 did I take a rest for two additional days because my body was feeling really tired and I wanted to prevent unnecessary injuries.
About Injury concerns
Before I started the workout I was really worried my knees would not respond well to the training program. I have had knee problems before, and at one time had to stop playing basketball for a while because I could barely climb stairs due to a strange stinging pain in my left knee.
Ironically, after the Vert Shock program, my knees feel better than before! For the first time in my life, I stuck to a stretching routine as part of the cooldown. I noticed I have a crazy shortened left quad. I put some extra work into loosening my quads and that has really made a big difference! I just wish I had known of the positive impact of stretching before - I always thought stretching would decrease my vertical, so I skipped it. (Stupid me!)
My Results of 8 Weeks of Vert Shock
Alright, let's get to the real interesting part! Does Vert Shock work?
Before Vert Shock (29" vertical)
In order to assess my improvements, I measured my vertical jump at the start of the training. I had a maximum jump of 29" (running). Not bad - I could grab the rim, so I had some hope.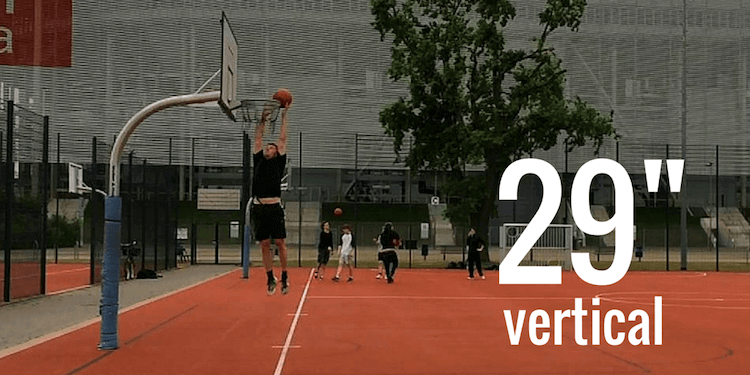 My Pre Shock Phase
Week 1 was one of the hardest weeks of training. After being a couch potato for far too long, my body was shocked by the six intense workouts in seven days.
Below you can see some pictures of the park where I usually did my workouts. This was surprisingly fun, and a great change of pace after sitting in a cubicle from 9-to-5.
As you can see, there are enough park benches of varying heights to do box jumps, depth jumps, etc. There is even a small hill for intense sprints!
Overall, an average workout session took about an hour to complete. The workout included the dynamic warm up and the cooldown period! You won't need to spend hours each day working on your vertical jump.
Even though I had planned to take weekly videos of my progress, after Week One, I was just too tired to test my vertical. In retrospect, I think I was right - I doubt the results would have been pretty.
Week 2 - First improvements (32" vertical)
In Week Two, I was feeling a lot better, so I decided to use the day off to head to my favorite basketball court and take a few videos of some dunk attempts.
Two weeks of hard training had increased my vertical by 3 inches. I was very close to dunking for the first time in a while!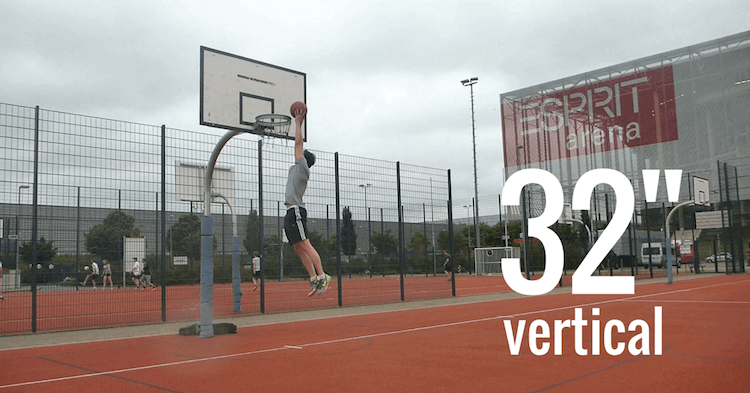 Week 4 - The First Dunk (35" vertical)
Weeks Two and Three were pretty much business as usual. I kept working hard and my vertical jump increased steadily. When testing my vertical after Week Three, I was really close to dunking, but the ball just wouldn't go down!
On my way to the court after Week Four, I had the strong feeling that today would be the day. My legs felt strong and springy. It was hot (made warming up a lot easier) and I was pumped.
After doing my dynamic warm-up for 20 minutes and trying some jumps without the basketball, I picked up my basketball ball and tried some dunks. I think I missed the first three attempts, but I could feel I was incredibly close. On the fourth attempt, I crushed it!
I threw down my first dunk after only 4 weeks! The hard work paid off - and in a short amount of time. I had increased my vertical by over 5 inches in only 4 weeks! If I could continue this progress over the next 4 weeks, I could do some insane dunks!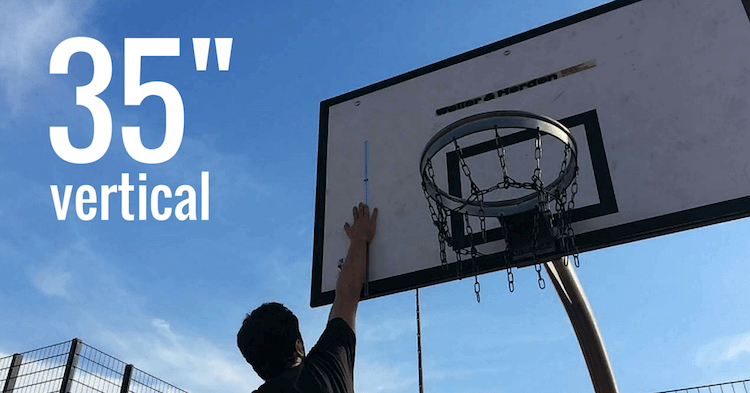 Week 6 - Stagnation (35" vertical)
Until Week Five, everything went exactly as planned or even better. I increased my vertical jump each week and I was already dunking consistently with two hands. I could picture myself throwing down windmills, 360's and between-the-leg dunks! Winning my first dunking contest was only weeks away!
Unfortunately, my vertical jump actually decreased a little in Week Six. After 30 workouts in only 42 days, my legs felt really heavy and I was just beat.I decided to take a couple days off, and give my aching legs some well-deserved rest.
The Final Push (37" vertical)
After my short break after Week Six, I went back to work with great enthusiasm. During Week Seven I was still not feeling great, but I was back to dunking easily even though my hamstring was really tight. Still, I wasn't as loose and explosive as I had hoped after my rest. I guess that's the first sign of Father Time catching up with me. Five years ago, I would have been bursting with power after two days of doing nothing.
By Week Eight, autumn had arrived in Germany and it started to rain every day. I had to do a lot of the workouts of my final week in pouring rain - what a finish!
Fortunately, autumn also meant the school gym where my team practices opened up again. I was able to test my vertical on an indoor floor for the first time. The dirt and dust-free floor really helped, too. My vertical jump was up to a new personal record of 37 inches. I wasn't quite able to reach my ambitious goal of 40 inches, but I was damn close!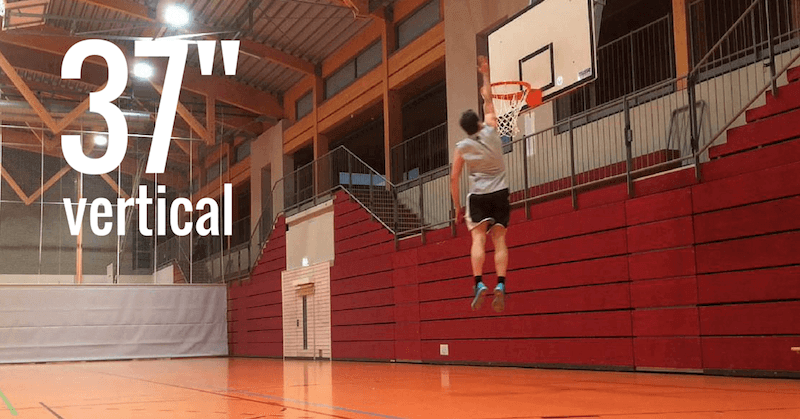 My teammates couldn't believe the way I was dunking! Three different guys asked me how tall I was. They couldn't believe a 6-foot white guy could dunk like that. ? After practice, I was throwing down alley-oops and trying all kinds of dunks with the tall guys on the team. (I am by far the smallest guy on the team who is able to dunk.) What a a great reward for all the hard work in the last 8 weeks!
And I am not an outlier! Others have seen the same amazing results. There is even a 5'5" guy who made his first alley-oop after Vert Shock. You need to see it to believe it!
[EDIT: 3 months after finishing Vert Shock ]
I was asked on YouTube and via Email if the increased vertical quickly vanished after I stopped doing Vert Shock. The quick answer: NO!
I haven't done a whole lot of jump-specific training lately, even though Vert Shock provides you with a maintenance program you can do once a week.
Still, I have been dunking a lot during and after basketball practices because it is just so much fun. So far I have maintained my 37" vertical. In fact, I am already planning my next round of Vert Shock in the upcoming off-season. I still want to reach my goal of a 40 inch vertical. I am stoked to throw down some windmills!
Final Thoughts
Overall, I recommend this program to every basketball player who is determined to increase his/her vertical jump. Not only will you jump higher, but you will also gain a lot of quickness and overall athleticism. Other parts of your game will also improve - rebounding, defense and penetration.
Vert Shock focuses heavily on plyometrics and is, therefore, especially suited for players who have no access to a gym or very little experience with weightlifting. All the equipment you need is either a basketball or a medicine ball. Download Vert Shock here, and you can start working towards your first dunk today!
My Verdict
Vert Shock Review after 8 weeks of training - Does Vert Shock work?
What I liked:
I can finally dunk
Great explanatory videos
No gym needed
Easy to follow program
What I didn't like:
No theoretical explanation of the workout
---
My Improvements:
starstarstarstarstar_half
(4.5 / 5 stars)
I increased my vertical by 8 inches during the program. I now have a 37" vertical and can dunk easily with two hands.
---
Price:
starstarstarstarstar_border
(4 / 5 stars)
The original price is $138, but you can get it for $67 here. It's not cheap but being able to dunk was absolutely worth the price to me!
---
Presentation:
starstarstarstarstar
(5 / 5 stars)
Every exercise is explained in great instruction videos. The printable PDF workout sheets are easy to read and no gym is needed!
---
Ease of Use:
starstarstarstarstar_half
(4.5 / 5 stars)
The program is pretty time-intensive as there are about 5 workouts per week, each lasting a little less than 60 minutes. Exercises are demanding, but always manageable.
---
Overall Rating:
starstarstarstarstar_half
(4.5 / 5 stars)
Vert Shock definitely works! In my opinion, Vert Shock is the easiest, most fun and most efficient Vertical Jump program currently available!
If you want to increase your vertical jump, make sure to check it out!
Get 50% Off Vert Shock Here
How Much Will Vert Shock Increase Your Vertical?
If you are wondering how much Vert Shock could increase YOUR vertical jump and whether or not you will be able to dunk after 8 weeks of training, I have created the perfect guide for you!
In the past weeks, I have read everything I could find about vertical jump training and have gained a lot of knowledge through my own training. This allowed me to write a guide in which I explain what you can personally expect from Vert Shock (taking into account your height, standing reach and your current athleticism).
There is even an interactive calculator included! You just put in your standing reach and your current vertical jump and the Vert Shock calculator tells you if you will be able to dunk after 8 weeks of Vert Shock!