This web site started in 2015 with a simple video tool that allows users to measure their vertical jump inside their web browsers. Since then, thousands of vertical jumps have been measured and I have gotten a lot of feedback from users. From that, I quickly learned that more and more of the traffic on the internet is coming from mobile devices, over 60% at this time!
Unfortunately, for a lot of these mobile devices, the Vertical Jump Analyzer didn't work very well, or didn't work at all. The solution to the problem was obvious: I needed to release a mobile app!
Introducing the iOS App!
I am proud to announce Version 1.0 of the "What's my Vertical" iOS App! It is the perfect companion for every basketball player who wants to keep track of his progress during vertical jump training. It allows you to easily measure your vertical jump within a few minutes. Just shoot a video with the iPhone camera, load it in the app and the video analysis will tell you how high you jumped!
You can get it on the Apple App Store here.
What does the App offer?
The What's my Vertical App has two features:
Dunk Calculator
Want to know how high you need to jump to make a dunk? Just put in your standing reach and the app will tell you!
If you are not sure about your standing reach, the app features the option to estimate your standing reach from your height.
If you are not able to dunk (yet), then this is the perfect way to find out by how much you need to improve your vertical jump for your first slam!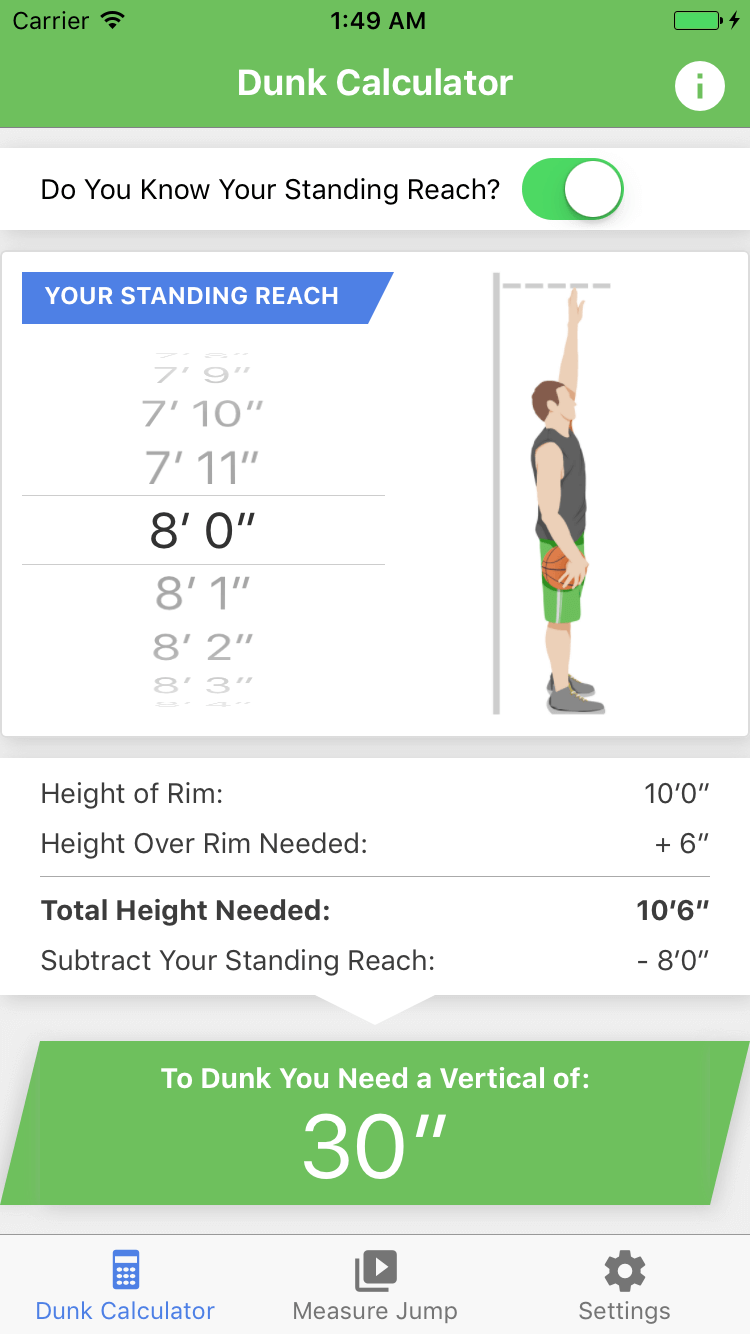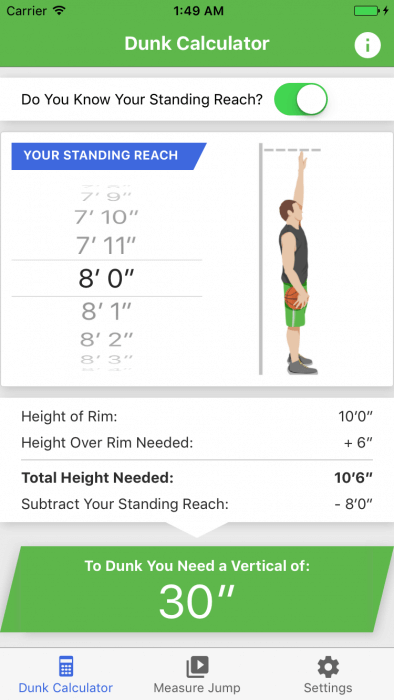 Measure Your Vertical Jump
The second feature of the app allows you to measure your vertical jump using video analysis. Open the iPhone camera, use the SloMo feature that comes with every iPhone since the 5s and shoot a video with up to 240 frames per second.
This allows you do very accurate analysis of vertical jump height. In fact there has been a study that showed that this method is as precise as much more expensive force platforms.
How does it work?
You simply load the video and mark the exact time of the takeoff and landing. This allows the app to measure the hang time as the difference between the two timestamps. Once you know the hang time, it only takes physics 101 to calculate the vertical jump height. If you use slo-mo video this is incredible accurate!
For example, if you use 240fps video, which means there are 240 pictures taken per seconds, the error if you pick a frame to soon or too late is only 1/240 of a second (0.0042s). For a vertical jump of 30" this equates an error of less than a third of an inch!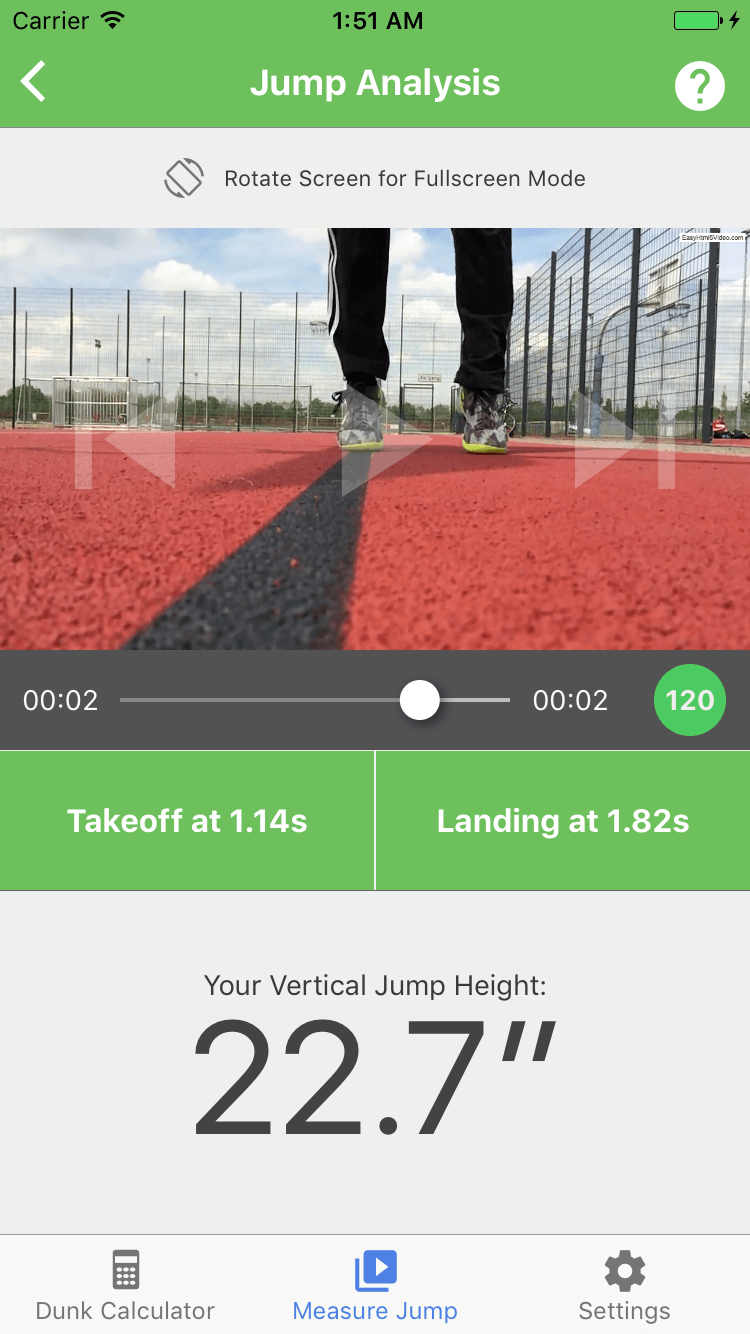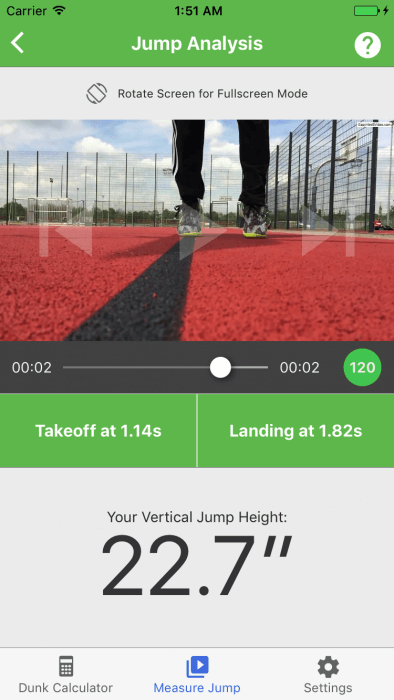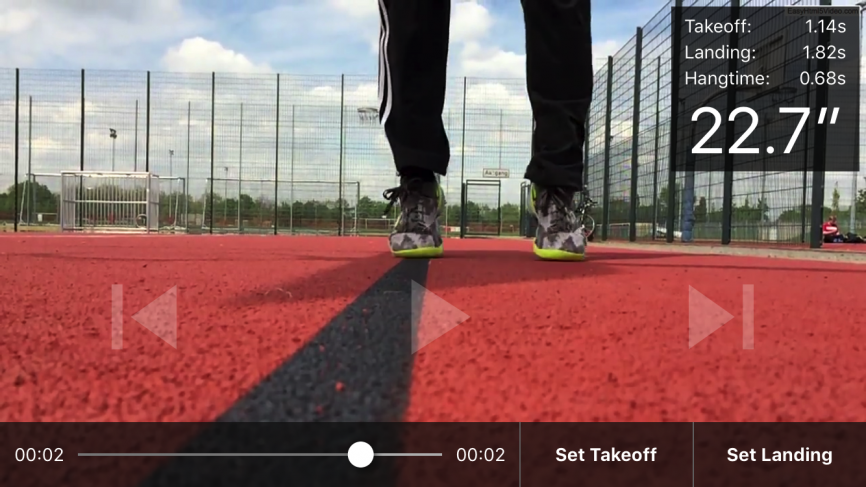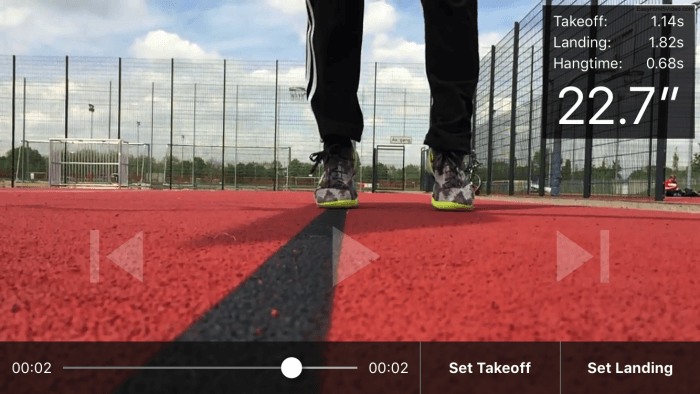 A Look into the App
How to Measure Your Vertical Jump With Your iPhone