If you are lucky enough to have your own pool and you are even the tiniest fan of basketball then you just NEED a pool basketball hoop! Trick shots, long three-pointers, and creative dunks while chilling in a pool - what's not to love?
In particular, kids are absolutely enthusiastic about the addition of a basketball goal to your pool. There's no limit to their creativity and they can keep themselves entertained for hours!
These days, there is a surprising variety of pool basketball hoops on the market. In this article, I am going to show you what to look out for and help you pick the right one for your situation.
Quick Overview of Different Swimming Pool Basketball Hoops:
Assembled in under a minute
Very sturdy and well-made floating hoop
Comes with two balls and a pump
Big inflatable floating basketball hoop
Made from high-quality materials
Comes with a size 5 (kids) basketball
Sturdy plastic construction is guaranteed rust free
Placed on the side of the pool
14-inch rims are a little smaller than standard rims (18")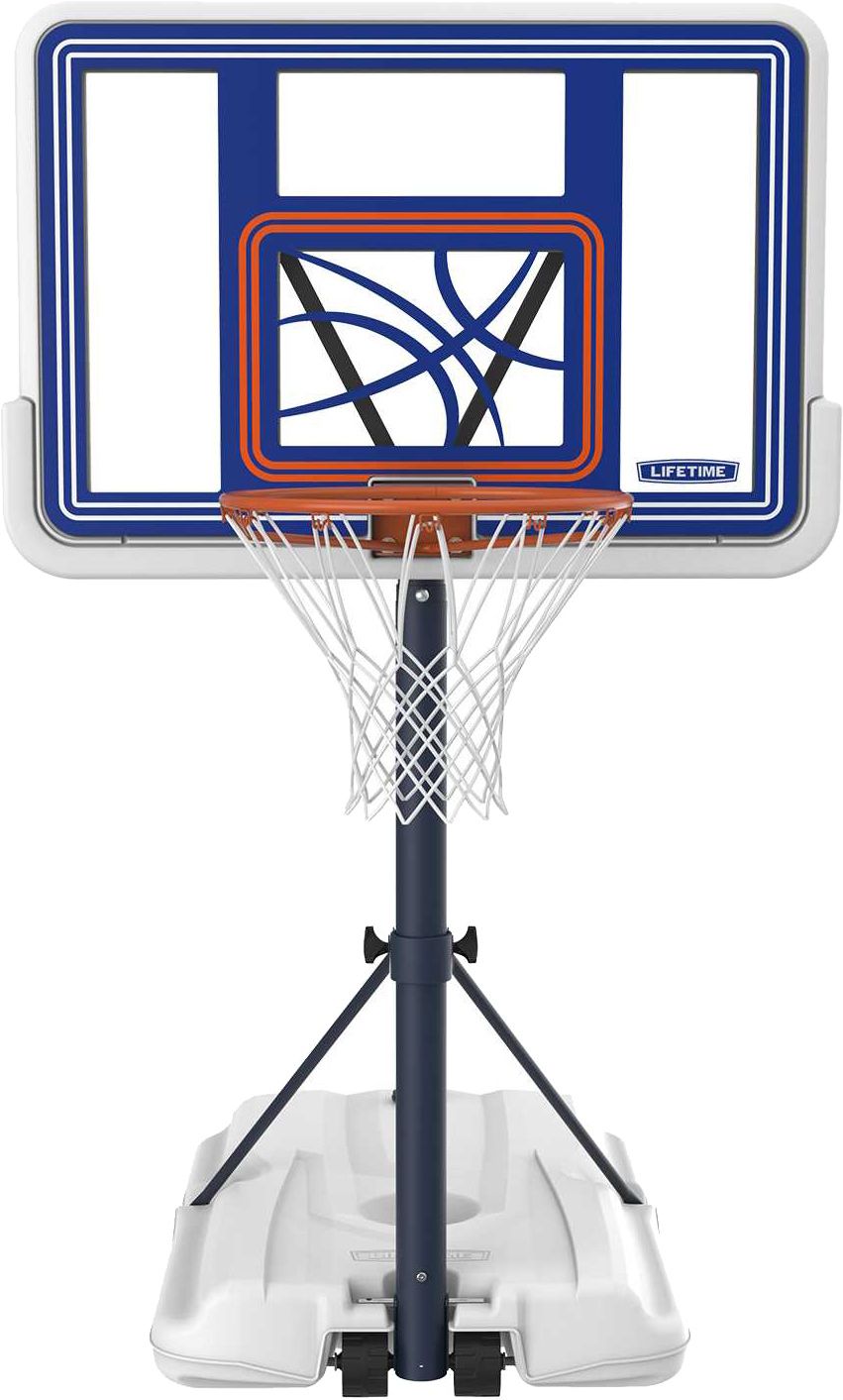 44-inch backboard and standard rims
Height adjustable from 4 - 6.5 feet
Metal parts show some rust after a while
Super sturdy thanks to 200lbs base
Standard rim adjustable up to 56 inches
Aluminum powder-coated pole stays rust free
Amazon Prices were last updated on 10/04/2023 1:57 AM EDT
Floating or Poolside Hoop?
There are two different types of basketball hoops for your swimming pool or lake:
Floating Basketball Hoops
Floating basketball hoops are either inflatable or come with a foam bottom that provides enough buoyancy. They are usually pretty affordable and easily transportable. You want to take them to your friends pool or to the lake? No problem!
They are also great for dunkings where you jump from the side of the pool as you don't have to be afraid of the edge of the pool and they don't hurt too much if you miscalculate and land on them.
The downside is that they can topple over and choppy water can increase the diffulty of making a shot.
GoSports Splash Hoop Basketball Pool Game 2019
Poolside Basketball Hoops
Poolside Baketball Hoops are usually more expensive and the assembly is not as easy, but you get an experience that is much closer to actually playing basketball.
High-qualiy rims give you that nice swish you know and love and a stable and solid hoop means you can also hang on the rim a little bit after a powerful dunk!
PoolSport Stainless Basketball Hoop - Dunn-Rite Products
Material
When it comes to materials you want to avoid metal as best as you can. Especially if you have a salt water pool, it's really hard to keep metal from rusting unless it's a high-quality rust-free construction.
Floating hoops are usually made from rubber or plastic which are not only rust-free but also keep the injury risk down as these materials are pretty soft and pliable.
Size of Hoop and Balls
Pool Basketball Hoops come in all shapes and sizes. The GoSports Splash Hoop PRO for example is a little smaller than your regular basketball hoop and comes with smaller and softer balls that are easy to palm and emphasize fun.
If you want to take your basketball games a little more serious there are also regular-size hoops where you can use any standard basketball and work on your shooting technique while enjoying the water.
Top 5 Pool Basketball Goals
The design of this hoop is simple but awesome: it takes less than a minute to assemble, it's sturdy, doesn't topple, and I like that it comes with 2 balls of different sizes and even a ball pump!
Compared to other pool hoops, this one is not meant to be installed poolside. Instead, it floats on the water thanks to the thick foam padding on the bottom. You'll love the fact that it doesn't come with any blow-up air sections. This thing won't lose buoyancy any time soon!
The size of the hoop and balls are maybe half the size of a regular basketball hoop. So don't expect to work on your free throw accuracy with this hoop, but it's great fun to shoot hoops or do spectacular dunks. Kids will spend hours with this hoop without getting bored!
---
Of all the hoops presented in this article, this one looks least like a traditional basketball hoop. It's made from thick rubber with durable seams and floats on the water thanks to large inflatable sections on the bottom.
With 40" x 46" dimensions, this hoop is surprisingly big and takes a while to inflate. It's probably a good idea to get an air pump, otherwise, you might pass out before you are finished.
The fact that this hoop is inflatable has its pros and cons: it takes a while to set it up at first and even though the quality of the materials is great, there's always the chance that someone pokes a hole into the air sections. On the other hand, once deflated, it's super easy to take with you to the lake or another pool and the injury risk is really low.
This hoop comes with a size 5 (kids) basketball that is surprisingly heavy and high-quality. For younger kids, or crazy trick shots jumping from the side of the pool, you might want to get some additional smaller balls that are a little softer and easier to grab.

---
If you don't like to shoot on a moving target that's floating in the water, the GoSports Splash Hoop is a little more conventional and placed at the side of the pool.
The 14-inch rim is a bit smaller than a regular basketball rim (18") and the same is true for the two 7" balls (compared to 9.5") that come with this hoop.
The hoop is made from thick and solid plastic and the assembly takes less than 15 minutes (no tools needed!). The base can be filled with up to 50lbs of water which makes it sturdy enough to handle even powerful dunks by teenage boys. I also like that there are no metal pieces to this construction - guaranteed rust-free!
Overall, this is a really affordable, well-built, and durable hoop that will provide years of fun for kids and adults alike!
---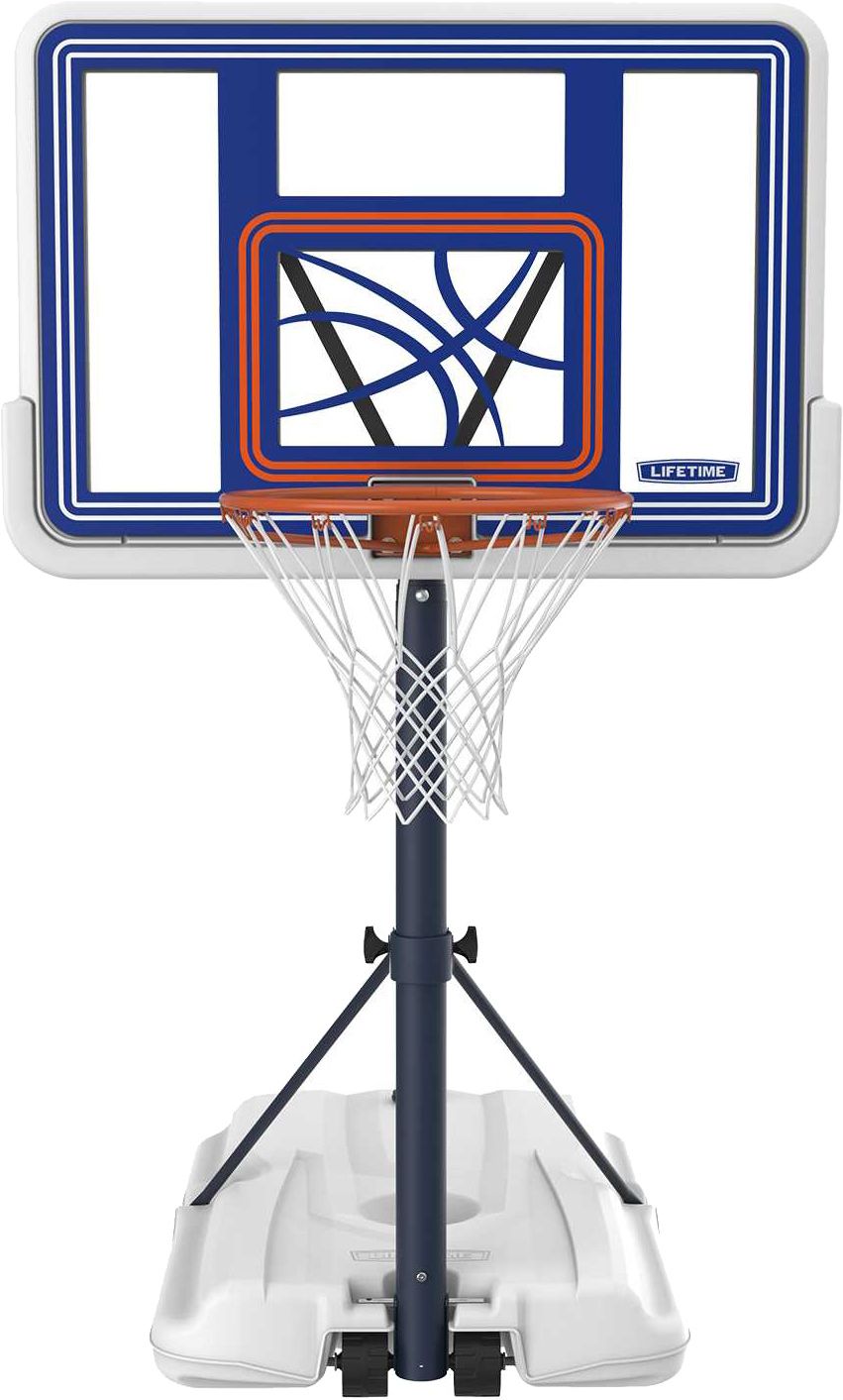 This basketball hoop comes with a big 44-inch backboard, adjustable height from 4 to 6.5 feet in 6-inch increments, and a regulation basketball rim.
This is THE hoop to get for rough teen boys. It can be raised so high that no one can dunk (or goaltend), the standard rim allows you to use a regular basketball and the base is super sturdy - you won't be able to pull this hoop into the pool even with your most powerful SHAQ impression.
The assembly is a bit tricky and requires at least one additional person and an hour of your time. You might also want to spray the metal parts with Rustoleum before your start the assembly as many customers report rust issues after 1-2 years.
Overall, this is a great swimming pool hoop for the more "serious" pool hoopers out there that don't want to ruin their shot with flimsy basketballs and smaller rims.

---
This is the premium option when it comes to pool hoops: you get a big 43-inch backboard, a regulation-sized vinyl-coated rim that is adjustable up to 56 inches, and an aluminum powder-coated pole that is guaranteed to remain rust-free for a long time!
The base can be filled with 200lbs of water which makes it by far the sturdiest hoop shown in this article. Even though the rim says "no hanging" you will find it impossible to move this hoop by even the most vicious dunks!
The hoop comes with a smaller ball included, but thanks to the standard rim size you can use any regular basketball your already own.
Overall, this is by far the most expensive hoop in this article but it shows! If you are looking for a super sturdy pool basketball goal that will last for 10 years then the Dunnrite is your choice. Hey if you paid all the money to get your own pool you might just want to splurge on a hoop that doesn't leave any rust stains on your pool deck!
---
Conclusion
If you are looking for a cheap and fun pool toy that you can also easily take to the lake I would go for the GoSports Splash Hoop 360.
The GoSports Splash Hoop PRO is a fun-sized poolside hoop that is surprisingly sturdy and won't rust thanks to the all-plastic construction.
If you want to splurge on a regulation-sized basketball hoop go for the Dunnrite Splash and Shoot.