Last week in basketball practice: During a 5-on-5 drill, my teammate defending the left wing got beaten by a vicious crossover. When the opponent slashed to the hoop and went for the layup, I decided to come over from the weak side to try to block the shot.
Well, I didn't actually block the shot. But, I was able to alter it enough that it didn't go in. Success!
Or, so I thought. Unfortunately, I landed on the foot of my own teammate and badly rolled my right ankle.
Every serious basketball player knows the horrible pain of an ankle sprain like that. In fact, almost 40% of all basketball-related injuries are ankle sprains!
You can try to prevent sprains by strengthening the ankles with wobble boards and other exercises, but there is little you can do when you land with full force on someone else's foot. In this scenario, the only chance to prevent an ankle sprain is a brace that absorbs the impact of the landing and supports your ankle so that it doesn't roll.
In this article, I will help you find the best ankle support for your needs, ranging from very affordable ankle sleeves to high-performance braces like the Zamst A2-DX , worn by 2x NBA MVP Steph Curry.
Best Ankle Braces For Basketball Players:
You can check the comparison table here, or click on any of the ankle braces to read a more detailed review.
What to look for when buying an ankle brace:
Find the right ankle brace for your purpose:
There are a lot of different reasons why athletes use ankle braces. Gaining extra stability and confidence for sore ankles, preventing low or high ankle sprains, or recovering from injuries suffered in the past. There are ankle braces specifically tailored for these different needs. Get a professional opinion about your ankles to find the perfect fit for you.
Fit & Comfort
If the fit of an ankle brace is too loose, it won't deliver the necessary stability and protection you want. On the other hand, if the brace fits too tight, your feet will get numb due to the restricted blood flow. Make sure to buy the right size!
Most manufacturers offer charts to help you find the best fit depending on your shoe size. If you have really narrow or wide ankles, you might need to go one size up or down to ensure a proper fit. Also, make sure to wear sturdy basketball socks to minimize any friction on your skin
Durability
There are some cheaper options that tend to lose their elasticity quickly. That's bad news because these ankle braces won't offer the same protection after a while. Make sure to buy quality products that don't lose form and will remain firm enough to support your ankles even after heavy use.
A comparison of recommended ankle braces:
These days, there are a lot of different types of ankle braces on the market. In this post, I want to give an overview of the different options, so you can find the best ankle brace for you!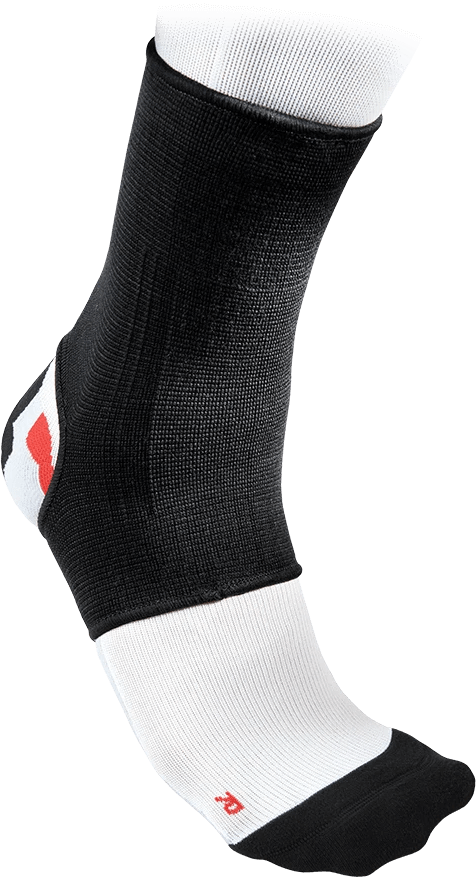 ankle sleeve works similarly to very tight socks
very comfortable but doesn't offer a lot of protection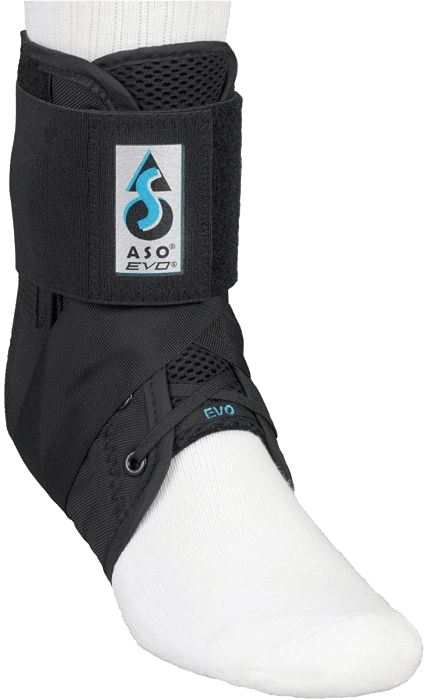 works best for low ankle sprains
affordable option that offers good protection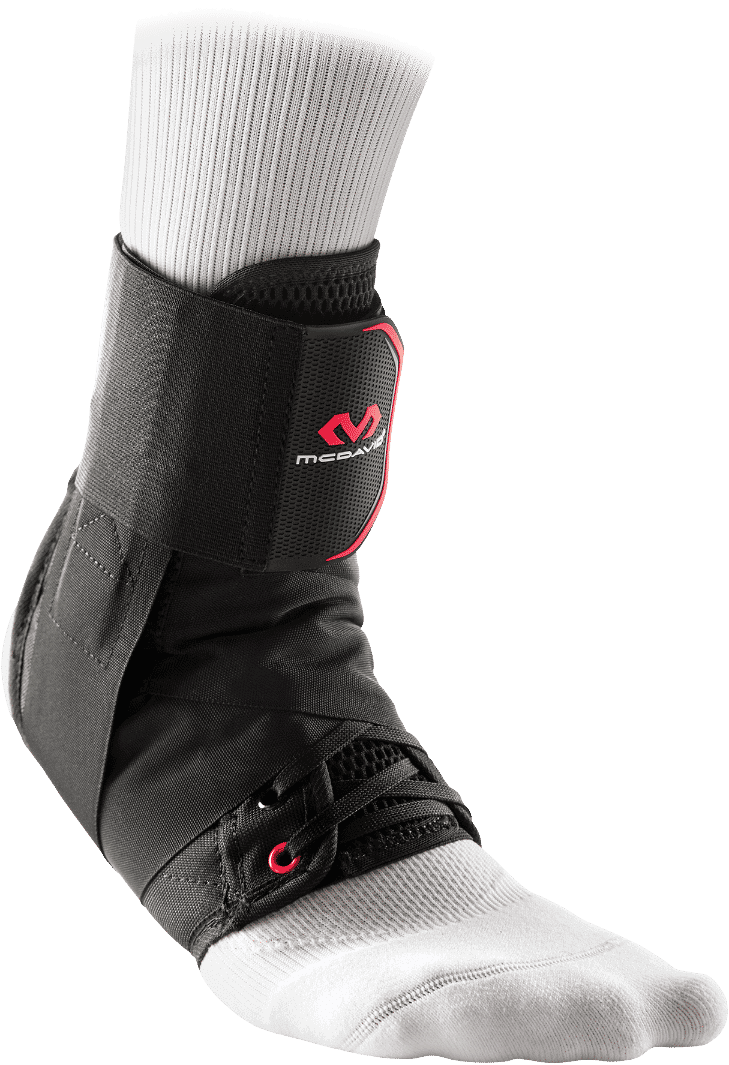 simulates the use of athletic tape
works best for moderate instabilities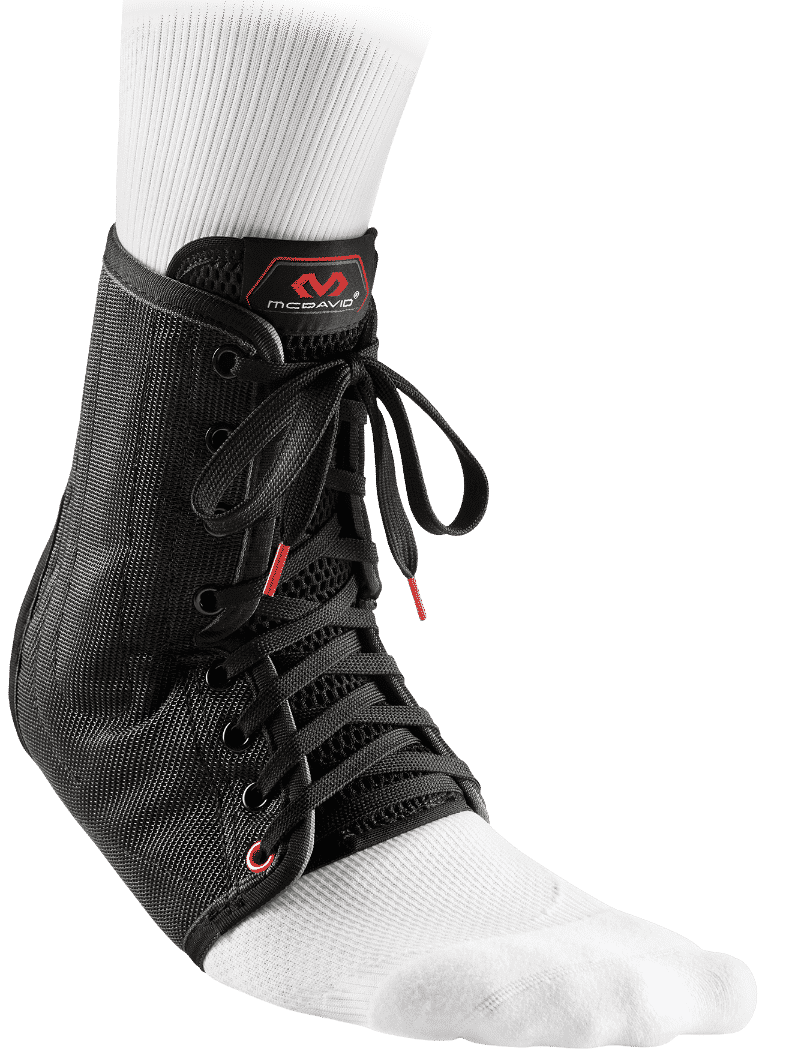 uses spring steel stays for increased protection
suitable for low and high ankle sprains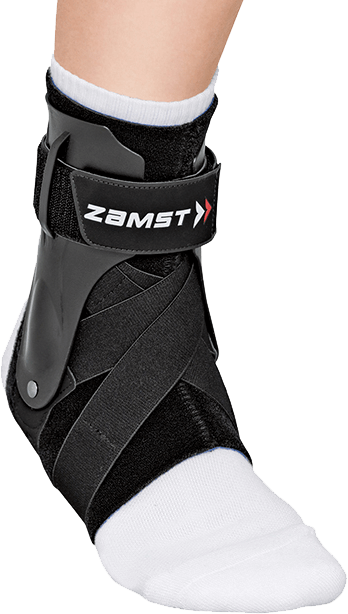 worn by Steph Curry in the NBA
offers ultimate protection
Amazon Prices were last updated on 10/04/2023 1:57 AM EDT
Ankle sleeves
Made of tight-fitting, elastic material, these sleeves offer compression and stability for sore ankles. They are very light, comfortable and provide pain relief, however, they cannot actually prevent ankle sprains from happening.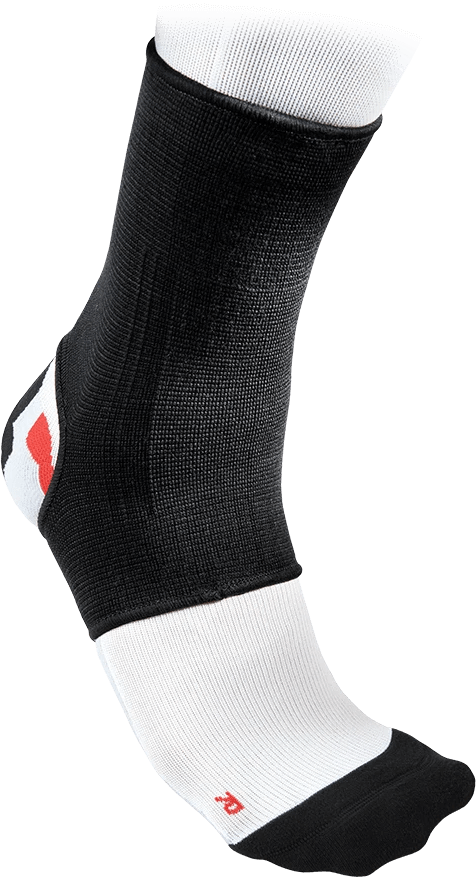 The McDavid 511 is a very basic ankle sleeve made of breathable, non-neoprene knitted elastic. Ankle sleeves work like very tight socks offering a small amount of added pressure and stability. They can be useful for athletes who lack confidence after an injury but don't want to wear bulkier and less comfortable ankle braces. They also work well if you are looking for pain relief caused by Achilles tendinitis.
The McDavid 511 is very comfortable and can be worn above or under your socks for hours without any irritations. It is also not "foot-specific", so you can buy just one, and use it on the left or right foot as needed.

---
Ankle Braces
Braces are far bulkier than ankle sleeves but offer maximum protection and help to prevent or to recover from ankle sprains. They come in different styles with either just a lace-up/strap combination or with additional stays or plastic inserts that increase stability even further.
Ankle braces without inserts:
These ankle braces deliver stability solely through the lace-up system and the straps. The omission of inserts makes these braces lighter and more comfortable. In return, they offer less protection, especially for high ankle sprains.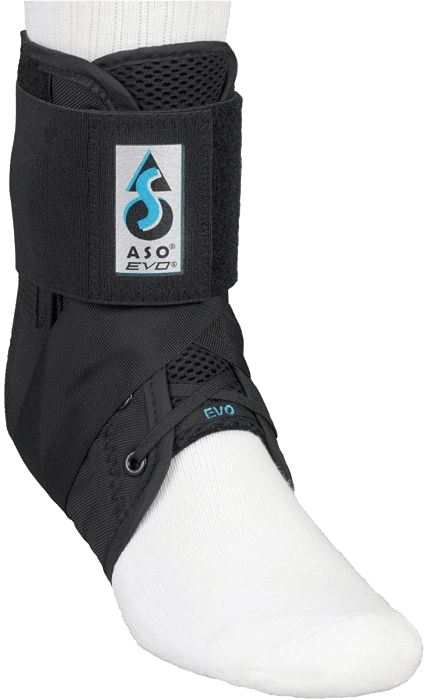 This ASO ankle brace is one of the most popular models and provides excellent lateral and medial support while not hindering quick athletic moves because of its lightweight construction. The heel is safely locked in by figure-8 straps, which greatly reduces the likelihood of an ankle sprain. The material needs a bit of break-in but, after a few weeks, you will hardly notice you are wearing it.
The ASO ankle stabilizer is a great choice when you are looking for a moderately-priced ankle brace, especially if you are recovering from a low ankle sprain. Make sure to buy it a size small as they tend to run large.
---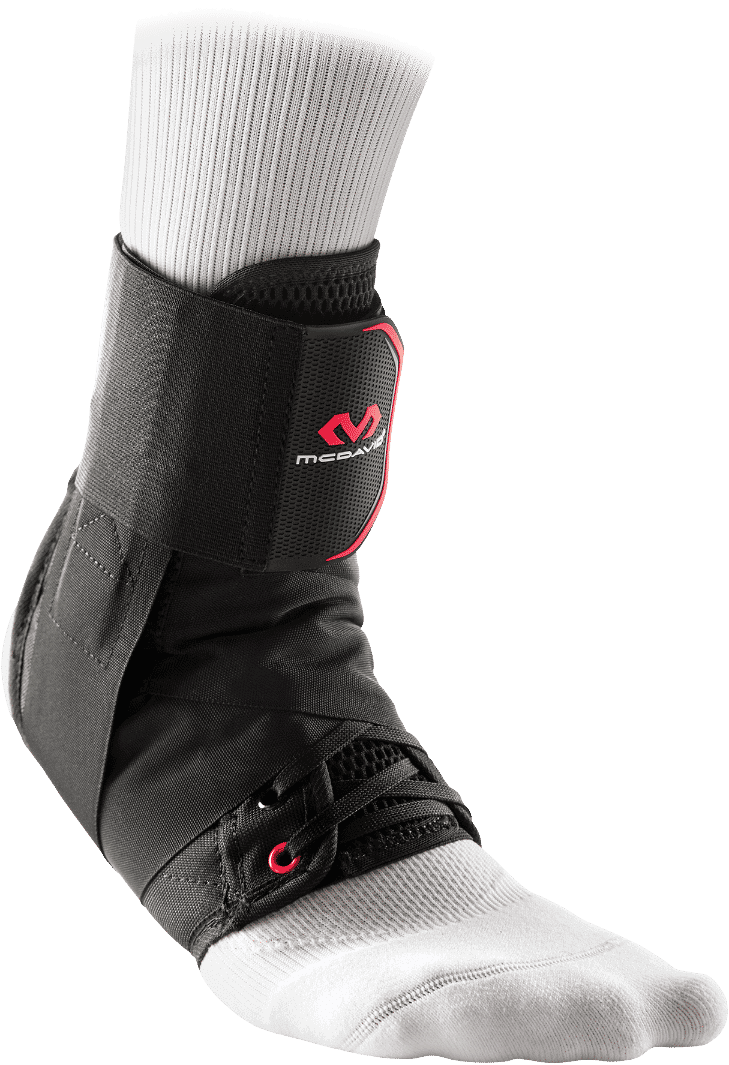 This ankle brace is constructed of single-layer polyester fabric for full support and minimal weight. The construction of this ankle brace doesn't use any inlays but mimics the function of athletic tape. Therefore, it is very light and fits comfortably even with narrow shoes.
The brace can feel a bit stiff in the beginning but after a short break-in period, the material starts to feel really nice. The McDavid has 9 sets of eyelets (compared to 6 of the ASO), which makes it a bit bulkier and more difficult to put on. In return, it also offers a bit more stability compared to the ASO.
Overall, the McDavid 195 ankle brace is a high-quality product that offers good protection while still being relatively lightweight and comfortable.
---
Ankle Braces with Inserts:
Ankle braces with inserts or exterior support structures offer more protection and are especially useful if you want to prevent high ankle sprains or if you are recovering from one. However, they are heavier, less comfortable, and restrict your movements to a higher degree than the previously-presented lighter options.
The Zamst A2-DX ankle brace became very popular when Stephen Curry started to wear it in the 2012/2013 NBA season to protect his often-injured ankles. He credits it with finally giving him the full confidence to play without the fear of re-injuring himself.
This is also the ankle brace I currently use myself and I couldn't be happier! The Zamst A2-DX is definitely the most well-built ankle brace. As soon as you put your hands on one of these, you will notice that the quality is on another level.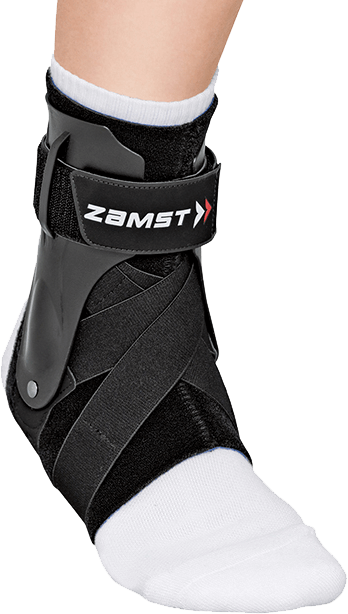 When you put on the Zamst A2 DX for the first time it will probably take you a little while. I almost had to read the instructions and I never do that! In total, there are 4 velcro fasteners around the heel and one anchor strap above the ankle to ensure your feet are secure.
Despite the added bulk, the Zamst remains very comfortable. In fact, I barely notice this ankle brace anymore when playing basketball. This level of comfort is achieved by the very good fit of the plastic support splints as well as the added padding on the inside of the ankle brace.
Overall, the Zamst A2-DX is an expensive, high-end ankle brace made especially for athletes with serious or recurring ankle problems. If you want to treat your ankles to the best brace on the market, go with the Zamst A2DX.

---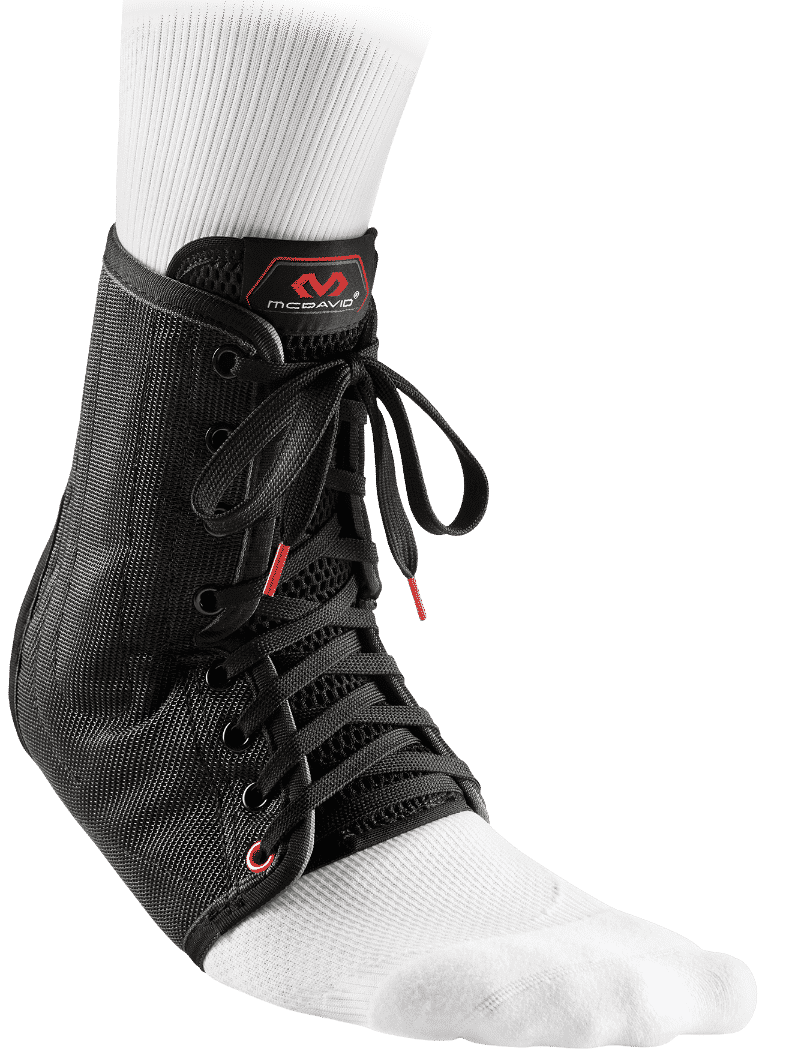 The McDavid 199 is another very popular ankle brace offering serious protection by using steel spring stays on both sides of the brace. The construction is durable and lightweight but needs some time to break-in. Lacing them up takes a while, but eventually, you get used to it.
It offers a little less support compared to the Zamst A2-DX but is a great option for athletes on a moderate budget who are recovering from an ankle sprain or need maximum protection because they are prone to ankle injuries.

---
Final Thoughts
There are a lot of ankle braces to choose from and the best ankle brace for you will vary depending on your needs and prior injury history.
Ankle sleeves like the McDavid 511 are a great choice if you want a simple way to add a little bit more stability to your feet. Get the great combination of support and flexibility of an ASO ankle stabilizer if you want to prevent low ankle sprains. Choose the Zamst A2-DX if you have problems with recurring high ankle sprains and need the best protection available.