Recently, an incredible video of Steph Curry making 103 threes in a row went viral. Which made me wonder: Is Steph Curry the best 3-point shooter of all time? And who else is on the list?
I was especially curious, considering how important the three-pointer is in today's league where almost 40% of all shots are from deep!
So I went to basketball-reference.com and got the data of every shot ever made in the NBA (now updated until the 2021-22 season) and did some digging to find out!
NBA 3-Point Shooting Scatter Chart
The chart below shows every shooter in NBA history who made more than 200 threes in their careers.
The x-Axis represents the number of made three-pointers while the y-Axis represents their 3-point percentage. So better shooters will be displayed in the top-right, inaccurate, low-volume shooters while be drawn in the bottom left.
As we can see there are a lot of players in NBA history bunched together with a three-point percentage of around 35% (the average 3-point percentage in NBA history is 35.12%) and around 200-600 made threes.
But some players clearly stand out:
Charles Barkley's three-point shot seems to be about as accurate as his golf swing: In fact, he ranks second to last in percentage among all players that made more than 200
three pointers.
Kobe Bryant will be remembered as one of the best basketball players of all time, but not because of his 3-point shot. While he made 1827 treys during his career (ranking in the top-20) he only made a below-average 32.9% of them.
Lebron James is another player who made a lot of threes in his career (2140) while shooting a slightly below average 34.6%.
Top 12 3-Point Shooters in NBA History
Since we are on a website called "The Hoops Geek", I went into full geek mode and came up with a formula to rank 3-point shooters. My goal with the Hoops Geek 3-Point Rating is to rank players using a combination of accuracy (3P%) and volume.
Now, this formula might look crazy, but the idea behind it is actually pretty simple: I've drawn all players on a chart and measured the distance between a player and the origin of the chart. The y-Axis of this chart was stretched by factor 2 to increase the weight of accuracy and the sum is then divided by
to standardize the results on a percentage scale.
To give you an idea of how the scale works: A player shooting the highest percentage while also making the most 3-pointers in NBA history would get the perfect 100% rating. The worst shooter of all-time would be close to 0%.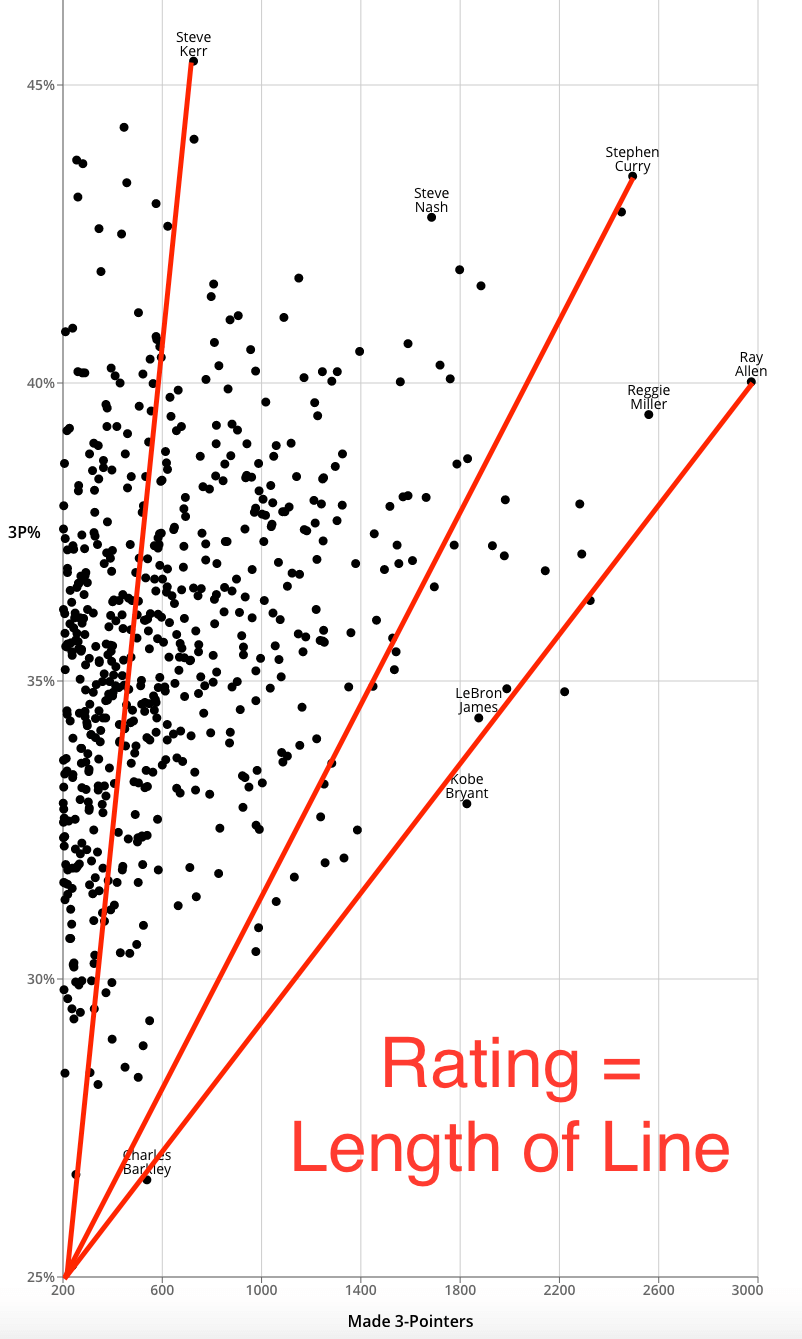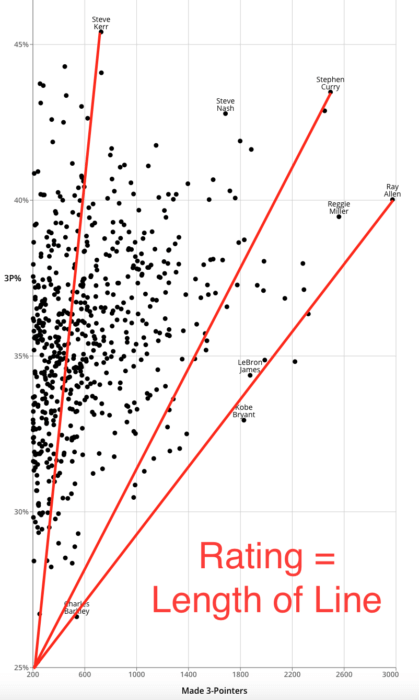 12. Reggie Miller
Reggie Miller spent all of his 18 seasons in the NBA with the Indiana Pacers and led the NBA in all-time 3-pointers made for a while until he was passed by Ray Allen.
He also has one of the most memorable games in NBA history when he scored 8 points in the last 8.9 seconds in an astonishing comeback victory against the New York Knicks.
There's even an ESPN 30 for 30 documentary made by director (and huge Knicks fan) Spike Lee about the torture Reggie Miller used to inflict on New York.
11. JJ Reddick
Coming out of Duke in 2006, JJ Reddick spent the first six years of his career as a role player on a very good Orlando Magic team surrounding Dwight Howard that made it to the NBA Finals in 2009.
His best 3-point shooting season was 2015-16 when he shot an incredible 47.5% on 5.6 attempts a game for the Los Angeles Clippers.
His career 41.4% 3-point percentage is even more impressive considering that he isn't known for shooting wide-open 3-pointers but takes a lot of difficult shots coming off of multiple screens with a super-fast release.
10. Drazen Petrovic
Drazen Petrovic was one of the first European superstars to make it to the NBA. He played only 4 seasons from 1989 to 1993 before his life was cut short in a tragic car accident at only 28 years old.
He was an absolute sniper from the 3-point line with a career average of 43.7% ranking #5 for three-point percentage among qualifying players. If he had played longer and made more than his 255 career makes he could be ranking much higher on this list!
9. Klay Thompson
Even though
Klay Thompson
is still playing and had to sit out two seasons in a row because of injuries, he already ranks #10 on this list.
He is part of the Golden State Warriors "Splash Brothers" (together with Steph Curry) and set a new record for most threes in a game when he made 14-24 shots from beyond the arc against the Chicago Bulls in 2018.
To round out his resume as one of the best 3-point shooters of all time he won the NBA All-Star 3-point contest in 2015-16.
8. Seth Curry
Seth Curry had a slow start to his career playing in the G-league and bouncing around from team to team for a while until he established himself as an NBA starter in 2016/17 with the Dallas Mavericks.
He made this list not because he has made so many three-pointers in his career but because of his insane accuracy: he's shooting 44% from deep which ranks him #3 in 3-point percentage among players who made more than 200 threes in their career.
He is also playing an important role for the Philadelphia 76ers. Expect him to rise the ranking even further in the next years!
7. Joe Harris
Joe Harris is one of the most accurate 3-point shooters in the NBA and an important part of the Brooklyn Nets' chase for a championship. Ranking #7 on this version of the list I expect him to further climb the ranks as he is still only 30 years old.
6. Hubert Davis
Hubert Davis is probably the least-known name on this list. He was drafted in 1992 by the New York Knicks coming out of UNC. He played his first 4 seasons with the Knicks before spending time with the Toronto Raptors, Dallas Mavericks, Washington Wizards, Detroit Pistons, and New Jersey Nets before retiring in 2004.
He posts a 44.1% career 3-point percentage which ranks him third all-time. He participated in the tree-pint contest three times but never managed to win it.
5. Steve Nash
Steve Nash is one of the best point guards of all-time winning consecutive MVP awards with the Phoenix Suns in 2005 and 2006.
As a pure point guard, his first instinct was to set up his teammates for open shots or easy dunks. That makes it even more impressive that he made 1685 3-pointers with an elite 42.8% 3-point percentage!
The Phonix Suns never won it all, losing against some of the best teams of all time like the Spurs or Lakers. Rewatching games, Steve Nash actually said that he wished that he had shot more and been a little more selfish during his playing career - he could have been #1 on this list!
4. Ray Allen
Ray Allen leads all players in NBA history with 2973 made three-pointers and managed to stay just above the magic 40% 3-point percentage.
He played in the NBA for 18 years for the Milwaukee Bucks, Seattle SuperSonics, Boston Celtics, and Miami Heat, made the All-Star team 10 times, and was inducted into the NBA Hall of Fame in 2018.
He is most famous for hitting a 3-pointer in the closing seconds of game 6 of the 2013 NBA finals after an offensive rebound by Chris Bosh to tie the game, eventually stealing the NBA title from the San Antonio Spurs.
3. Steve Kerr
Steve Kerr is the all-time 3-point percentage leader in the NBA shooting a ridiculous 45.4% from deep!
He played during the '90s when shooting threes was not nearly as common as today and averaged only 1.8 3-point attempts per game which explains the relatively low overall number of made threes. Compared to this era it's hard to understand why he didn't shoot more - Steph Curry took 11.7 3-point attempts a game in 2018-19!
Today, Steve Kerr is best known for coaching the Golden State Warriors. But before that, he was famous for being a sharpshooter for Michael Jordan's Chicago Bulls and Tim Duncan's San Antonio Spurs winning five championships.
The most famous moment of his playing career is undoubtedly when he nailed an open jumper assisted by a double-teamed Michael Jordan to clinch the 1997 NBA championship.
2. Kyle Korver
When the Nets drafted Kyle Korver with the #51 pick of the 2003 NBA draft they immediately sold his rights to the Philadelphia Sixers for $125.000 to cover their costs for summer league and a new copy machine.
Today, Kyle Korver ranks #2 on this list thanks to his elite 3-point percentage (42.7%) while shooting a LOT of threes during his NBA career (ranking #4 at 2450 made threes) - not bad for a guy who was "traded for a copy machine"!
He made the NBA All-Star team in 2015 with the 60-22 Atlanta Hawks and played in the 2017 and 2018 NBA finals with the Cleveland Cavaliers alongside Lebron James (losing both times to the Golden State Warriors).
1. Steph Curry
Steph Curry
is without a doubt the best 3-point shooter of all time. His 3-point percentage is absolutely elite at 42.8%, especially considering the difficulty of shots he takes.
Steve Kerr could only dream of shooting off the dribble or pulling up from the logo like Steph Curry does almost every game!
He passed Ray Allen to become the NBA player with the most 3-pointers ever made on Dec. 14th 2021 and I am sure there are many more to follow!
The Complete List
| Rank | Player | 3-Point Attempts | 3-Pointers Made | 3-Point % | Rating |
| --- | --- | --- | --- | --- | --- |
| 1 | Stephen Curry | 7290 | 3117 | 42.8% | 91.5% |
| 2 | Kyle Korver | 5715 | 2450 | 42.9% | 84.6% |
| 3 | Steve Kerr | 1599 | 726 | 45.4% | 82.8% |
| 4 | Ray Allen | 7429 | 2973 | 40.0% | 81.4% |
| 5 | Steve Nash | 3939 | 1685 | 42.8% | 77.6% |
| 6 | Hubert Davis | 1651 | 728 | 44.1% | 77.5% |
| 7 | Joe Harris | 1991 | 874 | 43.9% | 77.3% |
| 8 | Seth Curry | 1661 | 730 | 44.0% | 77.0% |
| 9 | Klay Thompson | 4587 | 1912 | 41.7% | 75.4% |
| 10 | Drazen Petrovic | 583 | 255 | 43.7% | 75.1% |
| 11 | J.J. Redick | 4704 | 1950 | 41.4% | 75.0% |
| 12 | Reggie Miller | 6486 | 2560 | 39.5% | 74.7% |
| 13 | Desmond Bane | 794 | 345 | 43.5% | 74.0% |
| 14 | Jason Kapono | 1054 | 457 | 43.4% | 73.9% |
| 15 | Steve Novak | 1337 | 575 | 43.0% | 72.8% |
| 16 | Tim Legler | 603 | 260 | 43.1% | 72.6% |
| 17 | Luke Kennard | 1294 | 550 | 42.5% | 70.7% |
| 18 | B.J. Armstrong | 1026 | 436 | 42.5% | 70.4% |
| 19 | Wesley Person | 2754 | 1150 | 41.8% | 70.2% |
| 20 | Mike Miller | 3910 | 1590 | 40.7% | 69.1% |
| 21 | Dale Ellis | 4266 | 1719 | 40.3% | 68.8% |
| 22 | Peja Stojakovic | 4392 | 1760 | 40.1% | 68.4% |
| 23 | Anthony Morrow | 1937 | 807 | 41.7% | 68.2% |
| 24 | Michael Porter Jr. | 577 | 242 | 41.9% | 67.8% |
| 25 | Dana Barros | 2652 | 1090 | 41.1% | 67.4% |
| 26 | Matt Bonner | 1923 | 797 | 41.4% | 67.3% |
| 27 | Brent Barry | 3442 | 1395 | 40.5% | 67.1% |
| 28 | Jason Terry | 6010 | 2282 | 38.0% | 66.7% |
| 29 | Jose Calderon | 2203 | 906 | 41.1% | 66.5% |
| 30 | Glen Rice | 3896 | 1559 | 40.0% | 66.5% |
| 31 | Joe Ingles | 2622 | 1071 | 40.8% | 66.3% |
| 32 | Danny Green | 3908 | 1561 | 39.9% | 66.2% |
| 33 | Bryn Forbes | 1711 | 706 | 41.3% | 66.2% |
| 34 | James Harden | 7176 | 2593 | 36.1% | 65.3% |
| 35 | Allan Houston | 3247 | 1305 | 40.2% | 65.2% |
| 36 | Doug McDermott | 1766 | 723 | 40.9% | 65.0% |
| 37 | Dell Curry | 3098 | 1245 | 40.2% | 64.8% |
| 38 | Tyrese Haliburton | 685 | 282 | 41.2% | 64.8% |
| 39 | Payton Pritchard | 493 | 203 | 41.2% | 64.7% |
| 40 | Raja Bell | 2357 | 956 | 40.6% | 64.6% |
| 41 | Buddy Hield | 3563 | 1417 | 39.8% | 64.5% |
| 42 | Chauncey Billups | 4725 | 1830 | 38.7% | 64.3% |
| 43 | Vince Carter | 6168 | 2290 | 37.1% | 64.2% |
| 44 | Ben Gordon | 2921 | 1171 | 40.1% | 64.0% |
| 45 | Trent Tucker | 1410 | 575 | 40.8% | 63.9% |
| 46 | Duncan Robinson | 1878 | 762 | 40.6% | 63.7% |
| 47 | Eldridge Recasner | 584 | 239 | 40.9% | 63.7% |
| 48 | Daniel Gibson | 1419 | 578 | 40.7% | 63.7% |
| 49 | Rashard Lewis | 4625 | 1787 | 38.6% | 63.6% |
| 50 | CJ McCollum | 3452 | 1368 | 39.6% | 63.6% |
| 51 | Dirk Nowitzki | 5210 | 1982 | 38.0% | 63.6% |
| 52 | Kelenna Azubuike | 514 | 210 | 40.9% | 63.4% |
| 53 | Mark Price | 2428 | 976 | 40.2% | 63.3% |
| 54 | Wally Szczerbiak | 1453 | 590 | 40.6% | 63.2% |
| 55 | Jeff Hornacek | 2055 | 828 | 40.3% | 62.9% |
| 56 | Damian Lillard | 5752 | 2143 | 37.3% | 62.9% |
| 57 | Paul George | 4845 | 1852 | 38.2% | 62.8% |
| 58 | Dennis Scott | 3060 | 1214 | 39.7% | 62.7% |
| 59 | Kevin Durant | 4611 | 1770 | 38.4% | 62.6% |
| 60 | Anthony Parker | 1474 | 596 | 40.4% | 62.6% |
| 61 | Kyrie Irving | 3487 | 1371 | 39.3% | 62.5% |
| 62 | Bojan Bogdanović | 1772 | 714 | 40.3% | 62.4% |
| 63 | Hersey Hawkins | 3108 | 1226 | 39.5% | 61.9% |
| 64 | Georges Niang | 1025 | 414 | 40.4% | 61.9% |
| 65 | Dāvis Bertāns | 1468 | 591 | 40.3% | 61.9% |
| 66 | James Jones | 1937 | 776 | 40.1% | 61.8% |
| 67 | Patty Mills | 3716 | 1447 | 38.9% | 61.7% |
| 68 | Paul Pierce | 5816 | 2143 | 36.9% | 61.6% |
| 69 | Otto Porter | 1468 | 590 | 40.2% | 61.6% |
| 70 | Eric Piatkowski | 2168 | 865 | 39.9% | 61.5% |
| 71 | Luke Babbitt | 979 | 394 | 40.3% | 61.3% |
| 72 | Brandon Rush | 1300 | 522 | 40.2% | 61.2% |
| 73 | Khris Middleton | 3102 | 1216 | 39.2% | 60.9% |
| 74 | Michael Dickerson | 717 | 288 | 40.2% | 60.7% |
| 75 | Craig Hodges | 1408 | 563 | 40.0% | 60.7% |
| 76 | Kenny Smith | 1665 | 664 | 39.9% | 60.6% |
| 77 | Wesley Matthews | 4721 | 1782 | 37.8% | 60.5% |
| 78 | J.R. Smith | 5178 | 1930 | 37.3% | 60.5% |
| 79 | Joe Johnson | 5331 | 1978 | 37.1% | 60.5% |
| 80 | Karl-Anthony Towns | 1961 | 779 | 39.7% | 60.5% |
| 81 | Mitch Richmond | 3417 | 1326 | 38.8% | 60.2% |
| 82 | Pat Garrity | 1587 | 631 | 39.8% | 60.0% |
| 83 | Kyle Lowry | 5349 | 1971 | 36.9% | 59.6% |
| 84 | Mike Conley | 3899 | 1489 | 38.2% | 59.3% |
| 85 | Jared Dudley | 2247 | 883 | 39.3% | 59.3% |
| 86 | Terry Porter | 3360 | 1297 | 38.6% | 59.3% |
| 87 | Bruce Bowen | 2082 | 818 | 39.3% | 58.9% |
| 88 | Tony Snell | 1848 | 728 | 39.4% | 58.9% |
| 89 | Danilo Gallinari | 3732 | 1426 | 38.2% | 58.9% |
| 90 | Troy Daniels | 1404 | 555 | 39.5% | 58.8% |
| 91 | Fred Hoiberg | 941 | 373 | 39.6% | 58.8% |
| 92 | Mike Bibby | 3999 | 1517 | 37.9% | 58.7% |
| 93 | Bobby Simmons | 955 | 378 | 39.6% | 58.6% |
| 94 | Darren Collison | 1613 | 635 | 39.4% | 58.5% |
| 95 | Damon Jones | 2414 | 941 | 39.0% | 58.4% |
| 96 | Danny Ferry | 1724 | 677 | 39.3% | 58.2% |
| 97 | Shane Battier | 3254 | 1250 | 38.4% | 58.2% |
| 98 | Channing Frye | 2706 | 1049 | 38.8% | 58.2% |
| 99 | Hedo Turkoglu | 3246 | 1246 | 38.4% | 58.1% |
| 100 | Jon Barry | 1676 | 657 | 39.2% | 57.9% |
| 101 | Eric Gordon | 4712 | 1746 | 37.0% | 57.8% |
| 102 | Eddie House | 2096 | 817 | 39.0% | 57.7% |
| 103 | Monte Morris | 848 | 334 | 39.4% | 57.7% |
| 104 | Kevin Martin | 2969 | 1141 | 38.4% | 57.5% |
| 105 | Evan Fournier | 3387 | 1291 | 38.1% | 57.4% |
| 106 | Grayson Allen | 903 | 355 | 39.3% | 57.4% |
| 107 | Leandro Barbosa | 2556 | 988 | 38.6% | 57.4% |
| 108 | Zach LaVine | 2673 | 1031 | 38.6% | 57.3% |
| 109 | Wayne Ellington | 3175 | 1214 | 38.2% | 57.3% |
| 110 | Courtney Lee | 2259 | 876 | 38.8% | 57.2% |
| 111 | D.J. Augustin | 3311 | 1262 | 38.1% | 57.2% |
| 112 | Anfernee Simons | 979 | 384 | 39.2% | 57.1% |
| 113 | Ryan Anderson | 3491 | 1325 | 38.0% | 57.1% |
| 114 | Tyronn Lue | 1175 | 460 | 39.1% | 57.0% |
| 115 | Jon Sundvold | 576 | 226 | 39.2% | 56.9% |
| 116 | Landry Shamet | 1359 | 530 | 39.0% | 56.6% |
| 117 | Eddie Jones | 4147 | 1546 | 37.3% | 56.6% |
| 118 | Jamal Crawford | 6379 | 2221 | 34.8% | 56.6% |
| 119 | Tracy Murray | 1942 | 753 | 38.8% | 56.6% |
| 120 | Arron Afflalo | 2205 | 852 | 38.6% | 56.6% |
| 121 | Michael Finley | 3880 | 1454 | 37.5% | 56.5% |
| 122 | Troy Murphy | 1578 | 613 | 38.9% | 56.3% |
| 123 | Anthony Peeler | 2445 | 940 | 38.5% | 56.3% |
| 124 | Jason Richardson | 4344 | 1608 | 37.0% | 56.3% |
| 125 | Max Strus | 591 | 231 | 39.1% | 56.3% |
| 126 | Steve Blake | 2709 | 1037 | 38.3% | 56.3% |
| 127 | Meyers Leonard | 838 | 327 | 39.0% | 56.2% |
| 128 | Cameron Johnson | 998 | 389 | 39.0% | 56.2% |
| 129 | Voshon Lenard | 2437 | 936 | 38.4% | 56.1% |
| 130 | E'Twaun Moore | 1432 | 556 | 38.8% | 56.0% |
| 131 | Gary Trent Jr. | 1263 | 491 | 38.9% | 56.0% |
| 132 | Mike Dunleavy | 3460 | 1304 | 37.7% | 56.0% |
| 133 | Bobby Phills | 878 | 342 | 39.0% | 56.0% |
| 134 | Kevin Love | 3935 | 1467 | 37.3% | 55.9% |
| 135 | Kawhi Leonard | 2251 | 865 | 38.4% | 55.8% |
| 136 | Luther Head | 1162 | 451 | 38.8% | 55.7% |
| 137 | Joe Dumars | 2592 | 990 | 38.2% | 55.6% |
| 138 | Chris Mullin | 2120 | 815 | 38.4% | 55.6% |
| 139 | Allen Crabbe | 1596 | 617 | 38.7% | 55.6% |
| 140 | Malik Beasley | 1749 | 675 | 38.6% | 55.6% |
| 141 | Bradley Beal | 3851 | 1434 | 37.2% | 55.5% |
| 142 | John Stockton | 2203 | 845 | 38.4% | 55.5% |
| 143 | Reggie Bullock | 1820 | 701 | 38.5% | 55.4% |
| 144 | George Hill | 2713 | 1032 | 38.0% | 55.3% |
| 145 | Jayson Tatum | 2158 | 827 | 38.3% | 55.2% |
| 146 | Chris Paul | 4187 | 1544 | 36.9% | 55.2% |
| 147 | Michael Redd | 2751 | 1045 | 38.0% | 55.2% |
| 148 | Danny Granger | 2644 | 1006 | 38.0% | 55.2% |
| 149 | Marco Belinelli | 3230 | 1216 | 37.6% | 55.1% |
| 150 | Brent Price | 938 | 363 | 38.7% | 55.0% |
| 151 | Mo Williams | 2891 | 1094 | 37.8% | 55.0% |
| 152 | Marcus Morris | 3020 | 1140 | 37.8% | 54.9% |
| 153 | Cuttino Mobley | 2867 | 1085 | 37.8% | 54.9% |
| 154 | LeBron James | 6186 | 2140 | 34.6% | 54.9% |
| 155 | Manu Ginobili | 4055 | 1495 | 36.9% | 54.7% |
| 156 | Martell Webster | 2067 | 790 | 38.2% | 54.6% |
| 157 | Harrison Barnes | 2644 | 1002 | 37.9% | 54.6% |
| 158 | Anthony Goldwire | 533 | 206 | 38.6% | 54.5% |
| 159 | Norman Powell | 1560 | 599 | 38.4% | 54.5% |
| 160 | Hollis Thompson | 941 | 363 | 38.6% | 54.5% |
| 161 | Walt Williams | 2575 | 976 | 37.9% | 54.4% |
| 162 | Fred VanVleet | 2078 | 793 | 38.2% | 54.4% |
| 163 | Kirk Hinrich | 3122 | 1172 | 37.5% | 54.4% |
| 164 | Matt Bullard | 1561 | 599 | 38.4% | 54.4% |
| 165 | Terry Mills | 1387 | 533 | 38.4% | 54.4% |
| 166 | Derek Fisher | 3341 | 1248 | 37.4% | 54.3% |
| 167 | Roger Mason | 1549 | 594 | 38.4% | 54.3% |
| 168 | Nemanja Bjelica | 1296 | 498 | 38.4% | 54.3% |
| 169 | Tyler Herro | 1034 | 398 | 38.5% | 54.2% |
| 170 | Danny Ainge | 2651 | 1002 | 37.8% | 54.2% |
| 171 | Detlef Schrempf | 1236 | 475 | 38.4% | 54.2% |
| 172 | Vladimir Radmanovic | 2567 | 971 | 37.8% | 54.1% |
| 173 | Keldon Johnson | 602 | 232 | 38.5% | 54.1% |
| 174 | Bobby Portis | 1244 | 477 | 38.3% | 53.9% |
| 175 | Richard Jefferson | 2769 | 1042 | 37.6% | 53.8% |
| 176 | Bogdan Bogdanović | 1605 | 613 | 38.2% | 53.7% |
| 177 | Jason Kidd | 5701 | 1988 | 34.9% | 53.7% |
| 178 | Matt Carroll | 896 | 344 | 38.4% | 53.7% |
| 179 | Nick Young | 2764 | 1039 | 37.6% | 53.7% |
| 180 | Kemba Walker | 4614 | 1663 | 36.0% | 53.6% |
| 181 | Gary Neal | 1203 | 460 | 38.2% | 53.4% |
| 182 | Darius Miller | 898 | 344 | 38.3% | 53.4% |
| 183 | Jevon Carter | 569 | 218 | 38.3% | 53.2% |
| 184 | Patrick Beverley | 2203 | 832 | 37.8% | 53.1% |
| 185 | Alec Burks | 1749 | 664 | 38.0% | 53.0% |
| 186 | Terry Rozier | 2532 | 951 | 37.6% | 53.0% |
| 187 | Royce O'Neale | 1122 | 428 | 38.1% | 52.9% |
| 188 | Mike James | 1813 | 687 | 37.9% | 52.9% |
| 189 | Brian Cook | 686 | 262 | 38.2% | 52.8% |
| 190 | Carmelo Anthony | 4873 | 1731 | 35.5% | 52.6% |
| 191 | Kevin Huerter | 1484 | 563 | 37.9% | 52.5% |
| 192 | Morris Peterson | 2702 | 1009 | 37.3% | 52.5% |
| 193 | Scott Skiles | 1381 | 524 | 37.9% | 52.4% |
| 194 | Kerry Kittles | 1838 | 694 | 37.8% | 52.4% |
| 195 | Nicolas Batum | 4038 | 1465 | 36.3% | 52.4% |
| 196 | Bojan Bogdanovic | 1372 | 519 | 37.8% | 51.9% |
| 197 | Christian Wood | 724 | 275 | 38.0% | 51.9% |
| 198 | Gordon Hayward | 2752 | 1022 | 37.1% | 51.8% |
| 199 | Pablo Prigioni | 535 | 203 | 37.9% | 51.7% |
| 200 | O.J. Mayo | 2287 | 854 | 37.3% | 51.6% |
| 201 | Jameer Nelson | 3134 | 1153 | 36.8% | 51.5% |
| 202 | Larry Bird | 1727 | 649 | 37.6% | 51.5% |
| 203 | Terry Dehere | 867 | 328 | 37.8% | 51.4% |
| 204 | Anthony Tolliver | 2320 | 865 | 37.3% | 51.4% |
| 205 | Darius Garland | 1016 | 384 | 37.8% | 51.4% |
| 206 | David Wesley | 3051 | 1123 | 36.8% | 51.3% |
| 207 | Collin Sexton | 860 | 325 | 37.8% | 51.3% |
| 208 | Mike Muscala | 1087 | 410 | 37.7% | 51.2% |
| 209 | LaMelo Ball | 826 | 312 | 37.8% | 51.2% |
| 210 | Malcolm Brogdon | 1388 | 522 | 37.6% | 51.1% |
| 211 | Nick Van Exel | 4278 | 1528 | 35.7% | 51.1% |
| 212 | Jodie Meeks | 2078 | 775 | 37.3% | 51.0% |
| 213 | Lee Mayberry | 1006 | 379 | 37.7% | 50.9% |
| 214 | Mehmet Okur | 1590 | 596 | 37.5% | 50.9% |
| 215 | Sean Elliott | 1572 | 589 | 37.5% | 50.8% |
| 216 | Jaylen Brown | 1930 | 720 | 37.3% | 50.7% |
| 217 | John Collins | 736 | 277 | 37.6% | 50.5% |
| 218 | Jordan Farmar | 1559 | 583 | 37.4% | 50.5% |
| 219 | Tim Hardaway | 4345 | 1542 | 35.5% | 50.5% |
| 220 | Tim Thomas | 2609 | 962 | 36.9% | 50.4% |
| 221 | Randy Foye | 3017 | 1104 | 36.6% | 50.4% |
| 222 | Chandler Parsons | 1844 | 687 | 37.3% | 50.4% |
| 223 | P.J. Washington | 821 | 308 | 37.5% | 50.1% |
| 224 | Andres Nocioni | 1574 | 587 | 37.3% | 50.1% |
| 225 | Tobias Harris | 2727 | 1001 | 36.7% | 50.1% |
| 226 | Bostjan Nachbar | 867 | 325 | 37.5% | 50.0% |
| 227 | Jrue Holiday | 3220 | 1170 | 36.3% | 50.0% |
| 228 | Aaron Brooks | 2218 | 820 | 37.0% | 50.0% |
| 229 | Byron Scott | 2093 | 775 | 37.0% | 49.9% |
| 230 | Mikal Bridges | 1134 | 424 | 37.4% | 49.9% |
| 231 | Chuck Person | 3370 | 1220 | 36.2% | 49.9% |
| 232 | Sam Mack | 879 | 329 | 37.4% | 49.8% |
| 233 | Terrence Ross | 3415 | 1234 | 36.1% | 49.8% |
| 234 | Dan Majerle | 3798 | 1360 | 35.8% | 49.8% |
| 235 | Trevor Ariza | 4579 | 1605 | 35.0% | 49.7% |
| 236 | C.J. Watson | 1263 | 471 | 37.3% | 49.7% |
| 237 | Taurean Waller-Prince | 559 | 209 | 37.4% | 49.4% |
| 238 | Tim Hardaway Jr. | 1823 | 675 | 37.0% | 49.4% |
| 239 | Scott Burrell | 909 | 339 | 37.3% | 49.3% |
| 240 | Jalen Brunson | 753 | 281 | 37.3% | 49.3% |
| 241 | OG Anunoby | 1205 | 448 | 37.2% | 49.1% |
| 242 | Justin Holiday | 2683 | 979 | 36.5% | 49.1% |
| 243 | Robert Covington | 3301 | 1190 | 36.0% | 49.1% |
| 244 | Aaron Holiday | 633 | 236 | 37.3% | 49.0% |
| 245 | Matt Maloney | 1073 | 399 | 37.2% | 49.0% |
| 246 | Bryon Russell | 1856 | 685 | 36.9% | 49.0% |
| 247 | Scott Padgett | 644 | 240 | 37.3% | 49.0% |
| 248 | Mirza Teletovic | 1460 | 541 | 37.0% | 49.0% |
| 249 | Scott Brooks | 771 | 287 | 37.2% | 48.9% |
| 250 | C.J. Miles | 3487 | 1250 | 35.9% | 48.9% |
| 251 | Delonte West | 1012 | 376 | 37.1% | 48.8% |
| 252 | Brian Cardinal | 653 | 243 | 37.2% | 48.8% |
| 253 | Cartier Martin | 586 | 218 | 37.2% | 48.7% |
| 254 | Craig Ehlo | 1684 | 621 | 36.9% | 48.6% |
| 255 | Isaiah Thomas | 2876 | 1042 | 36.2% | 48.6% |
| 256 | Patrick Patterson | 1709 | 630 | 36.9% | 48.6% |
| 257 | Jim Jackson | 2413 | 881 | 36.5% | 48.6% |
| 258 | Kentavious Caldwell-Pope | 3225 | 1160 | 36.0% | 48.6% |
| 259 | Chucky Atkins | 2565 | 934 | 36.4% | 48.5% |
| 260 | Garrison Mathews | 630 | 234 | 37.1% | 48.5% |
| 261 | Lou Williams | 4146 | 1457 | 35.1% | 48.4% |
| 262 | Avery Bradley | 2353 | 859 | 36.5% | 48.4% |
| 263 | Marvin Williams | 2894 | 1046 | 36.1% | 48.3% |
| 264 | Langston Galloway | 1738 | 639 | 36.8% | 48.2% |
| 265 | Clifford Robinson | 3515 | 1253 | 35.6% | 48.2% |
| 266 | Damon Stoudamire | 3464 | 1236 | 35.7% | 48.2% |
| 267 | Jamal Murray | 1834 | 673 | 36.7% | 48.1% |
| 268 | Lindsey Hunter | 2984 | 1075 | 36.0% | 48.1% |
| 269 | Ersan Ilyasova | 2071 | 757 | 36.5% | 48.0% |
| 270 | Taurean Prince | 1130 | 417 | 36.9% | 47.9% |
| 271 | Deron Williams | 3296 | 1178 | 35.7% | 47.9% |
| 272 | Omri Casspi | 1339 | 493 | 36.8% | 47.9% |
| 273 | John Salmons | 1986 | 726 | 36.6% | 47.9% |
| 274 | Steve Smith | 3208 | 1148 | 35.8% | 47.8% |
| 275 | Tayshaun Prince | 1550 | 569 | 36.7% | 47.7% |
| 276 | P.J. Tucker | 2223 | 809 | 36.4% | 47.7% |
| 277 | Kelly Olynyk | 2011 | 734 | 36.5% | 47.7% |
| 278 | Sasha Vujacic | 1451 | 533 | 36.7% | 47.7% |
| 279 | Ben McLemore | 2392 | 868 | 36.3% | 47.6% |
| 280 | Goran Dragic | 2227 | 810 | 36.4% | 47.6% |
| 281 | Josh Richardson | 1900 | 694 | 36.5% | 47.6% |
| 282 | Carlos Delfino | 1856 | 678 | 36.5% | 47.5% |
| 283 | Rodney Hood | 1770 | 647 | 36.5% | 47.4% |
| 284 | Rasual Butler | 2520 | 911 | 36.1% | 47.4% |
| 285 | Gerald Green | 2668 | 962 | 36.1% | 47.4% |
| 286 | Donovan Mitchell | 2657 | 958 | 36.1% | 47.3% |
| 287 | Rashad McCants | 793 | 292 | 36.8% | 47.3% |
| 288 | Kiki Vandeweghe | 592 | 218 | 36.8% | 47.2% |
| 289 | Gordan Giricek | 786 | 289 | 36.8% | 47.1% |
| 290 | Dorell Wright | 1691 | 617 | 36.5% | 47.0% |
| 291 | Sam Perkins | 2348 | 849 | 36.2% | 47.0% |
| 292 | Mario Elie | 1572 | 574 | 36.5% | 47.0% |
| 293 | Charlie Ward | 1754 | 639 | 36.4% | 46.9% |
| 294 | Lauri Markkanen | 1726 | 629 | 36.4% | 46.9% |
| 295 | Quentin Richardson | 3288 | 1167 | 35.5% | 46.9% |
| 296 | JaMychal Green | 1059 | 388 | 36.6% | 46.8% |
| 297 | Lonzo Ball | 1633 | 595 | 36.4% | 46.8% |
| 298 | Gary Harris | 1944 | 705 | 36.3% | 46.6% |
| 299 | Jud Buechler | 718 | 263 | 36.6% | 46.5% |
| 300 | Chris Duhon | 1788 | 649 | 36.3% | 46.5% |
| 301 | Coby White | 1183 | 432 | 36.5% | 46.5% |
| 302 | D'Angelo Russell | 2926 | 1043 | 35.6% | 46.5% |
| 303 | Terence Davis | 658 | 241 | 36.6% | 46.4% |
| 304 | Pat Connaughton | 1272 | 464 | 36.5% | 46.4% |
| 305 | Nick Anderson | 2964 | 1055 | 35.6% | 46.4% |
| 306 | Raul Neto | 672 | 246 | 36.6% | 46.4% |
| 307 | Shammond Williams | 700 | 256 | 36.6% | 46.2% |
| 308 | Devin Booker | 2739 | 978 | 35.7% | 46.2% |
| 309 | Yogi Ferrell | 791 | 289 | 36.5% | 46.2% |
| 310 | Kobe Bryant | 5546 | 1827 | 32.9% | 46.1% |
| 311 | Nate Robinson | 2255 | 811 | 36.0% | 46.1% |
| 312 | George McCloud | 2573 | 920 | 35.8% | 46.0% |
| 313 | Raef LaFrentz | 1315 | 478 | 36.4% | 46.0% |
| 314 | Immanuel Quickley | 699 | 255 | 36.5% | 45.9% |
| 315 | Maurice Evans | 1172 | 426 | 36.4% | 45.8% |
| 316 | Matthew Dellavedova | 1100 | 400 | 36.4% | 45.8% |
| 317 | Kendrick Nunn | 711 | 259 | 36.4% | 45.6% |
| 318 | Danuel House | 747 | 272 | 36.4% | 45.6% |
| 319 | Derek Harper | 3026 | 1070 | 35.4% | 45.6% |
| 320 | Jonas Jerebko | 1101 | 400 | 36.3% | 45.6% |
| 321 | Sterling Brown | 681 | 248 | 36.4% | 45.6% |
| 322 | Jeff Teague | 1968 | 708 | 36.0% | 45.5% |
| 323 | Ricky Davis | 1614 | 583 | 36.1% | 45.5% |
| 324 | Mike Scott | 1365 | 494 | 36.2% | 45.4% |
| 325 | Chris Whitney | 1528 | 552 | 36.1% | 45.4% |
| 326 | Keith Van Horn | 1655 | 597 | 36.1% | 45.3% |
| 327 | Dorian Finney-Smith | 1552 | 560 | 36.1% | 45.2% |
| 328 | Khalid Reeves | 647 | 235 | 36.3% | 45.2% |
| 329 | Marcus Thornton | 2051 | 735 | 35.8% | 45.1% |
| 330 | Rafer Alston | 2815 | 996 | 35.4% | 45.1% |
| 331 | Al Horford | 1692 | 609 | 36.0% | 45.1% |
| 332 | Jerryd Bayless | 1382 | 499 | 36.1% | 45.1% |
| 333 | Cameron Payne | 778 | 282 | 36.3% | 45.0% |
| 334 | Serge Ibaka | 1691 | 608 | 36.0% | 44.9% |
| 335 | Charlie Bell | 1213 | 438 | 36.1% | 44.9% |
| 336 | Rudy Gay | 3299 | 1153 | 34.9% | 44.9% |
| 337 | Kyle Singler | 826 | 299 | 36.2% | 44.8% |
| 338 | Lamond Murray | 1466 | 528 | 36.0% | 44.8% |
| 339 | Brandon Ingram | 1371 | 494 | 36.0% | 44.8% |
| 340 | Brad Lohaus | 1086 | 392 | 36.1% | 44.7% |
| 341 | Gilbert Arenas | 3077 | 1079 | 35.1% | 44.6% |
| 342 | Saddiq Bey | 1070 | 386 | 36.1% | 44.5% |
| 343 | DeMarre Carroll | 1839 | 658 | 35.8% | 44.5% |
| 344 | Marc Gasol | 1197 | 431 | 36.0% | 44.4% |
| 345 | Tyler Johnson | 1217 | 438 | 36.0% | 44.4% |
| 346 | Rudy Fernandez | 1147 | 413 | 36.0% | 44.4% |
| 347 | De'Anthony Melton | 818 | 295 | 36.1% | 44.3% |
| 348 | Al Harrington | 2778 | 977 | 35.2% | 44.2% |
| 349 | Kristaps Porzingis | 785 | 283 | 36.0% | 44.2% |
| 350 | Kent Bazemore | 1947 | 694 | 35.6% | 44.1% |
| 351 | James Ennis | 872 | 314 | 36.0% | 44.1% |
| 352 | Denzel Valentine | 1004 | 361 | 36.0% | 44.0% |
| 353 | Will Barton | 2336 | 827 | 35.4% | 44.0% |
| 354 | Ty Lawson | 1319 | 473 | 35.9% | 44.0% |
| 355 | Doug Christie | 2272 | 805 | 35.4% | 44.0% |
| 356 | Daequan Cook | 1232 | 442 | 35.9% | 44.0% |
| 357 | Devonte' Graham | 1746 | 623 | 35.7% | 43.9% |
| 358 | Jalen Rose | 2102 | 746 | 35.5% | 43.9% |
| 359 | Francisco Garcia | 1627 | 581 | 35.7% | 43.8% |
| 360 | Maxi Kleber | 1132 | 406 | 35.9% | 43.8% |
| 361 | Trae Young | 2057 | 730 | 35.5% | 43.8% |
| 362 | Dee Brown | 1697 | 605 | 35.6% | 43.7% |
| 363 | Kevin Gamble | 634 | 228 | 36.0% | 43.7% |
| 364 | Mickael Pietrus | 1910 | 679 | 35.5% | 43.7% |
| 365 | Nikola Vučević | 1291 | 462 | 35.8% | 43.7% |
| 366 | Dario Šarić | 693 | 249 | 35.9% | 43.6% |
| 367 | Jae Crowder | 3310 | 1146 | 34.6% | 43.6% |
| 368 | James Posey | 2967 | 1035 | 34.9% | 43.6% |
| 369 | Antawn Jamison | 3365 | 1163 | 34.6% | 43.6% |
| 370 | Nikola Mirotic | 1394 | 498 | 35.7% | 43.5% |
| 371 | Vinny Del Negro | 677 | 243 | 35.9% | 43.5% |
| 372 | De'Andre Hunter | 594 | 213 | 35.9% | 43.3% |
| 373 | Bobby Jackson | 1947 | 689 | 35.4% | 43.1% |
| 374 | Keith Bogans | 2020 | 714 | 35.4% | 43.1% |
| 375 | Kareem Rush | 805 | 288 | 35.8% | 43.1% |
| 376 | Harold Pressley | 581 | 208 | 35.8% | 43.0% |
| 377 | J.J. Barea | 2330 | 819 | 35.1% | 43.0% |
| 378 | Donyell Marshall | 2578 | 902 | 35.0% | 43.0% |
| 379 | RJ Barrett | 910 | 325 | 35.7% | 42.9% |
| 380 | Andrea Bargnani | 1771 | 627 | 35.4% | 42.9% |
| 381 | Damion Lee | 748 | 267 | 35.7% | 42.7% |
| 382 | Brandon Knight | 2029 | 715 | 35.2% | 42.7% |
| 383 | Jarvis Hayes | 1101 | 392 | 35.6% | 42.7% |
| 384 | Malik Monk | 1431 | 508 | 35.5% | 42.7% |
| 385 | T.J. Warren | 692 | 247 | 35.7% | 42.7% |
| 386 | Jannero Pargo | 1124 | 400 | 35.6% | 42.7% |
| 387 | Andrew Wiggins | 2392 | 837 | 35.0% | 42.5% |
| 388 | Anthony Johnson | 933 | 332 | 35.6% | 42.4% |
| 389 | Marreese Speights | 651 | 232 | 35.6% | 42.4% |
| 390 | Goran Dragić | 809 | 288 | 35.6% | 42.4% |
| 391 | Ime Udoka | 612 | 218 | 35.6% | 42.3% |
| 392 | John Starks | 3591 | 1222 | 34.0% | 42.3% |
| 393 | Mario Chalmers | 2153 | 755 | 35.1% | 42.3% |
| 394 | Rex Chapman | 2301 | 805 | 35.0% | 42.3% |
| 395 | Terrell Brandon | 1110 | 394 | 35.5% | 42.3% |
| 396 | Isaiah Rider | 1896 | 667 | 35.2% | 42.2% |
| 397 | Mahmoud Abdul-Rauf | 1339 | 474 | 35.4% | 42.2% |
| 398 | Quincy Pondexter | 593 | 211 | 35.6% | 42.2% |
| 399 | Brian Roberts | 610 | 217 | 35.6% | 42.1% |
| 400 | Dario Saric | 740 | 263 | 35.5% | 42.1% |
| 401 | Keith Askins | 774 | 275 | 35.5% | 42.1% |
| 402 | Furkan Korkmaz | 1052 | 373 | 35.5% | 42.0% |
| 403 | John Paxson | 769 | 273 | 35.5% | 42.0% |
| 404 | Toney Douglas | 1256 | 444 | 35.4% | 41.9% |
| 405 | Rick Fox | 2208 | 771 | 34.9% | 41.8% |
| 406 | Nik Stauskas | 1131 | 400 | 35.4% | 41.8% |
| 407 | Delon Wright | 779 | 276 | 35.4% | 41.7% |
| 408 | Austin Rivers | 2137 | 746 | 34.9% | 41.6% |
| 409 | Cory Alexander | 669 | 237 | 35.4% | 41.6% |
| 410 | Mike McGee | 865 | 306 | 35.4% | 41.5% |
| 411 | Mookie Blaylock | 3816 | 1283 | 33.6% | 41.5% |
| 412 | Fred Jones | 979 | 346 | 35.3% | 41.5% |
| 413 | Reggie Jackson | 2749 | 948 | 34.5% | 41.5% |
| 414 | Dennis Schröder | 1151 | 406 | 35.3% | 41.4% |
| 415 | Jaren Jackson | 980 | 346 | 35.3% | 41.4% |
| 416 | Chase Budinger | 1172 | 413 | 35.2% | 41.3% |
| 417 | Brandon Jennings | 2648 | 914 | 34.5% | 41.3% |
| 418 | Victor Oladipo | 2137 | 744 | 34.8% | 41.3% |
| 419 | Metta World Peace | 3402 | 1154 | 33.9% | 41.3% |
| 420 | Caron Butler | 2144 | 746 | 34.8% | 41.2% |
| 421 | Kevin Porter Jr. | 732 | 258 | 35.3% | 40.9% |
| 422 | Chris Mills | 1251 | 439 | 35.1% | 40.8% |
| 423 | Greg Anthony | 1748 | 610 | 34.9% | 40.8% |
| 424 | Howard Eisley | 1474 | 516 | 35.0% | 40.8% |
| 425 | Mo Bamba | 576 | 203 | 35.2% | 40.8% |
| 426 | Erick Strickland | 1151 | 404 | 35.1% | 40.7% |
| 427 | Tyus Jones | 850 | 299 | 35.2% | 40.7% |
| 428 | Isaiah Canaan | 1042 | 366 | 35.1% | 40.7% |
| 429 | Jerami Grant | 1656 | 578 | 34.9% | 40.7% |
| 430 | Rodney McGruder | 739 | 260 | 35.2% | 40.7% |
| 431 | Rodney Rogers | 1986 | 690 | 34.7% | 40.7% |
| 432 | Luke Ridnour | 1674 | 584 | 34.9% | 40.6% |
| 433 | Jaren Jackson Jr. | 971 | 341 | 35.1% | 40.6% |
| 434 | Casey Jacobsen | 594 | 209 | 35.2% | 40.6% |
| 435 | Cedi Osman | 1465 | 512 | 34.9% | 40.6% |
| 436 | Jeff Green | 3213 | 1089 | 33.9% | 40.5% |
| 437 | Thabo Sefolosha | 1469 | 513 | 34.9% | 40.5% |
| 438 | Aaron McKie | 1109 | 388 | 35.0% | 40.2% |
| 439 | Keyon Dooling | 1277 | 446 | 34.9% | 40.2% |
| 440 | Jordan Clarkson | 3169 | 1072 | 33.8% | 40.2% |
| 441 | Latrell Sprewell | 3272 | 1104 | 33.7% | 40.2% |
| 442 | Spencer Hawes | 1026 | 359 | 35.0% | 40.2% |
| 443 | Tracy McGrady | 3198 | 1081 | 33.8% | 40.2% |
| 444 | Jamal Mashburn | 2226 | 767 | 34.5% | 40.1% |
| 445 | Stephen Jackson | 3763 | 1252 | 33.3% | 40.1% |
| 446 | Greivis Vasquez | 1180 | 412 | 34.9% | 40.0% |
| 447 | Beno Udrih | 1334 | 465 | 34.9% | 40.0% |
| 448 | Jumaine Jones | 1218 | 425 | 34.9% | 40.0% |
| 449 | Ryan Gomes | 956 | 334 | 34.9% | 39.9% |
| 450 | Myles Turner | 1121 | 391 | 34.9% | 39.8% |
| 451 | Rasheed Wallace | 3228 | 1086 | 33.6% | 39.6% |
| 452 | Dion Waiters | 1660 | 575 | 34.6% | 39.6% |
| 453 | Wilson Chandler | 2560 | 874 | 34.1% | 39.6% |
| 454 | Dillon Brooks | 1236 | 430 | 34.8% | 39.6% |
| 455 | Lucious Harris | 1155 | 402 | 34.8% | 39.6% |
| 456 | Frank Kaminsky | 1193 | 415 | 34.8% | 39.5% |
| 457 | Kenny Anderson | 1580 | 547 | 34.6% | 39.4% |
| 458 | Richard Hamilton | 1530 | 530 | 34.6% | 39.4% |
| 459 | Earl Boykins | 1104 | 384 | 34.8% | 39.4% |
| 460 | Michael Beasley | 835 | 291 | 34.8% | 39.4% |
| 461 | James Robinson | 1151 | 400 | 34.8% | 39.3% |
| 462 | Brandon Roy | 925 | 322 | 34.8% | 39.3% |
| 463 | Willie Green | 1494 | 517 | 34.6% | 39.2% |
| 464 | Garrett Temple | 2011 | 691 | 34.4% | 39.2% |
| 465 | Josh Hart | 1231 | 427 | 34.7% | 39.2% |
| 466 | Antoine Walker | 4264 | 1386 | 32.5% | 39.1% |
| 467 | Shai Gilgeous-Alexander | 857 | 298 | 34.8% | 39.1% |
| 468 | Todd Day | 1646 | 568 | 34.5% | 39.1% |
| 469 | Robert Horry | 2329 | 795 | 34.1% | 39.0% |
| 470 | Kristaps Porziņģis | 913 | 317 | 34.7% | 39.0% |
| 471 | Walter McCarty | 1318 | 456 | 34.6% | 38.9% |
| 472 | Trey Burke | 1637 | 564 | 34.4% | 38.9% |
| 473 | Miles Bridges | 1255 | 434 | 34.6% | 38.8% |
| 474 | Donte DiVincenzo | 894 | 310 | 34.7% | 38.8% |
| 475 | Tim Hardaway | 1681 | 578 | 34.4% | 38.7% |
| 476 | Sasha Pavlovic | 890 | 308 | 34.6% | 38.5% |
| 477 | Jarrett Jack | 1809 | 620 | 34.3% | 38.5% |
| 478 | Charlie Villanueva | 2101 | 716 | 34.1% | 38.3% |
| 479 | Jeremy Lamb | 1755 | 601 | 34.3% | 38.2% |
| 480 | Matt Barnes | 2931 | 982 | 33.5% | 38.2% |
| 481 | Shabazz Napier | 1000 | 345 | 34.5% | 38.2% |
| 482 | Jason Williams | 3784 | 1238 | 32.7% | 38.1% |
| 483 | Damyean Dotson | 733 | 253 | 34.5% | 38.0% |
| 484 | Derek Anderson | 1891 | 645 | 34.1% | 38.0% |
| 485 | Smush Parker | 838 | 289 | 34.5% | 37.9% |
| 486 | Anthony Edwards | 1122 | 386 | 34.4% | 37.9% |
| 487 | Cory Joseph | 1172 | 403 | 34.4% | 37.9% |
| 488 | Dante Cunningham | 626 | 216 | 34.5% | 37.9% |
| 489 | Brook Lopez | 1914 | 652 | 34.1% | 37.8% |
| 490 | Tony Delk | 1376 | 472 | 34.3% | 37.8% |
| 491 | Chris Childs | 1082 | 372 | 34.4% | 37.8% |
| 492 | Travis Best | 772 | 266 | 34.5% | 37.8% |
| 493 | Steve Francis | 1684 | 575 | 34.1% | 37.7% |
| 494 | Marko Jaric | 840 | 289 | 34.4% | 37.6% |
| 495 | Alan Anderson | 963 | 331 | 34.4% | 37.6% |
| 496 | Markieff Morris | 1782 | 607 | 34.1% | 37.6% |
| 497 | Devean George | 1246 | 427 | 34.3% | 37.5% |
| 498 | Andre Iguodala | 3269 | 1080 | 33.0% | 37.5% |
| 499 | Glenn Robinson | 1823 | 620 | 34.0% | 37.4% |
| 500 | Darrell Armstrong | 2763 | 923 | 33.4% | 37.3% |
| 501 | Jeremy Lin | 1313 | 449 | 34.2% | 37.3% |
| 502 | Eric Bledsoe | 2545 | 854 | 33.6% | 37.3% |
| 503 | Paul Millsap | 1588 | 541 | 34.1% | 37.3% |
| 504 | Eric Murdock | 863 | 296 | 34.3% | 37.2% |
| 505 | Rolando Blackman | 667 | 229 | 34.3% | 37.2% |
| 506 | DeShawn Stevenson | 1617 | 550 | 34.0% | 37.1% |
| 507 | Kyle Kuzma | 1883 | 638 | 33.9% | 37.1% |
| 508 | Baron Davis | 4159 | 1332 | 32.0% | 37.0% |
| 509 | Nate McMillan | 870 | 298 | 34.3% | 37.0% |
| 510 | Luka Dončić | 2172 | 732 | 33.7% | 37.0% |
| 511 | Michael Adams | 2857 | 949 | 33.2% | 36.9% |
| 512 | Rod Higgins | 1030 | 352 | 34.2% | 36.9% |
| 513 | Jordan Poole | 1121 | 382 | 34.1% | 36.6% |
| 514 | Austin Croshere | 1262 | 429 | 34.0% | 36.4% |
| 515 | Juan Dixon | 972 | 331 | 34.1% | 36.3% |
| 516 | Michael Cooper | 1260 | 428 | 34.0% | 36.3% |
| 517 | Troy Hudson | 1333 | 452 | 33.9% | 36.2% |
| 518 | Wesley Johnson | 1823 | 614 | 33.7% | 36.1% |
| 519 | Darrick Martin | 1030 | 350 | 34.0% | 36.1% |
| 520 | Toni Kukoc | 2184 | 731 | 33.5% | 36.1% |
| 521 | Timothé Luwawu-Cabarrot | 637 | 217 | 34.1% | 36.1% |
| 522 | Derrick White | 983 | 334 | 34.0% | 36.0% |
| 523 | Ian Clark | 705 | 240 | 34.0% | 36.0% |
| 524 | Vernon Maxwell | 3931 | 1256 | 31.9% | 35.9% |
| 525 | Kevin Knox | 706 | 240 | 34.0% | 35.9% |
| 526 | Johnny Newman | 1786 | 600 | 33.6% | 35.7% |
| 527 | Iman Shumpert | 1450 | 489 | 33.7% | 35.6% |
| 528 | Raymond Felton | 2813 | 925 | 32.9% | 35.5% |
| 529 | Shawne Williams | 812 | 275 | 33.9% | 35.4% |
| 530 | Joel Embiid | 1152 | 389 | 33.8% | 35.4% |
| 531 | Trey Lyles | 1167 | 394 | 33.8% | 35.4% |
| 532 | Boris Diaw | 1413 | 475 | 33.6% | 35.2% |
| 533 | Devin Brown | 888 | 300 | 33.8% | 35.2% |
| 534 | Shawn Marion | 2390 | 791 | 33.1% | 35.1% |
| 535 | Eddie Johnson | 1679 | 562 | 33.5% | 35.0% |
| 536 | Mark Jackson | 2213 | 734 | 33.2% | 35.0% |
| 537 | Travis Outlaw | 1021 | 344 | 33.7% | 34.9% |
| 538 | Scottie Pippen | 3002 | 978 | 32.6% | 34.9% |
| 539 | Kelly Oubre Jr. | 1483 | 497 | 33.5% | 34.9% |
| 540 | Stephon Marbury | 3048 | 991 | 32.5% | 34.8% |
| 541 | World B. Free | 632 | 213 | 33.7% | 34.6% |
| 542 | Luol Deng | 1982 | 658 | 33.2% | 34.6% |
| 543 | Linas Kleiza | 1154 | 387 | 33.5% | 34.5% |
| 544 | Sergio Rodriguez | 600 | 202 | 33.7% | 34.5% |
| 545 | DerMarr Johnson | 815 | 274 | 33.6% | 34.4% |
| 546 | Sam Cassell | 2029 | 672 | 33.1% | 34.4% |
| 547 | Nikola Jokić | 1050 | 352 | 33.5% | 34.3% |
| 548 | Chris Bosh | 910 | 305 | 33.5% | 34.1% |
| 549 | Al-Farouq Aminu | 1634 | 543 | 33.2% | 34.0% |
| 550 | Chris Boucher | 620 | 208 | 33.6% | 34.0% |
| 551 | Blue Edwards | 908 | 304 | 33.5% | 34.0% |
| 552 | Darrell Griffith | 1596 | 530 | 33.2% | 33.9% |
| 553 | Thaddeus Young | 1552 | 515 | 33.2% | 33.7% |
| 554 | Gary Payton | 3570 | 1132 | 31.7% | 33.7% |
| 555 | Caris LeVert | 1317 | 438 | 33.3% | 33.6% |
| 556 | Kyle Anderson | 634 | 212 | 33.4% | 33.6% |
| 557 | Luc Mbah a Moute | 619 | 207 | 33.4% | 33.6% |
| 558 | Julius Randle | 1349 | 448 | 33.2% | 33.5% |
| 559 | Devin Harris | 2558 | 832 | 32.5% | 33.4% |
| 560 | Greg Buckner | 716 | 239 | 33.4% | 33.4% |
| 561 | Larry Johnson | 1104 | 367 | 33.2% | 33.2% |
| 562 | Josh Howard | 1029 | 342 | 33.2% | 33.1% |
| 563 | Frank Jackson | 742 | 247 | 33.3% | 33.0% |
| 564 | Luguentz Dort | 821 | 273 | 33.3% | 33.0% |
| 565 | DeMarcus Cousins | 1288 | 426 | 33.1% | 32.8% |
| 566 | Shannon Brown | 831 | 276 | 33.2% | 32.8% |
| 567 | Solomon Hill | 1093 | 362 | 33.1% | 32.7% |
| 568 | Gerald Henderson | 611 | 203 | 33.2% | 32.7% |
| 569 | Ricky Rubio | 1887 | 616 | 32.6% | 32.2% |
| 570 | Michael Jordan | 1778 | 581 | 32.7% | 32.1% |
| 571 | Pooh Richardson | 1087 | 358 | 32.9% | 32.0% |
| 572 | Blake Griffin | 1573 | 515 | 32.7% | 32.0% |
| 573 | Shelvin Mack | 916 | 302 | 33.0% | 31.9% |
| 574 | Torrey Craig | 724 | 239 | 33.0% | 31.9% |
| 575 | Dejounte Murray | 661 | 218 | 33.0% | 31.7% |
| 576 | Marcus Smart | 2477 | 796 | 32.1% | 31.7% |
| 577 | Pascal Siakam | 1182 | 388 | 32.8% | 31.7% |
| 578 | Brad Miller | 610 | 201 | 33.0% | 31.6% |
| 579 | Allen Iverson | 3383 | 1059 | 31.3% | 31.6% |
| 580 | Bryant Stith | 931 | 306 | 32.9% | 31.5% |
| 581 | Nickeil Alexander-Walker | 690 | 227 | 32.9% | 31.4% |
| 582 | Doc Rivers | 1101 | 361 | 32.8% | 31.4% |
| 583 | Jeff McInnis | 929 | 305 | 32.8% | 31.4% |
| 584 | Jack Sikma | 618 | 203 | 32.9% | 31.2% |
| 585 | John Wall | 1912 | 618 | 32.3% | 31.0% |
| 586 | Clyde Drexler | 2603 | 827 | 31.8% | 30.7% |
| 587 | Sleepy Floyd | 1599 | 518 | 32.4% | 30.7% |
| 588 | Aaron Gordon | 1819 | 587 | 32.3% | 30.6% |
| 589 | Gerald Henderson | 762 | 249 | 32.7% | 30.6% |
| 590 | Ja Morant | 676 | 221 | 32.7% | 30.6% |
| 591 | Tony Parker | 1603 | 519 | 32.4% | 30.6% |
| 592 | Damien Wilkins | 627 | 205 | 32.7% | 30.6% |
| 593 | Rajon Rondo | 1384 | 449 | 32.4% | 30.5% |
| 594 | Earl Watson | 1551 | 502 | 32.4% | 30.4% |
| 595 | Bonzi Wells | 683 | 223 | 32.6% | 30.4% |
| 596 | Bob Sura | 1303 | 423 | 32.5% | 30.4% |
| 597 | Bill Laimbeer | 619 | 202 | 32.6% | 30.3% |
| 598 | Ish Smith | 925 | 301 | 32.5% | 30.2% |
| 599 | Spencer Dinwiddie | 1716 | 553 | 32.2% | 30.2% |
| 600 | Corey Maggette | 1431 | 463 | 32.4% | 30.2% |
| 601 | Tyreke Evans | 1548 | 500 | 32.3% | 30.2% |
| 602 | Russell Westbrook | 3746 | 1142 | 30.5% | 30.1% |
| 603 | Jabari Parker | 651 | 212 | 32.6% | 30.1% |
| 604 | Dominique Wilkins | 2231 | 711 | 31.9% | 30.0% |
| 605 | Jimmy Butler | 1732 | 556 | 32.1% | 29.8% |
| 606 | Norris Cole | 639 | 207 | 32.4% | 29.4% |
| 607 | Jerry Stackhouse | 3202 | 988 | 30.9% | 29.3% |
| 608 | Emmanuel Mudiay | 855 | 276 | 32.3% | 29.1% |
| 609 | Ricky Pierce | 920 | 296 | 32.2% | 28.7% |
| 610 | Kelly Oubre | 636 | 205 | 32.2% | 28.7% |
| 611 | Monta Ellis | 2349 | 737 | 31.4% | 28.5% |
| 612 | Brad Davis | 841 | 270 | 32.1% | 28.4% |
| 613 | Justin Jackson | 719 | 231 | 32.1% | 28.4% |
| 614 | Maurice Harkless | 1182 | 378 | 32.0% | 28.3% |
| 615 | De'Aaron Fox | 1139 | 364 | 32.0% | 28.2% |
| 616 | Dennis Schroder | 985 | 315 | 32.0% | 28.1% |
| 617 | Sebastian Telfair | 1133 | 361 | 31.9% | 27.8% |
| 618 | LaMarcus Aldridge | 710 | 227 | 32.0% | 27.7% |
| 619 | Derrick Rose | 1762 | 556 | 31.6% | 27.7% |
| 620 | Mario Hezonja | 833 | 266 | 31.9% | 27.7% |
| 621 | Draymond Green | 1812 | 571 | 31.5% | 27.7% |
| 622 | Anfernee Hardaway | 1591 | 503 | 31.6% | 27.6% |
| 623 | David Benoit | 661 | 211 | 31.9% | 27.5% |
| 624 | Lamar Odom | 2126 | 664 | 31.2% | 27.3% |
| 625 | Eric Williams | 688 | 219 | 31.8% | 27.2% |
| 626 | Gerald Wilkins | 1322 | 418 | 31.6% | 27.1% |
| 627 | Jordan Crawford | 1041 | 330 | 31.7% | 27.0% |
| 628 | Shandon Anderson | 972 | 307 | 31.6% | 26.5% |
| 629 | Derrick McKey | 642 | 203 | 31.6% | 26.3% |
| 630 | Ramon Sessions | 658 | 208 | 31.6% | 26.2% |
| 631 | A.J. Price | 690 | 218 | 31.6% | 26.2% |
| 632 | Eddie Griffin | 752 | 237 | 31.5% | 25.9% |
| 633 | Lance Stephenson | 1189 | 373 | 31.4% | 25.9% |
| 634 | Spud Webb | 1018 | 320 | 31.4% | 25.9% |
| 635 | Justise Winslow | 683 | 215 | 31.5% | 25.7% |
| 636 | Gerald Wallace | 1303 | 407 | 31.2% | 25.6% |
| 637 | Grant Hill | 697 | 219 | 31.4% | 25.5% |
| 638 | Mark Aguirre | 1258 | 392 | 31.2% | 25.2% |
| 639 | Alvin Williams | 664 | 208 | 31.3% | 25.1% |
| 640 | Larry Hughes | 1696 | 524 | 30.9% | 25.0% |
| 641 | Antonio Daniels | 1154 | 359 | 31.1% | 24.8% |
| 642 | Ken Norman | 741 | 231 | 31.2% | 24.6% |
| 643 | Andrei Kirilenko | 1185 | 367 | 31.0% | 24.3% |
| 644 | Chris Morris | 1625 | 497 | 30.6% | 23.7% |
| 645 | Cedric Ceballos | 760 | 235 | 30.9% | 23.6% |
| 646 | Brian Shaw | 1416 | 431 | 30.4% | 22.7% |
| 647 | Mike Evans | 753 | 231 | 30.7% | 22.6% |
| 648 | Tom Chambers | 740 | 227 | 30.7% | 22.6% |
| 649 | Ronald Murray | 1079 | 328 | 30.4% | 21.9% |
| 650 | Darius Bazley | 696 | 212 | 30.5% | 21.7% |
| 651 | James Johnson | 1251 | 378 | 30.2% | 21.5% |
| 652 | Magic Johnson | 1074 | 325 | 30.3% | 21.4% |
| 653 | Anthony Davis | 964 | 292 | 30.3% | 21.3% |
| 654 | John Lucas | 806 | 244 | 30.3% | 21.0% |
| 655 | LaPhonso Ellis | 797 | 241 | 30.2% | 20.9% |
| 656 | Ronnie Price | 808 | 244 | 30.2% | 20.7% |
| 657 | Jamaal Tinsley | 1326 | 397 | 29.9% | 20.6% |
| 658 | Stanley Johnson | 1074 | 322 | 30.0% | 20.3% |
| 659 | Kendall Gill | 1051 | 315 | 30.0% | 20.2% |
| 660 | Rodney Stuckey | 921 | 276 | 30.0% | 20.0% |
| 661 | Derrick Williams | 838 | 251 | 29.9% | 19.8% |
| 662 | Reggie Williams | 1253 | 373 | 29.8% | 19.8% |
| 663 | Chris Webber | 883 | 264 | 29.9% | 19.7% |
| 664 | Dwyane Wade | 1874 | 549 | 29.3% | 19.5% |
| 665 | Calbert Cheaney | 684 | 204 | 29.8% | 19.1% |
| 666 | Jay Humphries | 738 | 219 | 29.7% | 18.6% |
| 667 | Derrick Coleman | 1105 | 326 | 29.5% | 18.4% |
| 668 | Alvin Robertson | 800 | 236 | 29.5% | 18.0% |
| 669 | Evan Turner | 917 | 270 | 29.4% | 17.9% |
| 670 | Ron Harper | 1811 | 523 | 28.9% | 17.8% |
| 671 | Isiah Thomas | 1373 | 398 | 29.0% | 17.0% |
| 672 | Giannis Antetokounmpo | 1550 | 447 | 28.8% | 16.9% |
| 673 | Josh Jackson | 901 | 263 | 29.2% | 16.9% |
| 674 | DeMar DeRozan | 1424 | 410 | 28.8% | 16.4% |
| 675 | Corey Brewer | 1774 | 503 | 28.3% | 15.8% |
| 676 | Josh Smith | 1578 | 450 | 28.5% | 15.8% |
| 677 | Tom Gugliotta | 732 | 208 | 28.4% | 13.6% |
| 678 | Charles Barkley | 2020 | 538 | 26.6% | 11.6% |
| 679 | Bimbo Coles | 943 | 252 | 26.7% | 7.8% |
| 680 | Reggie Theus | 945 | 238 | 25.2% | 4.4% |