Have you ever run out of sports socks and had to settle for cheap casual socks for your basketball practice? It happens to me all the time - and I hate it!
My narrow feet start to slide around, become much more sweaty, and sometimes I even get completely unnecessary blisters.
There is no doubt that performance basketball socks work and are worth the money. But what do you want to look out for when buying socks, and what are the best socks on the market? Let's find out!
Overview of popular basketball socks: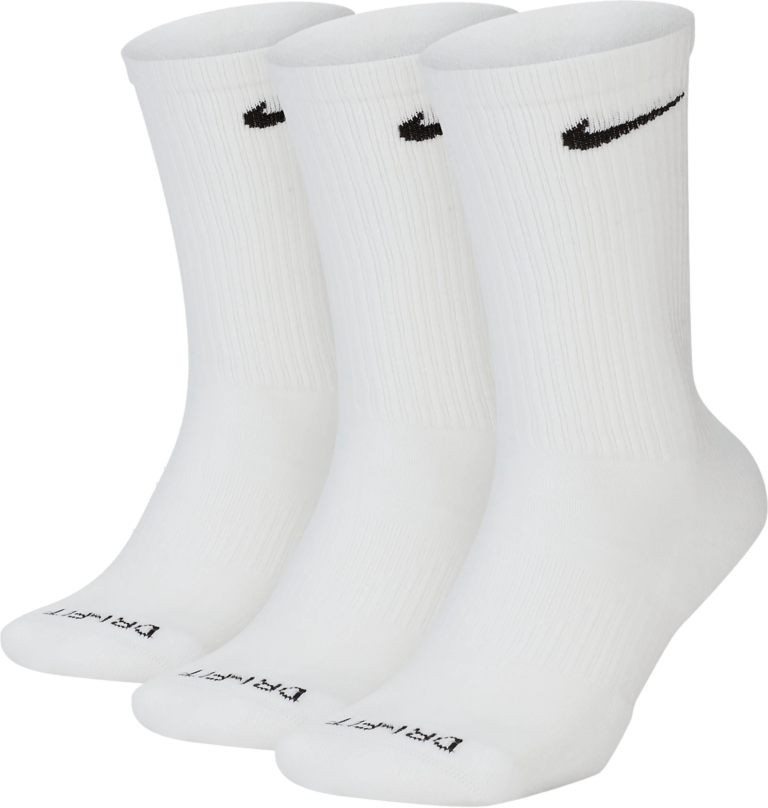 Provides tight fit and comfortable material
Affordable 3-pack of athletic socks
Available in three different lengths
The tight fit provides arch support and compression
HeatGear is designed to keep your feet cool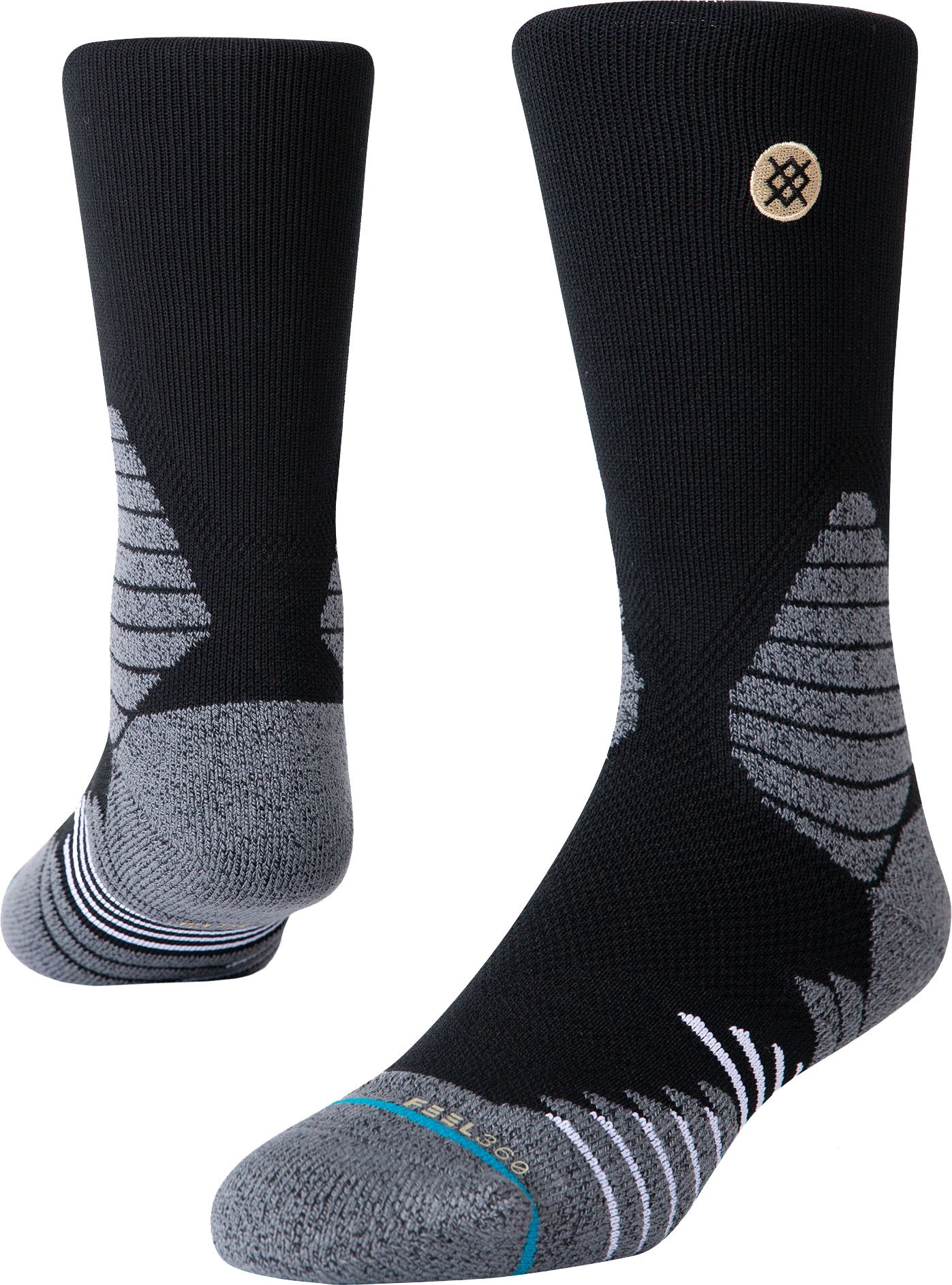 Stance provided the official on-court sock of the NBA from 2015-2017
Available in a lot of different player- and team-themed styles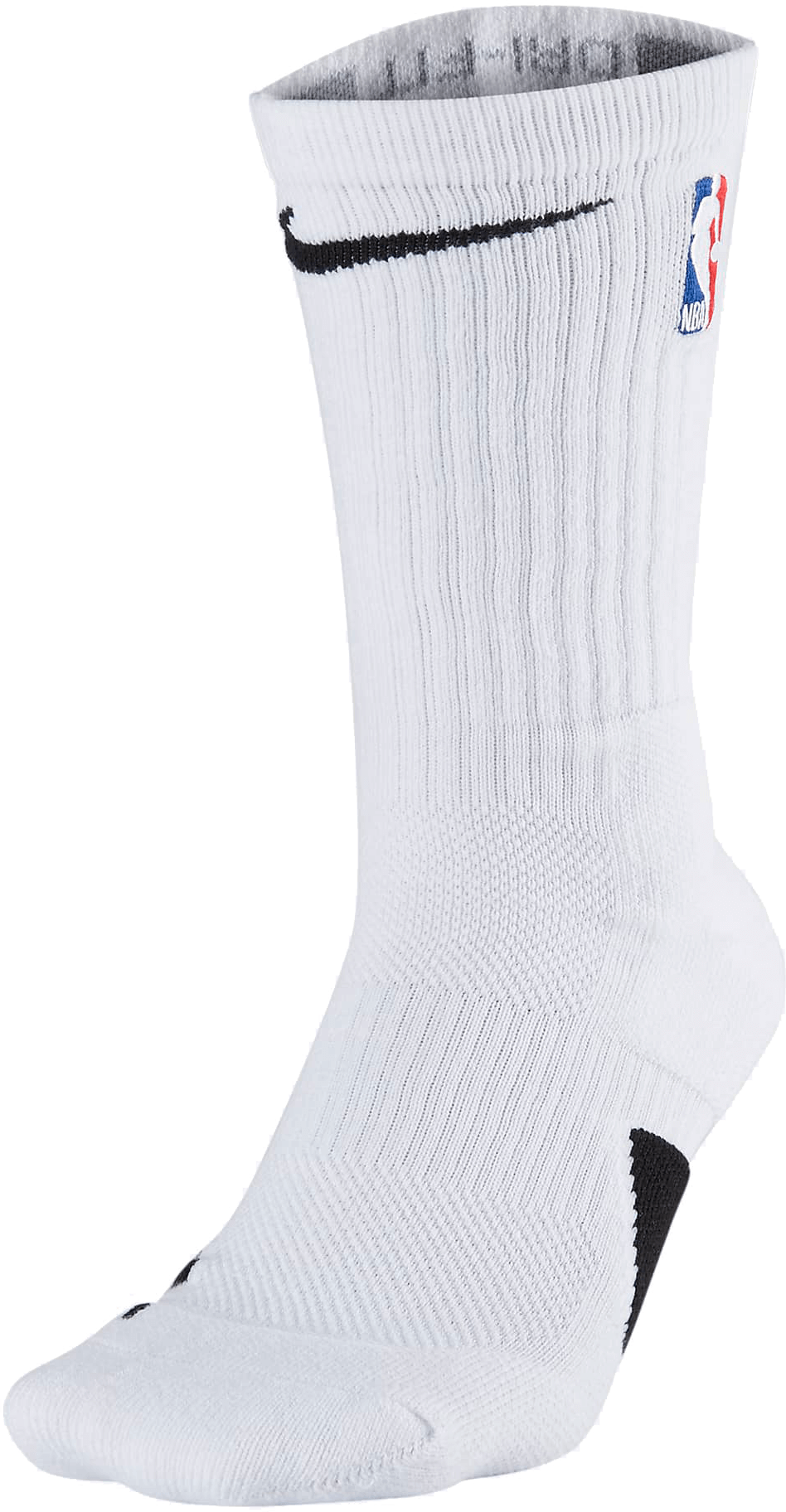 Very popular basketball socks that started the performance trend
Huge variety of player and team-specific designs
The official sock worn in the NBA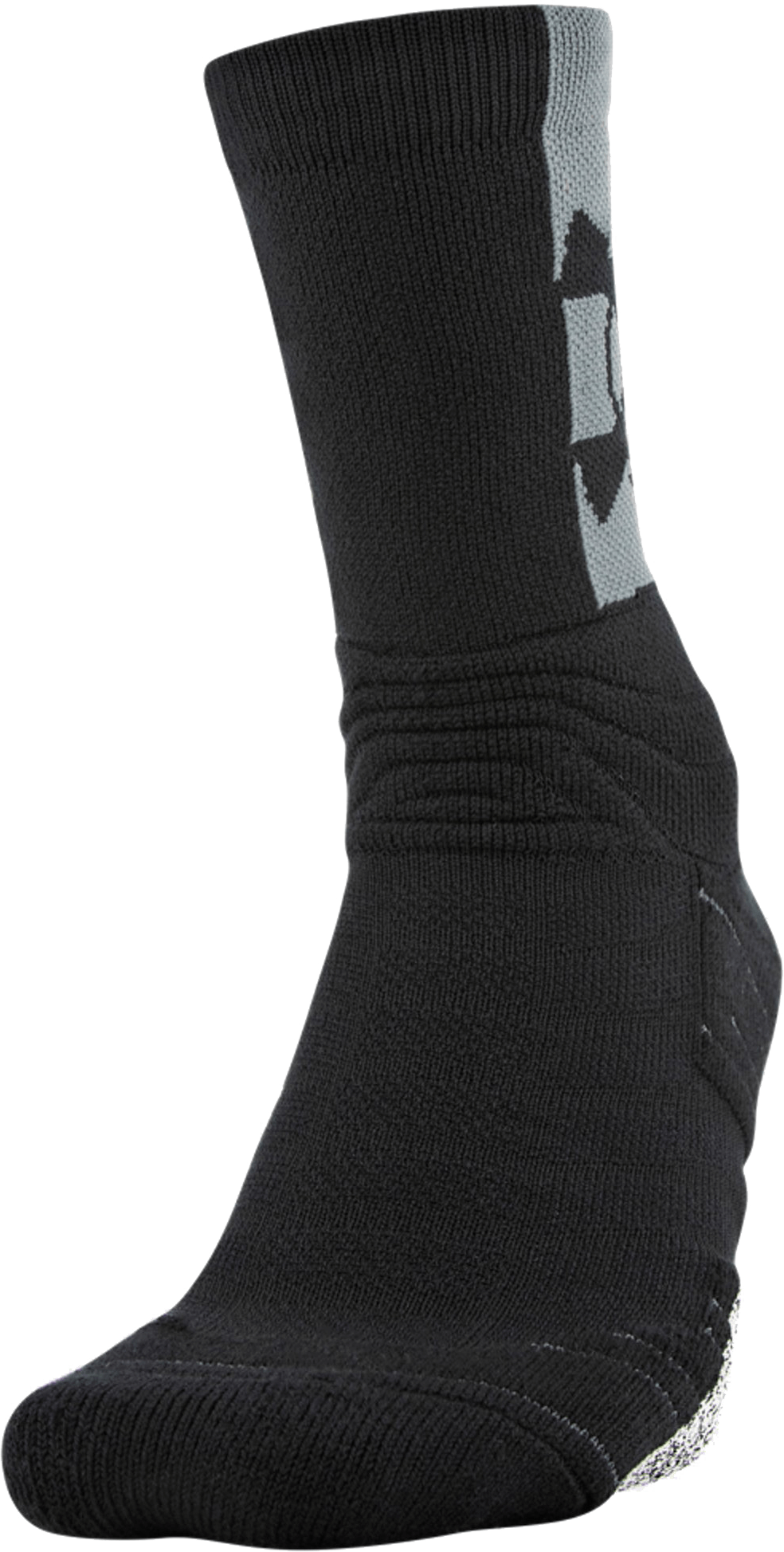 Comfortable sweat-wicking material
Grip well of the foot-bed
Thicker padding on the ankle and underfoot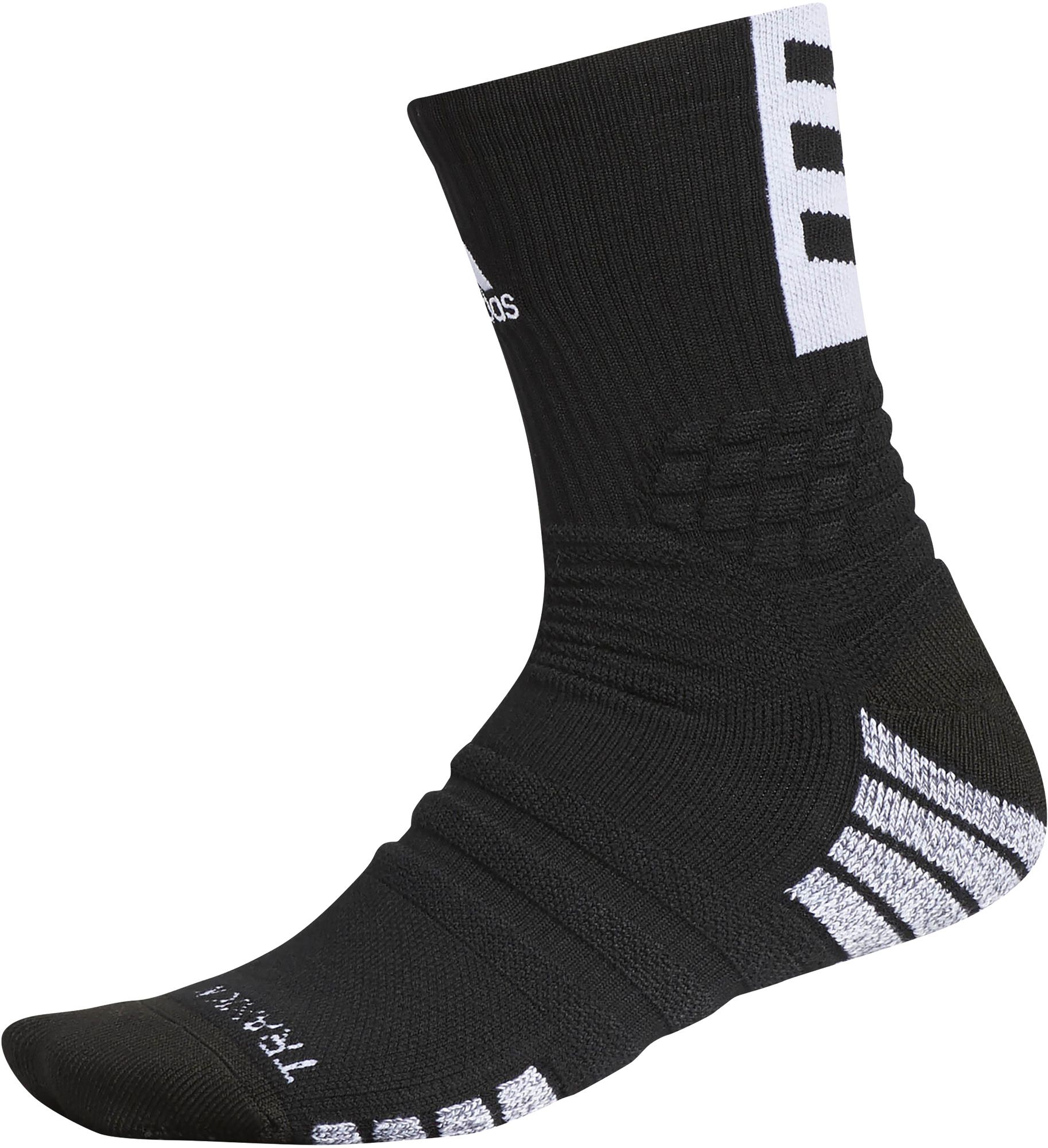 Great for flat feet as there is a lot of arch support
Comfortable ankle cushioning
Provides a lot of grip on the foot bed
Amazon Prices were last updated on 10/04/2023 1:57 AM EDT
There are a lot of things to consider when looking for the perfect basketball socks. In the following paragraphs, I want to sum up the most important ones.
Material
Performance socks are usually made of varying mixes of cotton, polyester, nylon, and elastane (spandex). Pure cotton is rarely seen in performance socks because cotton quickly absorbs sweat and doesn't dry very fast.
Synthetic materials like nylon and polyester wick away moisture quickly and retain their shape much longer. Elastane usually makes up a very small percentage of the material (around 2-6%), but its incredible flexibility adds stretch and makes socks a lot more comfortable!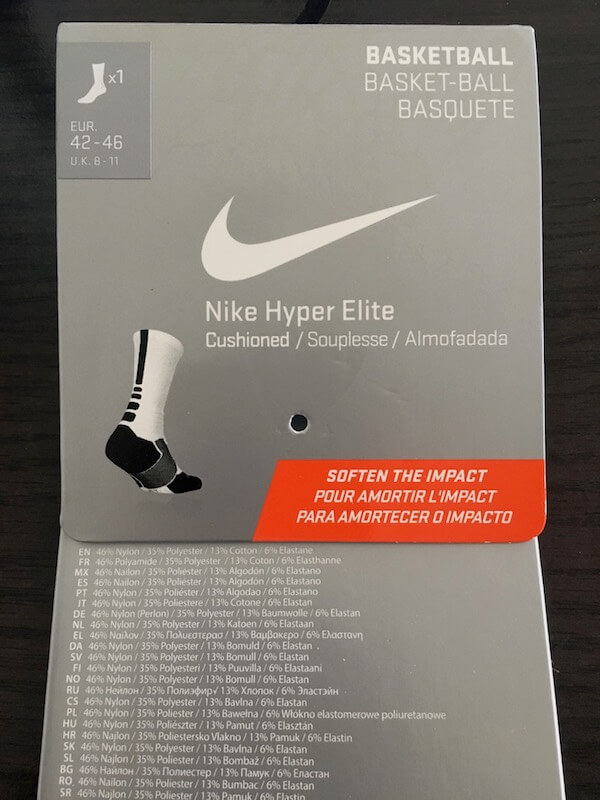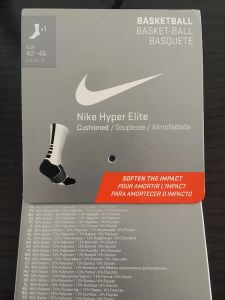 Thickness
This comes down to personal preference, but I like my basketball socks to be a little thicker than my usual everyday socks. I have rather narrow feet, so socks made from thicker material help me improve the fit of my shoes. This way, my feet slide much less inside the shoes, which not only helps to avoid blisters but also makes quick basketball moves much more comfortable.
Of course, if you have very wide feet and you already have a hard time getting into your shoes you might want to look towards thinner socks like the Stance Icon Hoops.
Length
There was a time when basketball players wore long tube socks that went all the way up to the knees. These socks are completely out of fashion now and have been replaced by compression pants.
These days you have the choice between thee different styles:
Crew cut socks that go up to the middle of the shins
Mid cut socks that end just above the ankle
Low cut socks (also called "no-show" socks) which are almost invisible when you are wearing shoes
The picture below illustrates the different styles: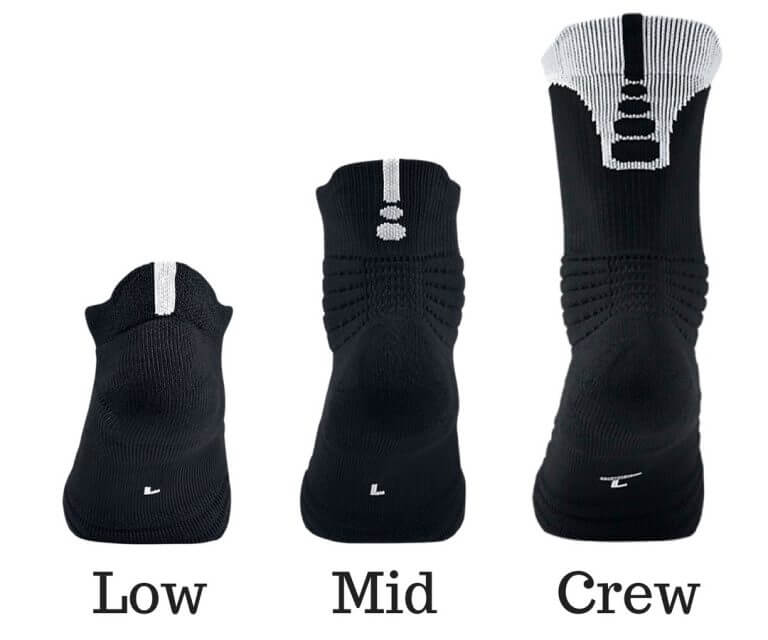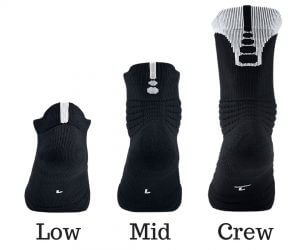 Which kind of socks to pick is mostly a fashion decision, but some athletes like the added compression of crew cut socks. Another reason to choose crew cut socks is if you wear ankle braces and want to avoid unnecessary friction.
Cushioning and Arch Support
More expensive performance socks like the Nike Elites bring you additional cushioning in the forefoot and around the heel. This makes them extremely comfortable and helps you to avoid blisters. I personally love the additional cushioning because it really helps to lock down my narrow feet inside the shoes.
Some performance socks come with compression bands in the midfoot area that provide additional arch support. This can be helpful if you suffer from arch pain or plantar fasciitis.
This picture shows the compression bands and the cushioning on the inside of modern performance basketball socks: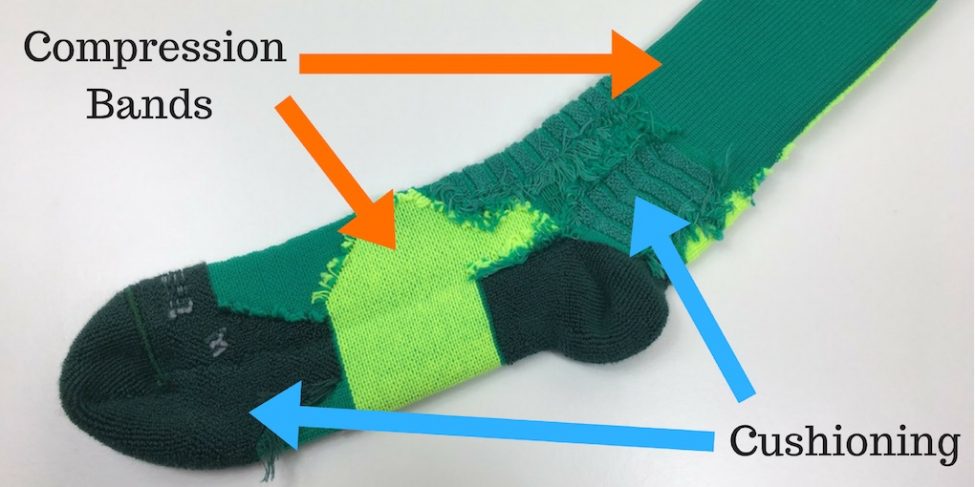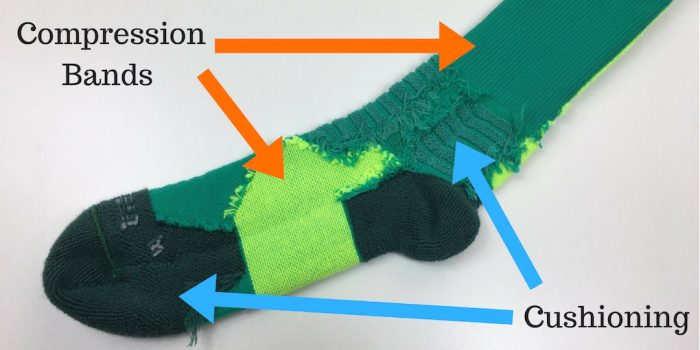 Alright, let's take a closer look at some of the most popular basketball socks:
I like the clean style of these all-black (or all-white) socks with the iconic Nike Swoosh. Basketball sneakers get more colorful every year and these simple socks provide a nice contrast.
The Nike Everyday Plus socks are made of a mix of cotton, nylon, and elastane, which gives them a nice plush feel. I love wearing these socks at home!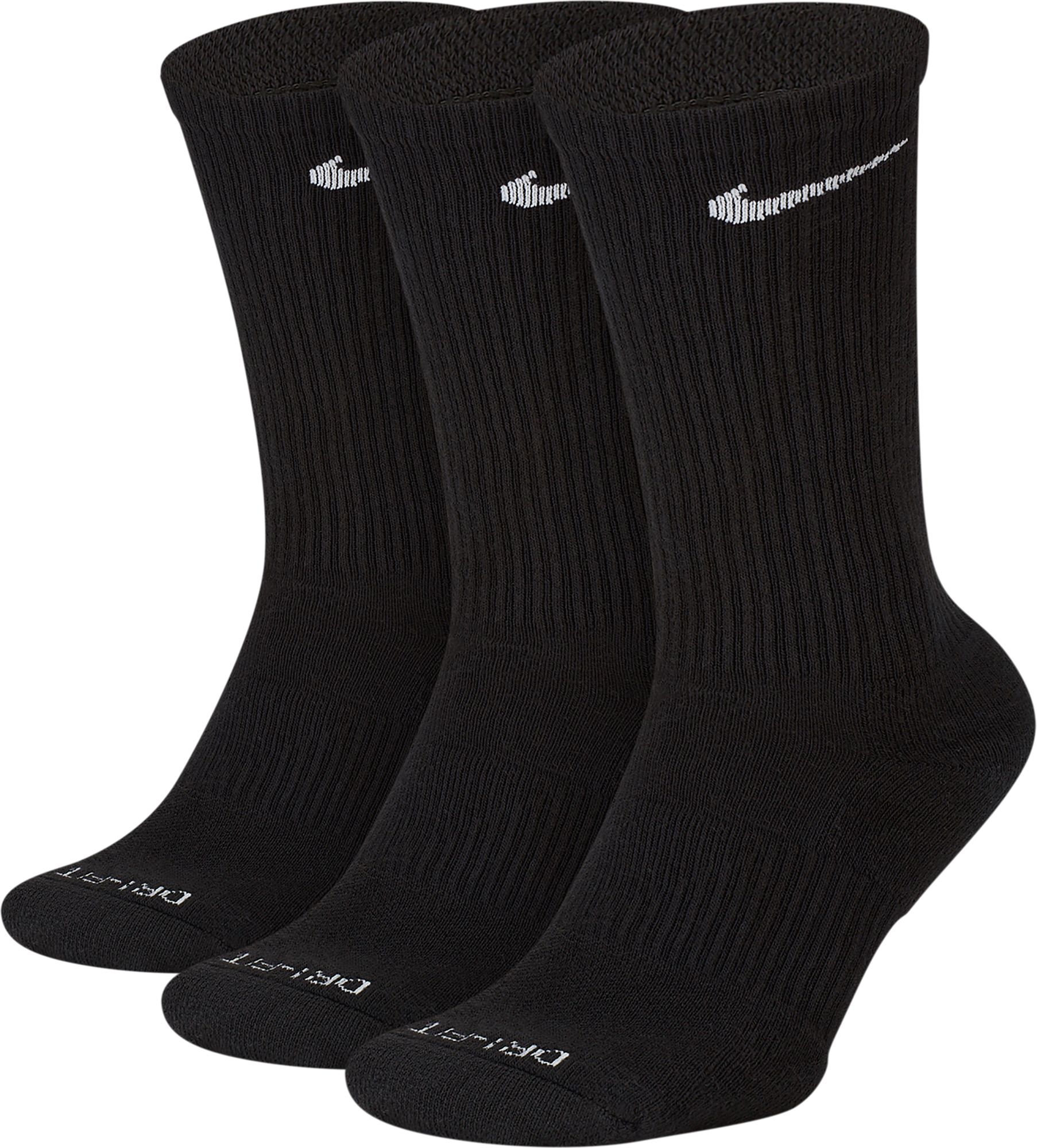 Personally, I prefer to wear crew-length socks for basketball, but the Nike Everyday Plus' are also available as ankle socks or no-show socks.
Unfortunately, I didn't like their performance during actual games as much. A couple of times, I hit my toes on the front of my shoes during quick stops because my feet slipped inside the shoes. Tying my shoes extra tight compensated for the slippery material, but other performance basketball socks provided more grip and didn't have this problem.
These Nike socks are also thinner than other options - problematic for my narrow feet - but a great choice if you have wide feet and your shoes are already very tight.
---
The Under Armour Heatgear socks are made out of a mix of cotton and synthetics. This mix of materials makes them very flexible and durable; they also dry very fast. HeatGear technology was designed to keep your feet cool, so if you have problems with hot and sweaty feet, then these socks are a great choice for you!
I really enjoyed the thick cushioning near the heels and toes which worked great for my narrow feet and improved lockdown immensely.
These socks also feature a compression band around the midfoot that supports your arch and helps you avoid foot fatigue. As I don't suffer from foot problems like that I can't tell you how well this actually works.
What I can tell you though, is that the compression material around the ankles and calves fits very tightly and pulling the socks up all the way can be a bit uncomfortable at first.
However, I did get used to it after a while and can absolutely recommend these socks if you are looking for additional compression around your calves.
---
Stance was founded in 2009 in California with the goal to make socks the world's most exciting accessories. And they did so very successfully!
Nowadays, Stance sells more than 15 million pairs of socks each year and is still growing at a fast pace.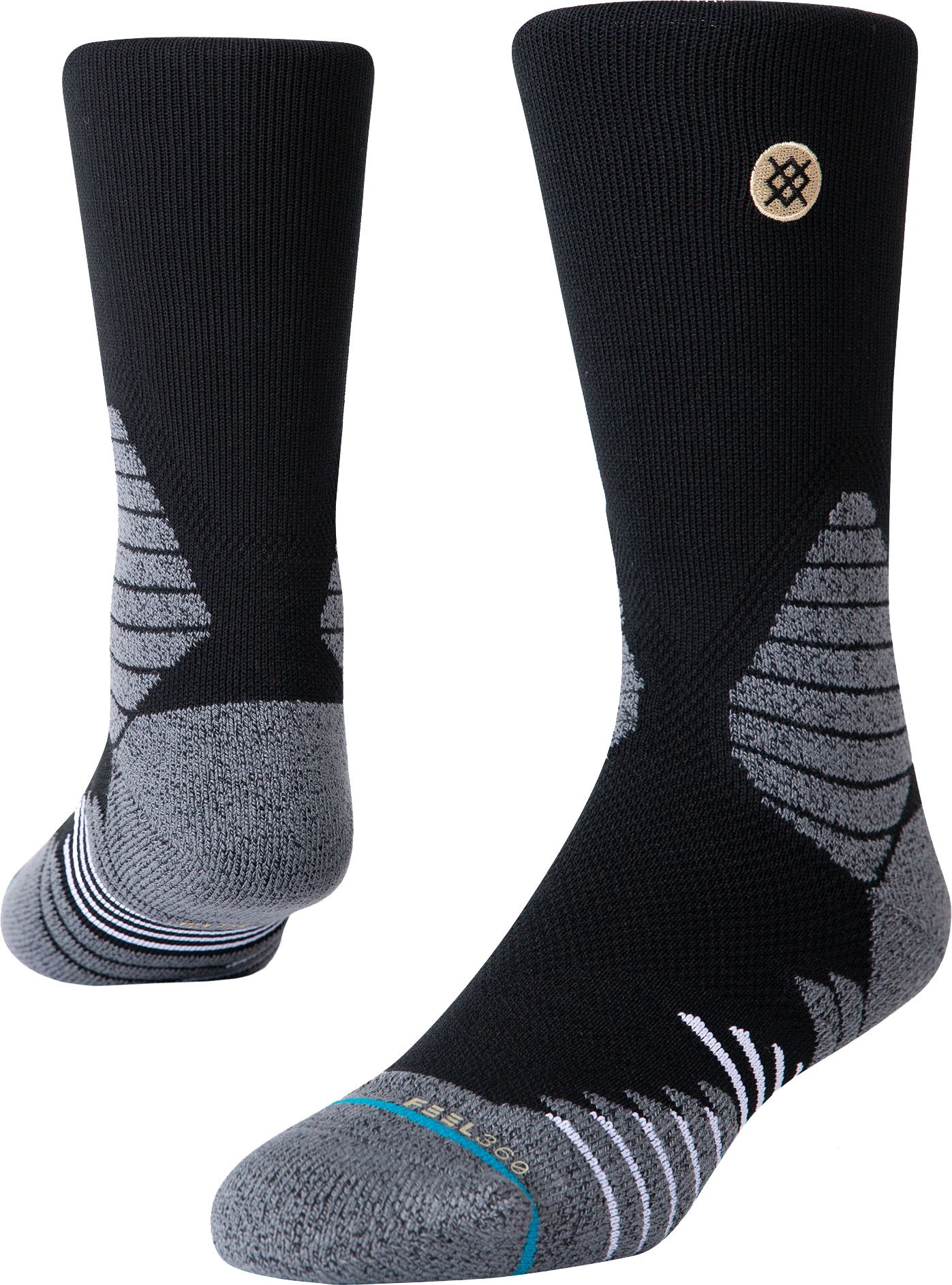 In 2015, Stance made a big splash by becoming the official on-court sock of the NBA. Starting with the 2017/2018 season they were replaced again by Nike, but they still own the NBA licensing rights so you can still get a wide variety of player- and team-themed NBA socks. Check them out on https://www.stance.com/nba/
If you are used to Nike Elite socks, you will be surprised by how flexible and easy Stance socks are to take-off and on. They are also very comfortable on-foot and I really dig their style! (Stance was the first NBA sock provider that was allowed to place their logo on the socks)
I would recommend Stance socks if you are not a big fan of thicker performance socks like the Nike Elites (or you need to fit a very narrow pair of shoes).
---
Nike introduced the Elite socks in 2008 and they were an instant hit. They were so popular and rare, people were buying them in their local stores and reselling them on eBay for $40 or more. Since then, the socks with the iconic Nike Elite logo have become the most popular basketball socks on the market and some rare models are still collector's items!
There is a reason behind this madness. The Nike Elite socks really are in a different league compared to your average 6-pack of white sports socks.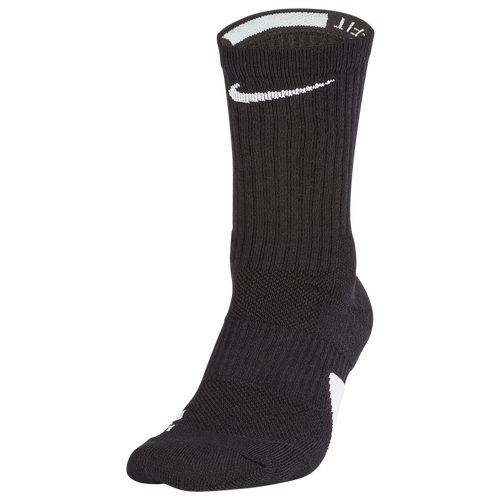 The first thing you notice when you put on a pair of Elites is that they are specifically tailored to fit your left or right foot. This really improves the fit and avoids unnecessary bunching around the toes. Additional cushioning to specific high-impact zones of the foot as well as arch support make these socks insanely comfortable during play. The material is very durable and lasts for years of high-intensity basketball.
The Nike Elites are not cheap, but once you've worn a pair, you really won't want to go back to your average sports socks. They were the first high-performance basketball socks on the market and I believe they are still one of the best basketball socks available today.
Also, make sure to check out the many different NBA, player, or team-specific designs that are available on Nike.com.
---
Under Armour has been making a push into the basketball market in recent years with the creation of their new "Curry" brand and the signing of NBA All-Star Joel Embiid. So clearly, they also had to create a basketball performance sock to compete with the Nike Elites of the world.
The Under Armour Playmaker is a thicker sock that provides a lot of additional underfoot and ankle cushioning which works great for my narrow feet. I also really enjoy the material which is super comfortable and kept my feet noticeably drier than cheaper cotton socks.
The "grip threads" on the bottom of the socks also did a great job of keeping my feet on the footbed.
Overall, I really enjoyed playing in the Under Armour Playmaker. If you are a fan of Under Armour as a brand, or Steph Curry as a player (check out the Curry-themed version of these socks) I can highly recommend these!

---
The Creator 365s are Adidas' high-performance basketball socks. If NBA players were allowed to pick their own sock brands, signature players like James Harden or Damian Lillard would be wearing these (they have to wear official NBA socks from Nike).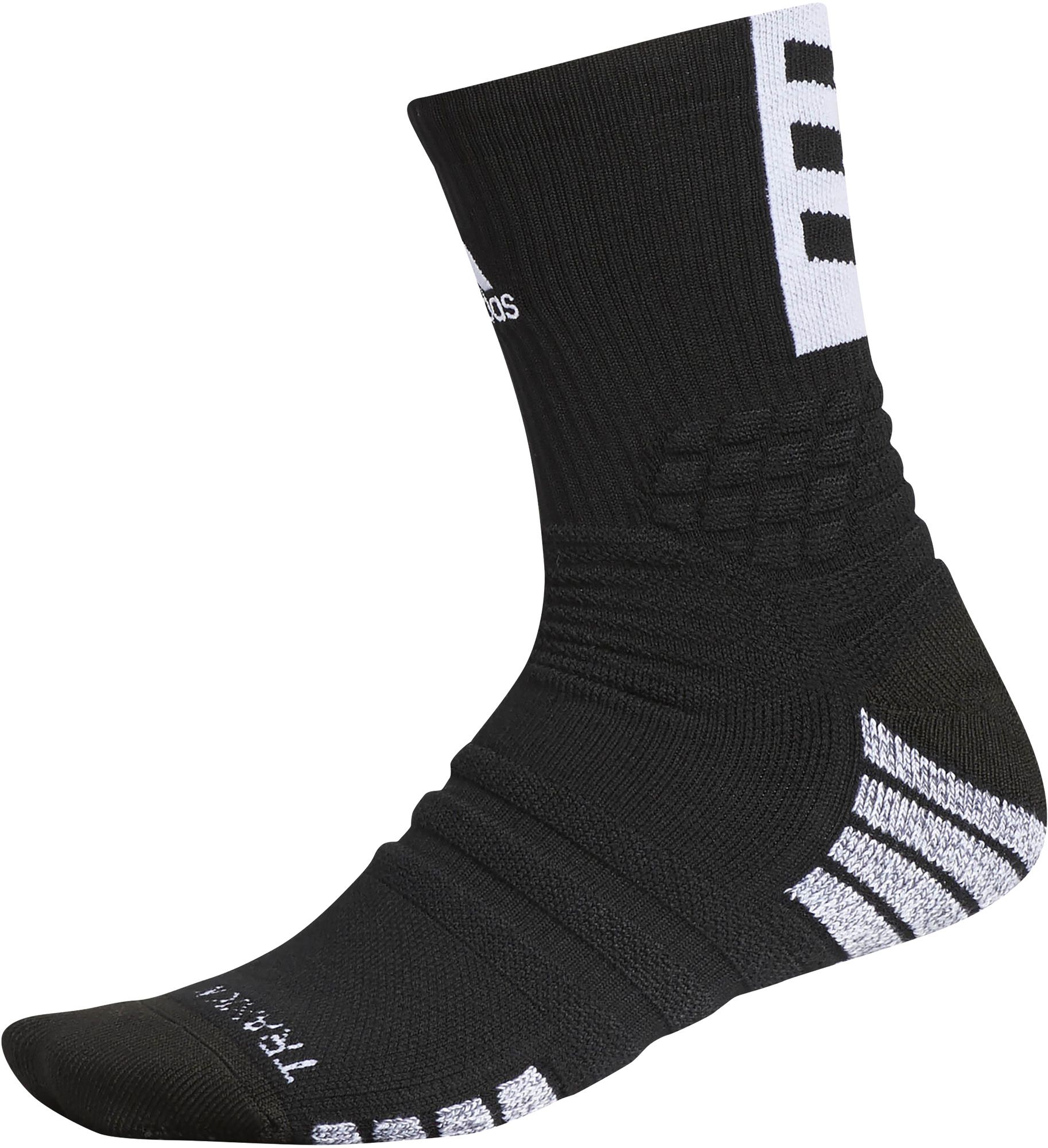 Compared to Nike Elite socks, there is a lot more going on with these socks. While most other socks feature a smooth and even surface, the Adidas Creator socks come with ribbed ankle cushioning which provides extra comfort and a "traxion" foot bed.
The three pretty thick and stretchy compression bands woven into the midfoot not only provide arch support but also improve the traction on the foot bed on quick cuts and stops.
The downside is that you can clearly feel the elevation of your midfoot coming from these bands and you never just "forget" that you are wearing performance socks.
Overall, I really like the Adidas Creator 365. They are very comfortable and the added arch support and elevation might be especially useful for players with flat feet!
---
Final thoughts
If you are playing basketball for hours every day, high-performance basketball socks can really make a difference! They protect your feet from fatigue, help you avoid blisters, and make playing basketball much more fun. I would recommend buying the original Nike Elite Basketball Socks socks.
If you like thicker and more-heavily padded socks, then check out the Adidas Creator 365 socks.