Like every basketball player, I always wanted to be able to dunk. There was only one problem: I was too lazy to really work hard on my vertical jump. Naturally, I was always on the lookout for shoes that would magically make me jump higher.
In the last years, I have tried a lot of different shoes and learned there are shoes very well suited for vertical jumping and others, not as much. Today, I want to share this knowledge with you.
Are there shoes that will increase your vertical jump?
Every basketball player wants to jump higher, so it is no wonder there is a lot of interest in shoes that give you the extra bounce you need to dominate the basketball court.
There is even a brand of basketball shoes promising to increase your vertical jump with a special mechanism they call "Load and Launch". Athletic Propulsion Labs released their first shoe, the Concept 1, in 2010. Shortly after that, their business really took off when the NBA announced the shoes would be banned because they provided an unfair advantage.​
​The latest sneakers from APL is the Concept "Boomer" and the folks at APL were so nice to send me a pair to check them out on my own!
My Review of the APL Boomer
The APL Concept Boomer comes in two colorways: one features a black upper with a semi-translucent green outer sole, the other colorway comes with a white upper material and the same outer-sole. I like the minimal style of the monochrome upper combined with the flashy green highlight of the rubber. Check it out yourself:
I have played in the APL Boomer now for about two weeks and want to share my impressions of the shoes with you.
Do they make you jump higher?
My first impressions are very positive. It's not like you can all of the sudden jump out of the gym, but before my last league game I was able to do some pretty powerful and easy dunks for the first time in a while. So far, I wasn't able to measure my vertical jump and compare it to other shoes directly, but I plan to do that soon! If I had to guess, I would estimate that I am jumping about 2 inches higher than with my old Jordan CP3's. Part of this could just be the improved traction of a fresh pair of shoes but I definitely had fun in that layup line with my new APL Boomers!
Traction
The gym, I usually play in, has rather dusty courts and gives most shoes a lot of trouble. And at first, I wasn't impressed by the traction of the APL Concept Boomer, but after breaking the rubber in a little bit, it got much better and performs really well now!
Of course, you will need to wipe now and then, and because the lines of the traction pattern are rather narrow you need to do it thoroughly. A quick swipe will not bring much improvement​. But if you take 2-3 seconds and do some strong wiping to get the dust out of the traction pattern, you will be good to go for a while.
Overall, the traction is really good! However, I wouldn't recommend playing outdoors in these. The rubber is pretty soft and won't last long and the narrow traction pattern is a dirt magnet.
Cushion
The cushioning feels a little strange in the beginning, because there is a lot of it in the heel, and basically nothing in the front. In fact, it feels as if there is a significant heel-to-toe drop, much more than I was used from my previous basketball shoes.
If you consider that the main focus of the APL Boomer is to increase your vertical jump, then this setup makes a ton of sense. Most of the energy transfer during a vertical jump occurs in the front of your foot and a very forgiving cushioning would just steal energy and actually decrease your vertical jump. Instead, the Load'N Launch Technology in the fore foot of the shoe provides a very direct court feel that allows you to push all of your energy into the ground using the compression springs shown in the image below:
But don't worry, you still get the impact protection of the very comfortable heel cushioning! These are no Kyrie 3's with a rock-hard overall cushioning setup. The vast difference between heel and fore-foot cushioning just takes a little while to get used to.
Materials, Size & Comfort
The upper is made of a net-like mesh material that offers great ventilation and keeps your feet cool during games. A very comfortable full-length bootie provides the "sock-like" fit that is very popular in basketball shoes these days. I got these shoes in my regular size 10 that I also wear in Nike or Jordan Brand shoes and at first I thought that the size 10 might be a little too small. But after breaking them in a little, the loosened up and offer a very tight fit now.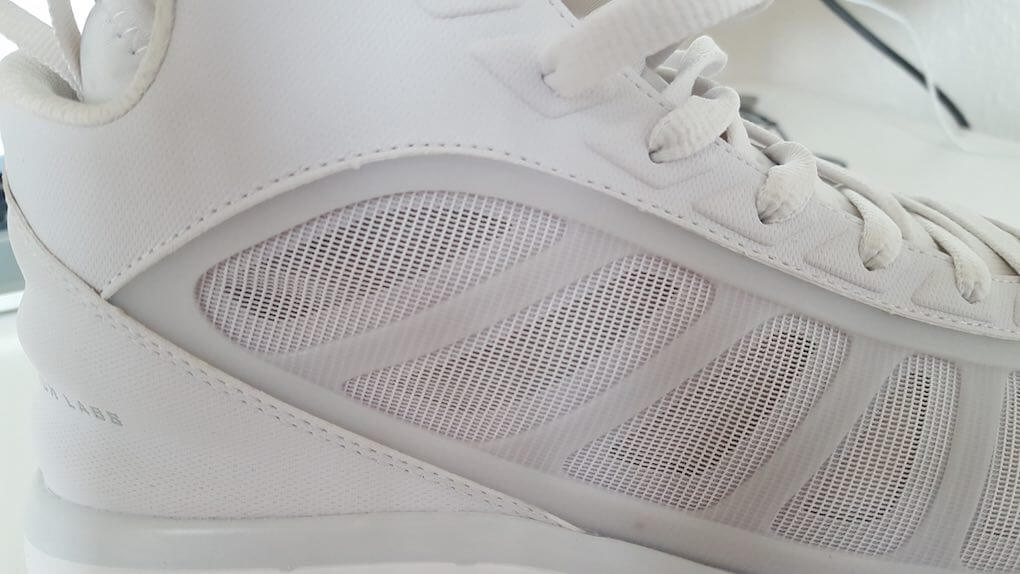 The inner bootie is a bit of a pain to get into, and length-wise there is very little room left. But I have pretty narrow feet, so I enjoy the great lockdown that a very tight shoe provides. For most people, going up half a size will probably be a good idea!
Support
The APL Boomer offers a lot of different support features: The high-cut silhouette provides a lot of ankle support, the wide base and lateral outrigger offer stability and keep your feet from rolling and the TPU heel counter protects you from heel slippage of any kind.
Overall, the high-cut silhouette, combined with the sturdy materials gave me a very secure and almost "invincible" feeling. If you are used to playing in much lighter and flexible low-cut shoes like the Kobe line, the contrast is really stark. On the down side, you lose a little bit of flexibility and freedom of movement with a setup like this.
Overall Verdict of the APL Boomer
Even though high tops really aren't my preferred style of basketball shoes I have grown rather fond of these. The improvement of the vertical jump isn't massive, but I could definitely feel it. And for someone like me, who is only 6ft tall and right on the borderline of being able to dunk, this can make a huge difference! If you can afford the hefty $199 price tag and want to try out a new shoe company with a unique selling point, then get a pair of APL Concept Boomer!
However, if you don't want to go for the Load 'N Launch technology of APL but still get a pair of shoes that will help your vertical jump then keep on reading, because I will show you some general characteristics you want to look for in your next shoes!
How to find the perfect basketball shoes for vertical jumping:

If your goal is to jump as high as possible, then you need a shoe that fulfils these three criteria:
1. Tight fit

Your shoes have to fit properly if you want to get the best vertical jump results.
There is nothing worse than slipping inside your shoes when trying to jump. Badly fitting shoes make you lose much of your momentum and stability during take-off and seriously reduce your jump height. If your feet don't feel securely locked in, you might want to consider wearing high-performance basketball socks; they really make a difference.
Overall, you really can't underestimate the importance of a snug fit. In fact, when basketball players get their vertical jump measured in pre-draft combines, they often wear shoes a half-size too small to ensure as tight a fit as possible!
2. Really good traction

This point is very related to #1. Slippery shoes (or courts) are poison to jumping high.
During a vertical jump, you first gain horizontal speed by running towards the hoop, then you plant your jumping leg (or both) and use your leg(s) as a lever(s) to transform the horizontal speed into vertical speed.
Now, imagine what happens if your shoes slip on the surface when you try to jump.
You either fall or your jump will be much lower because your leg loses tension and can no longer act as an effective lever.
This is also the reason you can jump a lot higher on pristine, regularly-waxed, hardwood courts compared to dusty outdoor courts. You are able to convert horizontal speed into vertical speed much more effectively.
3. Stiff sole & responsive cushioning
When it comes to jumping as high as possible, you don't want shoes with a lot of cushion. While these may be more comfortable and easier on your joints, they also absorb a lot of energy when you are pushing into the ground and, therefore, negatively affect your vertical.
This is comparable to dribbling a flat basketball. If the air pressure is too low, the ball dampens the impact so much it doesn't bounce back as high as it would if the ball were fully inflated.
Now that you now what to look for, I want to show you some current basketball shoes suited really well for jumping. These shoes fulfil the three criteria mentioned above: great traction, tight fit and responsive cushioning.
Five great shoes for dunking:
---
1. Nike PG 3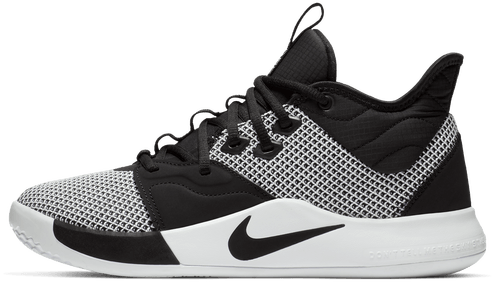 8.9

rating based on 6 expert reviews
Great all-around performer at a very fair price
Versatile shoe that works for all positions
---
2. Under Armour Curry 8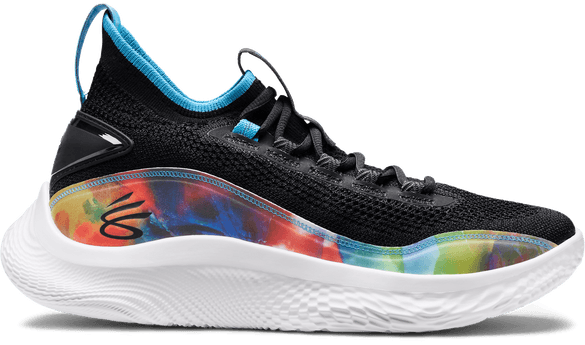 8.9

rating based on 4 expert reviews
Steph Curry's first shoe under his new brand is a standout.
Great all around hoop shoe for guards and wings.
---
3. Adidas Harden Vol. 4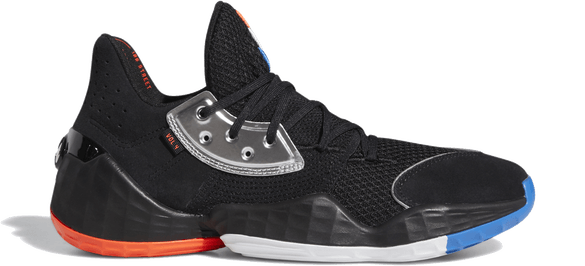 8.8

rating based on 7 expert reviews
Good traction, soft Lightstrike cushioning, and a fast, low-to-the-ground silhouette
Best for guards looking for a fast, low-to-the-ground, and supportive shoe
---
4. Nike Kyrie 6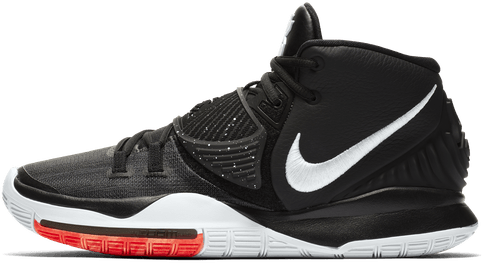 8.8

rating based on 6 expert reviews
Kyrie's 6th signature shoe is an evolution of previous models and probably the best Kyrie so far
Great traction and support with a low-to-the-ground, responsive cushioning
---
5. Adidas Dame 5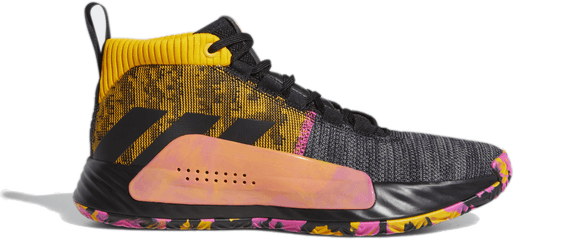 8.8

rating based on 7 expert reviews
Dame's best shoe so far! A great all-around performer at a very affordable price
The Dame 5 works best for quick guards who prefer responsive cushioning
These are the best-rated shoes which are well-suited for jumping (as of Jan 23, 2021) in the list of aggregated shoe reviews I have created here. Follow the link and find out which shoes are the overall top-rated basketball sneakers according to the most well-respected shoe reviewers out there.