Like every basketball player, I always wanted to be able to dunk. Unfortunately, at only 6-feet tall, this takes a TON of hard work.
Wouldn't it be nice if there were shoes that turned you from unathletic, slow, and ground-bound into the next Vince Carter?
Good news! There's one shoe brand out there that promises just that! (Well, to be fair they only promise up to 3.5 inches of vert increase but that might make the difference!)
But can APL deliver on its promise? Let's find out!
Introducing Athletic Propulsion Labs
APL was founded in 2009 by then 22-year old identical twins Adam and Ryan Goldston who both played basketball and football for the University of Southern California.
Early on, Athletic Propulsion Labs focused on athletic performance and released their first shoe, the Concept 1, in 2010. Shortly after that, their business really took off when the NBA announced the shoes would be banned because they provided an unfair advantage.​
Today, APL focuses more on luxury lifestyle shoes selling in up-scale department stores or Lululemon instead of FootLocker and Eastbay.
​Fortunately, with their latest sneakers, the "SUPERFUTURE" and the Concept X, APL went back and produced two performance basketball shoes intended to increase your vertical. Let's take a closer look!
APL Concept X
With the Concept X, APL celebrates the 10th birthday of the release of the original APL Concept 1.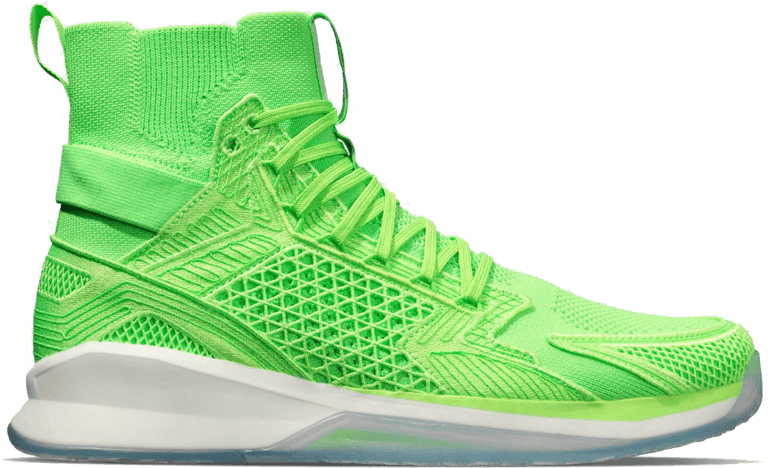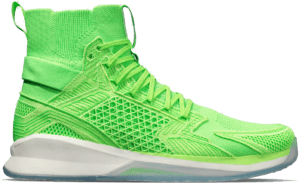 The design looks somewhat similar to previous Concept models, but the interior has changed significantly. For the first time, APL is using 10 spring coils (instead of 8) in their Load'n'Launch technology to increase your vertical even more.
Apart from the Load'n'Launch tech, this shoe performs very well as a regular basketball shoe. The traction is excellent on clean courts, the Future-foam cushioning feels soft and comfortable, and the full-on knit material is super-premium.
APL Superfuture
At "only" $300 the SUPERFUTURE is the cheaper option among APL's current performance basketball shoe lineup.
Compared to the Concept X it comes with the traditional Loan'n'Launch module that only features 8 spring coils instead of 10. It also comes without the full-length carbon plate which makes the shoe a little bit lighter and allows you to feel the spring technology under your forefoot.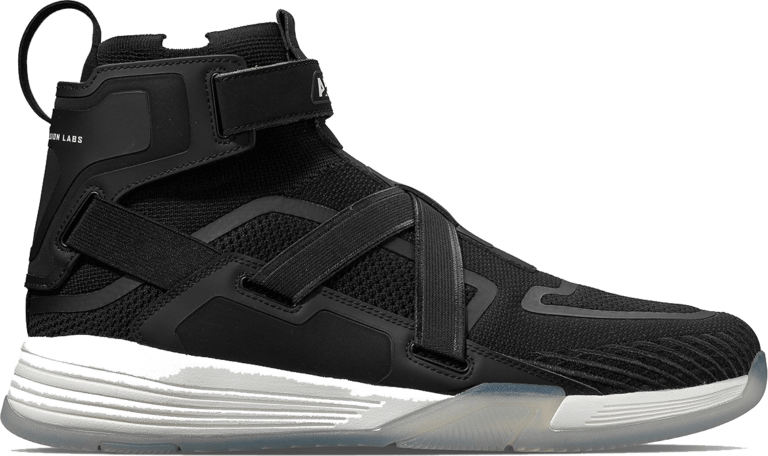 The traction of the APL SUPERFUTURE is crazy good and the impact protection is solid even though you're closer to the ground compared to Concept X.
The upper is reminiscent of the Adidas N3XT L3V3L and comes with a very premium sock-like upper made from knit that features no laces. Unfortunately, the upper stretches out easily and is not very supportive which means your feet start to move around in the shoe after a while.
Do APL shoes make you jump higher?
The Load'n'Launch Technology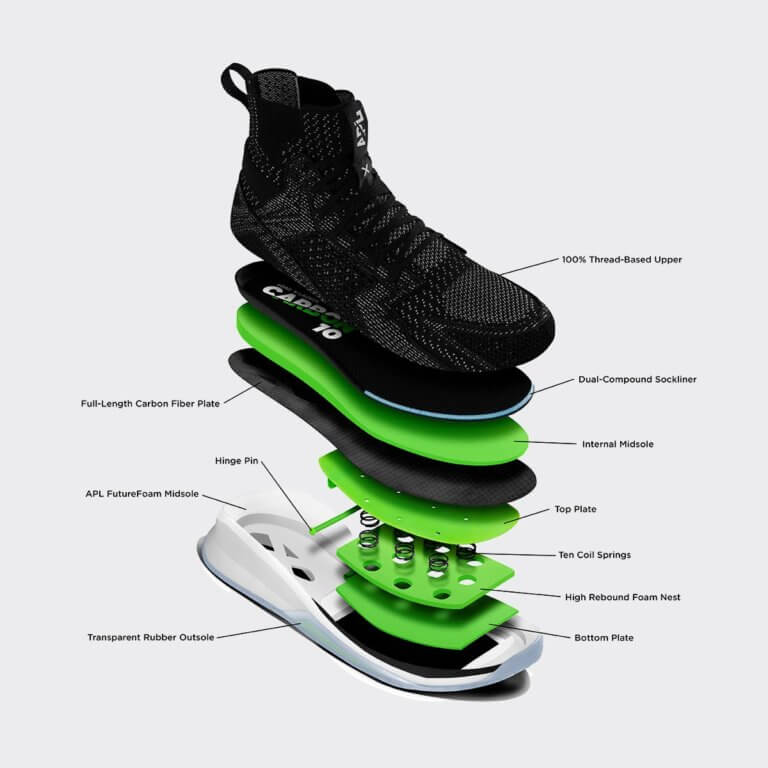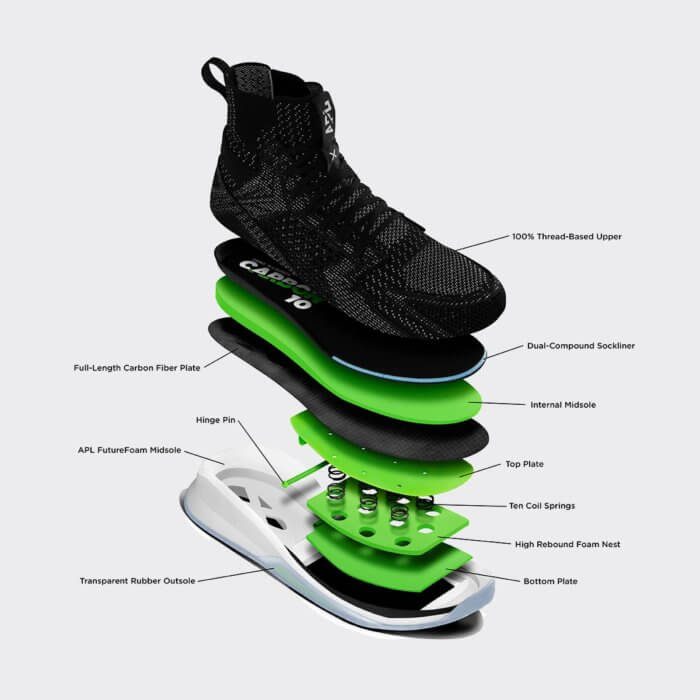 The idea behind the Load'n'Launch technology is to store energy during the "loading" phase of a jump in the spring coils in the forefoot launch pad. During the takeoff phase, this additional energy is returned from the springs to your feet and increases your vertical jump.
The Concept X takes it even further by adding a full-length carbon plate and additional springs to make the energy transfer between athlete and shoe even more efficient.
Does it work?
I had the chance to try out the previous model, the APL Boomer and I experienced small-ish gains myself. However, I never got around to test them in more detail. Fortunately, there are quite a few Youtube videos of people trying out APL shoes, let's sum up their results:
Sammy from the Solebrothers
APL Concept X Performance Review! Increase Your Verticle?!
Results:
Small and inconsistent increase
Sammy experienced a small vert increase on some days and no increase on others. He also offers some possible explanations for these results:
He's not a great jumper and doesn't have the necessary technique to benefit from the Load'n'Launch technology
He's too light at 155lbs to make it work
Evan Yee
Testing BANNED NBA Basketball Shoes PART 2! With Athletic Hoopers (JUMP TEST)
Results:
Small increase (at best) for most players, more significant increase for more athletic players
Evan and most other testers saw small increases which he possibly attributes to the Placebo effect. More athletic players testing the shoes saw a more significant increase.
Dr. Sean Reyes
My Vertical Leap Test Results Using Shoes Banned By the NBA & VKTRY Inserts!
Results: No increase for two-legged jumps from a standstill
Dr. Sean Reyes (a former high jumper) did a very thorough analysis using a vertec to measure his results and didn't see any increases in a two-legged jump.
Dimarko02
APL does it Really Add 3.5 inches to VERT??
Results: Small increase in a quick test
The test in this video wasn't as thorough as in others, but Dimarko02 thought he was jumping a little higher in his APL's compared to his Kobes.
SKKicks
APL CONCEPT X REVIEW AND JUMP TEST
Results: 1 inch increase in one-legged jumps / 2 inch increase in tow-legged jumps
SGKicks got the best results out of all Youtube videos I could find. On his two-legged jumps (which he prefers over one-legged jumps) he increased his vertical from 28 inches to 30 inches.
Conclusion:
Results vary: Some testers saw no or only very small increases, others improved significantly and consistently by up to 2 inches. However, nobody reached the 3.5 inches that APL states on their marketing material.
Overall, it seems that more athletic jumpers saw a more significant increase and it's possible that two-legged jumpers profit more from the Load'n'Launch technology than others.
If you are interested in trying out one of APL shoes, I would go for the Concept X as it has the more advanced Load'n'Launch pad and a more supportive upper which works a lot better for intense basketball games than the laceless upper of the SUPERFUTURE.
---
You can't afford the crazy-expensive APL shoes? Fortunately, there are other shoes on the market that allow you to jump high.
In the following paragraphs, I will show you how to find these shoes!
How to find the perfect basketball shoes for vertical jumping:
If your goal is to jump as high as possible, then you need a shoe that fulfills these three criteria:
1. Tight fit

Your shoes have to fit properly if you want to get the best vertical jump results.
There is nothing worse than slipping inside your shoes when trying to jump. Badly fitting shoes make you lose much of your momentum and stability during take-off and seriously reduce your jump height. If your feet don't feel securely locked in, you might want to consider wearing high-performance basketball socks; they really make a difference.
Overall, you really can't underestimate the importance of a snug fit. In fact, when basketball players get their vertical jump measured in pre-draft combines, they often wear shoes a half-size too small to ensure as tight a fit as possible!
2. Really good traction

This point is very related to #1. Slippery shoes (or courts) are poison to jumping high.
During a vertical jump, you first gain horizontal speed by running towards the hoop, then you plant your jumping leg (or both) and use your leg(s) as a lever(s) to transform the horizontal speed into vertical speed.
Now, imagine what happens if your shoes slip on the surface when you try to jump.
You either fall or your jump will be much lower because your leg loses tension and can no longer act as an effective lever.
This is also the reason you can jump a lot higher on pristine, regularly-waxed, hardwood courts compared to dusty outdoor courts. You are able to convert horizontal speed into vertical speed much more effectively.
3. Stiff sole & responsive cushioning
When it comes to jumping as high as possible, you don't want shoes with a lot of cushion. While these may be more comfortable and easier on your joints, they also absorb a lot of energy when you are pushing into the ground and, therefore, negatively affect your vertical.
This is comparable to dribbling a flat basketball. If the air pressure is too low, the ball dampens the impact so much it doesn't bounce back as high as it would if the ball were fully inflated.
Now that you now what to look for, I want to show you some current basketball shoes suited really well for jumping. These shoes fulfil the three criteria mentioned above: great traction, tight fit and responsive cushioning.
Ten shoes for dunking:
8.9

rating based on 4 expert reviews
Following the footsteps of the original Puma MB.01, the low-top remains one of the top performance options on the market.
Players who want an all-around performer with no weaknesses.
8.9

rating based on 7 expert reviews
The Curry Flow 9 manages to improve on its impressive predecessor.
Great shoe if you rely on traction and court feel.
8.8

rating based on 8 expert reviews
The Curry 10 makes slight improvements and continues to be a top-tier performer.
Anyone that utilizes traction to maximize footwork
8.8

rating based on 11 expert reviews
The Nike LeBron 20 excels with its bouncy cushion and solid traction, but it has something to offer every player.
Quick and explosive players will enjoy this shoe the most.
8.8

rating based on 7 expert reviews
Kyrie's 6th signature shoe is an evolution of previous models and probably the best Kyrie so far
Great traction and support with a low-to-the-ground, responsive cushioning
8.7

rating based on 6 expert reviews
The LeBron NXXT Gen has grippy traction and responsive cushioning.
This shoe is a good pick for players who don't need maximum cushioning but still want Zoom.
8.7

rating based on 7 expert reviews
The TWO WXY V3 is one of New Balance's best basketball shoes because of its fit and traction.
Shifty guards who rely on traction will love this shoe.
8.7

rating based on 3 expert reviews
A nice blend of old-school leather and new-school performance textiles and synthetics
Great shoe if you are looking for beastly traction and minimal, responsive cushioning
8.5

rating based on 6 expert reviews
The Nike KD 16 is a versatile performer with comfortable, plush cushioning.
The shoe has something for all positions. There are no outstanding weaknesses.
8.5

rating based on 5 expert reviews
One of Puma's best basketball shoes. The traction is outstanding, and the cushioning is comfortable.
Players looking for a versatile shoe that's not expensive will love the Puma All Pro Nitro.
These are the best-rated shoes which are well-suited for jumping (as of Oct 04, 2023) in the list of aggregated shoe reviews I have created here. Follow the link and find out which shoes are the overall top-rated basketball sneakers according to the most well-respected shoe reviewers out there.