There are very few ambitious basketball players who have never sprained an ankle. Whether you get your ankles broken by a vicious crossover or you land on someone else's feet after a layup – it's bound to happen someday.
Fortunately, you can reduce the risk of injuring your ankles by getting a pair of basketball shoes that provide a ton of ankle support. These shoes will increase the stability of your feet and protect against excessive movements of your ankles that could result in sprains or worse ankle injuries.
Warning: If you are recovering from a severe ankle injury or if you sprain your ankles easily and frequently, getting ankle support from your shoes might not be enough. Many NBA players get their ankles taped before every game or wear ankle braces to provide additional stability. Check out this article to learn more about ankle braces and to find out which one helped save Steph Curry's career.
The following list shows you the top 10 shoes when it comes to ankle support. The ranking was generated by summing up the findings of 540 expert reviews of 99 different basketball shoes and ranking them by the average score they received in the category "support".

A solid performer that started the low-top trend in basketball shoes
A very versatile shoe that will be most appreciated by players who had the OG Kobe 4
Very supportive leather upper, great traction, and responsive Zoom Air cushioning.
Perfect if you like old-school basketball sneakers
Amazing traction, well-balanced cushioning, and very good fit
Perfect if you are looking for an affordable all-around performer with no weaknesses
Great court-feel, lockdown, and stability.
Works best for quick guards who prefer court feel over impact protection
Improves the already great performance of the PG2 by adding an additional forefoot strap for more lockdown
Perfect if you are looking for an affordable all-around performer without any weaknesses.
Dame's best shoe so far! A great all-around performer at a very affordable price
The Dame 5 works best for quick guards who prefer responsive cushioning
The second Puma basketball shoe of 2019 is a solid all-around performer
Worn by players of all positions in the NBA
Comfortable fit and premium upper materials
Best for players looking for a supportive shoe with well-balanced cushioning
Traction pattern provides great traction on all surfaces
Great bang for the buck and should work well for positions 1-4.
Great fit, good traction, and much-improved impact protection
Affordable, well-rounded basketball shoe
The Best Basketball Shoes for Ankle Support
---
---
---
---
---
---
---
---
---
---
Frequently asked questions about ankle support
Do high-top basketball shoes prevent ankle sprains?
High Tops wrap your ankles, so they must logically provide more ankle support than comparable low-tops, right?
Not so fast! Scientific studies have analyzed the frequency of ankle sprains of players wearing high tops versus players wearing low-top basketball shoes and couldn't find a difference. The additional collar height is not restrictive enough where it can save your from rolling your ankles. Another study showed that the fewest injuries occured in players wearing low-top shoes and laced ankle stabilizers.
How do I find a shoe with a lot of ankle support?
If high-tops are not the solution, what else can you look for?
Lateral Outrigger
The lateral outrigger is the extension of the outsole on the lateral side that increases the width of the shoe and provides additional stability. By providing a wider base, the outrigger makes it mechanically much more difficult for your shoes to roll during hard cuts and crossovers. See an example of a lateral outrigger in the Crazy Explosive 2017: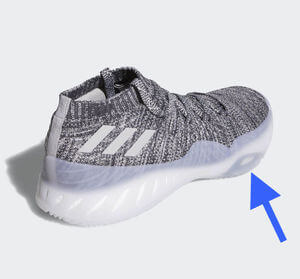 Tough upper material and great lockdown
You want to look for a shoe that securely locks down your feet and prevents unnecessary side-to-side movement. Make sure that the shoes fit tightly and that the upper material is strong enough to hold your feet even on agressive movements.