I still remember my first high-quality basketball. It was a classic synthetic leather Spalding - I absolutely loved that ball!
I played with it for years until all the panels fell off and there was literally no grip left. You really couldn't dribble that ball anymore and nobody could make a shot, except me:-) It was a sad day when I finally had to throw it away.
Since then, I have gone through countless balls and learned a lot about the perfect outdoor basketball.
Today, I want to share what I learned, and help you pick the best option for your style of play and budget.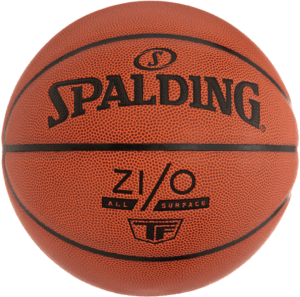 Synthetic leather feels great in-hand
Handles almost like an indoor basketball but is much more durable
My personal favorite outdoor basketball
$38.99 on Amazon
as of 10/04/2023 8:07 AM EDT
This basketball is a great choice for more advanced basketball players looking for a durable ball that doesn't compromise your shooting touch and ball handling.
It's always a small competitive advantage to play with a basketball you are used to. With the Spalding Zi/O there's a good chance you'll have the "homecourt advantage" whenever you bring this ball to your local court.
If this ball is sold out due to the supply chain issues the world is experiencing right now, take a look at the Wilson NBA Forge , another high quality indoor/outdoor ball!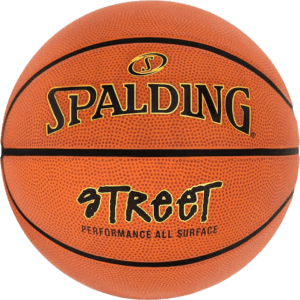 Handling:
starstar_halfstar_border
Very durable rubber ball
Perfect ball for kids and beginners
Great bang for the buck
$24.99 on Amazon
as of 10/04/2023 8:07 AM EDT
I'll be honest, I don't enjoy playing with cheaper rubber balls like the Spalding Street . If you are used to high-quality composite basketballs, the rougher, pebbled rubber surface just doesn't feel right.
But that doesn't mean that this ball is not a great choice if you are new to basketball or looking for a cheaper option for your kids. This ball will last you a long time and the rubber compound will keep its grip longer than a softer composite ball.
How Do You Find the Best Outdoor Basketball?
When you pick a basketball there are a lot of different factors you want to keep in mind:
Size
Regular basketballs are big and heavy and won't work for smaller kids. If you are uncertain about which basketball size to get, take a look at this chart:
| Size | Circumference | Recommended for |
| --- | --- | --- |
| Size 5 | 27.5 inches | Standard youth ball for ages 9-11 |
| Size 6 | 28.5 inches | Standard women ball, boys ages 12-14 |
| Size 7 | 29.5 inches | Men and boys 15 years or older |
The Right Feel - Composite Leather or Rubber?
When it comes to the surface of your basketball you can generally pick between cheaper rubber balls or more expensive composite leather.
Rubber:
On the bright side, the tougher surface of rubber balls is more durable if you play on rougher blacktop courts and it keeps its grip longer if it gets dusty or dirty.
If you play indoors a lot, it will take you a while to get used to the handling as it just doesn't feel like you are used to from indoor balls.
Composite Leather
Composite leather is also used in indoor basketballs so outdoor basketballs using this type of material will feel much more comfortable for experienced basketball players. It's the perfect choice if you play on high-quality outdoor courts and don't want to compromise on your ball handling and shooting touch.
Unfortunately, this material is less durable, especially if you play on bad courts.
Deflategate
Cheap basketballs tend to deflate when the temperature drops. There's nothing worse than losing the dribble or getting stripped because the ball just doesn't bounce right. While all outdoor balls will deflate a little bit when it gets colder, a good outdoor ball will deflate much less. And, deflation is a big deal.
Also, make sure that you have a ball pump at home as every ball will inevitably need to be inflated (or deflated on very hot summer days).
Durability
The outdoor environment is much less forgiving than the indoor environment. Dirt, rocks, moisture, metal backboards and metal nets can really take a toll on a ball. You don't want to be running to the store every few weeks to pick up a new one. And, you want your ball to break in overtime. This gives you the ultimate feel on the ball, something you want to last. When you have an intimate relationship with the ball, nothing can stop you out on the court.
Moisture Grip
Inevitably, the ball will be introduced to water. Whether you love basketball so much that you're willing to play through a rainstorm or the ball rolls into a puddle, you're going to have to handle the ball when it's wet.
It's important to know if your ball stands up to the moisture test. Does the ball remain wet after you towel it off? How does the ball handle with a little bit of moisture on it? You want a ball that can stand up to water so you don't have to have a break in play.
Weight
Every time the ball bounces on an outdoor court, it wears down just a little bit. Dirt on the court acts like sandpaper, slowly whittling away at your ball. This can have a significant impact on the weight of the ball over time. Cheap outdoor balls wear away quickly, giving you a paper bag feel light as a balloon. You need a ball to retain its weight - a lighter ball will mess with your finely-tuned shooting and mad dribbling skills.
Skill Level
When you are playing outdoors you will have to make compromises: If you are a serious basketball player you want a composite leather ball like the Spalding Zi/O that feels great and is fun to play with. Unfortunately, composite leather balls won't last forever on rough surfaces so you will need to buy a new one from time to time.
On the other hand, if you are looking for a basketball for your young kids that are learning to shoot hoops in your driveway then handling is not that important, but you want a durable ball that will survive rolling into the thorny rose bushes. In this situation, a cheaper rubber ball like the Spalding Street makes more sense!
There are a lot of different options out there; this is just a small selection of the best and most popular ones:
The Best Outdoor Basketballs
My Pick: Spalding Zi/O Indoor/Outdoor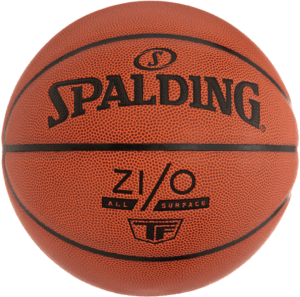 Synthetic leather feels great in-hand
Handles almost like an indoor basketball but is much more durable
My first choice among outdoor basketballs
$38.99 on Amazon
as of 10/04/2023 8:07 AM EDT
I feel like this is the best outdoor ball for shooting. In fact, this is an indoor and outdoor ball so it can be used on both courts. It's a great way to save money if you have to buy just one ball.
The softer, indoor feel of the composite leather is really what shooters like to feel in their hands as they release the shot. A good jump shot rolls softly off the fingertips with slow backspin, which requires an artist's touch which isn't possible without the soft, leathery feel of an indoor ball. If you drop bombs, you may want to look into the Spalding Zi/O Basketball.
Another detail I really like about this ball is the deep channels of the seams. These channels make it easy to line the ball up for a J, but it's also extremely helpful for dribbling. Your fingers literally sink into the seams as the ball rolls across your hand so you can grip it and change directions with your dribble instantly.
This ball used to be sold under the name "NBA Zi/O", however since Spalding lost the NBA rights to Wilson this branding was removed. So if you see the old version with NBA branding in store, it's basically the same ball!
If you are a serious basketball player and you are looking for a more durable ball but don't want to compromise on feeling and ball handling, then the Spalding Zi/O is perfect for you!
Budget Choice: Spalding Street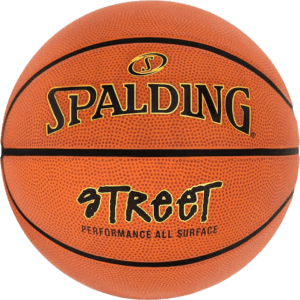 Handling:
starstar_halfstar_border
Very durable rubber ball
Perfect ball for kids and beginners
Great bang for the buck
$24.99 on Amazon
as of 10/04/2023 8:07 AM EDT
This is what I like to call the "economy option". This is the best basic, rubber outdoor basketball on the market and especially recommended for kids or beginners. The pebbling gives you a good grip no matter the weather, the seams allow for better handles and the rubber is still soft enough for a decent feel. This ball also comes fully inflated so you can start to shoot hoops right away!
If you are looking for a basketball for your kids then the Spalding Street is a perfect choice. The rubber is very durable and will survive rough treatment and the ball will keep its air pressure even if it is left outdoors. Good luck finding a basketball that provides better bang for the buck!
More Options:
Mikasa BX1000 Premium Rubber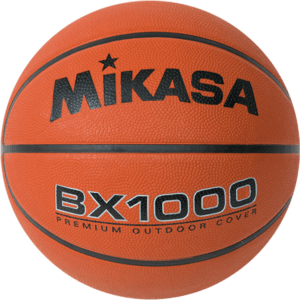 Handling:
starstar_borderstar_border
Very strong grip and tacky rubber
The seams are not very deep
Great bargain option
$14.99 on Amazon
as of 10/04/2023 8:07 AM EDT
This ball is plug-and-play, ready to hit the court straight out of the box. Yes, it is a rubber ball, but it is a great option if you are looking for an affordable outdoor ball. The ball comes in a lot of different sizes so it's perfect for your kids too.
The unique thing about this ball is the deep pebbling. The pebbles on most rubber balls are weak but on this basketball, it is deep and strong which makes for a great ball in cold or rainy weather because the grip on the ball is so intense.
The seams on the Mikasa BX1000 aren't very deep but the grip of the pebbling makes up for that. Overall, it's a great ball for the outdoor enthusiast looking for a bargain.
Wilson NCAA MVP Rubber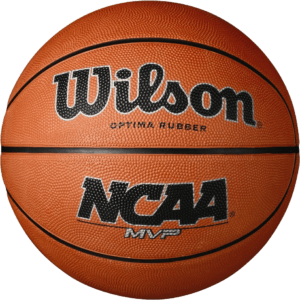 Handling:
starstar_halfstar_border
Very affordable rubber ball
Great choice for youngsters
Loses coloring quickly
$14.99 from Wilson
Check on Amazon
as of 10/04/2023 8:07 AM EDT
This is another simple and affordable rubber basketball that is very similar to the Spalding Street.
Like is the case with all rubber balls, the channels are flatter than in more expensive/indoor basketballs and the pebbles are more aggressive to provide better grip on dusty and dirty courts.
Experienced basketball players won't enjoy the handling and shooting touch of this ball, but it's a good pick for kids and occasional players who wouldn't recognize the difference anyway.
Spalding Street Phantom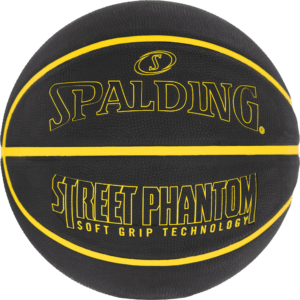 This ball is great for midday basketball when the sun is high and glare can become an issue. You can really make out the seams and lettering perfectly on this all-black ball during daylight hours.
This is a rubber ball but it has something called "Soft Grip Technology," which gives the ball nice handling and makes palming the ball a lot easier. This ball also stands up well to the weather, giving you a good grip even in the rain.
You can customize this ball a little bit, too. The neon lettering of the ball, which glows a little bit in the dark so you don't lose it, comes in a few different colors. You don't have to show up to the court with the same ball as everyone else. And, the black color of the ball makes it unique. It's always easy to find the Spalding Phantom after the game and nobody is about to walk away with your black ball. Its uniqueness protects it.
Wilson NBA Forge Basketball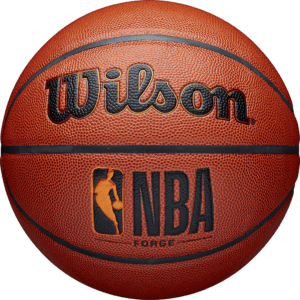 Wilson replaced Spalding as the official NBA sponsor at the beginning of the 2021/22 season and this new indoor/outdoor ball takes advantage of this, featuring the official NBA branding in big letters.
The is not cheap at about $40, in fact it's one of the most expensive outdoor basketballs out there. But if you play with it for a few days, you'll see why. It almost has the feel of an indoor basketball. The bounce is consistent, the grip is good, and it's an easy ball to shoot with. It's well worth the price in my opinion. Plus it is very durable. Expect this ball to last for a long time!
Wilson NCAA Replica Basketball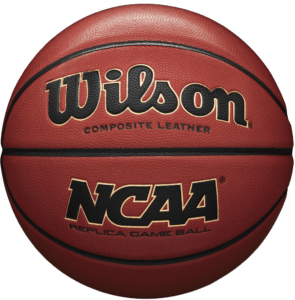 Wilson markets this ball as an indoor/outdoor hybrid that will get you the composite leather feel of an indoor basketball but with much more durability. If you compare it to the very popular Wilson "Evolution" indoor basketball you will notice that the NCAA Replica is nowhere near as soft or spongy, a compromise that's needed to make the ball last longer on outdoor courts.
The grip is really good right out of the box, but bring a towel for the first few sessions because the tacky material picks up dust and dirt easily. Also, some players have a tough time adjusting to the way this ball bounces.
Overall, this is another good choice if you prefer composite leather over rubber and want to get closer to the feeling and handling of an indoor ball.
So, which basketball should you pick?
I believe the best outdoor basketball is the Spalding Zi/O . It takes very little time to break-in. It also has deep seams for handling and a great feel off the fingers for shooting. It's the closest you'll get to an indoor feel with an outdoor court in the quickest amount of time.
If you want to save money, you can go for the rubber version of the Spalding. The Spalding Street is affordable and it comes with basically the same specs. It's just made out of rubber instead of indoor-outdoor synthetic leather.