The vertical jump is an integral part of a lot of sports. Volleyball, Track and Field, Football and of course Basketball all favor athletes that are able to jump high.
And the good news: everybody can improve their vertical jump with the right training!
I myself had great results with the Vert Shock program, an intense 8-week training program that focuses on plyometrics and bodyweight exercises. You can see a time-lapse video of my result below:
Vert Shock Review: My Results of Week 0 to 9
Learn more about Vert Shock
But I know that a lot of people can't afford to pay for training programs like that and unfortunately, there are a lot of unscientific, outdated, (or just plain bad) programs out there. Maybe you can remember training programs like Air Alert or Jump Soles that were really popular in the 90's?
In this article, I am going to teach you the basics of modern vertical jump training, so you don't have to waste your time doing a bazillion (completely ineffective) calf raises!
At the end of this guide, you will also learn how to jump higher with a free 10-week vertical jump training program that is well-suited for beginner and intermediate athletes.
Jumping Higher – What Does it Take?
Research has shown that the ground-contact time of an elite one-foot jumper is as short as 0.12 seconds. During this short time frame, the athlete has to plant his foot, bend his knee, swing his arms and then extend his hips, knees, and ankles back using almost every muscle in the body – and all of this within the blink of an eye!
It's not hard to see that this takes a skill that you have to learn like driving a bike or hitting a golf ball.
On the other hand, the pull of earth's gravity is strong and not a big fan of basketball players who want to defy the laws of physics. Therefore, all the skill in the world is useless if you don't have the necessary power to lift your bodyweight off the ground. A rocket flying into space needs to have a very powerful engine if it wants to escape earth's atmosphere. Similar to that, an athlete needs to have very powerful legs if he wants to make a dunk!
Great vertical leapers need a mix of  Skill and Power
So let's take a closer look at how these two components impact your ability to jump high:
Skill
Fortunately, the skill of vertical jumping is relatively easy to learn compared to other athletic movements like the pole vault or Olympic weightlifting, and is picked up naturally by almost all athletes. In fact, some of the best dunkers in the world have never read a book about training science or had a vertical jump coach, they just spend years dunking every day!
This shows you that every training program needs to have a healthy dose of jumping or exercises that are very closely related in order to maximize the skill it takes to jump high. It also makes sense to check your technique from time to time because subtle errors that crept in over the years can cost you valuable inches!
Power
Power is often confused with strength. But it is not the same thing! In physics, power is defined as the amount of work performed during a certain time frame. Applied to the vertical jump, this means, that you have to be strong, but you also have to be able to use your strength in very quick bursts!
To illustrate this let's assume you are able to squat 500lbs, but it takes you 2 seconds to "turn on" this strength. This type of strength is useless in the context of jumping because you only have less than 0.2 seconds to produce as much strength as possible after that your feet have already left the ground! The best vertical jumpers are able to produce massive amounts of force in the blink of an eye, making it seem as if they are "bouncing" off the ground!
To increase power we have to work on two factors:
Strength and Quickness
While pure strength work has its place in a vertical jump training program, it should not be the sole focus. Working on your squat can make sense, but the larger part of your training should consist of exercises that use strength in quick bursts. This is mostly done through plyometric exercises that focus on short ground contact times and quick generation of force. We'll talk more about plyometric exercises later!
How to Jump Higher? 6 Ways to Increase Your Vertical
Alright, enough theory, let's get into the nuts and bolts of how you can increase your vertical jump!
1. Plyometric Vertical Jump Training
Plyometric training has become immensely popular in recent years and today the term is often used synonymously with vertical jump training. This type of training was developed in the former Soviet Union during the 1970s as a shock method of training and was in large part responsible for the great successes of Russian Track & Field athletes during these years. The term was coined by the American coach and author Fred Wilt who saw the unusual warm-up exercises consisting of various bounds, hops, and skips of Soviet athletes before competitions.
The purpose of plyometric training is described as follows:
Definition of Plyometrics:
Plyometric exercises teach muscles to reach maximum strength levels in as short a time as possible.

If you want to improve your vertical you need to be able to activate your strength within a very short time frame – and plyometrics are the perfect way to teach this skill!
How do Plyometrics work?
One thing all plyometric exercises have in common is that they use the so-called "stretch-shortening cycle". This is a complicated way of saying that all plyometric exercises consist of two phases: During the first phase the involved muscles are stretched, only to contract explosively in the second ("shortening") phase.
Let's illustrate this with the example of the most popular and well known plyometric exercise:
---
Example of a Plyometric Exercise – Depth Jump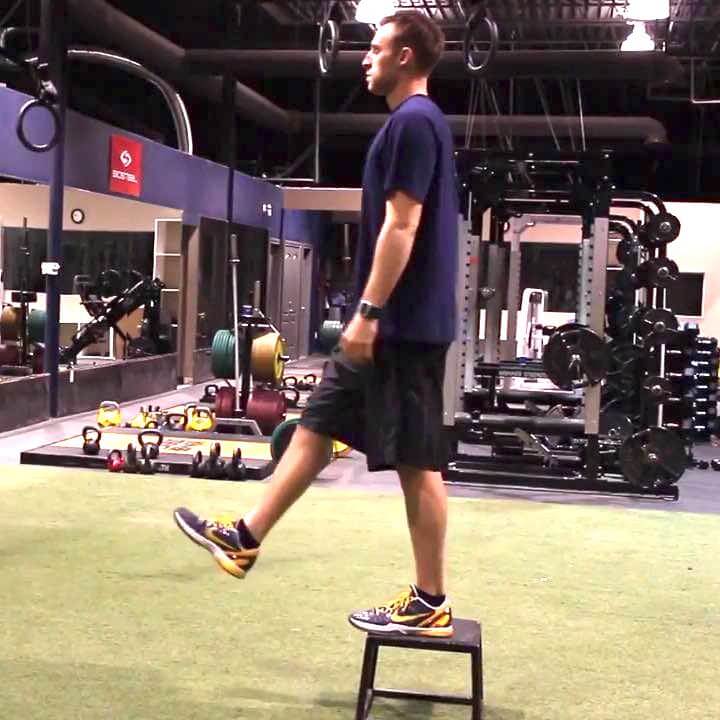 Step 1:
You step off a box with your muscles in a neutral position. The height of this box should fit your overall conditioning. If you are new to plyometrics, it is safer to start with lower heights to prevent injuries.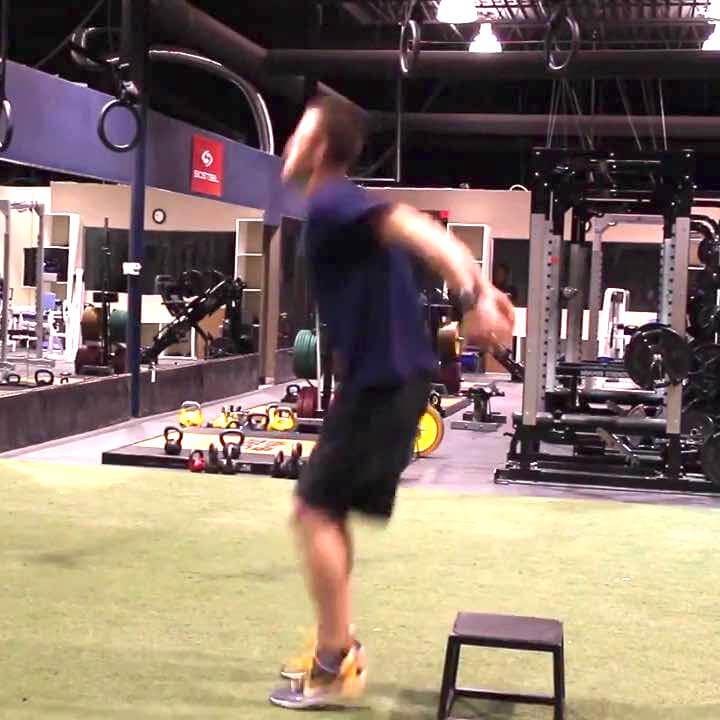 Step 2:
After the landing, the muscles and tendons of your calves and quads are stretched by the downward motion. This is the "stretch phase" where the athlete tries to stop the downward motion quickly and keep the overall ground contact time as short as possible.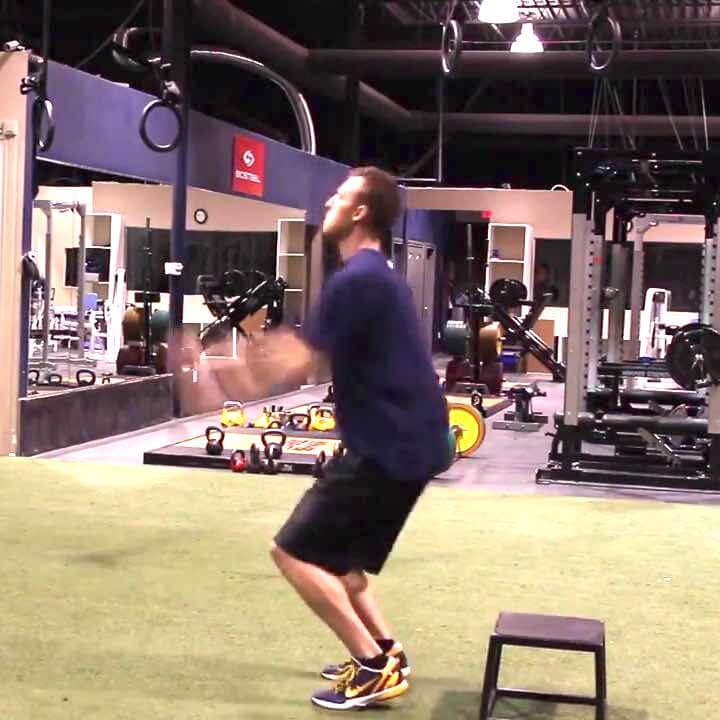 Step 3:
You reach the lowest point. Your muscles and tendons are now maximally stretched. Similar to a stretched rubber band they have energy stored that is ready to result in an explosive upward movement in the next phase.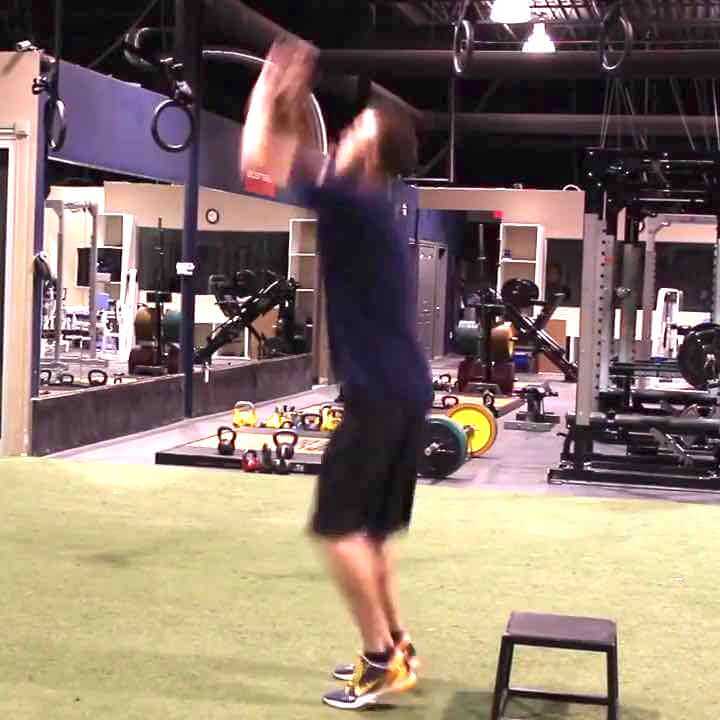 Step 4:
During this
"shortening phase"
the muscles contract as quickly as possible. This is achieved by two main drivers:
elastic energy stored in the tendons and muscles from the stretch phase.
the conscious power of the muscles (calves, quads, glutes, lower back etc.)

Pictures from Adam Folker of Vert Shock

---
A great way to visualize the power of this "stretch-shortening cycle" is to test the height of two different jumps:
1. Deep Squat Jump:
Do a jump from a deep squat position and make sure that you do not use any kind of countermovement. This means that you are not allowed to swing down with your arms, and you are not allowed to bend your knees in the beginning. Make sure that your jump starts at the lowest point and you only move upwards.
2. Countermovement Jump:
Here, you start in an upright position and descend into the jump. Bend your knees quickly, use your arms to gain momentum and try to jump as high as possible.
What you will notice:
The countermovement jump uses the first phase to quickly descend, similar to the depth jump, but instead of dropping from a box, the athlete drops from an upright position. This way the athlete is able to use the stretch-shortening cycle to gain speed in the second phase.
Using a deep squat is a very unnatural way of jumping where you eliminate the first phase and therefore the stretch-shortening cycle completely.
Because of this, you will notice that you are able to jump much higher utilizing a countermovement in the beginning.
5 Reasons Why You Should Do Plyometrics
Plyometric exercises are closely related to actual vertical jumping and therefore teach the "skill" of it better than pure strength training.
Plyometrics teach the brain and the central nervous system how to fire the muscles quickly and efficiently which results in quick and significant training results. This way you learn quickly!
Easy to learn and less injury risk than heavy weightlifting exercises
High-intensive Plyometric Exercises also train strength
Bodyweight exercises can be performed without expensive equipment
Alright now that you know how plyometric exercises work and why they are so efficient, let's introduce some of the best plyometric exercises:
Popular Plyometric Exercises for Basketball Players
In the following paragraphs, I will present five plyometric exercises ranging from low-intensity plyometric exercises suitable for beginners to more advanced movements that require a decent level of strength and coordination. These exercises will have a big impact on your vertical and make you jump a lot higher in just a few weeks of training!
Two-Foot Ankle Hops:
Stand with your feet shoulder wide apart and hop continuously only using your ankles. Make sure that you don't bend your knees and that you extend your ankles to the full range of motion during each jump. Also, try to limit the ground contact time to the absolute minimum. This is a great exercise to develop quickness in your feet.
Two Foot Ankle Hops Lukasz Lojas
---
Slalom Jumps:
This exercise is also often called "line jumps" because you draw a line on the ground and try to hop from one side to the other as fast as possible. Keep your core stable and look for very quick ground contacts, jump height is NOT important in this exercise. Every hop counts as a repetition and you can do this exercise staying in the same spot or moving slightly forward as shown in the video.
Vertical jump training - Line hops
---
Power Skipping:
Power Skipping is a great exercise training the explosiveness off of one leg. The goal is to jump as high as possible of alternating legs while keeping a slow jog forward. While doing the exercise focus on driving the knee of the off-leg as far to the chest as possible. This exaggerated movement will improve the power of your leg swing and your one-leg vertical.
---
Rim Jumps:
Place yourself under a basketball rim an try to tap the rim with your hands. After landing, immediately bounce back up and try to touch the rim again. If you can't reach the rim you can use the backboard or do the drill in front of a wall trying to reach the highest point possible. Focus on minimal time spent on the ground, stop as soon as the jumps get significantly lower.
---
Drop and Freeze:
Step off a box that is around 18-24 inches high. Make sure to land on both feet simultaneously with your knees bent and try to stop any momentum immediately. This is a great exercise for weaker athletes that are not yet used to high-impact plyometric exercises. It prepares the body to better coordinate the high forces during landing and prepares them for real depth jumps.
Depth Jump Landing and Depth Jump
---
Single-Leg Depth Jumps:
Single leg jumps should only be done by experienced athletes and the height of the box should be chosen carefully. The athlete drops off the box like in a regular depth jump, but lands on only one foot. After the landing, the athlete tries to explode back up as quickly as possible. Make sure that your knee doesn't buckle and that the center of gravity remains over the jumping leg. As an added difficulty, add a box to jump onto.
Exercise of the Month: Single Leg Depth Jumps
---
2. Jump Higher Through Strength Training
A lot of athletes are obsessed with the amount of weight they are able to squat. There is just something very satisfying about moving hundreds of pounds of steel on your back and you often hear the myth that you just need to increase your squat and you will automatically jump higher.
But one look at the average powerlifter quickly shows you that this isn't completely true. These athletes are unbelievably strong but they lack the explosiveness needed for a great vertical. Being able to squat heavy means that you are able to move a lot of weight very slowly, but the vertical jump is obviously a very fast athletic movement and maximum strength is only of partial use for that.
Strength training alone won't make you jump higher!"
And that's good news! You don't need to get a gym membership and do nothing but lifting weights for the next 12 months in order to increase your vertical. But that doesn't mean that strength training is useless, clever use of strength workouts in combination with more sports-specific and explosive exercises can really accelerate your vertical jump training progress!
There are a lot of different recommendations for minimal level of strength before starting intense plyometric workouts. These recommendations start from being able to squat 1x bodyweight all the way up to 2.5x body weight. But I personally think you shouldn't be too strict with these. There are athletes with 45″ verticals who have never squatted in their life but somehow managed to build up amazing strength just through dunking every day for years. Just do me one favor: don't start your training with 40″ depth jumps if you do not yet possess the strength to safely deal with the high impact during exercises like this.
However, if you feel that strength is a serious weakness of yours, then it might make sense to start your training by building a nice foundation of strength.
In the following paragraphs, I will show you classic weightlifting exercises like the squat that work on your maximum strength, more dynamic strength exercises that include elements of vertical jumping like Olympic weightlifting and body weight exercises that can be done without a gym.
Bodyweight Exercises for Stability
A strong core is very important for the vertical jump because it provides the necessary stability for optimal transmission of force from the lower body to the upper body. If your core is too weak you will leak force during the takeoff which will make you lose valuable inches. A weak core is also often responsible for lower back pain or bad posture. The following exercises will help you to strengthen your core:
Hip Thrusts:
This is a great exercise for a muscle group that is underdeveloped in a lot of athletes – the glutes. Place your upper back against a bench or couch, bring your feet back so that the knee forms a 90-degree angle. Then start to push your hip upwards as far as you can until you are hyperextending your hips. During this movement make sure to consciously squeeze your glutes and hold the movement at the top for at least 2 seconds.
---
Supermans:
This exercise focuses on lower back strength and is a great substitute if you don't have access to a reverse hyperextension machine. Lay flat on the floor and make sure that your arms and legs are fully extended. Now raise your arms and legs about 4-5 inches from the ground, and focus on contracting your lower back muscles. Try to hold this position for 4-5 seconds, lower your arms and legs and repeat the movement.
How to Do Superman Exercises
---
Planks:
The various forms of planks are exercises that do a great job of strengthening your front and side abs. The goal is to keep your body as straight as possible while supporting your weight with the elbows and toes. Try to hold this position for as long as possible. Once you are strong enough to make it through 60 seconds you can place weights on your back to increase the difficulty.
---
Bodyweight Exercises for Lower Body Strength
The muscle groups responsible for most of the force generated during a vertical jump are the quads and glutes. Therefore most of the strength exercises focus on these two muscle groups. Other muscle groups like the calves, spinal erectors or arms have supporting roles, but they usually get strong enough in jump-specific exercises and don't necessarily need isolated workouts.
The following bodyweight exercises are great for athletes who are at the beginning of their vertical jump training and don't have access to a gym or weightlifting coach. But make no mistake, pistol squats are NOT easy!
Bulgarian Split Squats
Bulgarian Split Squats mainly work out your quads, glutes and inner thigh. Start standing with your front foot flat on the ground and your back foot elevated on a bench. Now lower yourself slowly into a deep squat position while making sure that the knee of your front leg doesn't move in front of your toes. Use the back leg for balance, but don't put too much weight on it. You can shift the stress from your quads to the glutes by moving the front foot further away from the bench.
How To: Bulgarian Split Squat
---
Single Leg Deadlift
The single leg deadlift is a great exercise for your complete posterior chain that not only works on your strength but also improves your balance and flexibility. Plant your foot firmly on the ground and hinge your hips back while keeping the back leg completely straight. Make sure that you do not round your back during the exercise and try to keep the bend in your knees to a minimum.
---
Pistol Squats
The pistol squat is clearly the king of bodyweight leg exercises. It takes quite a bit of strength, balance, and flexibility to make a clean pistol squat, so don't hesitate to practice with assisted forms of this movement. If you fall on your back as soon as you bend too deep, you probably are missing ankle mobility. Try this ankle stretch to improve range of motion in the ankle.
---
Heavy Weightlifting Exercises For Maximum Strength
These exercises increase the maximum force that your body is able to generate. They are a nice complement to every vertical jump training program as long as you also learn how to use this strength in an explosive way through plyometrics or quicker weightlifting exercises. Athletes will often focus on building up their maximum strength during the offseason and turn towards more explosive and sports-specific exercises as the start of the season approaches.
The following exercises can lead to bad injuries if performed incorrectly, so please make sure to get a coach that can show you how to perform them in the right way:
Squats
There is a myriad of different squat varieties: Box Squats, Full Squats, 1/2 Squats, 1/4 Squats, Back Squats, Front Squats and I am sure a dozen more. Some varieties put more focus on the quads, others put more stress on the glutes, choose the version that best suits your capabilities. Make sure to pay attention to good form as injuries during the squat can be devastating. If you have trouble keeping your back straight at the bottom, try front squats or reduce the range of motion.
How to Perform the Squat - Proper Squats Form & Technique
---
Deadlifts
Dead Lifts are working out nearly all the muscles used in a vertical jump and they do an especially great job in working on your hip extension, activating the hamstrings and spinal erectors. In the attached video you can see a trap bar deadlift which is easier for most athletes because it is a more natural position. If you have problems keeping a neutral spine when lifting the barbell from the ground, try to lift the weight from a slightly elevated position. You can also try sumo deadlifts where your lower your body through a wider stance of your legs.
Top 10 Vertical Drills [#8 Trap Bar Deadlift] | Overtime Athletes
---
Weighted Explosive Exercises
Weighted explosive exercises like Olympic weightlifting are a great way to bridge the gap between slow strength exercises and the explosive and powerful movements of a vertical jump. They do a great job of teaching the body how to create a lot of force in a very short time period and translate well because of very similar movement patterns.
These exercises generate very high forces and should only be performed if you already have a sufficiently strong core. Also, make sure to have an experienced coach that can teach you proper form. If you perform these exercises correctly you will teach your body to use your strength more explosively.
Jump Squats
This exercise is great for vertical jump training because it teaches your body how to produce very high power outputs during the actual jumping motion. You want to focus on quickness in this exercise, therefore use only very light weights. A common mistake is to use heavy weights, therefore losing speed and putting a lot of pressure on your joints. If you don't have access to a barbell you can do this exercise while holding a medicine ball in front of you or while wearing a weight-west.
---
Hang Clean
The hang clean is a simplified version of an Olympic lift and focuses on an explosive extension of the hips. Its technique is not as complicated as other Olympic weightlifting exercises, but it still makes sense to have a coach look at your execution in the beginning. Isolated hang clean workouts have shown to increase the vertical jump more than isolated squat workouts which is probably due to it's quicker and more powerful execution compared to slower squats.
Hang CLEAN / weightlifting and crossfit
---
Backward Medicine Ball Throws:
This exercise works very similarly to the hang cleans but is much easier to learn. Hold the ball between your legs, squat down and explosively throw the ball behind you. During the throw, make sure to extend ankles, knees, and hips, you can even add a little jump in the end. This exercise not only works on lower body explosiveness but also trains the upper body to do a full and strong arms swing which is important because the arm swing accounts for as much as 20% of your vertical!
---
3. Improve Your Vertical Jump Technique
Vertical jump training should always include a large amount of performing your preferred leaping style to teach the central nervous system how to perform this movement in the most efficient way possible. Early improvements in vertical jump height will almost always come from an improved vertical jump technique and less from improved strength or power.
In a lot of athletic movements, there is only one technique that is considered to be optimal. Vertical jump technique, however, is different! The most obvious difference is that some athletes prefer to jump off one foot while others like to take of off two feet. There is no definitive answer to which style of jumping will lead to a higher vertical, athletes will usually automatically pick the style of jumping that suits their physique best. But there are some general guidelines on which athletes will perform best using each technique:
One-foot technique:
In general, one-foot jumping is preferred by lean and lanky athletes who are very quick but not very muscular (think Zach LaVine). This style is defined by very short ground contact times, little bend in the knees and explosive movement of the glutes and hips. The technique takes a fair amount of coordination, and proper training instructions can bring a lot of improvement even for natural two-foot jumpers. For a detailed explanation of one-foot jump technique read more here.
Two-foot technique:
Two-foot jumping is often preferred by strong athletes with a build similar to football players. This style is defined by longer ground contact times and much deeper bending of the knee. Because of this, two-foot jumping favors strong athletes that can produce a lot of force in their quads. Athletes that are not blessed with insane quickness and stiff Achilles tendons needed for high 1-foot jumping, can still reach impressive vertical jump height using the slower 2-foot jump technique. Find out more about how to perform 2-foot jumps correctly here.
4. Better Warm-Up & Stretching
Vertical Jumping is a very dynamic movement that puts a lot of stress on your muscles, tendons, and joints. It is therefore very important to be properly warmed-up before starting to perform high-intensity training. This warm-up will not only improve your performance but also reduce the risk of injuries significantly.
Warm-up:
Make sure that you start with a general warm-up that gets your blood flowing and elevates your heart-rate. You could just dribble the ball around the court, drive on a bike or run on a treadmill. The ideal warm-up exercise for vertical jump training is probably the Skipping Rope – it works out your whole body, especially the muscles relevant for the vertical jump. Get yourself a great jump rope with 90-degree ball bearing aluminum handles like this one, and general warm-up is a lot of fun all of the sudden!
After the 5-10 minutes of general warm-up, you want to move to the specific warm-up. The role of this part of the warm-up is to activate the central nervous system and prepare the body for the specific movements which are to come. For jump training, good specific warm-up exercises would be tuck jumps or power skipping. Before a lower body strength training workout, squat jumps or box squats are great preparation.
Stretching
The role of stretching is a bit contradictory. You want to have a decent level of flexibility and range of motion to ensure fluid motion and prevent injuries. But scientific research has also shown that long static stretching before a plyometric workout can actually hurt your results because you lose elasticity in your muscles and stability in your joints.
Therefore, you should focus on dynamic stretching before your workouts. Dynamic stretching focuses on using momentum to putting your body through the whole range of motion of upcoming exercises. Examples of such exercises are forward lunges, backward lunges, knee to chests, toe touches, lateral leg swings, straight leg swings, hip rockers and much more. Check the Youtube Video for an example of a dynamic stretching warm-up.
Best Full-Body Warm Up Routine
5. Get Enough Rest & Proper Nutrition
If you follow a good training protocol then there are two main factors that could slow down your gains: Not enough rest for your body to regenerate from the demanding workouts, and not enough fuel for your body to build up new muscle tissue.
Rest:
Often times athletes tend to begin a new training regimen highly motivated and so they want to train all day, every day. Unfortunately, this comes with two problems:
The huge amount of workouts leads to overtraining and actually hurts your vertical jump
The new workout schedule is not sustainable and athletes quit after a few weeks.
Starting with 3 relatively short workouts per week will give your body enough rest between workouts, and is much more sustainable in the long run. Intense plyometric training is especially taxing on the central nervous system and should never be done more than 2-3 times a week. Also, make sure to get enough good sleep because most of the body's adaption to the new training happens during bedtime.
Nutrition:
Your body reacts to the physical stress of workouts by building new muscle tissue as well as stronger tendons and ligaments. But to do so, the body needs a lot of fuel. The main building block of new muscle tissue is protein, so make sure to eat enough of it!
A popular recommendation for athletes is to eat at least 1 gram of protein per pound of bodyweight. This can be achieved by eating a lot of lean meat, fish, nuts, eggs, beans, lentils or other seeds. If you have trouble getting enough protein through your regular diet, it makes sense to add protein shakes. Whey protein shakes are a very quick source of protein and drinking them right after the workout can give your recovery process an additional boost for optimal results. If you cover the large part of your protein intake through natural food, then a 5-pound bottle of good whey protein (like this) is a very good supplement and can last you for quite a while!
6. Get Better Shoes
Every basketball player knows the horrible feeling of old and slippery basketball shoes. When you finally get new shoes it is always astonishing how there is a sudden increase in your vertical.
The traction provided by shoes is incredibly important for the transformation of horizontal speed to vertical speed during takeoff. Even if your shoes are just slightly slippery you can forget dunking, or you will have to wipe your soles before every jump which is not very practical either.
If you want to find out what to look for in great shoes for vertical jumping, check out my post about the best shoes for dunking.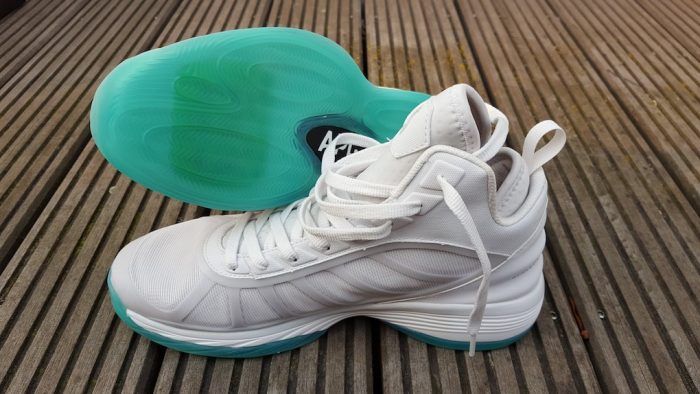 The APL Concept Boomer promises to increase your vertical jump
My 10-Week Vertical Jump Training Program
This is a 10-week training program designed for beginner to intermediate athletes. It starts out with lower intensity exercises and general body-weight exercises to prepare the body for the more taxing later weeks. Alright, let's get you to jump higher!
What Equipment Do You need?
This vertical jump program is designed using plyometrics and bodyweight strength exercises, therefore, you don't need access to a gym.
However, you do need:
Jump Rope for Warmups. (I recommend this one)
Medicine Ball (build our own using an old basketball and sand)
Box for depth jumps / box jumps. ( You can use a park bench or low wall for this)
What you need to know:
Start every workout with 5-10 minutes of rope-jumping. Try different variations with two legs, one leg, double skips etc. After that, perform dynamic stretching exercises like lunges, knee-to-chest, and leg swings to prepare the body for the plyometric exercises.
Do the exercises in the order that they are prescribed. Workouts start with lower intensity plyometric exercises and transition to more intense exercises. Strength exercises are always at the end of workouts – you should never do plyometrics if your muscles are tired!
End workouts with static stretching or foam-rolling to accelerate recovery and prevent soreness.
Make sure to measure your vertical jump before beginning the training. Also take 3 days off after each phase and measure your vertical jump before starting the next phase. Learn how to measure your vertical jump here.
The Workouts
The training program is divided into 3 phases:
Weeks 1-3
The low-intensity plyometrics and core/lower-body strengthening exercises of the first phase will prepare your body for the more difficult next two phases.
Do 3 workouts per week. Make sure to get at least one day of rest between workouts. Concentrate on a quick and clean execution of the exercises and get 1-2 minutes of rest between exercises.
Weeks 4-7:
The second phase increases the intensity of the plyometrics and introduces exercises focusing on developing power.
Again we will do three workouts a week!
Use a box of around 12″ for the low depth jumps. If the depth jumps are lower than your regular standing countermovement jump chose a lower box. If you are not yet strong enough for the pistol squats, grab a pole or something similar as assistance.
Weeks 8-10:
The third phase focuses on reactive strength and quickness to teach the body how to convert the newly acquired strength and power into the highest possible vertical jump! Slower strength training is completely eliminated to allow the body to use all adaption reserves for explosiveness.
Do 3 workouts per week:
Any questions?
If you have any questions related to the workout post them in the comments, I am going to answer them as soon as possible! Also, if you are following the program, I'd love to hear your results!