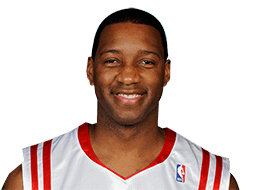 Tracy McGrady
Tracy Lamar McGrady, Jr. was drafted as the 9th overall pick in the 1997 NBA Draft out of Mount Zion Christian Academy, North Carolina by the Toronto Raptors. He was one of the few players in league history that came right out of high school.
He is a seven-time member of the All-NBA team, seven-time All-Star, two-time scoring champion, and received the 2000-2001 Most Improved Player award. In 2017, he was inducted into the Basketball Hall of Fame. He played in Toronto, Orlando, Houston, New York, Detroit, Atlanta, and San Antonio, where he made his one and only Finals trip.
Playing Style
Tracy McGrady is 6'8" tall and is one of the most versatile, complete scorers in NBA history.
Tracy McGrady Logo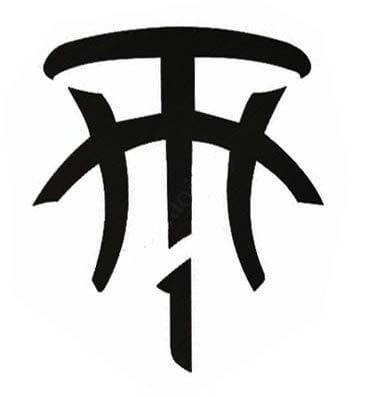 Tracy McGrady's logo is a basket with a distinct "T" in the middle, with the letter's bottom cut to form a "1," his jersey number for 14 out of his 15 years in the NBA. An "M" can also be seen with the arch and two curved lines. The logo calls out to his scoring mentality and the myriad of ways he can put the ball in the basket. This is the only logo that T-Mac has been known to use.
What Shoe Size Does Tracy McGrady Wear?
Tracy McGrady wears a size 16.
History of T-Mac Signature Shoes
In high school, Tracy sat down with his coach. He was still set on going to and playing for Kentucky. His coach knew this and told him that there's news that would change his mind. That's when T-Mac discovered that Adidas had offered him a six-year, $12 million deal. According to the man himself, that's when all his college dreams went out the window and he decided to go straight to the NBA.
He got his first signature shoe in 2002, the T-Mac 1, and also signed a lifetime deal with the three-striped brand in the same year.
Release Dates of Tracy McGrady Signature Shoes*
* includes only shoes released in 2017 or later
Characteristics of T-Mac Shoes
Tracy McGrady originally released six editions in his signature line and most of them featured a leather-built upper. The overall shape of each shoe was also around the same design cue. Adidas's adiPrene cushioning was used for all as well.
The shoes rose in collar height rather than lowered, a rare sighting in a signature line. Each shoe alsohad something unique to offer with its design. The T-Mac 1 had the shell toe, an icon in the Adidas basketball realm, while the T-Mac 2 replaced that with heat-welded plastic overlays. The T-Mac 3 then moved those into the medial side and the fourth iteration was completely laceless with the brand's HUG system. The fifth release featured a forefoot strap and is the only pair in the line that used a different material – nubuck. The T-Mac 6 had the most overlays in the line.
Only a few players get their shoes retroed and Tracy is one of them. In 2012, his first signature was brought back. Then in 2019, that shoe got a "protro," though their appearances are distinct. The T-Mac Millenium featured a leather-like synthetic upper with overlays and featured Adidas's most premium cushion – Boost. A year later, the T-Mac 2.0 EVO was released and looked almost exactly like its 2003 counterpart. The major differences came in the traction, which was changed to herringbone, and cushion, which was updated to Bounce. Both shoes provide adequate impact protection while still keeping a player quick on his/her feet.
The T-Mac line really rose to stardom when Tracy decided to wear a mismatching red and blue pair of the T-Mac 3. That year, 2004, was when he threw the ball off the backboard, caught it in mid-air, then dunked it.
The Millennium and 2.0 EVO retails for $160 and $130, respectively. No more budget-friendly models have been released by Adidas.
Special Colorways
The T-Mac 5 "Black Red"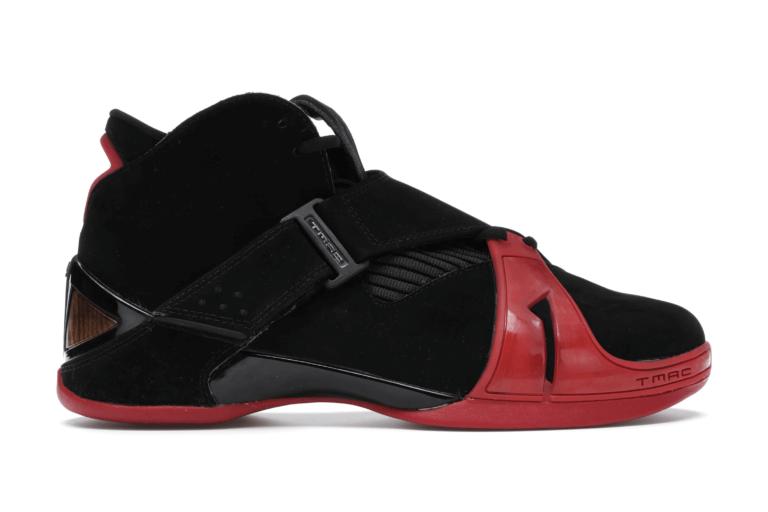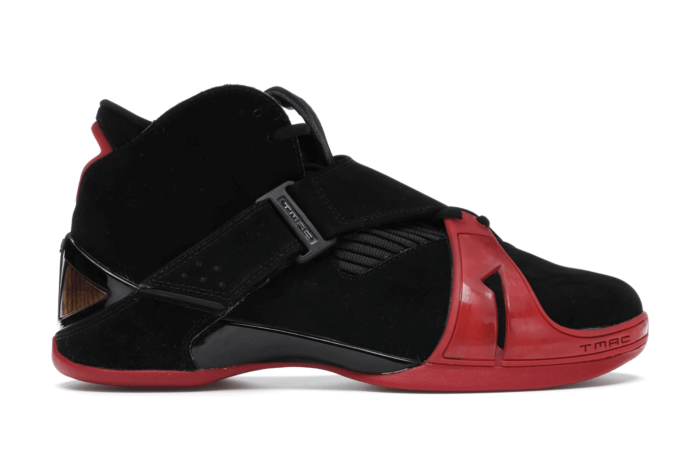 A black and red colorway of a shoe has become iconic and the T-Mac line isn't any different. The T-Mac 5 "Black Red" is going for an average of $372 on StockX. It features an all-black upper with a red hint on the pull tab and leopard print on the heel. The outsole is red and comes up the toe to act as a forefoot cage.