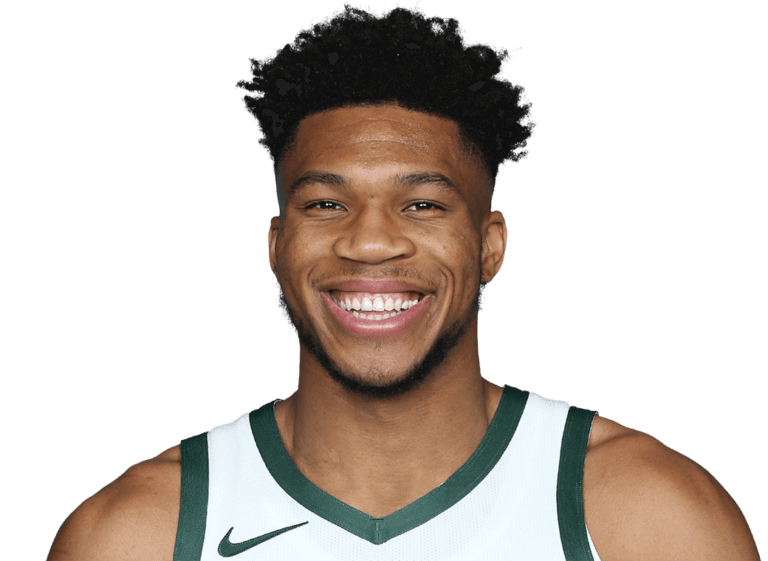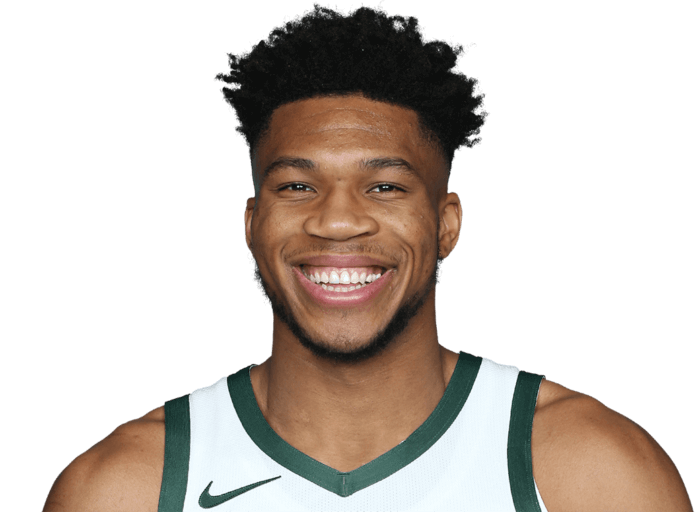 Giannis Antetokounmpo
Giannis Antetokounmpo was drafted as the 15th overall pick in the 2013 NBA Draft out of Athens, Greece by the Milwaukee Bucks. He has stayed with the team since and has so far earned an All-Rookie selection, a Defensive Player of the Year award, a Most Improved Player award, an All-Star Game MVP, and multiple All-Star, All-NBA, and All-Defensive selections, and a couple of Regular Season MVP recognitions.
Playing Style
Giannis Antetokounmpo is listed at 6'11" and is virtually unguardable with his combination of size, length, and ball-handling ability.
Giannis Antetokounmpo Logo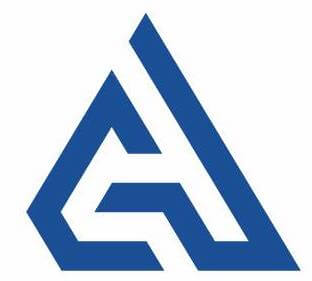 Giannis Antetokounmpo's logo is a triangle made up of a "G" and an "A," his initials. The triangle is the strongest shape and represents his strength. It's also a familiar shape in classic Greek architecture.
The "A" is larger than the "G," indicating that Giannis puts family first before himself. Both letters are interlocked to each other signifying Giannis always being connected with his family and that if one leaves, everything falls apart.
The left corner is clipped to represent Giannis's uniqueness, thus dubbing him the Greak Freak. The negative spaces look like a maze, giving a nod to Greek mythology's hero stories.
What Shoe Size Does Giannis Antetokounmpo Wear?
Giannis Antetokounmpo wears a size 16.
History of Giannis Antetokounmpo Shoes
Nike's first deal with Giannis was only worth $20,000 a year. During this contract, he mostly wore Kobe's shoes – most notably the Kobe X Elite, Kobe AD Mid, and Kobe AD Exodus.
The deal that got him his signature shoe was signed in 2017, upgrading his yearly income to $10 million. He announced this via an Instagram post saying, "Family. Loyalty. Legacy. Excited to announce my long-term partnership with @NikeBasketball. #FamilyOverEverything."
His first signature shoe, the Nike Air Zoom Freak 1, was released in June of 2019.
Release Dates of Giannis Antetokounmpo Signature Shoes*
* includes only shoes released in 2017 or later
Characteristics of Giannis Antetokounmpo Signature Shoes
Giannis Antetokounmpo has had a short sneaker history thus far. His shoes have been low tops with pretty unique designs, especially with the implementation of the Nike Swoosh. The first one had it backwards on the midsole which came up until the heel. Part of the swoosh served as the heel counter. The Freak 2 had it on three-fourths of the lateral side of each shoe and added containment and durability. In both editions, the swoosh was a very prominent part of the design.
The Zoom Freak 1 and 2 both used Zoom, though their implementations differ. The first utilized a full Phylon midsole with double-stacked, rectangular Zoom units in the heel. This follows the pattern of the Kobe AD Exodus which he wore before getting his own shoe. The second featured what Nike called a "soft, responsive foam" and a Zoom Air unit in the forefoot. For both pairs, court feel was more abundant than anything else so it allowed players to be quick on their feet.
The dominant material of the two sneakers has been the same: mesh. However, the Zoom Freak 2 noticeably featured a lot more overlays with synthetic leathers and fuse in high-stress areas for support and durability. The price has been identical for both at $120. Nike has not released a more budget-friendly shoe for Giannis.
Special Colorways
Nike Zoom Freak 2 "Naija"