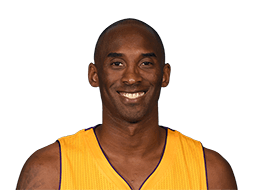 Kobe Bryant
Kobe Bryant was drafted with the 13th overall pick in the 1996 NBA Draft out of Lower Merion High School by the Charlotte Hornets. He was drafted to the Los Angeles Lakers on draft night and spent all of his 20 seasons there. He was a member of the All-Rookie team, a two-time scoring champion, 18-time All Star, 15-time All-NBA team member, 12-time All-Defensive team inductee, 2008 Regular Season MVP, four-time All-Star Game MVP, five-time NBA Champion, and two-time NBA Finals MVP. He tragically passed away on January 26, 2020 and was inducted into the Basketball Hall of Fame in the same year.
Playing Style
Kobe Bryant is listed at 6'6" and was one of the most relentless competitors the game has ever seen – defensively and offensively.
Kobe Bryant Logo

Kobe Bryant's most recognizable logo was designed by Eric Avar. According to Kobe, it is a sword in a sheath, where the weapon represents raw talent while the case represents the hard work one puts in to harness and refine that talent. The designer said that he used Japanese warriors as an inspiration, saying that the warriors exhibited Bryant's same balance. It is officially known as the "Sheath."
Kobe also had a logo with his earlier short run with Adidas which was basically his silhouette, which then included an afro.
What Shoe Size Did Kobe Bryant Wear?
Kobe Bryant wore a size 14.
History of Kobe Signature Shoes
As a 17-year-old rookie, Kobe Bryant initially signed a contract with Adidas that would run for six years and was worth $48 million. He completed the years but he still had to pay $8 million to the company when he voluntarily left after some disappointing sneaker releases. He then spent the 2002-2003 season as a sneaker free agent, wearing everything from Jordans to And1s. In 2004, he signed a five-year, $40 to $45 million deal with Nike. He did not have a signature shoe per se, but he was made the face of one of the most iconic basketball sneakers ever – the Nike Huarache 2K4. He donned the next iteration of that, the 2K5, before finally debuting his first signature shoe with the Swoosh. The deal has since expanded in length and worth.
The Nike Zoom Kobe 1 was released in January 2006.
Release Dates of Kobe Bryant Signature Shoes*
* includes only shoes released in 2017 or later
Characteristics of Kobe Shoes
The first three models of the Kobe line were similar in that they all featured a leather-built upper, full-length foam cushion with Zoom Air, and high-rising collars. With the Kobe 4, however, came a huge change. Kobe wanted the freedom of movement of soccer players' feet and so released his first low-top basketball sneaker. Since then, the line has mainly kept with that format, with a few exceptions with certain versions.
Cushioning for the line has always been just right for the average player. It didn't dwell on giving people what they didn't need and so cushion, Zoom Air to be specific, was placed strategically so it and force exerted could be maximized. Materials, however, moved with the times as it transitioned from leather to fuse to mesh to knit to ripstop. Naming became interesting after he retired, utilizing "A.D." It has, in order, released the following so far: "regular," NXT, Mid, 360, Exodus, and FastFit.
Kobe has had more than a few budget models. His first was a series named the "Venomenon" and released six versions. Then came the "Mentality" ones which only released two, and that was followed by the "attributes" series: Rage, Instinct, Focus, and Fury. These usually retailed around $100 while the main releases averaged about $160.
Two of the most iconic colorways of the Kobe line would have to be the Kobe 5 "Bruce Lee," paying homage to the martial arts legend, and the Kobe 6 "Grinch," which Kobe wore during a 2010 Christmas game versus the Miami Heat. He has also had the first, fourth, fifth, and sixth iterations of his signatures recently receive performance-updated versions, known as "Protros."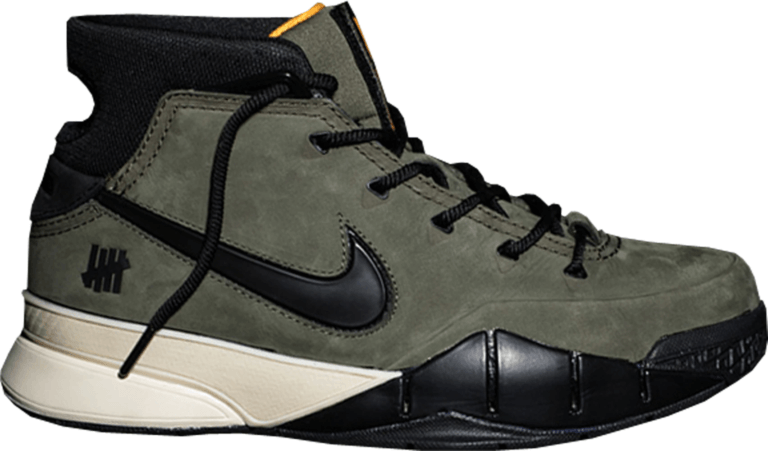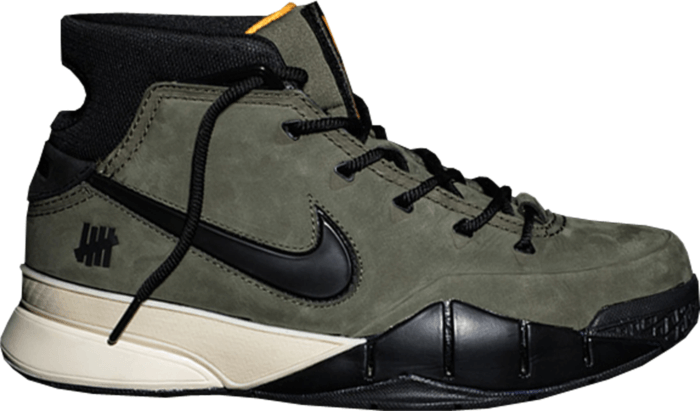 Special Colorways
Nike Kobe 1 Protro "Undefeated Flight Jacket"
With an average sale price of about $6,000, the Nike Kobe 1 Protro "Undefeated Flight Jacket" is the most expensive of the line's releases on StockX. It features a musty green suede upper with orange hints and the Undefeated logo on the lateral sides. The heel collar, swoosh, and outsole are black, while the midsole is partially off-white.