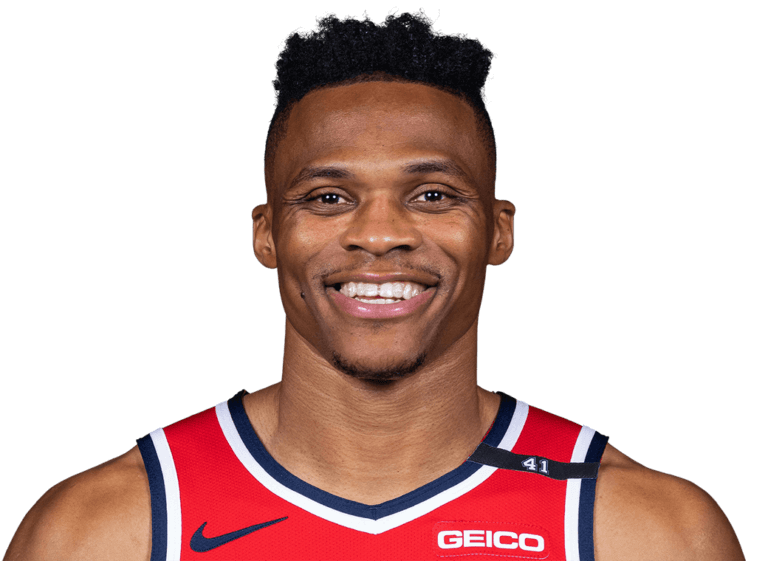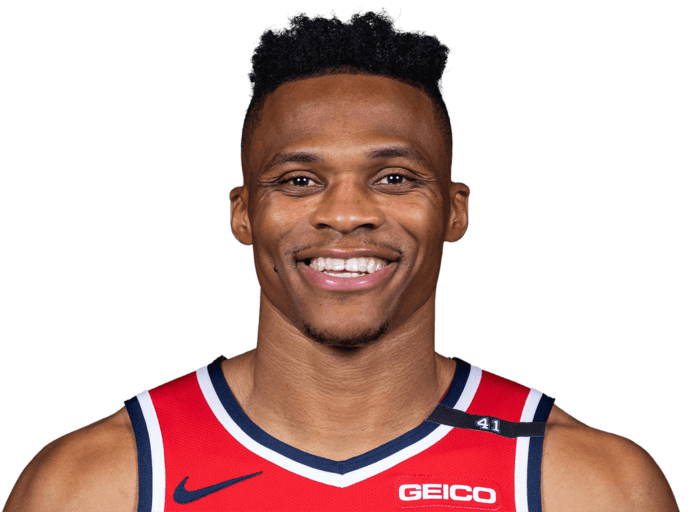 Russell Westbrook
Russell Westbrook was drafted as the 4th overall pick in the 2008 NBA Draft out of UCLA by the then Seattle Supersonics, now Oklahoma City Thunder. He earned an All-Rookie selection, multiple All-Star appearances and All-Star MVPs, scoring titles, assist titles, and a Regular Season MVP before heading to the Houston Rockets in 2019. He only spent a season in Texas before transferring to the Washington Wizards the following year.
Playing Style
Russell Westbrook stands at 6'3" and plays with all his heart every time he steps on the floor. He is probably the most explosive guard in NBA history.
Russell Westbrook Logo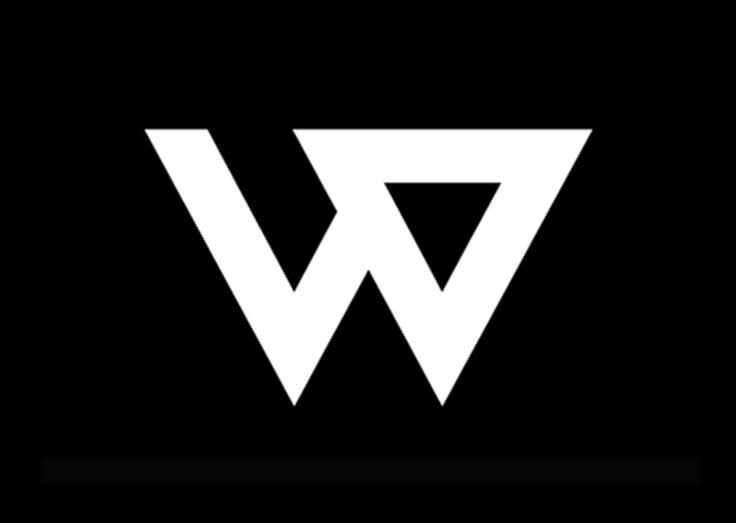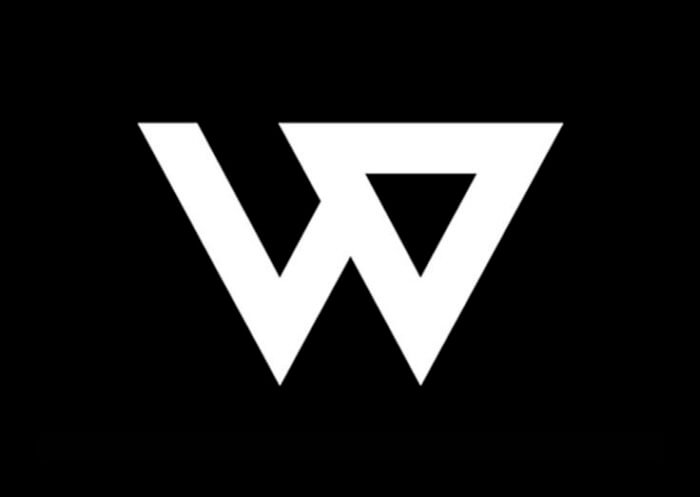 Russell Westbrook's logo consists of lines with straight and sharp cuts that form what looks like a "W" at first sight but also an "R" if looked at from the hole in the middle. It was released by Jordan Brand along with his signature shoe and he has used it ever since.
What Shoe Size Does Russell Westbrook Wear?
Russell Westbrook wears a size 15.
History of Russell Westbrook Signature Shoes
Russell Westbrook first signed with Jordan Brand in 2013 for a five-year endorsement deal. After his breakout season in 2016-2017, where he averaged a triple-double for a whole regular season, recorded one for 42 out of 82 games, and won the Regular Season MVP, Jordan Brand gave him what has been called "the most lucrative total endorsement deal for a Jordan athlete to date." They did not, however, specify the amount it's worth.
Before the big deal in 2017, Russell Westbrook wore a series of mainline Jordans, from the 29 up until the 31, mixed with some retros here and there. His first signature shoe, the Why Not Zer0.1, was released in early 2018.
The "Why Not" slogan came from Russell's high school days when he and his friend would say it before doing something fun.
Release Dates of Russell Westbrook Signature Shoes*
* includes only shoes released in 2017 or later
Characteristics of Russell Westbrook Signature Shoes
Russell Westbrook's signature shoes have always felt like an extension of him. Jordan Brand made sure to also take into consideration his style off the court. And there wasn't much of a difference really. On the court, Russell Westbrook liked to shout, get hyped, and dunk on everyone under the rim. On the streets, his fashion spoke for himself, and that's what the Why Not's have been known to do.
The first iteration featured bottom-loaded, full-length Zoom Air encased in Phylon. For the next three versions, however, they only kept Zoom in the forefoot. The Zer0.2's had the unlocked version, the Zer0.3's had an articulated one, and the Zer0.4's featured double-stacked Zoom. The line mainly focuses on impact protection and bounce since Brodie's play style is extremely explosive and quick.
Materials have been an interesting ride with the line. At first, they used a mainly mesh upper but covered the whole thing with fuse and added a strap on the ankle. The upper allowed it to be durable and flexible, but not exactly breathable. Only the third iteration saw the return of the strap, but on the forefoot this time. With the second version up until the fourth, we mostly got a combination of knits and mesh with synthetic overlays, but the synthetics really ranged from leather to felt to suede to almost any material we could imagine – all in different colors, too. The materials are where Russell's personality really shows.
The Westbrook line has stayed in the mid-top market and that's also where the price has been since its dawn, going for $120-130.
No worldwide-popular colorways have been released from the series but there have been some really nice ones, most recently the "Facetasm" edition of the Why Not Zer0.4. We still await the day Beastbrook will release a colorway that will catch people's eyes and keep them staring.
The One Take is Russell Westbrook's budget model and has seen two drops thus far.
Special Colorways
Jordan Why Not Zer0.2 "Own the Chaos"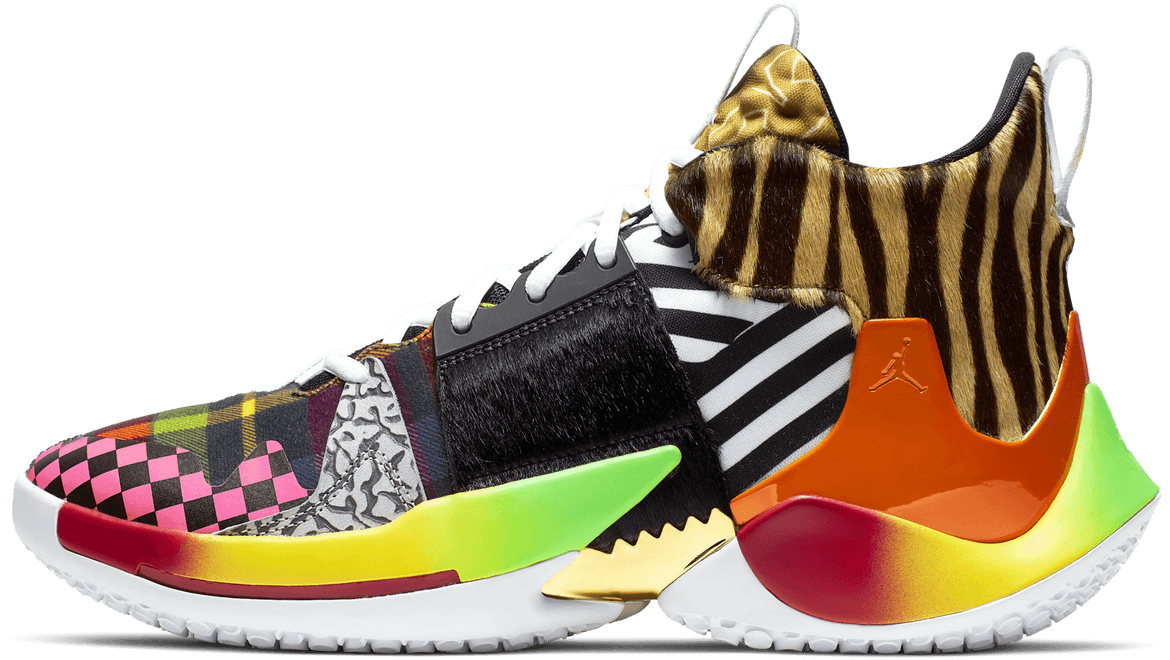 The Jordan Why Not Zer0.2 "Own the Chaos" is easily the most confusing shoe Westbrook has released. Each shoe is split in half with both medial sides just being plain white. The other sides, however, are made up of different materials, including fur, and no one panel or section is the same as another – not in color or pattern. It is currently going for around $400 on StockX.