New Balance OMN1S

Review
---
PROS:
Comfortable Fuel Cell cushioning
High-quality and durable materials
CONS:
Rubber picks up dust quickly
Summary of 2 Expert Reviews:
The first New Balance basketball sneaker in a long time gets a lot of love from sneaker critics: The herringbone traction pattern has you stopping on a dime on clean courts, but the translucent rubber picks up a lot of dust if you play on dirty courts. The Fuel-Cell foam cushioning is the highlight of the shoe and provides you a very well-balanced and comfortable ride. The upper materials are of high quality and should last for a long time, even if you play outdoors. Overall, the New Balance OMN1S comes highly recommended for players of all positions that look for a well-balanced performer.
See all 2 reviews
Expert Reviews of the New Balance OMN1S:
This is a great performer. I would highly recommend picking up a pair, Kawhi Leonard and New Balance really knocked it out of the park!
Incredible! I really like the shoe, especially the super comfortable cushioning.
Get the SneakerGeek App!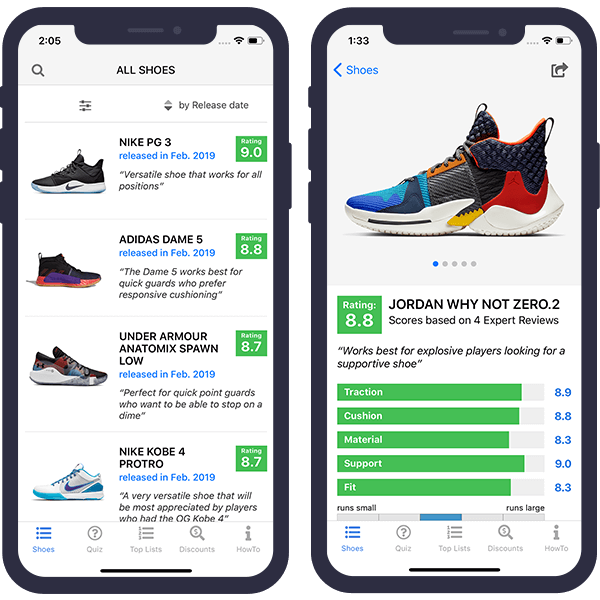 Find basketball shoes that fit your playing style and stay up-to-date with all the latest releases!
---
Traction of the New Balance OMN1S:
The full-herringbone traction pattern is freaking amazing on clean courts. On dusty courts, you will need to wipe frequently.
On a clean court, you stop on a dime, but on dirty courts, the translucent rubber picks up dust like no other.
Top 10 Traction Basketball Shoes
---
Cushion of the New Balance OMN1S:
The full-length Fuel Cell is really, really nice. I think this is one of the best cushioning setups for guards as it gives your everything: good impact protection, a decent amount of bounce, responsiveness and court feel.
The full-length FuelCell cushioning is incredible and feels like a mellower version of Adidas' Boost. This is up there with my favorite cushioning setups.
Top 10 Cushion Basketball Shoes
---
Materials of the New Balance OMN1S:
The slightly rubber-coated textile upper feels pretty good.
The plush upper materials feel soft and comfortable.
Top 10 Materials Basketball Shoes
---
Support of the New Balance OMN1S:
There was no heel slippage and ankle support was fine, but I felt my foot sliding over the footbed occasionally.
I felt the upper material on the lateral side stretch out a little when doing cuts. Other than that, the wide base and materials around the ankle had me feeling safe and secure.
Top 10 Support Basketball Shoes
---
Fit of the New Balance OMN1S:
There was no dead space in the toe box and the one-bootie upper hugged my feet nicely.
For my feet, the fit wasn't the best. It probably works best for wide and thick feet.
Best-Fitting Basketball Shoes
---
Is Outdoor Use recommended?
The rubber is really hard and the grooves are deep, you shouldn't have a problem playing outdoors.
Best Outdoor Basketball Shoes
---
Width of the New Balance OMN1S:
There is a regular and a wide version available online on Newbalance.com
There is a good amount of extra toe space.
---
Size of the New Balance OMN1S:
Going down half a size is the way to go!
I suggest going down half a size.