Nike Air Zoom UNVRS
Released 12/2019, High Top,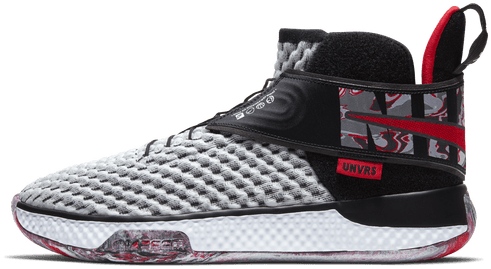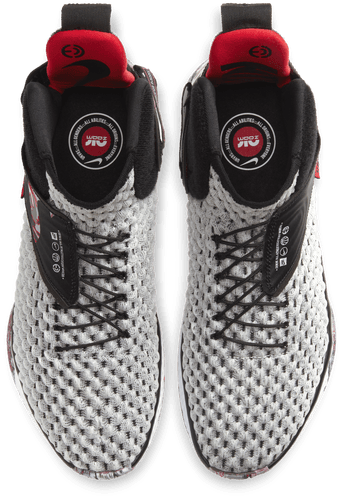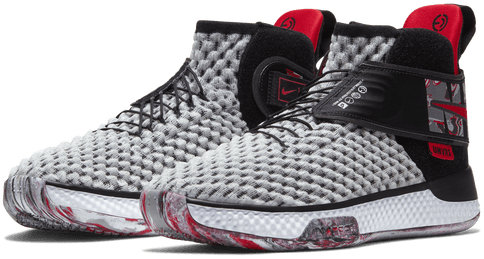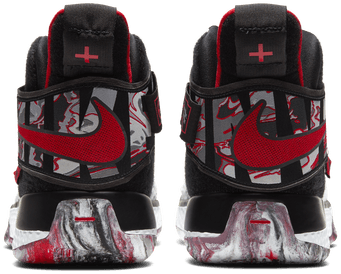 Full-length Nike Zoom Air Strobel, Flynit materials, and FlyEase lacing system
Best Suitable For:
Good choice if you are looking for shoes that are comfortable and easy to put on
Category Performance Ratings:
Comparison to Similar Shoes: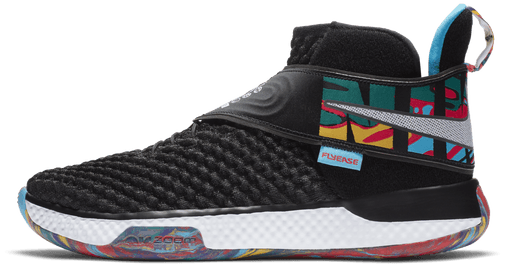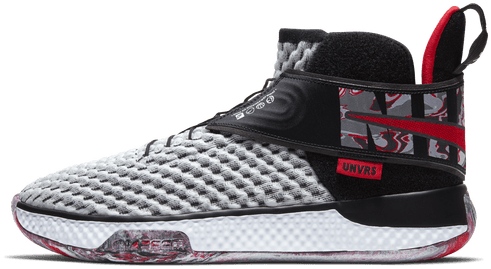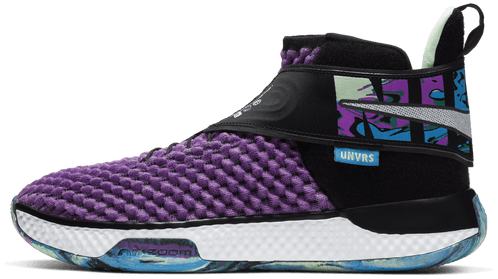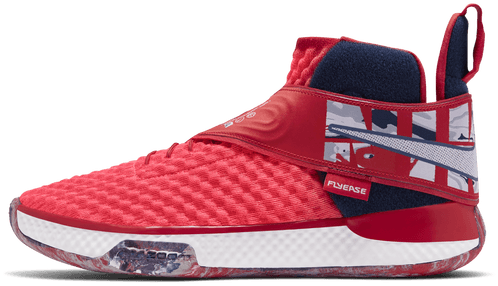 Nike Air Zoom UNVRS Review
Pros:
Super comfortable full-length Zoom Strobel
Cons:
Heel slippage and containment issues
Performance of the Nike Air Zoom UNVRS:
The Nike UNVRS does some things really well but can't convince critics overall. Cushioning is by far the best thing about this sneaker: the full-length Zoom Air Strobel board is comfortable, bouncy, and a favorite among all critics. The traction was disappointing to most testers. Even on clean courts, the rubber doesn't provide hard stops and slides out too often. The Flyknit upper materials are comfortable but not supportive enough for explosive basketball moves. The FlyEase lacing system is easy to use but has some issues with heel slippage. Overall, the Nike Air Zoom UNVRS is a very comfortable shoe for casual use, but not well suited for explosive basketball play.
See all 3 reviews
Expert Reviews of the Nike Air Zoom UNVRS:
For $160, you get Nike's best tech: full-length Zoom Air, Flyknit materials and FlyEase lacing system.
The cushioning and materials are great, but traction and fit were problematic for me. Overall, I couldn't enjoy playing in these shoes because they are just too narrow for my feet.
These are nice shoes for casual wear, but don't wear these on-court!
User Reviews of the Nike Air Zoom UNVRS:
No user reviews so far
Traction of the Nike Air Zoom UNVRS:
The nodule traction pattern, made from super-soft rubber, works well on clean courts and picks up minimal dust on dirty courts. On really hard cuts you will slide out sometimes.
The traction is consistent, but not great. The traction pattern doesn't really give you hard stops, instead, you will be sliding to a stop most of the time.
I am sooo disappointed in the traction, I couldn't get any grip at all!
Cushion of the Nike Air Zoom UNVRS:
Expert Cushion Rating: 
10.0
(ranks #3 of 238)
The cushioning is my favorite part of this shoe. The Zoom Strobel board is very similar to the KD12 and feels very comfortable, bouncy, and provides great court feel.
The full-length Zoom Strobel feels extremely nice. It's low-to-the-ground, bouncy, and probably my favorite cushioning setup right now.
The cushioning is A+ in my book!
Materials of the Nike Air Zoom UNVRS:
User Materials Rating: 
NA
The Flyknit materials feel a little flimsy but they are soft and conform to your feet nicely after the break-in period.
The Flyknit materials are super nice.
The Flyknit upper is super comfortable but just not supportive at all for basketball.
Support of the Nike Air Zoom UNVRS:
The upper materials are really supportive and provide a lot of lockdown in the midfoot. There is a little bit of heel slippage, especially while the shoes are not yet broken-in.
There was some minor heel slippage on my right foot. Other than that, the support was just fine.
I didn't feel supported at all in the Zoom UNVRS. On lateral cuts, I completely slid off the footbed.
Fit of the Nike Air Zoom UNVRS:
The FlyEase system works and makes it super-easy to put these shoes on.
The FlyEase mechanism in the heel really dug-in to my Achilles which was very painful and the fit was too narrow for my slightly wide feet.
Durability of the Nike Air Zoom UNVRS:
User Durability Rating: 
NA
Outdoor of the Nike Air Zoom UNVRS:
The super-soft rubber probably won't last very long outdoors.
Width of the Nike Air Zoom UNVRS:
Pretty narrow but stretches out when broken-in.
I'm a slightly wide-footer and this shoe is extremely narrow.
Super narrow in the beginning but stretches out after a while.
Size of the Nike Air Zoom UNVRS:
Go true to size if you have narrow or regular feet. Otherwise, go up half a size.