Nike KD Trey 5 VII

Review
---
PROS:
Top-tier traction
Soft & comfortable cushioning
CONS:
Very cheap materials
Not very stable or supportive
Summary of 2 Expert Reviews:
Kevin Durant's latest signature model has top-tier traction with a lot of stopping power and very little dust collection. The cushioning is soft and comfortable, maybe even too soft for quick and shift guards. The KD Trey 5 VII is a budget model, and it really shows in the upper materials which look and feel super cheap in-hand but perform decently. A major downside of this shoe is the lacking support and stability that comes from an imperfect fit, narrow base and upper materials that don't provide a ton of containment. Overall, the KD Trey 5 is a solid performer for lighter players who don't rely on explosive lateral movements.
See all 2 reviews
Expert Reviews of the Nike KD Trey 5 VII:
100% recommended, especially for $90!
Even for only $90, I wouldn't recommend this shoe. The materials are absolute trash and there are just too many stability and containment issues.
Get the SneakerGeek App!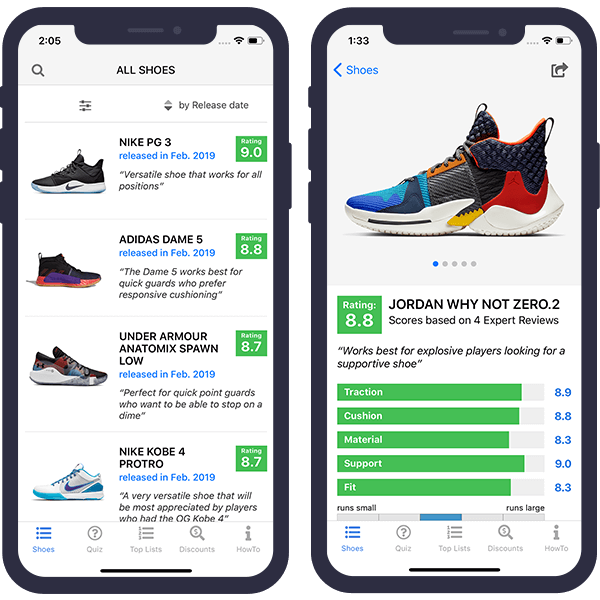 Find basketball shoes that fit your playing style and stay up-to-date with all the latest releases!
---
Traction of the Nike KD Trey 5 VII:
Top tier traction! Violent bite and squeak, zero dust collection, and very durable.
The translucent rubber works really well on clean courts and the dust pickup on dirty courts isn't bad either.
Top 10 Traction Basketball Shoes
---
Cushion of the Nike KD Trey 5 VII:
A perfect mix of impact protection and court feel.
The cushioning is very plush and bouncy, especially in the heel.
Top 10 Cushion Basketball Shoes
---
Materials of the Nike KD Trey 5 VII:
Materials are garbage in-hand and looks-wise, but get the job done.
The materials feel super cheap in-hand and on-foot.
Top 10 Materials Basketball Shoes
---
Support of the Nike KD Trey 5 VII:
I didn't feel stable laterally because of the lack of an outrigger and the very soft cushioning.
The materials don't offer enough containment and I had some side-to-side movement on the footbed.
Top 10 Support Basketball Shoes
---
Fit of the Nike KD Trey 5 VII:
Easy to put on, but there is some bunching up in the toe box.
The fit is just super sloppy, there is a lot of dead space in the toe box area and the materials don't conform to your feet at all.
Best-Fitting Basketball Shoes
---
Is Outdoor Use recommended?
The rubber is very durable and will work outdoors for a long time, the upper materials probably won't last that long.
The rubber is really hard so it should last a long time outdoors.
Best Outdoor Basketball Shoes
---
Width of the Nike KD Trey 5 VII:
---
Size of the Nike KD Trey 5 VII: