Nike PG 5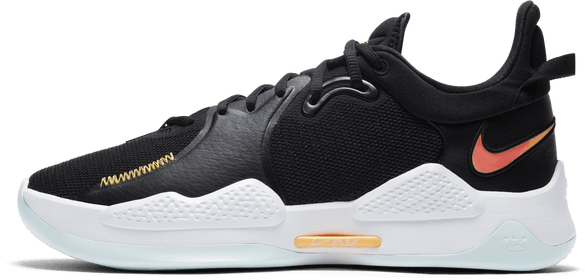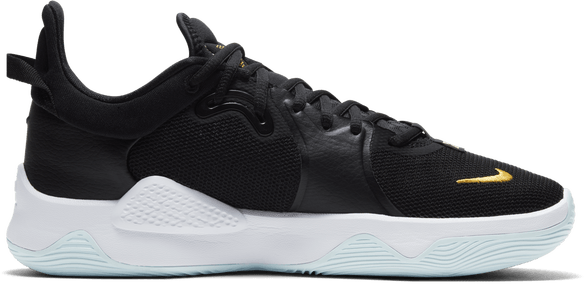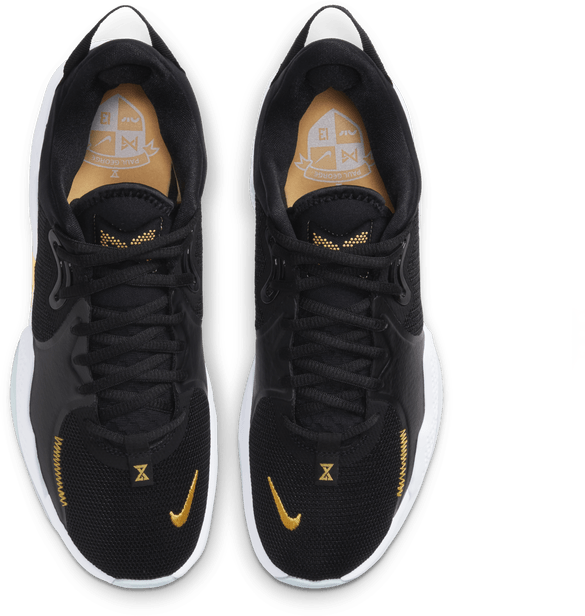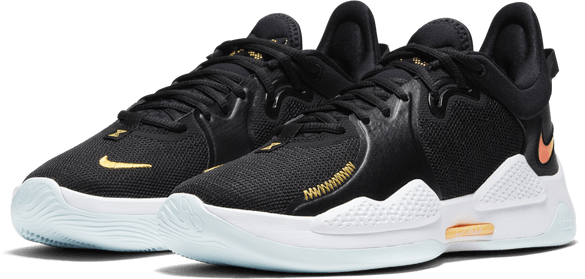 The PG 5 is a great all-around performer and a nice upgrade over the PG 4.
Best Suitable For:
Works best for players that prefer a minimal, lightweight, and responsive shoe no matter what position they play.
Price Comparison:
Available at 6 shops | Official Retail Price: $109.99
See all 6 shops
Category Performance Ratings: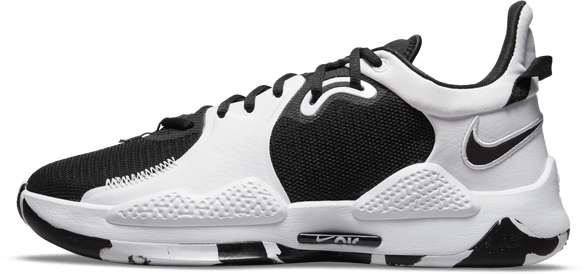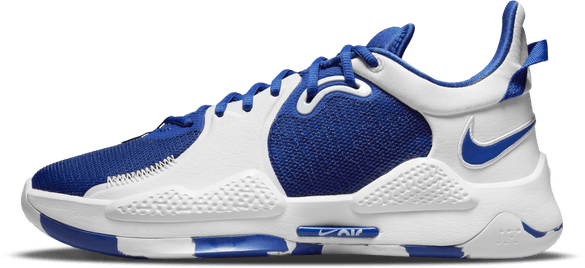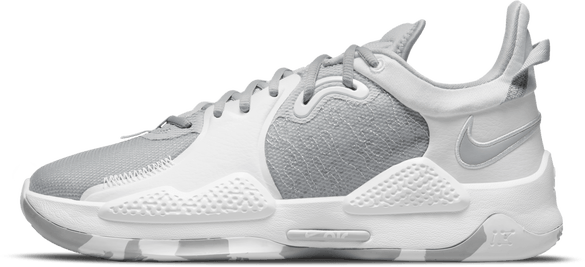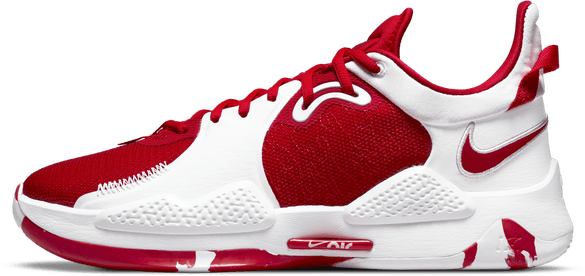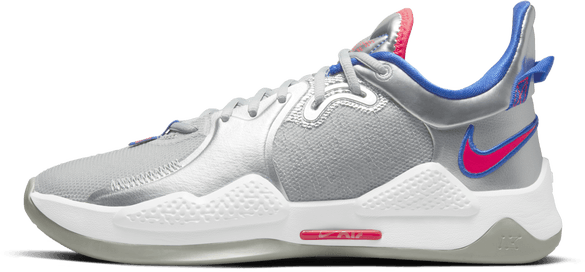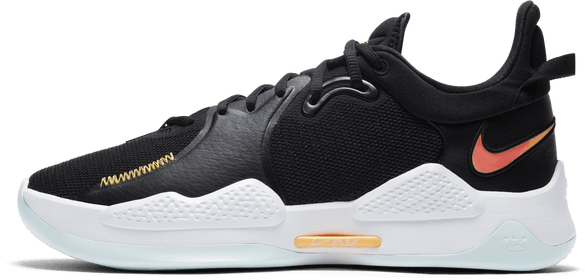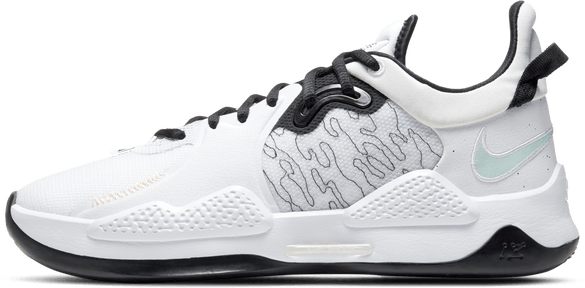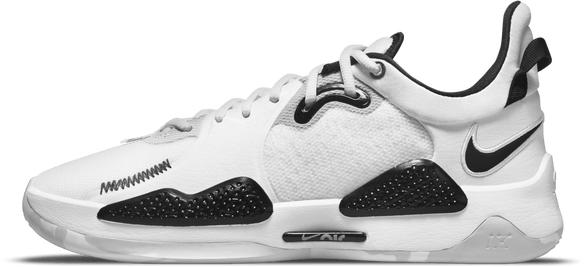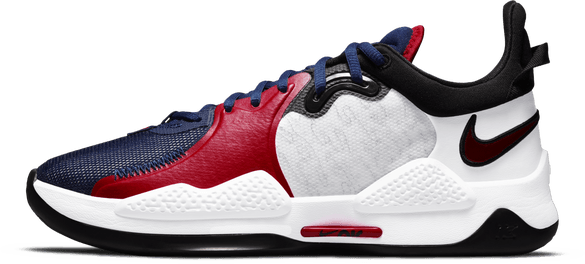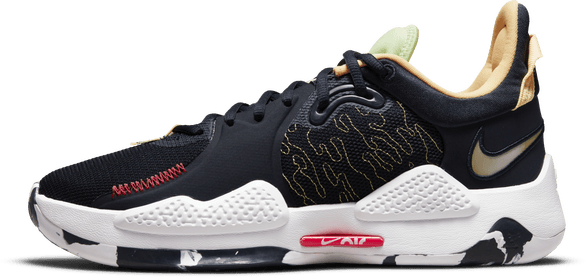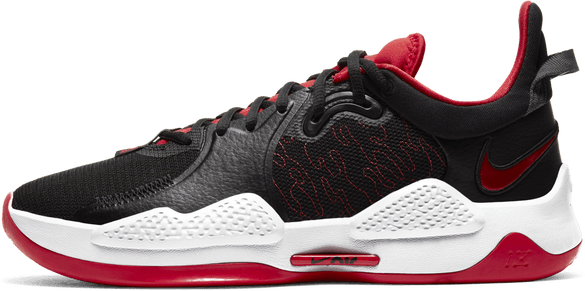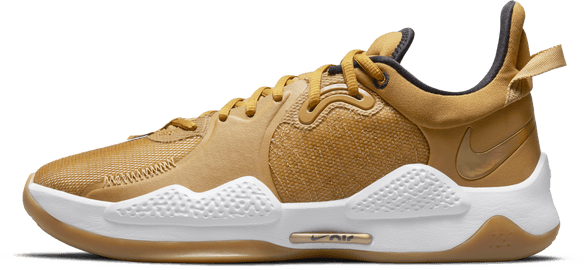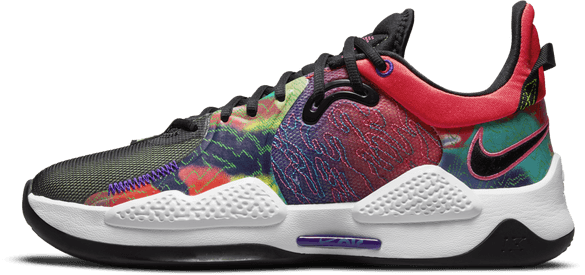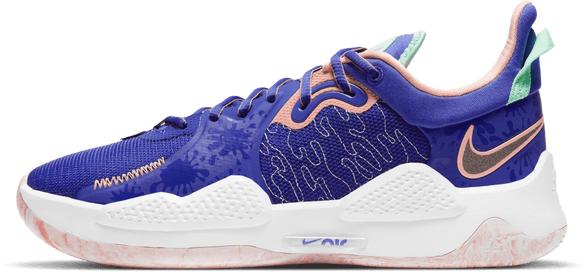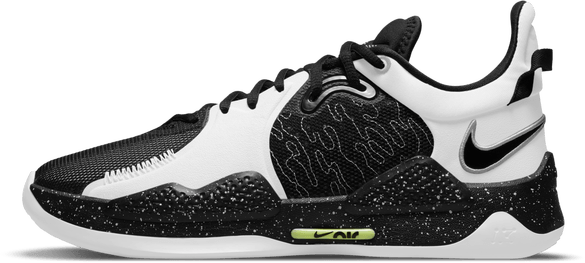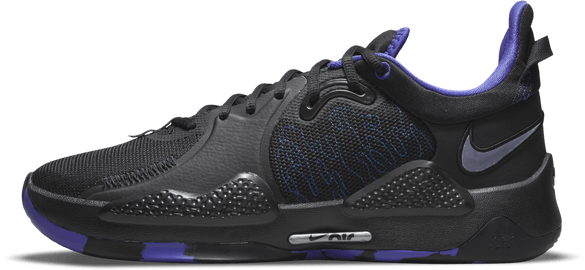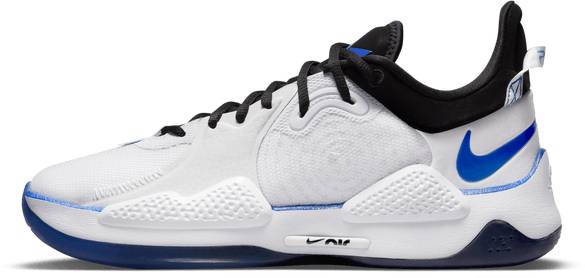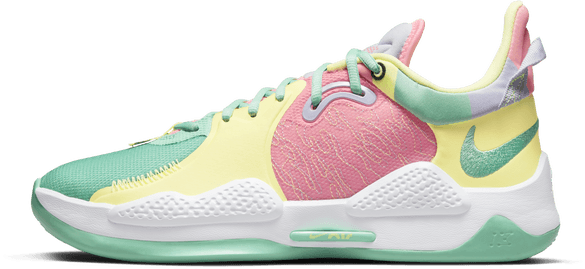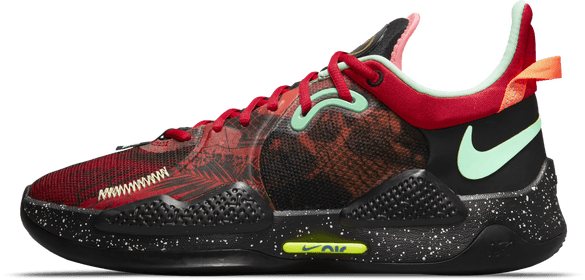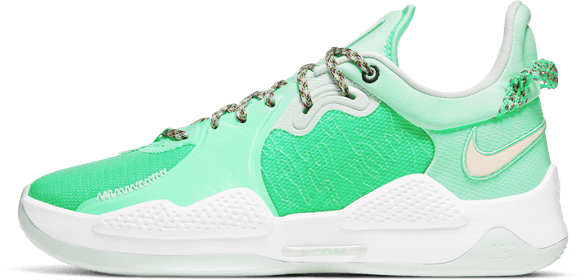 Nike PG 5 Review
Performance of the Nike PG 5:
The traction pattern of the PG 5 is very similar to the Kobe 9 pattern and provides top-tier traction indoors. Unfortunately, the outsole isn't durable enough for outdoor use. The cushion tech is similar to last year but feels pretty different. The PG 5 isn't as plush but provides a better court feel and more responsiveness. The materials are what you've come to expect from the PG line: They feel pretty cheap but they perform well and are comfortable on foot. The PG 5 fits like most PG models slightly narrow and snug. True to size works well. The support and lockdown are very good thanks to a wide base and large outrigger - reviewers had no issues here. Overall the PG 5 is a great all-around performer and a real bargain at a list price of only $110.
See all 6 reviews
Expert Reviews of the Nike PG 5:
For $110, the PG 5 has a good amount of tech, really nice cushioning, and performs well in all aspects. There is some room for improvement when it comes to the quality of the materials.
The PG 5 is a very solid performer. I wish the materials were a bit nicer, but at a $110 price point, I can't complain!
The PG 5 is a very solid performer. They are lightweight and I never had to worry when I played in them. Overall, there weren't many bad things I could say about these.
The Nike PG5s cushion and traction are incredible. The materials perform nicely on the court as well. The shoe has just about everything you need from your hoop shoe.
The PG5 is very good in most areas with the only downside being that the cushion didn't really perform well outdoors. They should be very good if you are playing indoors.
Overall, the shoe has durable materials, is very supportive, and the cushion provides very nice impact protection. The traction actually grips very hard and is very stable to play in.
User Reviews of the Nike PG 5: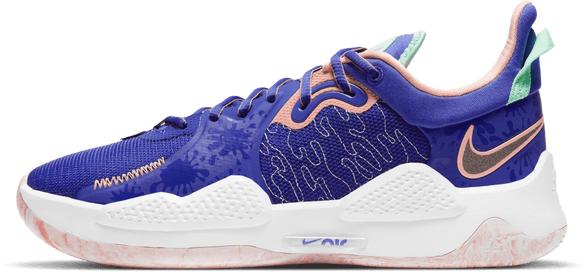 This shoe was amazing when I first got it. Probably my favorite shoe ever at the beginning. Sadly, the shoes lack of durability started to show. Within a month rips were occurring and even the sole was starting to rip away from the edge of the shoe. This problem caused me to roll my ankle as it got caught on the floor sometimes. The air bubble support did not last super long as I found myself running on little support. Sad to see such a great shoe get ruined by its durability.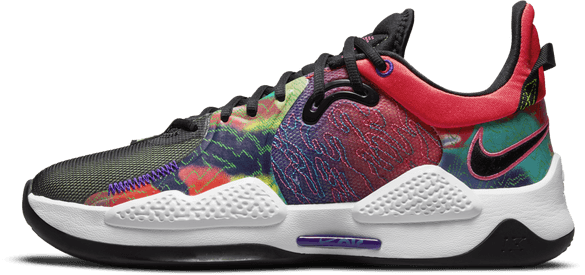 The traction is top tier, very very good on dust, one wipe and good to go.( Break in period 2-3 days) The cushion is very plush and responsive giving a slight bounce back.(not to mushy like the pg4) Support, Lockdown, and Fit is awesome, no moving in the footbed lateral containment is elite, no heel slippage either Shoe in my opinion is best for someone who's very shifty and prioritizes traction and cushion, while also needing good lockdown True to Size!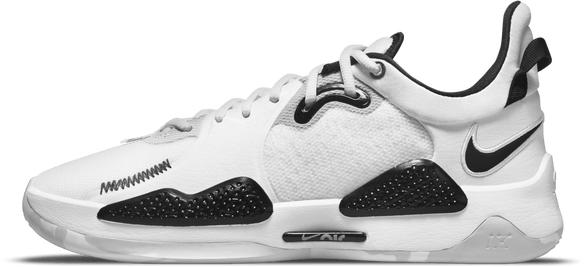 Played in these shoes a lot for the past 5 months. Even on dusty courts the traction was great with just a bit a wiping every now and then. Impact protection was pretty good. My feet hurt every now and then but only after playing in them for a while. The only big problem for me was the durability. My shoes almost have a hole in the side and the insole is completely destroyed. Overall though, a great shoe, especially for the price.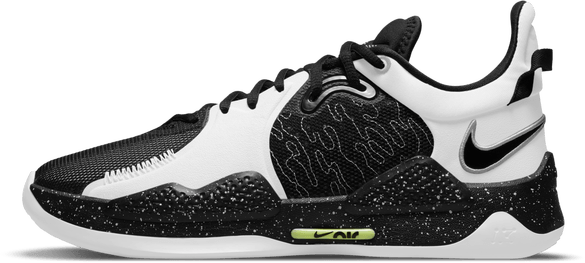 The shoes which initially appeared to me as "having no weaknesses". After the break-in period was over, I'd rather say that they are just excellent in every aspect. Phenomenal traction, very lightweight, step-in comfort is wonderful. Support and lockdown are great for a low-top. They have become my go-to shoes pretty quickly.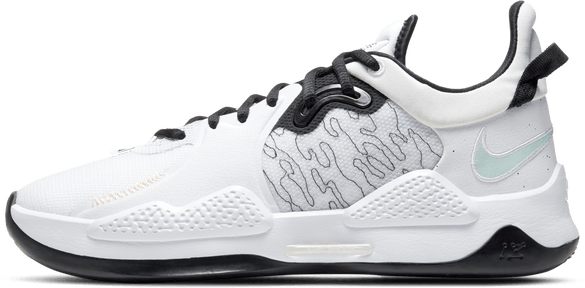 I really didn't like the fit of these. I'm usually a 10.5 but I went up to an 11 because of how narrow these shoes were. They do definitely break in some, but I get blisters while playing even when I lace my shoes tight. Durability was adequate, but definitely don't use them outdoors if you want them to last.
Traction of the Nike PG 5:
Expert Traction Rating: 
9.5
(ranks #8 of 211)
The outsole reminds me of the Kobe 9 (which had great traction). The traction grips really well and provided me with a nice bite.
The traction pattern has been reused from the Kobe 9 and it's top-tier!
This traction pattern is basically the same as the Kobe 9 which had GOAT traction. I only got to try these outdoors, but they were phenomenal. One thing that surprised me is that they don't squeak at all.
The cushion has never failed us when playing. The bite is sensational with minimal dust pickup.
The traction is a copy of the Kobe 9, which is one of the greatest of all time.
After a bit of a break-in period, the traction became really good. It gripped very hard and picked up very little dust.
Cushion of the Nike PG 5:
Just like last year's model, the PG5 has a full-length Air Strobel unit. The cushion feels great and is more responsive compared to the PG 4.
The PG 5 features a full-length Phylon midsole and an Air Strobel unit. Personally, I liked the setup in the PG 4 a little better because they were softer, but the PG 5s are more responsive.
The cushion looks pretty similar to the PG 4 but feels very different. The PG 5 cushion is a lot lower to the ground and the PSI felt a lot lower in the Air unit. Impact protection is really good and court feel is nice.
The full-length Air Strobel is a top-tier cushioning setup from Nike, and it doesn't disappoint in the PG5. It's responsive, comfortable, and provides a solid court feel.
It doesn't quite feel like last year's model because of the foam used. It feels more firm. It should work indoors but didn't provide much for outdoor play.
It has a full-length Air Strobel which is very comfy. It provides a good amount of impact protection but lacks some bounciness.
Materials of the Nike PG 5:
The materials aren't great and don't feel very premium. However, they are lightweight, flexible, require no break-in time, and get the job done performance-wise.
The Mesh materials look and feel a bit cheap but they get the job done just fine performance-wise.
The material quality is not great. It seems cheap and reminded me a lot of the PG 2. As you break-in the materials they get pretty soft and feel nice on foot though. For the price, you can't complain.
Textile mesh with some leather overlays spread throughout. We love it. It's flexible and lightweight.
The materials feel cheap but in terms of performance, it's way better than last year's model. They got the job done.
The upper is mainly made of mesh with a touch of synthetic materials throughout. There's no break-in time needed and is very durable.
Support of the Nike PG 5:
The PG 5 provides very good lateral stability. Nothing else was crazy lockdown-wise, but they were solid all around.
The support is really good. I had no issues with the lateral stability or containment and my foot felt locked down on the footbed.
The support and lockdown are really good thanks to the wide base and nice outrigger. I had no issues with lateral containment and stability.
It has everything you need for support. The only downside is that the laces become slightly loose towards the ankle collar.
The shoe feels wider than the Kobe 9 and they added an outrigger so you really do feel locked down.
The heel counter and padding provide a very good amount of lockdown in the back of the shoe. The shoe also covers you well on lateral movements.
Fit of the Nike PG 5:
These ran a little short for me and were a snug fit overall. Overall comfort was good and I didn't have any issues with that.
The fit is slightly narrow and snug similar to other PG models. They stretched out a little after breaking them in and the overall fit was nice.
The toe box wasn't as snug as I'd like it to be, but there wasn't a ton of extra material. For the most part the fit was really good for me and these were easy to put on which is always a plus.
It has an above-average fit that feels nice.
I love the way they fit. They really remind me of the Kobe 5 which had a great fit.
They fit pretty nicely if you have a regular or narrow foot, but can get snug in the forefoot area.
Durability of the Nike PG 5:
Outdoor of the Nike PG 5:
These hold up well outdoors.
The durability outdoors is terrible.
Traction performed very well outdoors, but don't expect it to last long at all.
I played in the XDR version of the shoe which is meant to perform better outdoors.
Width of the Nike PG 5:
Wide footers should go a half size up.
I recommend going up half a size if you have wide feet.
I'd go up half a size if you have wide feet or like a roomy fit.
They accommodate slightly wide feet with no problems.
The shoe is kind of narrow around the forefoot area. If you have a wide foot, it'll be better to try them out in-store beforehand.
Size of the Nike PG 5:
True to size should work well.
True to size fit me very well.
They do fit true to size.
The PG5 runs true to size for regular and narrow footers.