Adidas Harden Stepback 2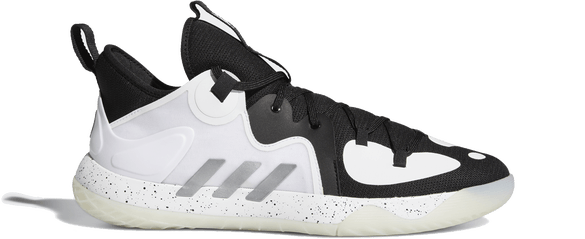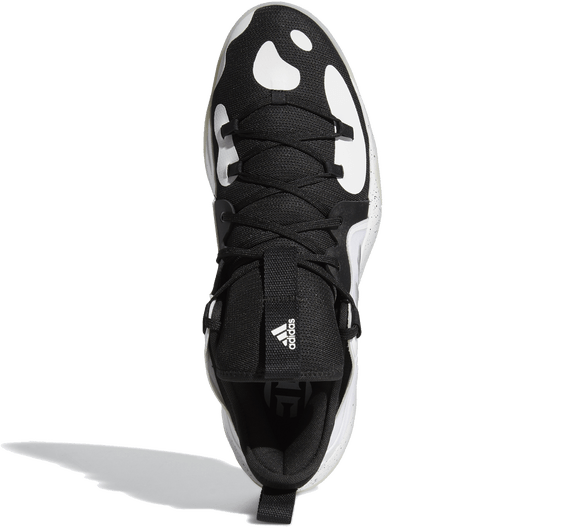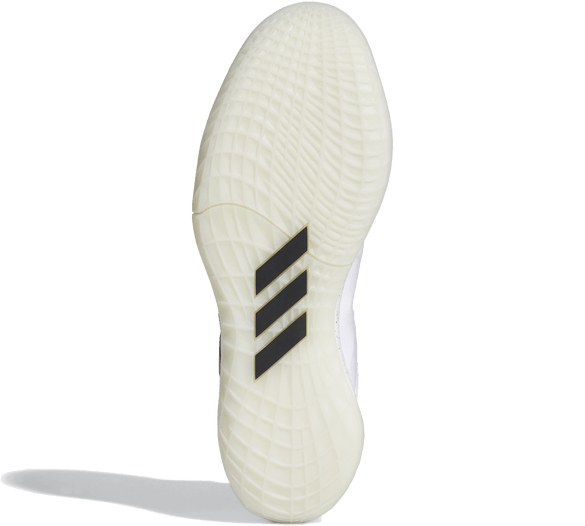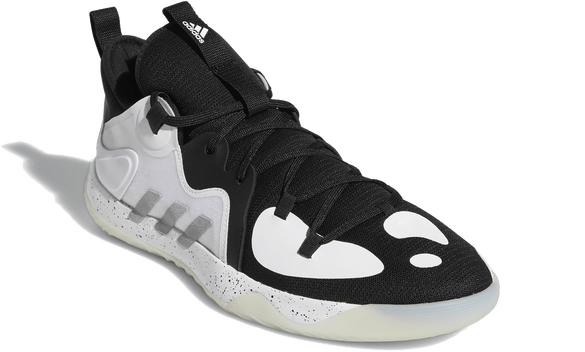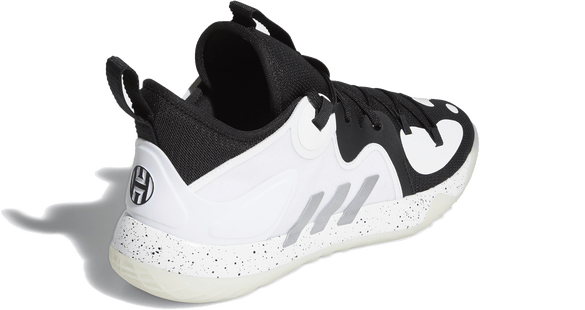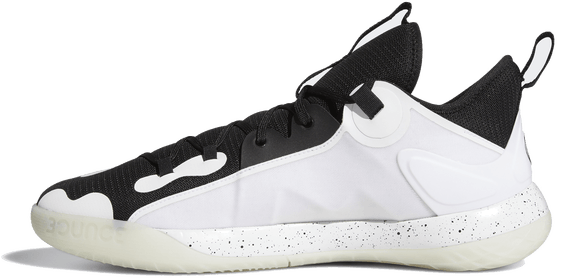 The budget model Harden Stepback 2 is arguably better than the signature Volume 5.
Best Suitable For:
Best for guards or wings who want court feel and don't need a lot of compression.
Price Comparison:
Available at 2 shops | Official Retail Price: $79.99
Category Performance Ratings:
Comparison to Similar Shoes: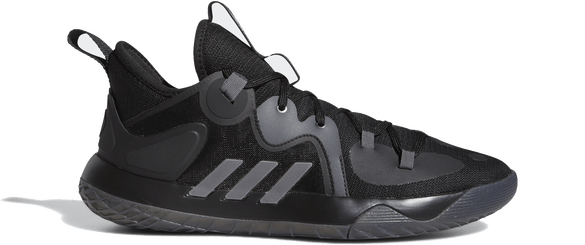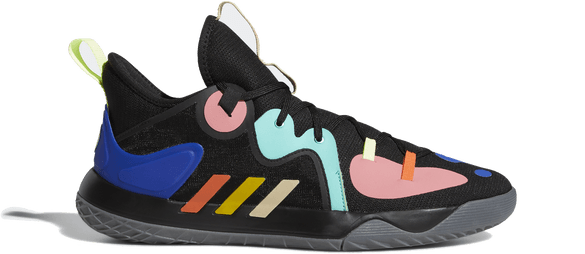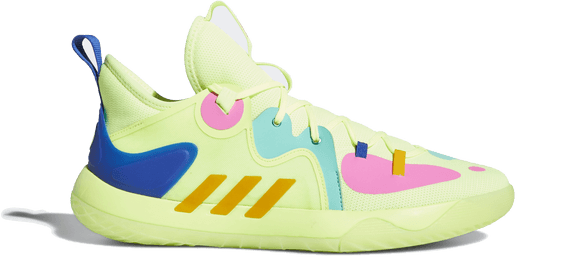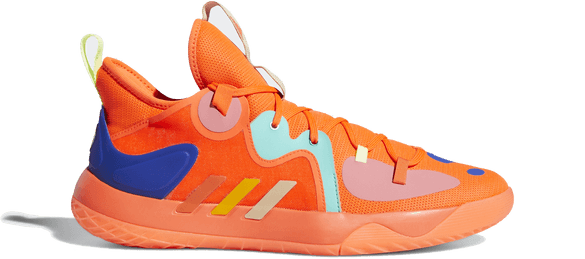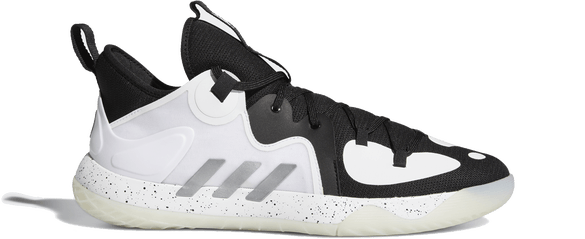 Adidas Harden Stepback 2 Review
Pros:
Nice materials for the price.
Cons:
Minimal impact protection
Performance of the Adidas Harden Stepback 2:
The traction on the Harden Stepback 2 is pretty similar to the Volume 5, but performs better. The outsole is durable enough for outdoor use as well. The cushion setup features Bounce and has great responsiveness and court feel. There isn't much impact protection or compression though. The materials are really nice for a budget line shoe and feel great on foot. The fit runs slightly large and it is recommended to go a half size down. The overall fit is great partially due to the half bootie construction. The support performs well for the most part. The lateral containment and stability are solid, but reviewers had some issues with heel slippage when breaking these in. Overall the Harden Stepback 2 is a great performer, especially for the price!
See all 2 reviews
Expert Reviews of the Adidas Harden Stepback 2:
The Harden Stepback 2 retails for $80 and I would definitely recommend it. You get solid all-around basketball shoes that perform better than the much more expensive Harden Vol. 5.
For only $80 retail, the Harden Stepback 2 is a great performer. They are a little bottom heavy and I had some heel slippage issues, but other than that, I really like this shoe!
User Reviews of the Adidas Harden Stepback 2:
I loved it, I played in this shoe only outdoor's for 10 straight months and they were amazing, the traction is pretty good, the cushion is the only real downside, the impact protection was bad, support is decent like I had very few issues with the support of the shoe but is not great either, materials and fit especially for that price were both amazing, really comfortable and really good court feel, the durability is awesome, hold it up pretty well for 10 months only on outdoors.
The most notable problem are the piss poor laces which are so thin they are an absolute pain to tie. This would be fine if the fit wasnt so damn loose around the heel. Everywhere else its a great fit for people with wider feet such as mine. It is also unable to be used indoors at a high level after much outdoor use. The rubber will quickly be pealed off and worn down.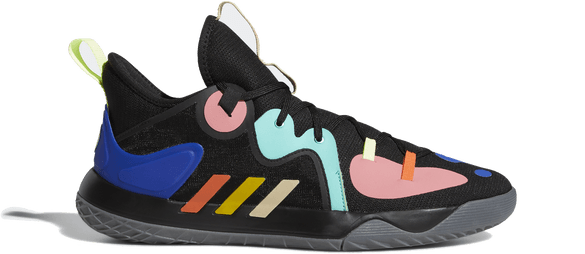 Its a very good shoe especially for dunking.Its also a responsive shoe but not for fast players cause its a bit bulky and heavy.I liked that shoe and i would recommend it for both harden fans and players who are not fast but want a shoe in a good price.The only negatives are that it is a heavy shoe and i experienced some heel slippage.
This shoe is a budget shoe that has one of the best performance in the harden line. It has great traction, materials and fit. This shoe is likely to be for Guards to play on, however it's a narrow shoe so if you have a regular feet or flat feet you should add at least half a size or one. Overall, for a $65 shoe, it's amazing!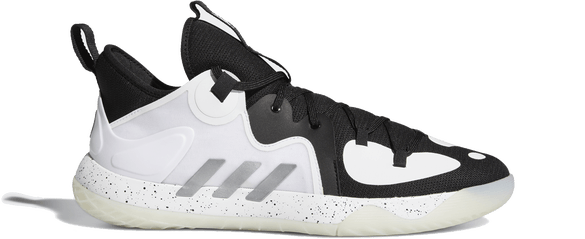 Amazing court feel I don't exactly know what kind of sole they used but it feels super close to the ground. The support is okay(I wear braces) One of the most comfortable basketball shoes I ever played with but they wore off after a while so I switched to Lukas. Still missing these tho
Traction of the Adidas Harden Stepback 2:
I'm pretty sure the Stepback 2 uses the exact same traction pattern as the disappointing Harden Vol. 5. Here the traction was actually really good. Great bite on clean courts, and a little wiping required on dust.
The traction is pretty good. I slipped out a few times but overall the bite was really good.
Cushion of the Adidas Harden Stepback 2:
The cushion features full-length Bounce and is a little firmer compared to other shoes using Bounce. You get a lot of court feel and responsiveness, as well as decent impact protection and bounce out of this setup.
The Bounce cushioning midsole is really thin and not as soft as usual. The court feel is really good, but there is not a lot of impact protection or compression.
Materials of the Adidas Harden Stepback 2:
The full textile upper was pretty nice, especially for the price. The materials are soft to the touch and conform nicely to your feet. I liked these materials a lot better than the materials of the Volume 5.
For an $80 shoe, the materials are really nice. The look is pretty premium and the materials feel great on foot.
Support of the Adidas Harden Stepback 2:
The support is pretty good. The external heel counter helped lock down my heel and the lateral containment is decent. It has pretty much everything you want support wise.
I had absolutely zero issues with lateral containment which was kind of surprising. Lateral stability was nice even without an outrigger. One thing I struggled with a little was heel slippage when I was breaking these in.
Fit of the Adidas Harden Stepback 2:
This shoe is pretty narrow in the midfoot and forefoot area similar to other Harden models. The materials broke in well and loosened up a bit after some use. There is no dead space in the toe box and overall the fit is good.
The Harden Stepback 2 fit me like a glove and with no dead space in the toe box. The half bootie construction makes the overall fit really nice.
Durability of the Adidas Harden Stepback 2:
Outdoor of the Adidas Harden Stepback 2:
Expert Outdoor Rating: 
100.0
(ranks #6 of 241)
The durability of the rubber was insanely good.
Width of the Adidas Harden Stepback 2:
If you're a wide footer you could do true to size or a half size down depending on how wide your foot is.
If you have wide feet I'd suggest going up half a size or maybe even a full size.
Size of the Adidas Harden Stepback 2:
I recommend going down a half size.
I went true to my Adidas size.