ANTA KT 5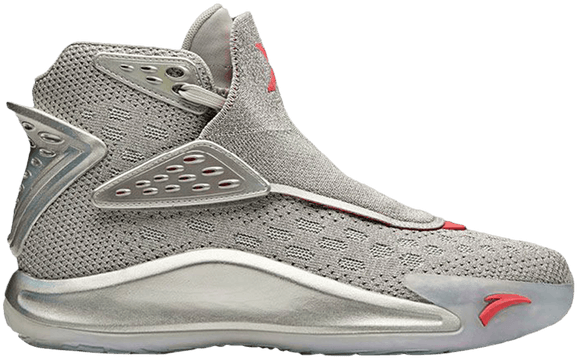 Klay Thompson's signature shoe with great traction, cushion, and no real weaknesses.
Best Suitable For:
A durable shoe for any position or style of play.
Price Comparison:
Available at 0 shops | Official Retail Price: $159.99
No shops found
Category Performance Ratings:
Comparison to Similar Shoes: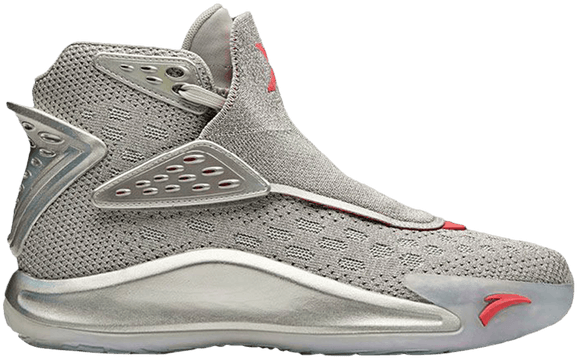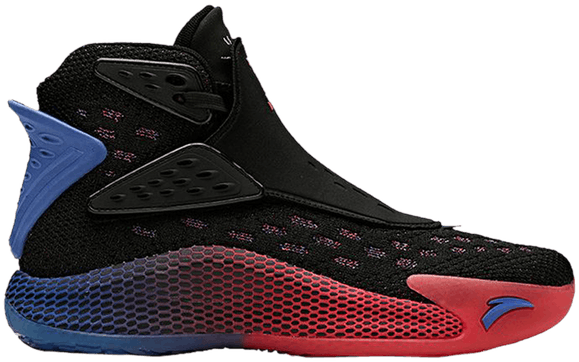 ANTA KT 5 Review
Pros:
Durable traction that works on any surface
Balanced and responsive cushioning
Performance of the ANTA KT 5:
The traction on the KT5 is similar to the KT3 and KT4 and does not disappoint. It works well indoors and outdoors with minor issues on dusty courts. The cushion setup is stable and responsive but still provides good impact protection. The materials on the KT 5 break in well, conform nicely to your foot, and are of great quality overall. The fit is a little long but the solid lockdown keeps your foot from sliding on the footbed and the high collar adds additional ankle support. Overall you are getting a shoe that is consistent with the KT line and a great overall performer.
See all 3 reviews
Expert Reviews of the ANTA KT 5:
The ANTA KT signature line is very consistent, similar to Nike's Kobe signature line. Even with changing aesthetics, the performance of the shoe remains very similar. The KT5's highlights are traction and cushioning, but overall stability and fit are great as well. If you like these I would definitely recommend them as they should work great for any position or style of play.
For the price, the Anta KT5 is a great performing sneaker. It offers quite the bang for your buck with excellent cushion and traction. The materials are also comfortable and help provide solid support.
For $130 you're getting good materials and a comfortable signature shoe with the Anta KT 5 that is a very good overall performer. There are no real weaknesses and I really enjoyed playing in it!
User Reviews of the ANTA KT 5:
User didn't add a summary.
User didn't add a summary.
User didn't add a summary.
Traction of the ANTA KT 5:
The multi-directional fingerprint traction pattern works for any style of play and it doesn't matter which way you plant your foot because the traction is there.
There's no break-in time needed. It grips both clean and dusty courts.
The fingerprint traction is reminiscent of the KT 3 and 4 and has a really good stop on a clean court. They pick up a little dust, but a slight wipe and you should be good to go. Overall really good traction and almost top tier.
Cushion of the ANTA KT 5:
The smooth and stable A-Flash foam cushion has a good balance of court feel and impact protection and should be able to cater to most types of players.
The Anta KT5 has full-length A-Flash foam in the midsole and it feels more plush than the foam used in the KT4. It is both responsive and bouncy.
The cushioning is full-length Flash Foam that has a good amount of heel compression and feels plush, but not crazy bouncy. The forefoot is pretty dead, but there is good court feel because it is low to the ground. Overall a really good cushion setup that is comfortable and responsive.
Materials of the ANTA KT 5:
The knit starts off slightly firm and crispy because there is a lot of glue that adds strength and support. After breaking in, materials retain their strength but feel much more natural.
The upper features a textile mesh. It feels comfortable out of the box, needs no break-in time, and doesn't stretch much over time. On the downside, the shroud is purely aesthetic and adds a bit of weight to the shoe.
The knit upper is pretty soft, thick, and conforms to your foot well. There is a shroud that covers the laces, but it doesn't do much besides hold your laces in place. One thing we didn't like it that this shoe definitely lacks ventilation and is very hot to play in. Overall these materials are really nice considering the $130 price tag.
Support of the ANTA KT 5:
The support on the KT5 was solid with a good outrigger, internal heel counter, flat base, and really good torsional shank. The external heel counter is made of rubber it is more decorative than it is functional.
The outsole rises up the sides of the shoe to help the upper in providing stability to the shoe. When fully laced, my ankle also feels very protected.
The support on the KT 5 is very nice and has good lateral containment from caging in the toe and mid foot. There is an internal TPU counter so we felt no heel slippage and you feel really locked down into the shoe. These also have good ankle protection because of the overall height.
Fit of the ANTA KT 5:
The KT5 feels near perfect on-foot, the lockdown was solid and the traditional lacing works well. The collar height was a bit too tall for me and felt restrictive and cumbersome at times.
It fits similarly to the KT4 with the materials accommodating your feet nicely.
Durability of the ANTA KT 5:
Outdoor of the ANTA KT 5:
The traction pattern is thick and spaced out, so it should do well outdoors and on dusty courts.
The fingerprint pattern has thick rubber, so it should be ok outdoors.
Durability on the thick rubber seems really good and you're definitely gonna be able to play in these outdoors.
Width of the ANTA KT 5:
True to size should work well for wide footers as well because of the extra room in the forefoot area. As always I'd recommend trying on before purchasing if possible.
This shoe is wide-footer friendly.
If you have a wide foot true to size should be good for you.
Size of the ANTA KT 5:
True to size worked perfect for me, but there was a little bit of room in the forefoot area. This didn't bother me though.
It runs a little bit big. I would go half a size down if you have a regular shaped foot.
These run a little long so I'd recommend going down half a size.