Nike Adapt BB 2.0

Review
Colorways of Nike Adapt BB 2.0: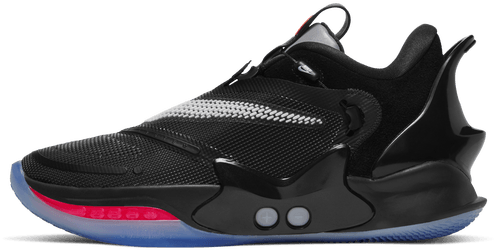 Summary of 3 Expert Reviews:
Pros:
Convenient self-lacing system
Performance of the Nike Adapt BB 2.0:
At $400 the Nike Adapt BB 2.0 is the most expensive basketball shoe currently on the market. Is it also the best? The herringbone pattern and translucent rubber work very well on clean courts, but if there's only a little bit of dust present you will need to wipe consistently. The Cushlon foam and Zoom Turbo in the forefoot give you a bouncy and responsive ride similar to the Kyrie 6. The materials get the job done but they feel cheap, plasticky, and are super heavy. The electric self-lacing system is super convenient to use but it can be hard to find the perfect setting as you are not able to adjust the lacing systems to fit the shape of your feet. Overall, the Adapt BB 2.0 is only recommended for sneakerheads who can spare $400 easily - there are much-better performers out there for a fraction of the price.
See all 3 reviews
Reviews of the Nike Adapt BB 2.0:
Deals from $400.00: