Jordan Why Not Zero.4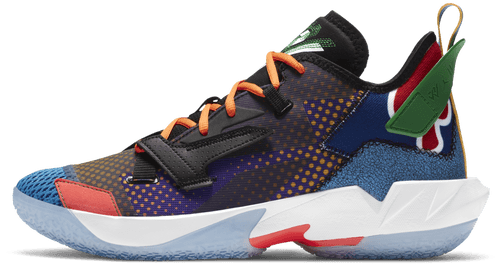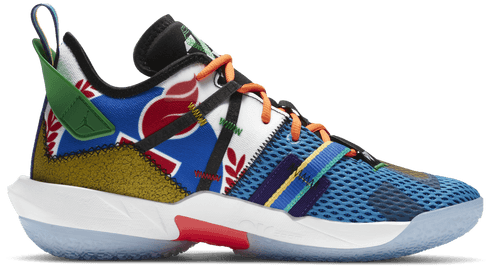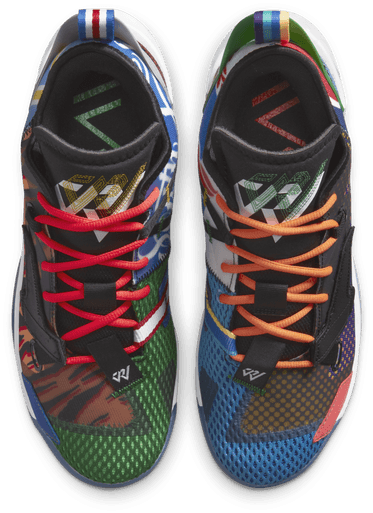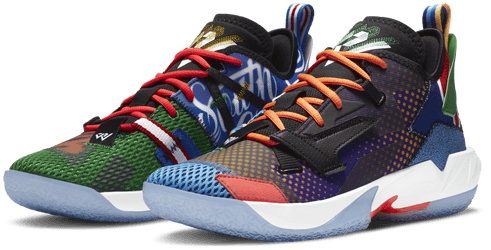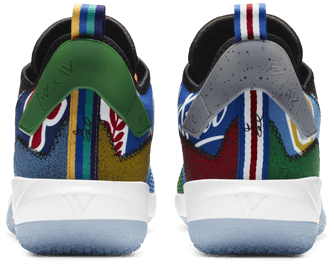 Russell Westbrook's fourth signature shoe is a pretty good all-around performer.
Best Suitable For:
Great for players who like forefoot Zoom and don't make a lot of lateral moves.
Price Comparison:
Available at 3 shops | Official Retail Price: $129.99
Category Performance Ratings:
Comparison to Similar Shoes: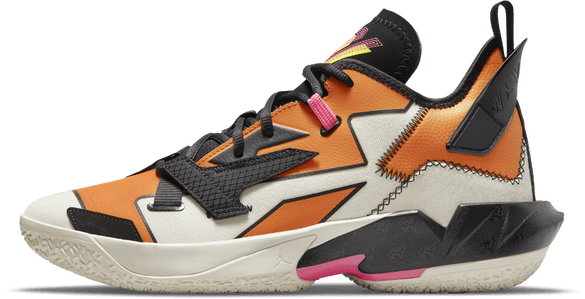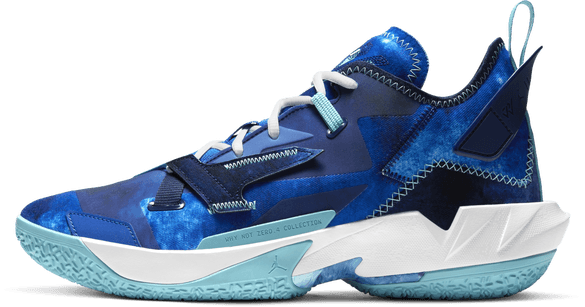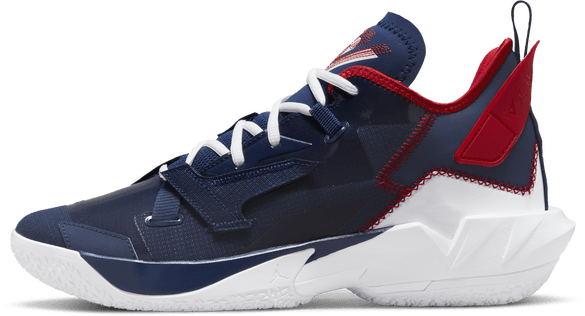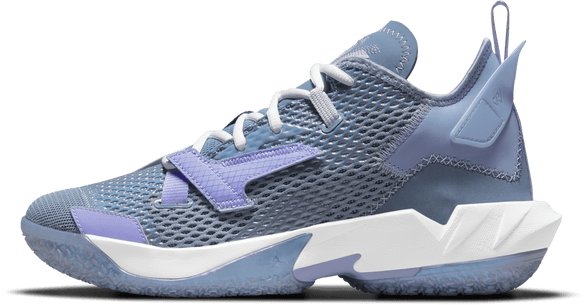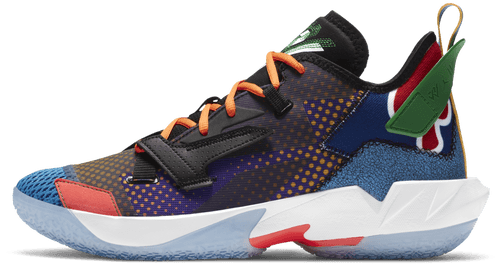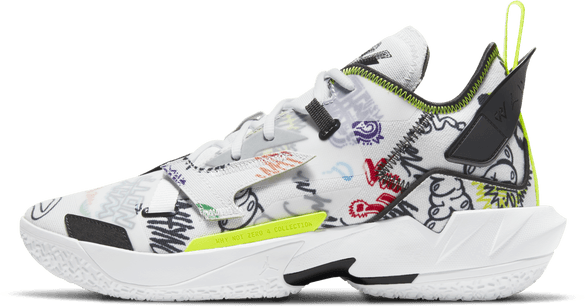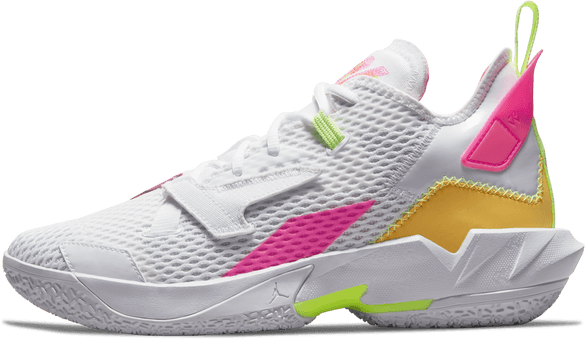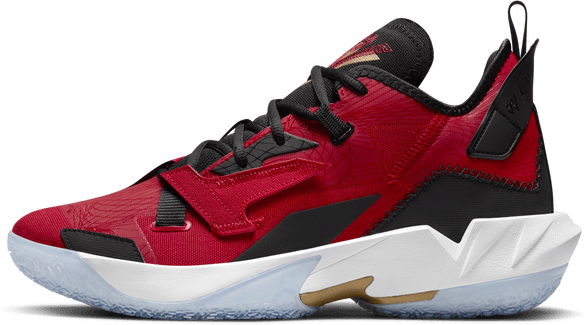 Jordan Why Not Zero.4 Review
Pros:
Bouncy forefoot cushioning
Cons:
Materials could be more premium
Performance of the Jordan Why Not Zero.4:
The traction on Russell Westbrook's 4th signature shoe is decent on linear moves but has trouble on lateral movements. Overall it is pretty inconsistent especially on dust. The cushion features super bouncy double-stacked Zoom units in the forefoot. The court feel isn't great but still good enough. The wild mix of different materials doesn't feel very premium to the touch but they conform to your feet well and get the job done performance-wise. Go true to size and you should get a comfortable fit with minimal dead space in the toe box. The support is great all-around and has you covered for lateral stability and containment. Overall the Why Not Zero.4 is a solid performer, with the only downside being the inconsistent traction.
See all 3 reviews
Expert Reviews of the Jordan Why Not Zero.4:
The Why Not Zero.4 is a solid performer. I especially liked the double-stacked Zoom units!
For $130, I wouldn't recommend the Why Not Zero.4 just because of the inconsistent traction. It was just enough to cause me to not enjoy playing in the shoe. If you are a very linear player who doesn't make a lot of lateral movements you can probably get away with these.
The Jordan Why Not Zero.4 does the job done, and it does it well. The materials and cushion excel, but the lack of a consistent laced-up fit leads to inconsistent support. If you can lace it up properly, the performance shouldn't be an issue.
User Reviews of the Jordan Why Not Zero.4: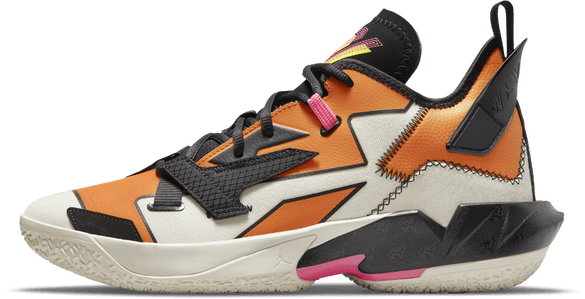 My colorway had plastic outsole and performed amazingly in clean courts and it was average in dusty courts. Forefoot double stacked zoom was really bouncy and responsive. If you are a player who plays on his/her toes, this must be your go-to cushioning setup. Support was really nice and fit is pretty good, too. I don't recommend outdoor usage because traction pattern can rip off easily. Materials changes due to colorway, mine's felt high quality on foot and gets the job done, too.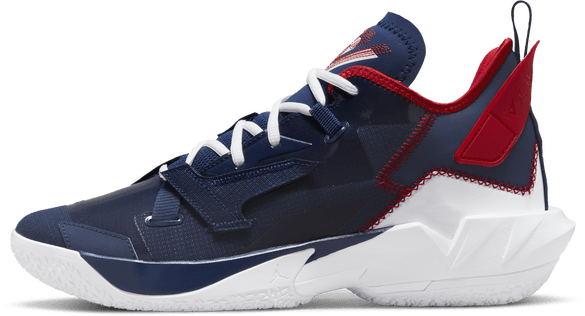 It has good traction on clean surfaces (lateral and linear) and it even got better after breaking it in, unfortunately i have not tested it on dusty surfaces but i think it will be around average in dusty settings. I really had no problems on other things and I also had the XDR/PF version which has more durable rubber. It has no durability problems for me and I also like the double stacked zoom in the forefoot but the heel part was a bit lacking. Overall it was a great shoe for me.
This shoe has a very nice bite on outdoor courts. Unfortunately I didn't get to try these on an indoor court. However after a while I noticed seeing the traction getting very torn and dirty, materials were very bad. Anyways the cushion was very good, it was a comfy shoe just walking in it. I would recommend this shoe. Because even though the materials were bad, it didn't really change the performance.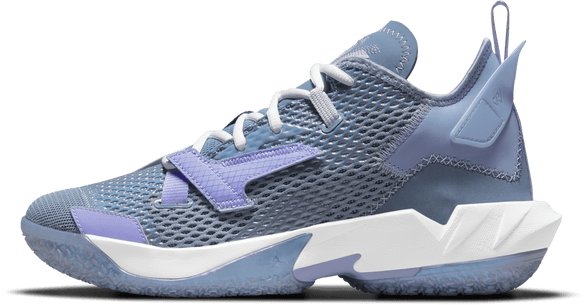 I own 2 pairs. I only play indoors. I was surprised to see the outer sole break and tare all the way across. Very disappointing...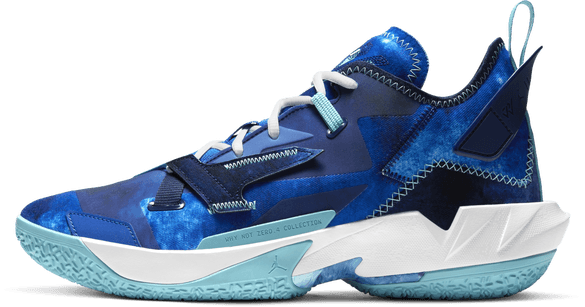 Best basketball shoe in my collection until the outsole blew out while training on a dusty af court.
Traction of the Jordan Why Not Zero.4:
The traction wasn't terrible, but on hard lateral movements I would slide out a little. The stop was good otherwise.
Honestly, the traction is pretty inconsistent. Linear movements are really good, but lateral movements suffer a little bit. Overall the traction just isn't that good.
Using a data-informed tread pattern for traction provides plenty of grip when playing.
Cushion of the Jordan Why Not Zero.4:
The cushion is one of my favorite parts of the shoe. I didn't think the double stacked Zoom would do anything, but this forefoot unit is insanely bouncy. The heel is okay with some decent compression.
The double-stacked Zoom unit in the forefoot feels really really nice. If you like Zoom in the forefoot this definitely has you covered. The court feel isn't amazing, but still good enough.
The double-stacked Zoom in the forefoot feels bouncy. It provided just what you'd want out of your shoe's cushioning.
Materials of the Jordan Why Not Zero.4:
The material quality felt a little cheap in hand but did well performance-wise. The synthetics are thin, soft, and conformed to my foot really well.
There are a bunch of different materials with mixed quality. Overall, the materials aren't the most premium, but in terms of performance these get the job done just fine.
The materials on the shoe are fantastic for looks and performance.
Support of the Jordan Why Not Zero.4:
I had absolutely zero issues with lateral containment. The materials are really supportive, especially along the sidewall. Lateral stability was decent, but the base is not wide and misses an outrigger.
I had no issues with the support in this shoe. Lateral stability and containment was nice and I experienced no side to side movement on the footbed.
The Why Not Zero.4's support is let down by the fit of the shoe.
Fit of the Jordan Why Not Zero.4:
The toe box is nice and snug without a lot of dead space. The materials didn't stretch out a lot so the fit you start with shouldn't change too much. For me, this was a great fit.
The fit is excellent, and the materials wrap around my foot really well. There is minimal dead space in the toe box which was nice.
The shoe ran a little big for me and the laces loosened throughout my time playing.
Durability of the Jordan Why Not Zero.4:
Outdoor of the Jordan Why Not Zero.4:
Durability is really bad.
It performs outdoors, but the rubber is malleable.
Width of the Jordan Why Not Zero.4:
Width is normal to slightly narrow.
I have slightly wide feet and true to size worked for me. Go up half a size if you have really wide feet.
Size of the Jordan Why Not Zero.4:
True to size should do well.
I suggest going true to size.