Nike Kyrie 3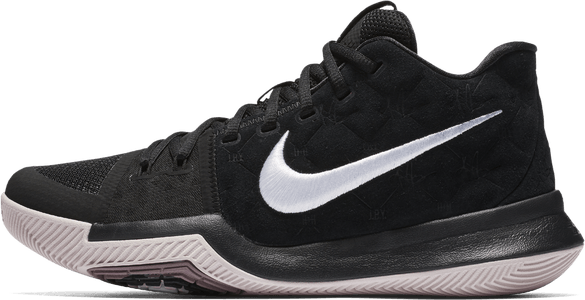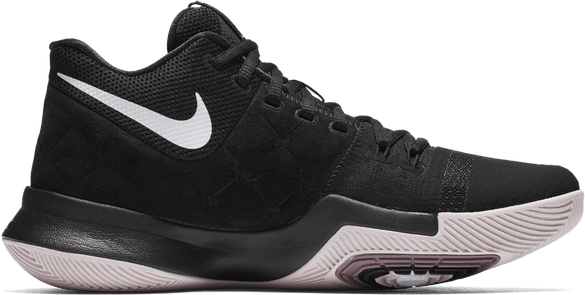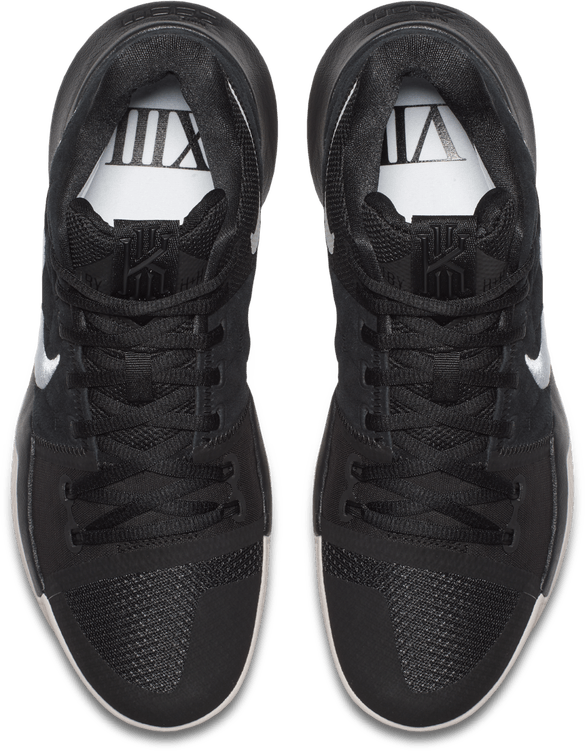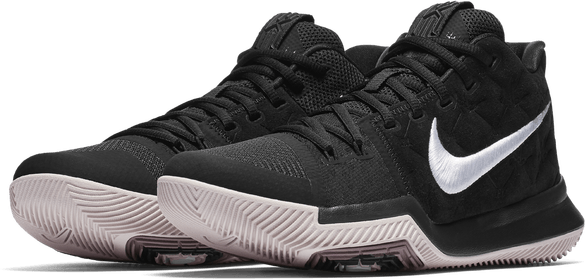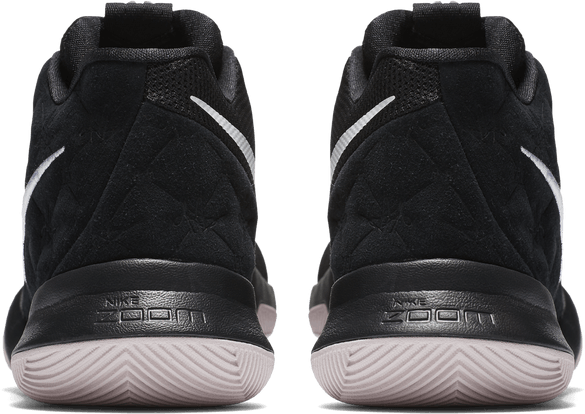 Amazing traction for a very fair price
Best Suitable For:
Good choice for light and quick guards who value court feel over impact protection
Category Performance Ratings:
Comparison to Similar Shoes: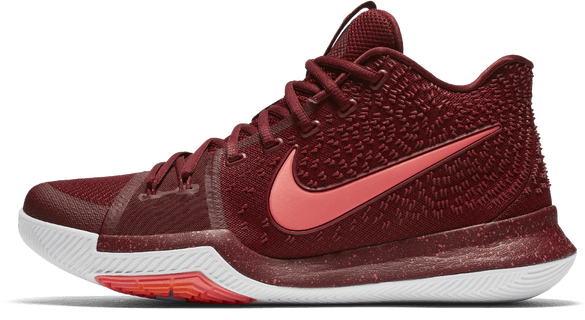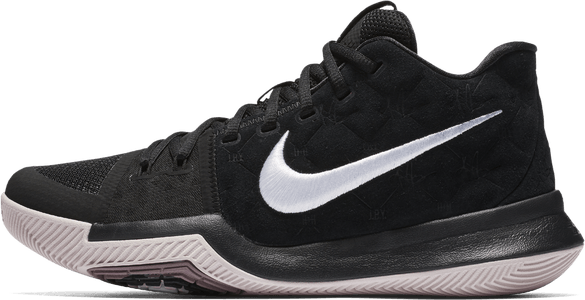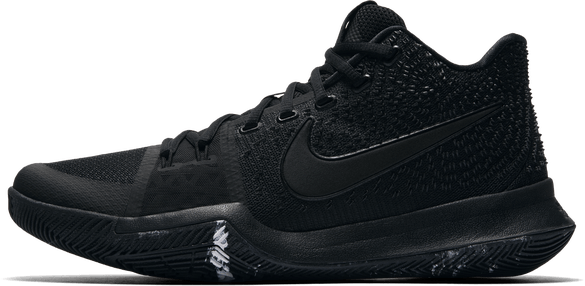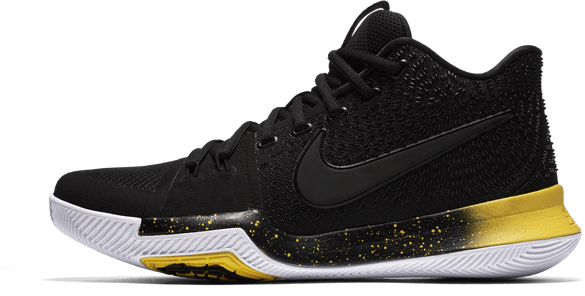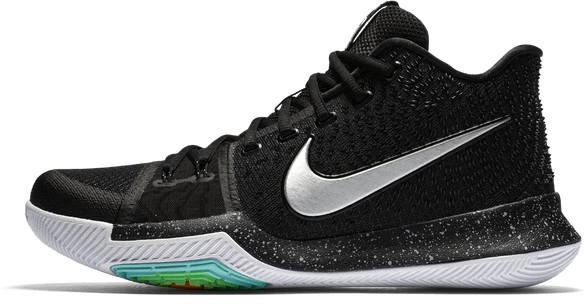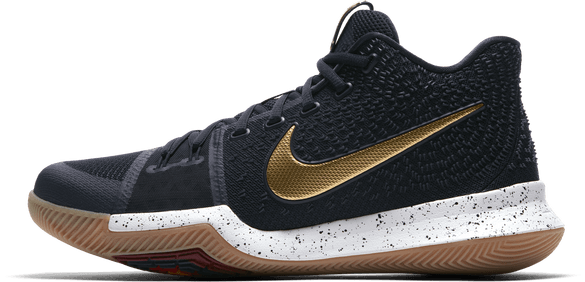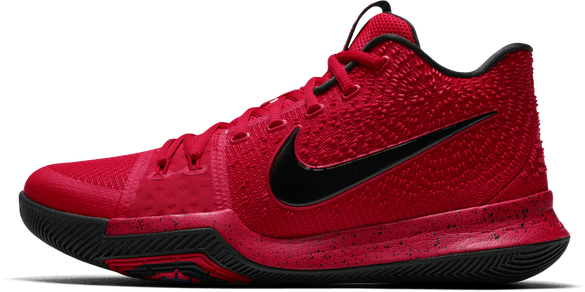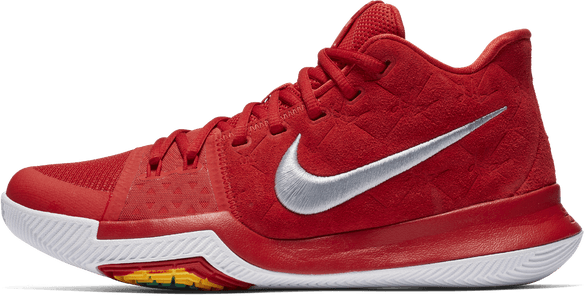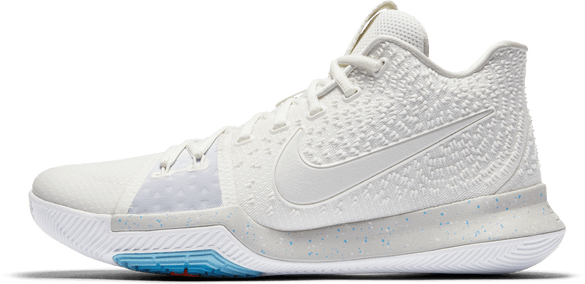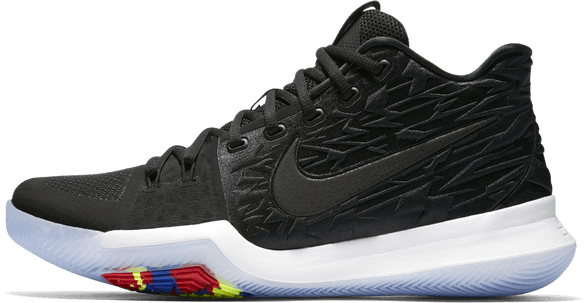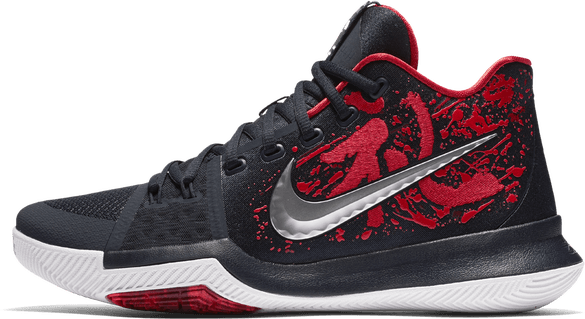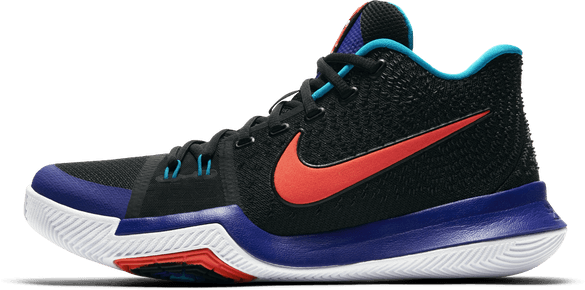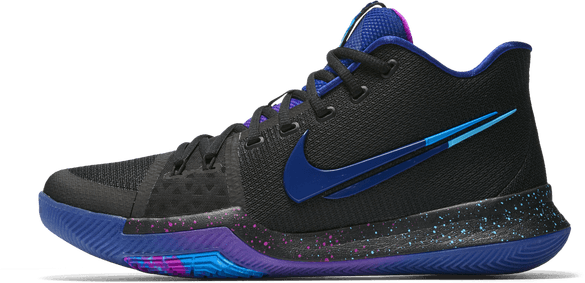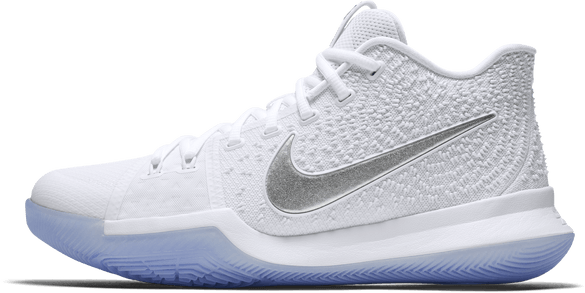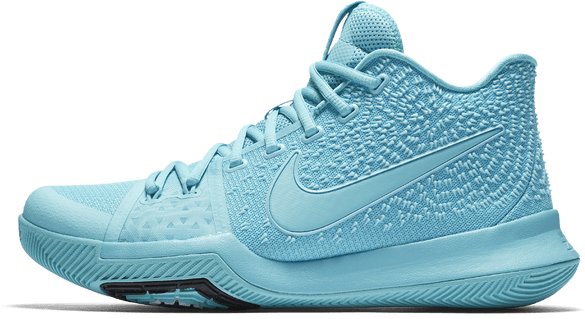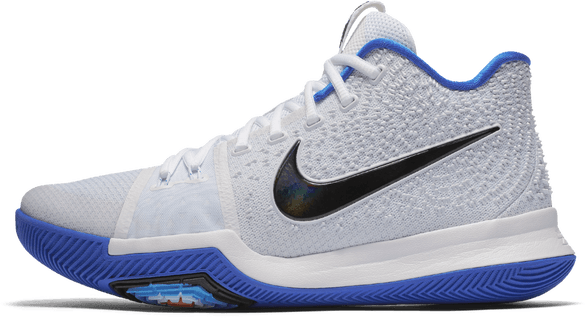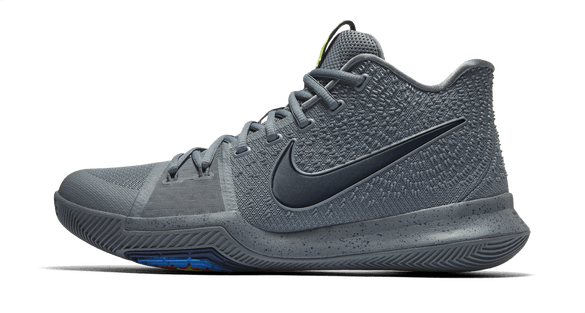 Nike Kyrie 3 Review
Performance of the Nike Kyrie 3:
Kyrie Irving's third signature sneaker is praised by reviewers for its fair price, good looks, and great traction. This shoe will also hold up pretty well outdoors as the upper and outsole are made of very durable materials. The biggest flaw of this shoe is the very firm and almost completely missing cushion. Overall, the Kyrie 3 is a good choice for light and quick guards who value court feel over impact protection.
See all 9 reviews
Expert Reviews of the Nike Kyrie 3:
If you are a quick guard and you don't need a lot of impact protection then the Kyrie 3 is a great choice.
Probably my favorite shoe to hoop in right now!
I really love to play in them, but I can't play a lot because of the lack of cushioning. Incredibly responsive shoe with excellent traction.
Surprisingly enough, I enjoyed playing in the Kyrie 3, If cushion is your main need then you should already know what that means for you and the Kyrie 3. But if court feel and traction are your only concerns then these might be your new best friend.
Decent, affordable shoe, especially if you are a small guard. Personally I didn't really like these shoes but at $120 they are definitely a decent performer.
The Kyrie 3 is a solid shoe, but I can't help but feel a bit disappointed. And this admittedly comes from the high expectations I had after liking the first two shoes so much. But from the design, to the cushioning, to the comfort, it's just not what I'd hoped for.
Overall, I like the Kyrie 3 but I am not crazy about it. Not in my top-3 rotation, but a good sneaker with a fair price. Especially quick guards will like the traction and court feel.
I did thoroughly enjoy the shoe, particularly the materials and the traction. It's such a minimalistic shoe that Nike almost had everything working in unison -- almost. More cushion is definitely a much-needed necessity and a well thought out execution with support would suffice. This is a shoe for players that cut heavily, need minimalistic cushion, and rely on that court-feel.
Not the best value out there but a good performer overall...The Kyrie 3 just feels like a quick high cut tennis shoe for players that value lateral quickness over everything else.
User Reviews of the Nike Kyrie 3:
Don't get everyone's rave on the traction. I had to wipe a lot on a not so dusty court. I've lost my footing so many times moving forward and sliding at a stop. My busted knees are headed out to the store for new shoes. They look great. And the materials are decent. Other than that the break-in is horrendous and no support.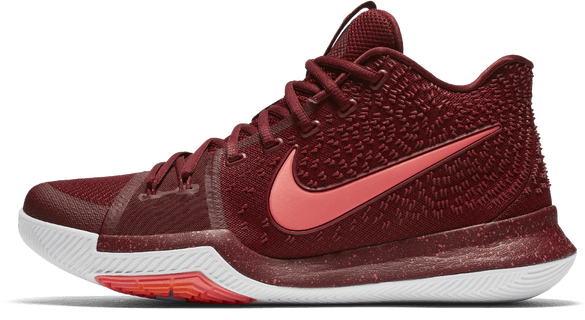 My very first Kyrie shoe! Loved playing with it. It has amazing traction and a great lockdown feel. The only downside I had with the shoe was the cushion, my feet would get fatigued towards the end of my games and the next day would see minor blisters on my foot. It's great for quick pick-up games and works well outside.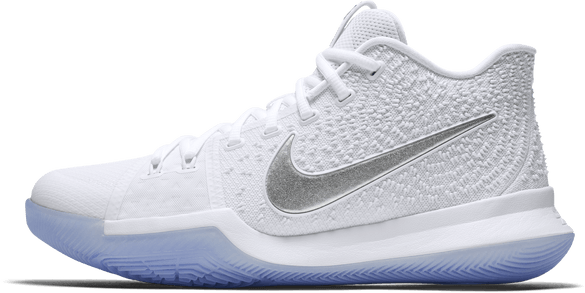 I loved these so much, I had to cop the Bruce Lee pair too! The traction works wonders and stops on a DIME! The cushion is pretty lack luster, but very responsive which is good for guards like me. The materials weren't bad, felt cheep in hand but got the job done on foot. Overall, I loved this shoe a lot!
Traction. If you value traction over cushion, look no further! The Kyrie 3 has beastly traction and though very very stiff, the cushion does provide responsiveness! Plus the materials are rockstar too!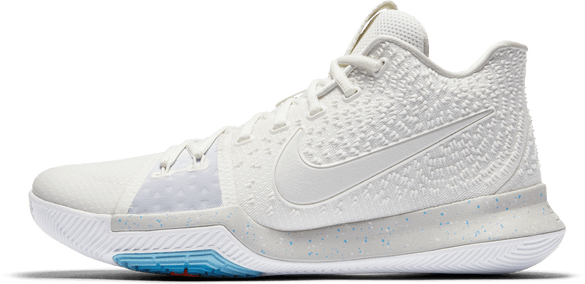 Had these shoes a few years back. All in all they felt ok but nothing too fancy.
Traction of the Nike Kyrie 3:
This traction is beastly!
Traction was by far my favorite part of this shoe. Aggressive Herringbone pattern allowed me to move in any direction
Incredible, even on a dusty court the traction is amazing.
Near perfection is the simplest way to describe the setup [of traction pattern]
Traction did a pretty good job, however I did have a few slips here and there on a dusty court.
The cupped sole of the Kyrie 3 not only has sticky traction ... it has lots of it.
The court feel is absolutely excellent. The traction on these is very, very good, even on outdoor courts.
The shoe utilizes an aggressive herringbone ... allowing a guard like [Kyrie] to aggressively change directions without losing any time
Overall traction is very good overall but I feel the Kyrie 2 provided better consistent traction overall
Cushion of the Nike Kyrie 3:
The Kyrie 3 feels like rocks on your feet.
Apart from the little zoom unit in the heel you get nothing. But this setup didn't bother me
I can't feel the zoom unit, the cushion is rock hard and impact protection sucks.
The Kyrie 3 has no cushion aside from the heel Zoom Air unit.
Very minimal cushioning but very responsive.
I could feel the lack of impact protection in my feet, knees and back after every run.
It's not an overly cushioned shoe but comfort is decent. Impact-protection practically non-existent.
Cushioning is very firm on the Kyrie 3
Materials of the Nike Kyrie 3:
Materials are a huge improvement over the Kyrie 2.
Nice materials to contain your movements.
Kind of cheap-looking mesh. Very supportive, no stretch.
... and I really love the materials
Materials are good but nothing special. Very unbreathable.
The shoe is minimalistic yet effective in the usage of materials and it worked very well.
I think the materials are fine and don't affect playability
Support of the Nike Kyrie 3:
The support is crazy good!
Ankle support isn't the best. Lockdown is very good, there is no slipping.
The support features are basic throughout
Support and lockdown is hugging my feet perfectly.
... my ankles felt safe and secure... the collar was a bit uncomfortable
The lockdown is good, but not great.Foot Support is amazing, ankle support is only okay.
There is an internal shank plate for torsional support, an internal heel counter to keep your foot locked in place
Overall just a solid supportive and stable shoe.
Fit of the Nike Kyrie 3:
No heel slippage, no side-to-side movement.
Great fit for narrow feet , no toe room at all.
I felt locked in the entire time without a single issue
First impression was very comfortable and a lot less narrow then the previous Kyrie models.
If basketball sneakers were judged solely on fit, this would be among the absolute top tier of sneakers I've ever played in
The lockdown felt great from heel to forefoot and there was no deadspace at all.
After a few hours of break in time, you almost forget they are on your feet as the upper softens up.
Durability of the Nike Kyrie 3:
Outdoor of the Nike Kyrie 3:
The rubber is actually really hard so you can play these outdoors.
Yes, they'll last outdoors.
The outsole and the upper is made of durable material which should work well outdoors.
Width of the Nike Kyrie 3:
Runs a little bit narrow.
Wide footers may find them to be a bit on the narrow side so going up 1/2 size may be required for some.
If you have a very wide foot go up half a size.
Runs a little bit narrow through the middle of the foot. If you have super wide feet these will probably not for you.
For those with super-wide feet, consider 1/2 size up but I do recommend trying these on in store first.
very wide footers will probably want to go up half a size
Size of the Nike Kyrie 3:
I bought my true to size 11 and initially thought I should have gone up half a size. However, after playing in them a few weeks, true to size was the way to go.