Puma Clyde Court Disrupt
Released 10/2018, Mid Top,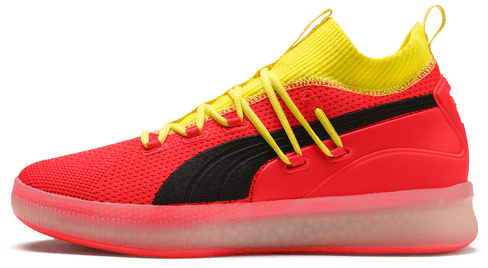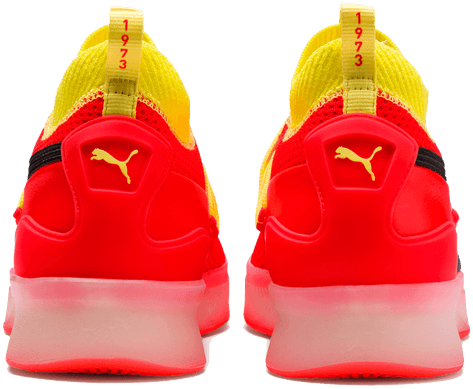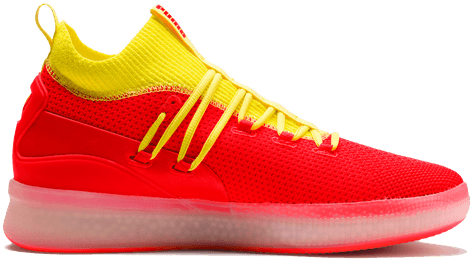 Puma's first basketball sneaker in 20 years is a real eyecatcher
Best Suitable For:
Great shoe if you are tired of Nike, Jordan, and Adidas
Category Performance Ratings:
Comparison to Similar Shoes: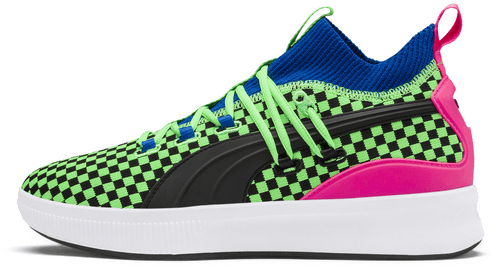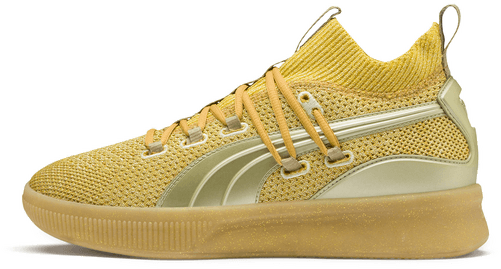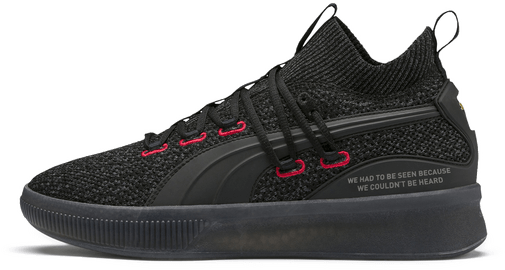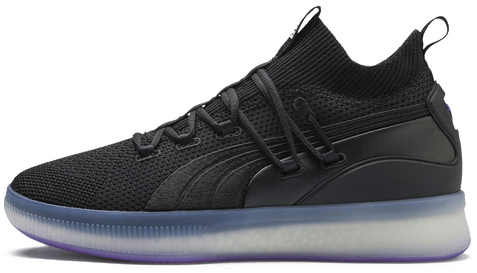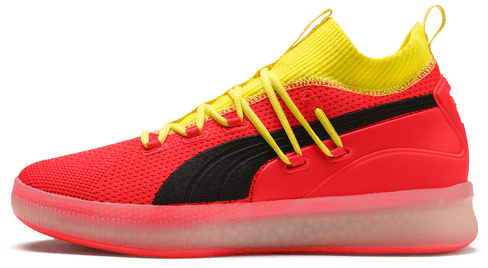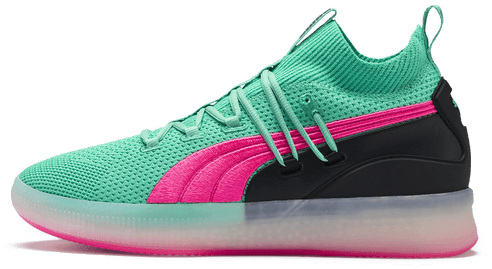 Puma Clyde Court Disrupt Review
Performance of the Puma Clyde Court Disrupt:
The Puma Clyde Court Disrupt is Puma's first basketball sneaker in 20 years and it's a real eye-catcher! The traction is inspired by the original Clyde sneaker and takes a while to break in and could offer more consistency. The foam-based cushioning is very comfortable and provides a nice mix of responsiveness and impact protection. The most outstanding feature of this hoops shoe is the good-looking, comfortable, and very supportive knit upper. Overall, the Puma Clyde Court Disrupt is a very solid shoe that brings a breath of fresh air to the world of performance basketball shoes.
See all 8 reviews
Expert Reviews of the Puma Clyde Court Disrupt:
The Puma Clyde Court Disrupt wound up being one of the more fun models to play in this year (so far). Not in the Top 5 discussion but you receive solid performance and cushion for the price.
The Puma Clyde Court Disrupt is a very vibrant and well-rounded sneaker. I really like them and I am pleasantly surprised by their performance.
Overall the Puma Clyde Court is a really fun shoe to play in. Great job by Puma!
It's really impressive what Puma was able to do in their first basketball sneaker in a long time. The materials and fit are absolutely A1, the support and traction, however, could use a little tweaking.
The performance is middle of the road. They won't stay in my rotation but they might work well as a big-man shoe or as an outdoor shoe.
I am very impressed by the first hoops shoe by Puma after their comeback to basketball. The cushioning and traction could be a little better, but everything else was great!
The Puma Clyde Court Disrupt is a great first impression for Puma's relaunched basketball division.
Welcome back Puma! This is a strong shoe that is only let down by the lacking ankle support and bad traction on dusty courts.
User Reviews of the Puma Clyde Court Disrupt: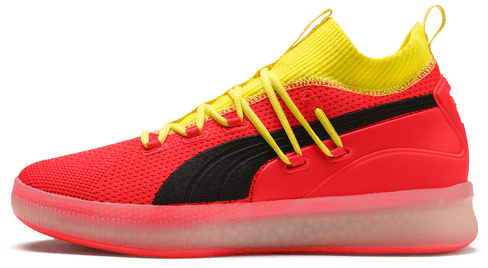 These shoes look and feel amazing. The materials soft and premium, unlike anything else for the price. On foot, the cushion setup did not feel very soft or bouncy but it was very responsive. On clean courts, after some break in time, the traction was good. They did, however, pick up dust rather quickly so I had to wipe them a lot. After about a year of playing in them the outsole was only minimally fraying around the heel and forefoot.
The Puma Clyde Court Disrupt was actually WAY better than I thought it would be by having tolerable traction and cushion, really comfortable and durable material, and good fit overall. In the end, I recommend this shoe for hoopers of any play style.
User didn't add a summary.
Traction of the Puma Clyde Court Disrupt:
The outsole gripped most of the courts I played on really well.
The traction allowed me to move, cut and defend well.
The traction was super solid on clean courts, but on dusty courts, you will need to wipe a bit more than you would want to.
Traction is very inconsistent, be prepared to wipe a lot.
On dusty courts, you will need to wipe a lot, other than that, traction is pretty good.
The traction takes a while to break in but then it's solid.
I found the traction to be a strong point.
The throwback design of the outsole looks nice but didn't get the job done on dusty courts. I had to wipe every time I transitioned from defense to offense.
Cushion of the Puma Clyde Court Disrupt:
A ton of impact protection with good court feel. I would have liked a little more feedback.
Very responsive and bouncy feel, but a lot less court feel than other shoes. The heel-to-toe transition is surprisingly good.
The cushioning reminded me of Adidas Bounce technology with a little less responsiveness and court feel. The impact protection is outstanding.
I was not expecting so much court feel from this cushioning setup. I would have loved a little more bounce-back.
The foam in the cushioning is caged by a super thick rubber which leads to a clunky heel-to-toe transition. Impact protection is decent, but the court feel is not great because you are very high-off-the-ground.
I liked the cushioning a lot! Feels like something in-between Adidas Boost and Adidas Bounce cushioning with a nice mixture of responsiveness and comfort. Unfortunately, it started bottoming out quickly.
The cushioning doesn't feel fast, dynamic, or responsive at game speed. On the bright side - the court feel is top-notch!
The cushioning was very comfortable and plush, I would have liked a little more court feel though.
Materials of the Puma Clyde Court Disrupt:
I enjoyed the good-looking, durable, and supportive knit upper.
The sock-like knit upper is comfortable, durable and flexible.
The stretchy upper materials are very comfortable.
Materials look premium and feel comfortable on-foot.
The materials are soft, flexible and durable.
The knit upper is flexible and supportive and I like the retro hints of leather.
Support of the Puma Clyde Court Disrupt:
The heel counter and lacing system worked well and the tooling is firm, flat, and extremely stable.
The support was surprisingly good considering the knit upper. Lockdown was great too.
Support was solid because of the wide base, heel counter and, the supportive rubber in the midsole.
Puma sacrificed some support in exchange for comfort which will probably not work for some more explosive players.
Support and lockdown are great!
The perfect combination of support and flexibility.
My foot was held securely over the footbed for a confident ride.
This shoe is best worn with an ankle brace.
Fit of the Puma Clyde Court Disrupt:
Lockdown was a pleasant surprise, but I would have preferred the forefoot to be a little more snug.
The shoe snapped to my feet perfectly.
The fit was pretty damn good with no dead space in the toe box.
Easier to slide-on and more customizable than most sock-based upper designs.
The sock-like design is easy to get in and very comfortable for the get-go.
Durability of the Puma Clyde Court Disrupt:
Outdoor of the Puma Clyde Court Disrupt:
Outdoors, the shoe was okay — not great, but not bad at all.
I would not recommend them outdoors. My pair had some fraying around the toe box from only playing indoors.
The rubber is really hard, so the outdoor use should be good.
Width of the Puma Clyde Court Disrupt:
The forefoot was a little roomy.
Wide-footers should be okay going true to size.
The width feels pretty standard.
This shoe caters very well to wide-footers.
Size of the Puma Clyde Court Disrupt:
I'd suggest most hoopers go down 1/2 size.
I went true to size but I should have gone down half a size
I went down half a size which worked out great.
The fit is a little bit long.
I had to go down half a size.
Go down half a size if you have narrow feet, stay true to size with wide or regular feet.