Adidas DON Issue 1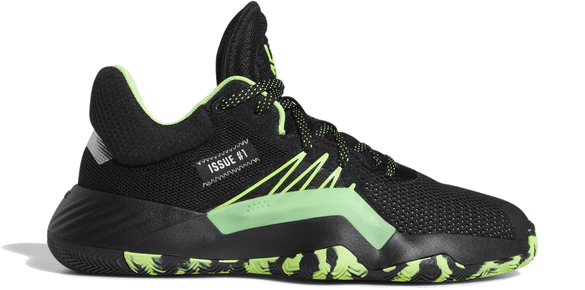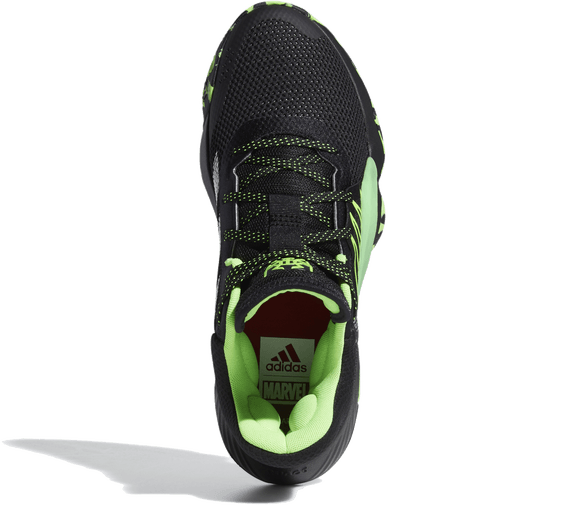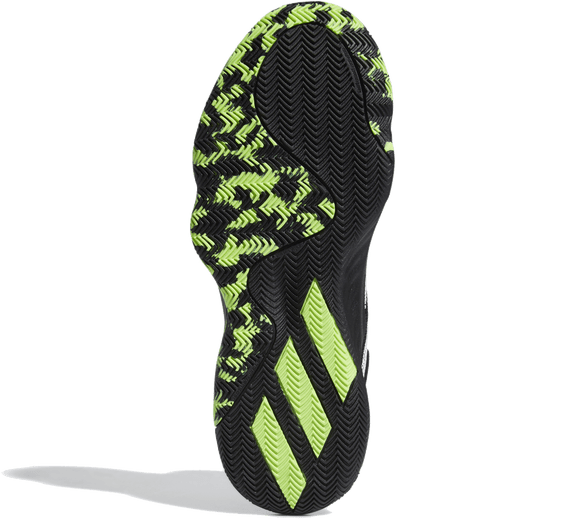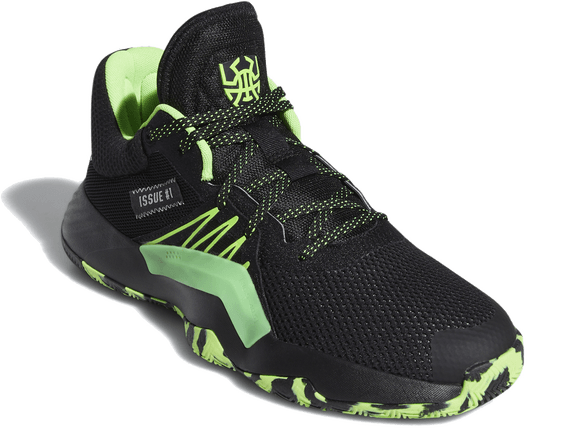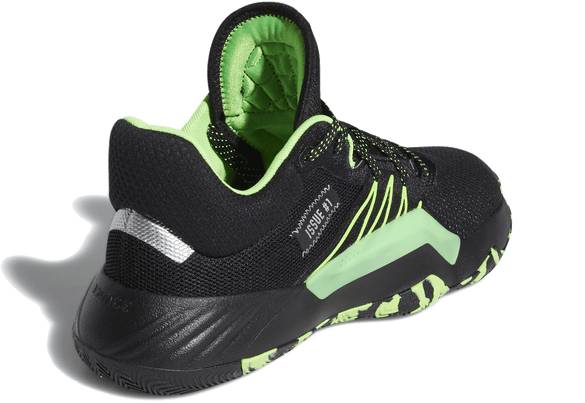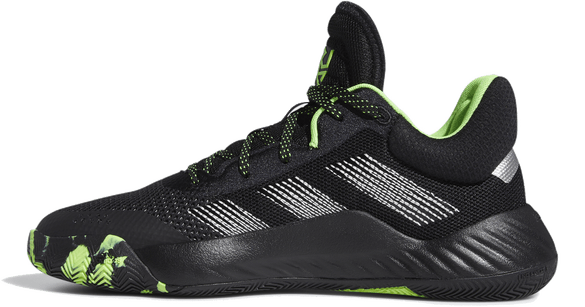 Donovan Mitchell's first signature sneaker is very affordable at only $100 retail price
Best Suitable For:
Recommended for explosive guards looking for a supportive and responsive low-top
Price Comparison:
Available at 3 shops | Official Retail Price: $99.99
Category Performance Ratings:
Comparison to Similar Shoes: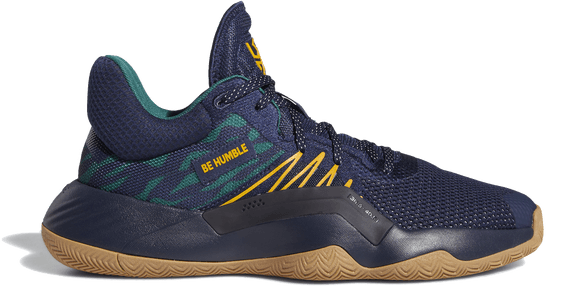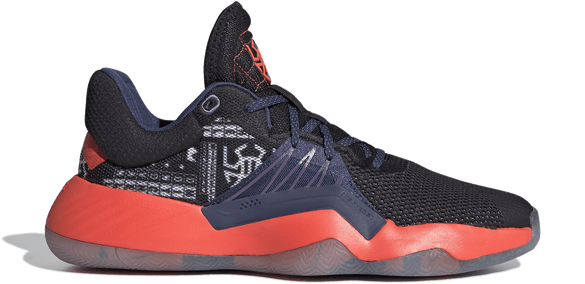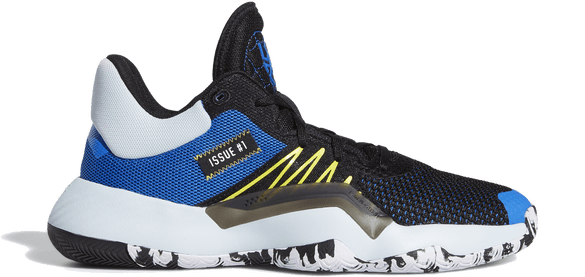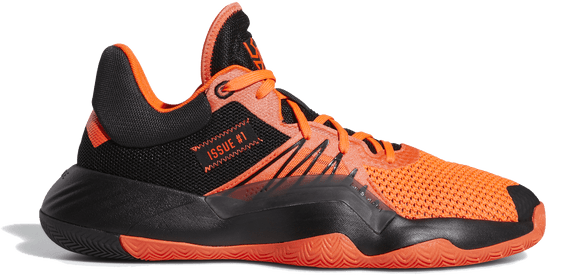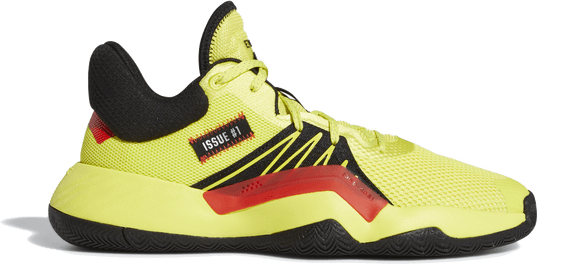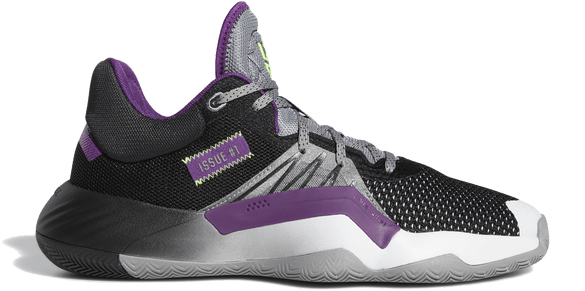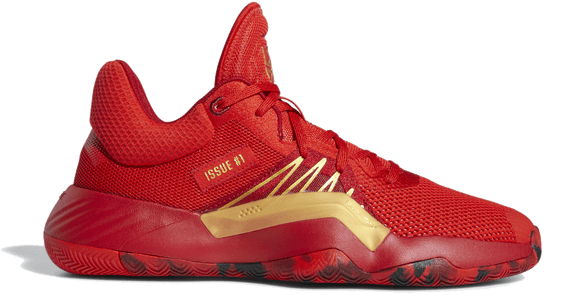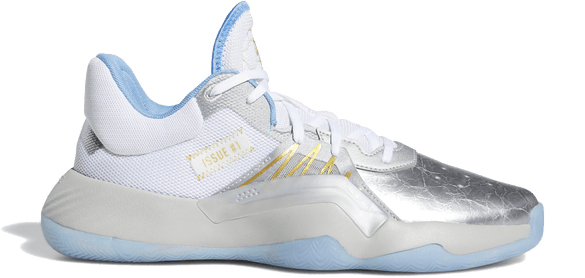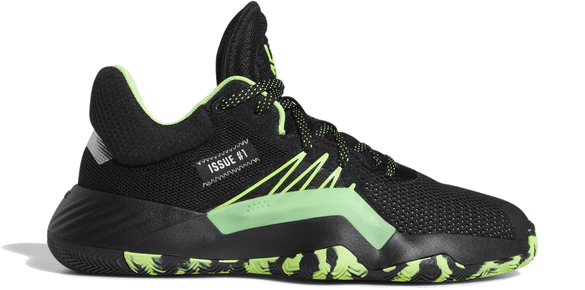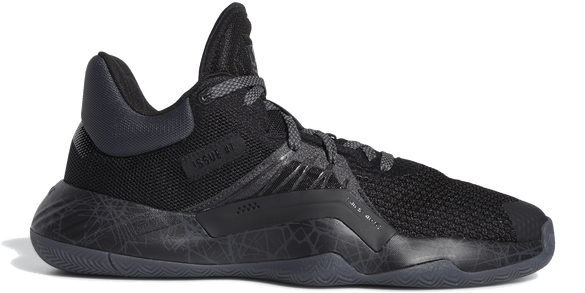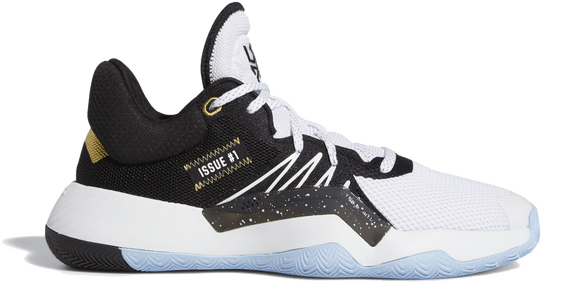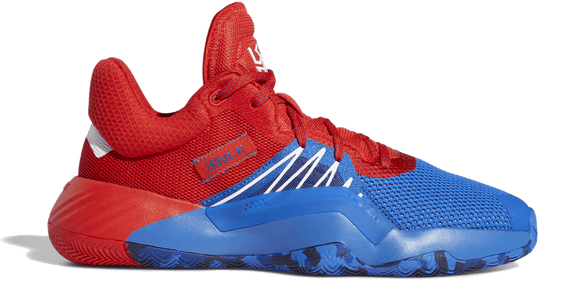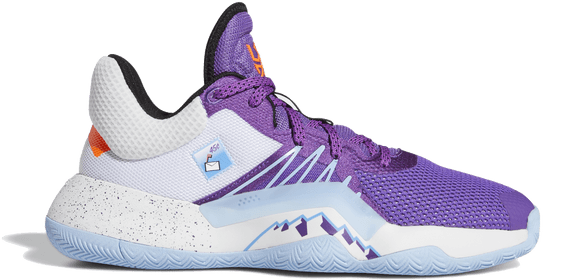 Adidas DON Issue 1 Review
Cons:
Heavy and bulky for a low-top
Performance of the Adidas DON Issue 1:
Donovan Mitchell's first signature sneaker is a divisive shoe among shoe critics. Some really like the traction, but others complain that they are slipping a lot - even on clean courts. The Bounce cushioning is responsive and offers a lot of court feel, but impact protection is only decent. Materials feel pretty premium in-hand and on-foot, especially considering the very affordable retail price of only $100. The shoe also provides a lot of support and stability, but this comes at the expense of added bulk and weight.
See all 7 reviews
Expert Reviews of the Adidas DON Issue 1:
I am pretty satisfied with the performance of the DON issue #1. My favorite aspects are the traction, the super-responsive cushioning and the awesome price point of $100.
I actually loved the D.O.N. Issue 1 with the exception of the traction.
At $99, this shoe provides a ton of performance! I'd say this is the best under $100 sneaker currently on the market. The DON issue 1 is a very versatile shoe and should work for all players!
I didn't like the DON Issue 1 too much. It's heavy and chunky and the traction is too inconsistent.
The Adidas DON Issue #1 is a great shoe for anyone who is looking for a quick, responsive and supportive performer. It has plenty of court feel and the traction was consistent. My only gripe is that they could've made the cushion a bit bouncier.
I will keep this shoe because of the good-looking Spiderman collaboration but I think there are better performers, even at $100.
The DON Issue 1 is a very comfortable and supportive shoe that works perfectly for explosive basketball players.
User Reviews of the Adidas DON Issue 1: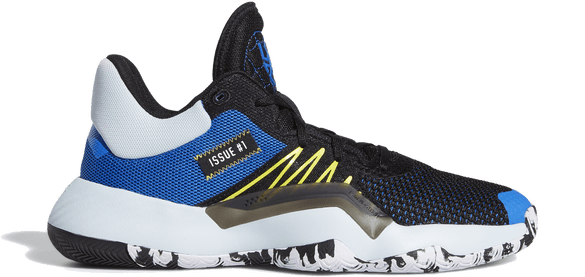 My main -but most important- issue for this shoe is the traction. On a clean court, it's pretty ok, if you wipe every 3-4 mins you'll be fine. On dusty courts though…I can't even run. It's too inconsistent and I wouldn't recommend it to anyone who plays regularly on not-so-good floors. But, for outdoor use it's great! Cushion is comfy, fit is slightly wide and support is pretty good too! I just feel like it's just a little too heavy for a guard. That's my take on Spida's first signature sneaker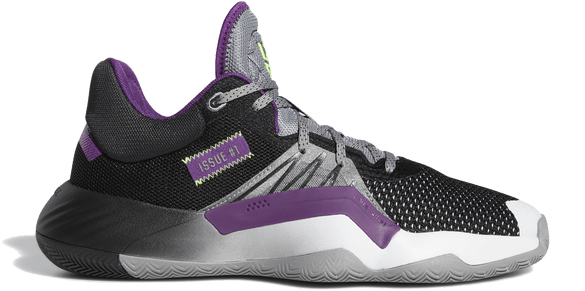 The first pair of Adidas that I had, I can't say much about it since I wore it two sizes larger than I used to because it was my first pair of Adidas, the cushioning and traction didn't give me problems but due to the poor fit that I did sprain my ankle once or twice, the durability for outdoors is good although the upper materials were damaged in several areas. Despite the low shaft, I recommend it for any position and type of court, at the time you could get it for 37 euros, which was crazy co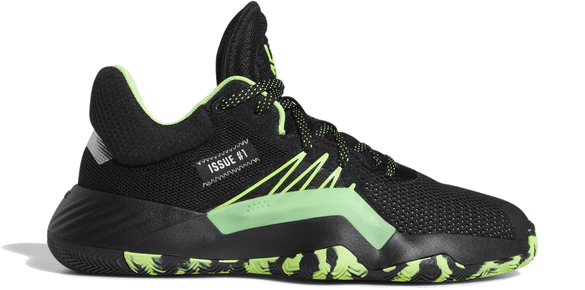 My experience with this shoe has been amazing. It is durable, the traction is still there after years of usage on outdoors and indoors courts. The cushion isn't otherworldly but they get the job done really well, they provide great court feel and some impact protection. The fit is really great. I also really like the way it looks and this colorway glows in the dark, so pretty dope.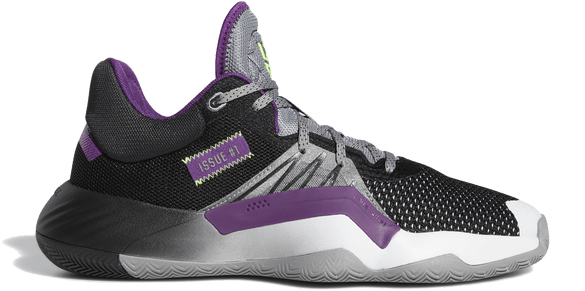 I wouldn't recommend this shoe, mainly because the traction was really bad, even on clean courts. Everything else about this shoe is alright.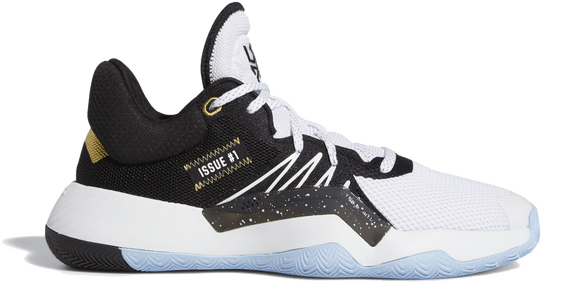 Traction is overall the only issue, but even after two years and lots of use, the traction does not seem improved.
Traction of the Adidas DON Issue 1:
The traction is superb and grips the floor really, really well. It's also really squeaky!
Even though everybody else seems to love the traction, I just had too much slipping.
The web-herringbone pattern and the soft rubber should provide great traction, but the traction pattern is rather shallow and dense which led to some slipping and sliding on dustier courts. If you play on dusty courts, you will have to wipe a lot.
The traction is fine but a little inconsistent - even on clean courts.
Traction gripped well in moist and dusty conditions. The grip is there, but isn't too drastic.
The traction of the DON Issue #1 was really inconsistent. Often times, I was sliding a little when trying to stop - herringbone shouldn't do that!
The traction did its thing, but the herringbone pattern will require some wiping on dustier courts.
Cushion of the Adidas DON Issue 1:
Super bouncy, responsive and you still get court feel.
I found the D.O.N. Issue 1 to be one of the most comfortable iterations of Bounce I've experienced.
The full-length Bounce insole is hands-down my favorite feature of this sneaker. In my opinion, this is the most versatile cushioning on the market: it's responsive, comfortable and provides court feel and impact protection.
Court feel is great, impact protection is good, but you don't get a lot of bounce.
Court feel and responsiveness are awesome with the full-length Bounce cushion. It had decent impact protection, but could've felt bouncier.
A lot of court feel and responsiveness but only decent impact protection. Works best for guards looking for a responsive shoe.
The thick cushioning is really plush and bouncy, but also a little bulky.
Materials of the Adidas DON Issue 1:
The materials aren't bad, but the breathability is problematic.
I found the textile and mesh build to be perfectly fine.
The materials are fine but not spectacular.
The mesh upper materials feel really premium.
It's made up of a mesh upper that looks and feels durable. I didn't feel a lot of stretching in the upper. Performed nicely.
Materials feel really good in-hand and on-foot, especially for this price.
Breathable, flexible and lightweight Mesh.
Support of the Adidas DON Issue 1:
Very wide base provides a lot of stability and the heavily padded Achilles pillows keep your feet locked down.
Support, like in many of Adidas' current basketball line, is very good.
The base is absolutely massive and provides a lot of stability. The thick padding on the inner lining really locks your feet into place and prevents heel slippage and lateral sliding.
Lateral containment is great but the heel slippage is pretty bad in the beginning.
The ample pillows around the heel area coupled with a solid lacing setup provide excellent support around the back of your foot. There is also a wide base and decent outrigger that provides solid stability.
The support was perfectly fine. No side-to-side movement, forefoot containment was good, but I had a little bit of heel slippage during the break-in period.
The insane double outrigger, internal TPU heel counter, the lacing system, and ankle padding deliver a lot of support and stability.
Fit of the Adidas DON Issue 1:
I didn't have any issues with the fit, but it wasn't extraordinarily comfortable.
The fit/lockdown is amazing.
For me, the fit was great and easy to put on.
The lockdown was better than expected.
The materials hugged my feet nicely.
The padding around the ankle is very comfortable and helps with support & lockdown.
Durability of the Adidas DON Issue 1:
Outdoor of the Adidas DON Issue 1:
I will say that I enjoyed the shoe a lot outdoors. No slipping or anything!
Width of the Adidas DON Issue 1:
The width was perfect in my Adidas size.
Really snug in the toe area.
It is fairly wide shoe, so you may be able to go true to size if your feet are wide. I would still suggest trying them on first.
A little bit narrow in the forefoot.
Size of the Adidas DON Issue 1:
The fit is pretty long even if you go down half a size like I am used to from Adidas shoes.
Go true to your Adidas size.
I would suggest going down half a size if you have a regular shaped foot.
I would recommend going down half a size.