Air Jordan 32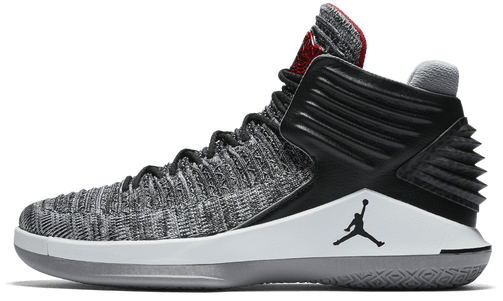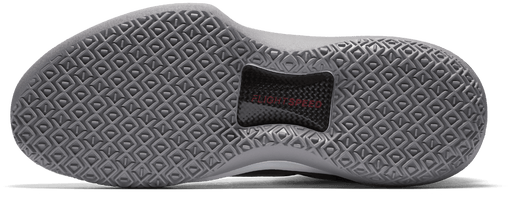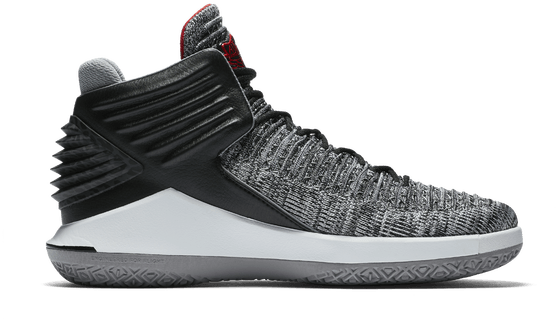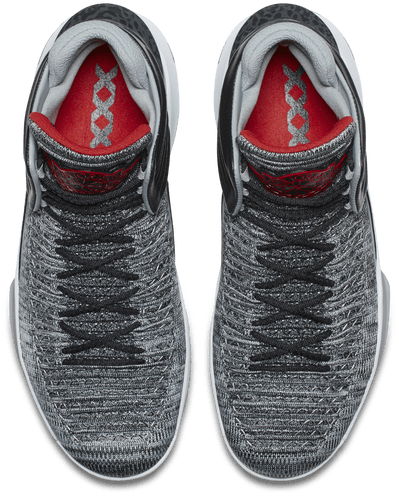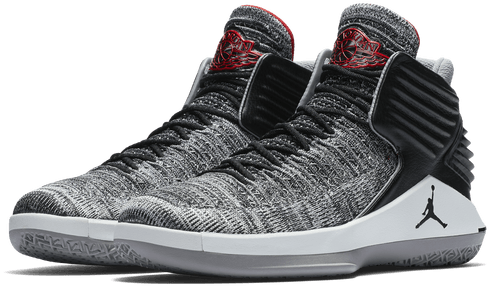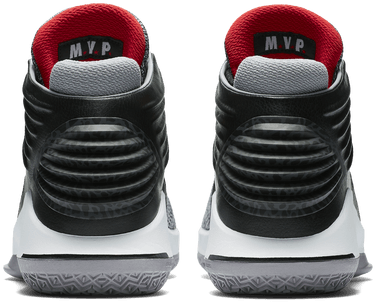 Zoom Air cushioning and premium upper materials
Best Suitable For:
All-around performer that will work for all types of basketball players
Category Performance Ratings:
Comparison to Similar Shoes: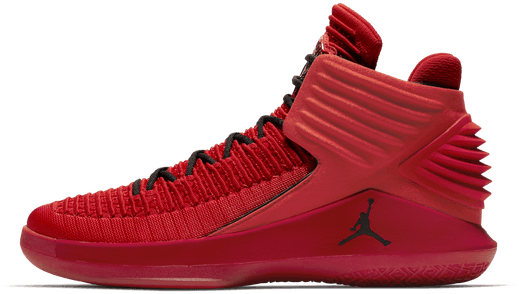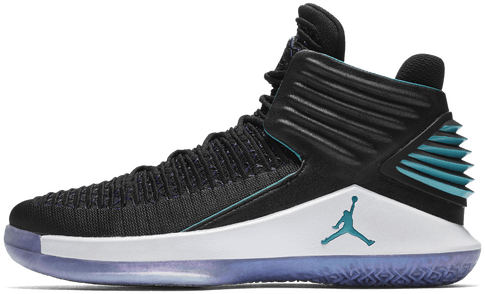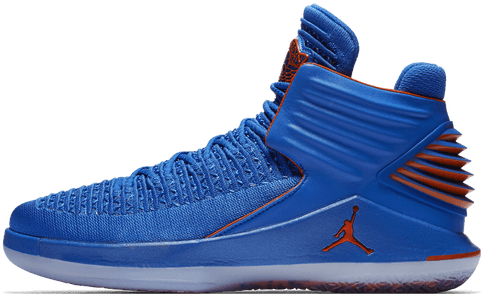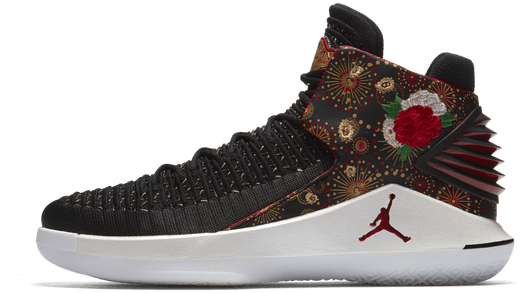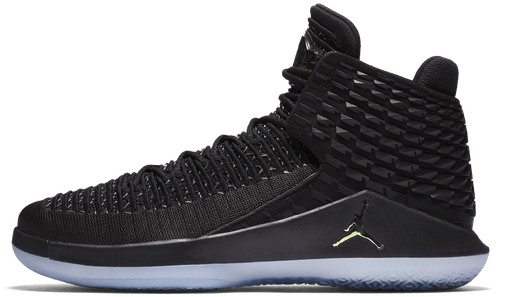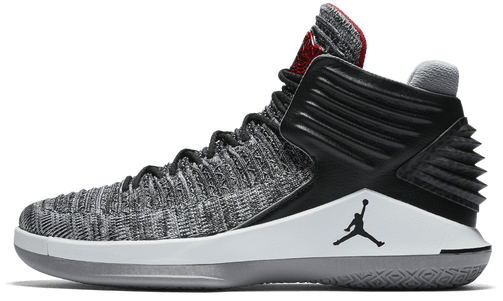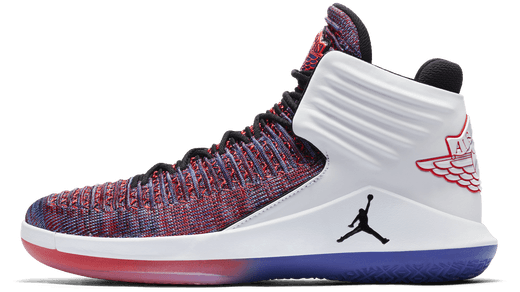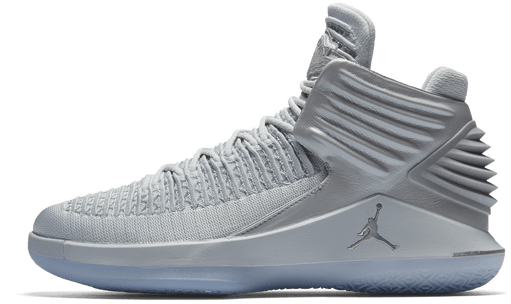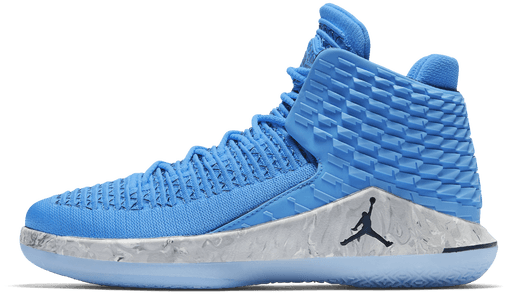 Air Jordan 32 Review
Pros:
Very good all-around performance
Performance of the Air Jordan 32:
All critics agree that the Air Jordan 32 is a huge improvement over the disappointing Air Jordan 31. Reviewers (with one exception) praise the traction and love the premium materials. Segmented Zoom Air cushioning provides a low to the ground feel while still providing good bounce and impact protection. The new bootie-style upper fits very snug but tends to be a bit difficult to put on at first. Overall, Jordan Brand delivered a very good all-around performer that will work for all types of basketball players.
See all 12 reviews
Expert Reviews of the Air Jordan 32:
The Air Jordan 32 is a huge step in the right direction. Everything feels refined. If Jordan Brand can keep the stability but increase the flexibility then it will have perfected the Flight Speed setup. I think people are going to like this one.
This is hands down the best on-court Air Jordan Model to date, as it should be. Every feature fits the mold to near perfection. Jordan Brand took a huge step in the right direction across all performance aspects.
The Air Jordan XXXII is a banger for real. This shoe has everything you need: good traction, good cushion, excellent materials, and amazing support.
The AJ XXXII is a great shoe that should satisfy everyone except the minimalist hoop crowd that love shoes like the Kobe 8, Mamba Mentality, Instinct etc
Across the spectrum, this shoe performs very well and should work for all types of players. Pretty pricey, but worth every penny!
The Air Jordan 32 is a great performer and I was a little sad when I had to put these aside to test other performance shoes. The only two downsides are the long break-in period and the hefty price tag.
Despite sky-high expectations, the Air Jordan 32 mostly delivers. I liked the more minimal collar and feel of the 31s cushioning better, but thought the 32 offered far superior traction and a smoother transition.
I think this is a great shoe for in-between players who are looking for a good mix of comfortable cushioning and responsiveness.
I think Jordan brand did a great job with the XXXII. This has taken over the Nike PG1 as my go-to basketball shoes. Traction, cushioning and lockdown are all great - what else do you need in a performance sneaker?
Overall, I would describe the Air Jordan 32 as a responsive shoe with ultimate support. Great for big guys, but unfortunately, the traction was pretty disappointing.
Pros: Great Traction, Cushioning provides a good balance between impact protection and responsiveness. Cons: The shoe feels really bulky and heavy in the back, and I would have liked a little more flexibility.
Nice shoes with premium materials and nice cushioning. I was a bit disappointed by the traction and the lateral containment. At a steep $185 I wouldn't recommend these.
User Reviews of the Air Jordan 32:
User didn't add a summary.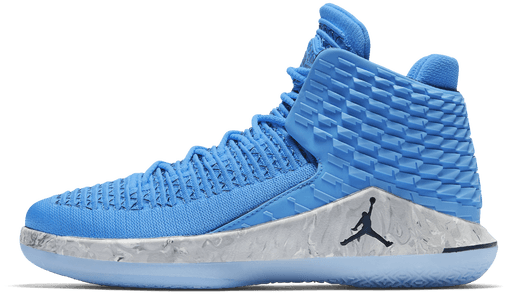 User didn't add a summary.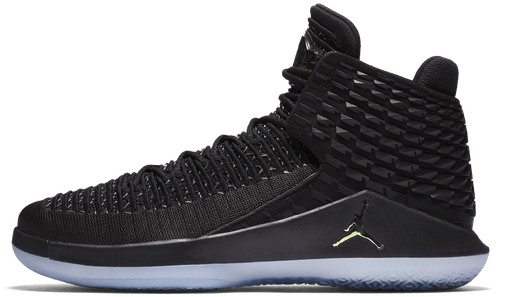 User didn't add a summary.
Traction of the Air Jordan 32:
Not only did they grip the court, but it gripped really well.
No matter hard the cuts I made, the Air Jordan 32 traction pattern played to all my needs.
Traction on the Air Jordan XXXII was straight up beast mode compared to the 31.
Great traction especially on clean floors but not in the top tier across the spectrum of conditions.
The traction has an amazing bite and squeaks like nothing else.
The overall experience was pretty consistent but not perfect. You will need to wipe often on dusty courts.
The 32's grip is as good as any I can remember an Air Jordan having.
The traction can be hit or miss.
The traction is really good. Inside or outside, we didn't have any problems.
The traction didn't feel great and took a lot of wiping. If you are a defender who likes to slip and slide - this is the shoe for you!
The traction is probably the best aspect of the shoe. Even on dusty courts, you will need to wipe only very little.
Not as bad as the Jordan 31, but not as good as the D Rose 8 or Kyrie 3 either.
Cushion of the Air Jordan 32:
Heel and forefoot segmented Zoom Air returns and for me, this setup feels more balanced than unlocked setups in the past.
The cushion setup provides enough stability and impact protection to give you springy bounce-back.
The Air Jordan XXXII's cushion is still money and the impact protection is excellent.
This set up doesn't blow my mind but it feels like Zoom should and is a great blend of impact protection, responsiveness, and stability.
Phylon carrier with unlocked Zoom in the front and regular Zoom in the heel. I wish more shoes would use this type of setup.
Very long break-in period, but after that, you get amazing energy return and high-level responsiveness. Probably the most versatile cushioning setup out there today.
The cushioning offers more than ample impact protection, but it just didn't feel as dynamic as those models with the carved-out bags.
Great balance between court feel and impact protection.
Low to the ground feeling, bouncy but still responsive with good impact protection. I absolutely love it.
The cushioning is clearly my favorite part of this shoe.
The cushioning is well-balanced. The midsole is a bit firm at first, but after a while the transition is fine.
The cushion is very firm and responsive. Heel to toe transition is a bit clunky in the beginning. Subtle bounce and low to the ground feeling.
Materials of the Air Jordan 32:
Expert Materials Rating: 
9.4
(ranks #2 of 252)
I absolutely love the materials on the Air Jordan 32.
This is the Fyknit we've all been asking for.
I could not have asked for better materials.
Nice Flyknit JB. If you're big into materials, you'll enjoy these.
The pure Flyknit upper feels amazing and offers a lot of containment.
The best version of Flyknit ever used on performance basketball shoes.
Comfy and moldable upper.
I like the upper a lot. Gives you stability but it's not bulky in any way.
The Flyknit upper feels really nice and comfortable. Unfortunately, it's also pretty heavy and not very breathable.
Probably the best Flyknit that was ever put on a basketball shoe. The inside of the shoe is very soft and comfortable. Unfortunately, the heel area is very bulky and restrictive.
This s**t is crazy. The very premium materials feel great and look amazing.
Support of the Air Jordan 32:
Support shouldn't be an issue. A solid outrigger, as well as an internal and external heel counter, worked well.
The support gives you exactly what is needed and removes everything else.
Stability is excellent on the XXXII thanks to forefoot outrigger and a fairly flat outsole around the heel.
No heel slippage, no side-to-side movement, and my ankle felt really secure.
No thrills, no gimmicks - the support does a great job without doing anything special.
The molded collar, along with the ribbed external heel counter, give rock-solid stability. Combined with the forefoot outrigger, the shoe feels safe and secure.
Lockdown is excellent, lacing setup is a little bit tricky. Firm cushioning also helps with feeling very stable and secure.
The support is fantastic, maybe even too much for smaller and quicker players. Great for big guys!
Ankle support is very good but feels a little restrictive and bulky.
The Flyknit upper stretches a little too much for me. Ankle support is decent and lockdown is good.
Fit of the Air Jordan 32:
The shoe just felt like it was made for my foot, something I really enjoy.
The materials are comfortable and nicely conform to my foot.
My foot did not move in this shoe no matter what I did.
No heel slip or movement side to side, just a tighter and more refined fit than the XXXI. Great job JB!
After the material breaks in the one-bootie upper gives you a great 1:1 fit.
After breaking them in, you start to feel every thread of Flyknit wrap around your foot. Great lockdown, but the midfoot was a little tight and I had a little dead space in the toebox.
The bootie style upper makes this shoe a bit hard to get on but does fit securely from the start.
The shoe fits very snug and I felt a little bit of pressure in the heel. After time went on the felt better.
Nice and plush feeling around your feet.
After breaking them in they are very comfortable. Materials fit really nicely to your feet, no unnecessary dead space at all.
Durability of the Air Jordan 32:
Outdoor of the Air Jordan 32:
I do not recommend hooping outside in these — ya boy's outsole is starting to fray.
Outdoor traction was good.
A solid rubber version should do the trick outdoors.
The rubber is super hard and thick, so outdoor use should be good.
Width of the Air Jordan 32:
Wide footers, you guys will be okay going true to size as well.
The shoe feels slightly narrow.
They fit really snug and there is no dead space at all.
Size of the Air Jordan 32:
True to size was the way to go.
They are a tad long but I only had a little more than a finger width at the toe box which is my preference.
Very snug, but I wouldn't recommend sizing up.
A little snug in the beginning, but true to size is the way to go.
Maybe you want to go down half a size.