Nike Kobe AD Mid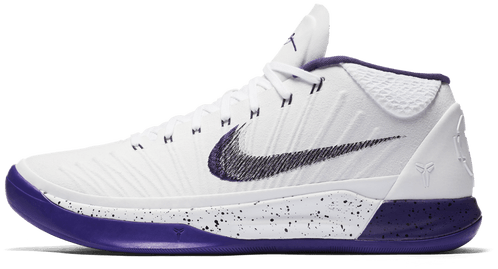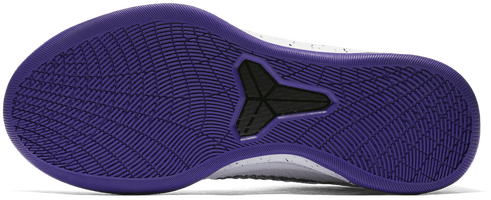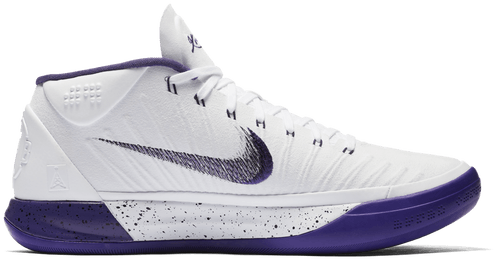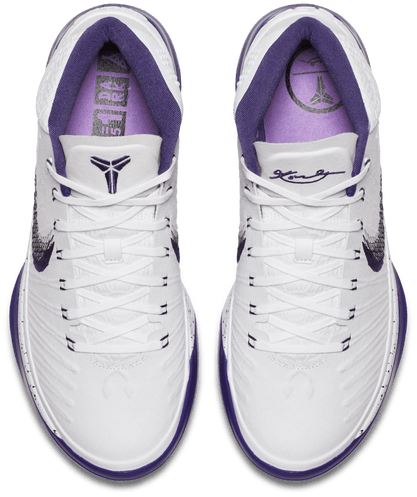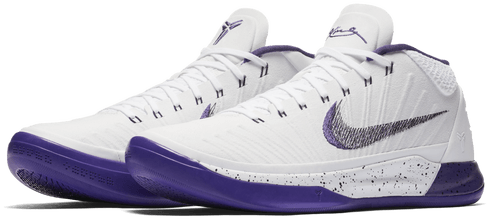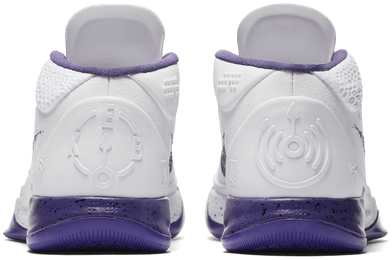 Amazing traction and great cushioning
Best Suitable For:
Poor ventilation is problematic if your feet sweat a lot
Category Performance Ratings:
Comparison to Similar Shoes: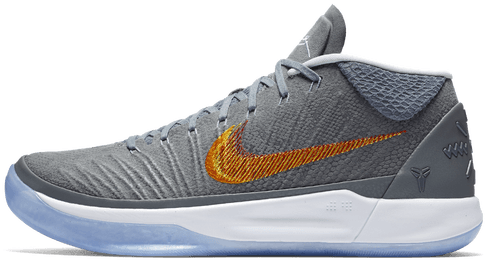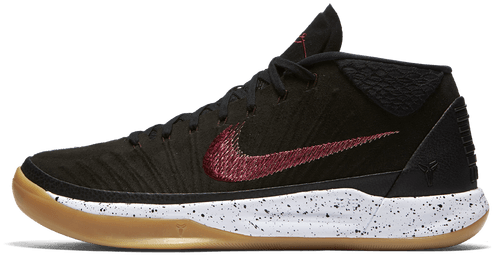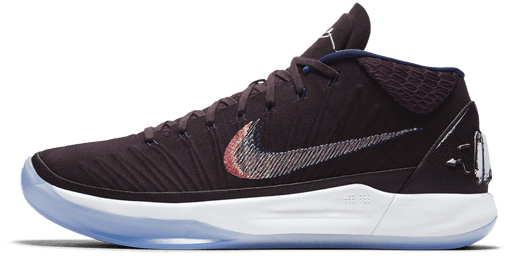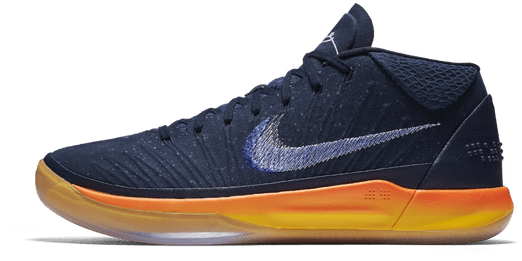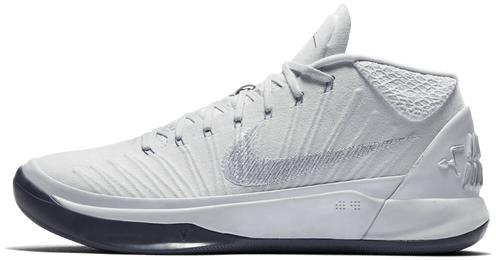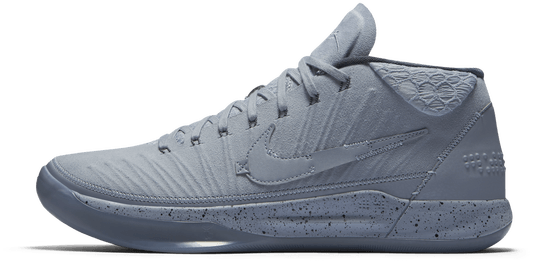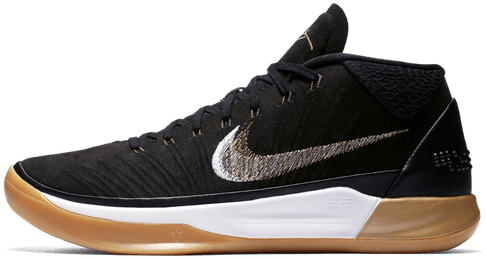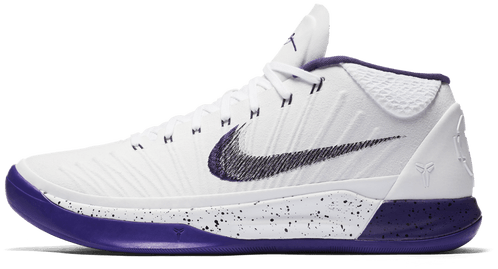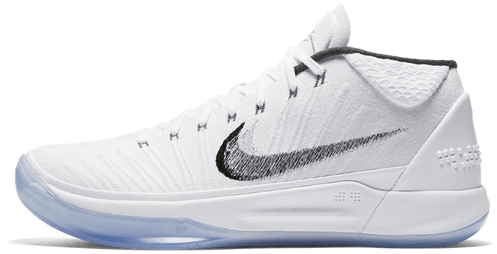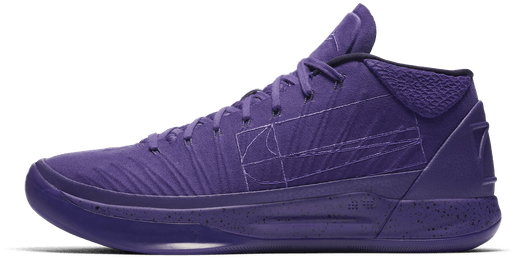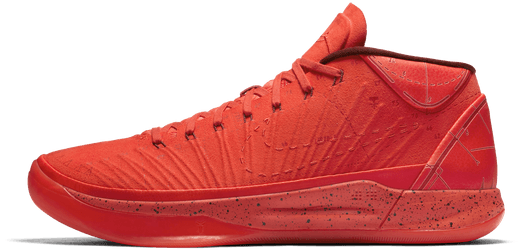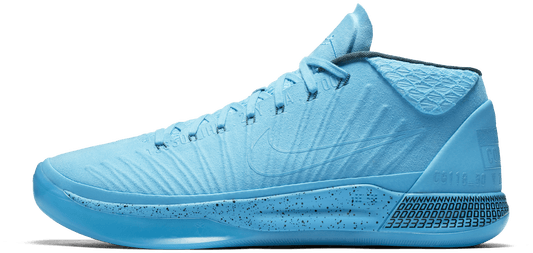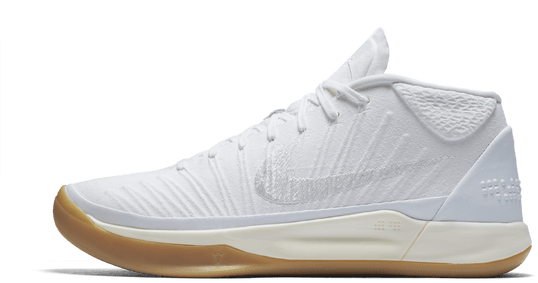 Nike Kobe AD Mid Review
Cons:
Stiff suede upper material
Performance of the Nike Kobe AD Mid:
The narrow (and very squeaky) traction pattern of the Kobe AD Mid performs amazingly on clean courts but has slight issues on dust courts. Outdoor use is not recommended as the rubber is very soft and will wear off quickly. The full-length lunarlon cushioning setup with an Air Zoom unit in the heel is universally liked by reviewers. The colorways with synthetic suede upper have very poor ventilation and the material needs a little while to lose its initial stiffness. Overall, the Kobe AD Mid is a solid performer, but at $150, there are better performance options out there.
See all 9 reviews
Expert Reviews of the Nike Kobe AD Mid:
Overall, the Kobe AD Mid is a solid performer with phenomenal traction, nice cushioning and solid support. The suede material is a little too stiff for my liking, but hopefully, future releases with a Jacquard or Flyknit upper will fix this issue.
I think the Kobe AD Mid is the best Kobe shoe out right now! Better than the NXT or the regular AD.
The Kobe AD is an amazing performer but I just wish they had used a different upper material.
I think the Kobe AD Mid is an excellent all-around performer on the court. Not surprisingly, it's one of my top five for the year due to its great overall performance.
The Kobe AD Mid is a beautiful and comfortable shoe that unfortunately suffers from bad ventilation and a small amount of heel slippage. Otherwise, I really like this shoe!
This shoe feels very different than any other Kobe shoe I ever played in. It provides less responsiveness and court feel than other Kobes. It seems like after his retirement, Kobe wants a little more cushioning and a more "old school" vibe from his shoes.
This is a very well performing shoe but there are no standout features. Great pickup for Kobe fans, but there are cheaper shoes that perform just as well.
The shoe plays and performs really well. Traction was awesome and the cushion was solid — especially for guards. Ventilation and material quality are where the Kobe AD Mid's could improve.
The Kobe AD Mid is a beautiful shoe. The only real complaint I have is with the lacing system digging into my foot.
User Reviews of the Nike Kobe AD Mid:
Traction was good and cushion was good, but it bottomed out quickly and hurt my feet on heavier impacts. The materials are really stiff and thick, and they gave me blisters. The ankle support was also really bad. If you're gonna buy Kobe's, get a nicer pair, not these.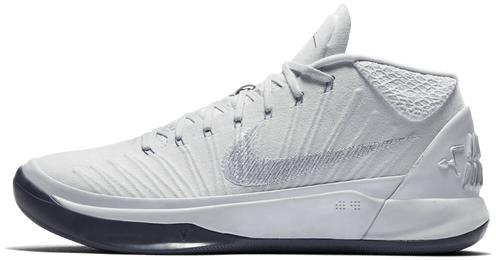 User didn't add a summary.
User didn't add a summary.
Traction of the Nike Kobe AD Mid:
Traction is super squeaky. On these, that is a good thing! On dusty courts, the traction pattern is not ideal.
The traction pattern is excellent!
The traction is excellent and just outside the elite group.
This traction is beastly!
On a clean court, the traction is superb, but the traction pattern collects a lot of dust.
The traction pattern is pretty tight and picks up a lot of dust. After a significant break-in period, the traction got the job done.
Traction was designed to be a beast and that it was!
Cushion of the Nike Kobe AD Mid:
I really like the Lunarlon in the front and Zoom Air in the heel setup.
I am a big fan of the Lunarlon cushioning. Great balance between impact protection and court feel.
Full-length Lunarlon with Zoom in the heel gets the job done. Decent impact protection and good court feel.
The Lunarlon in the ADM feels great from heel to toe with a nice Zoom bag in the heel and provides a nice balance of court feel, impact protection, and bounce.
The cushioning setup feels really nice!
Full-length lunarlon feels super nice. Good impact protection but a little less court feel than what we are used to from the Kobe line.
The cushioning setup is very well balanced and should work for all types of players.
The midsole is Lunarlon and the heel features a large volume Zoom Air unit. You will not be disappointed with this setup.
The impact protection in the heel was excellent, and some very nice Lunarlon cushioned the rest of the foot.
Materials of the Nike Kobe AD Mid:
The synthetic suede upper is pretty stiff and doesn't feel as nice as a Flyknit or Jacquard.
The materials feel cheap, the tongue could have used more padding and the ventilation is pretty bad.
The materials Nike chose just look and feel unfinished.
The mesh materials feel like Nubuck which is nice, but the breathability is pretty horrible.
The material is very firm in the beginning but becomes comfortable pretty quickly.
Fit and comfort of the materials are above average, but ventilation and durability are horrible.
For a $150 shoe, a $150 signature shoe at that, the materials used should have been much nicer.
I think Nike could have done better in this category. Ventilation is bad - this material is like a sauna.
Support of the Nike Kobe AD Mid:
Support and lockdown are solid.
No heel slippage or side-to-side movement. External heel counter and interior heel padding lock you in like crazy.
Stability and support are excellent with a flat outsole and large outrigger.
The support wasn't as good as I hoped it to be as I experienced some heel slippage.
Firm upper, great lateral containment, very nice outrigger that provides a lot of stability.
Flat base, internal heel cup, and external outrigger provide great support.
The Kobe AD Mid uses the traditional heel counter and lateral outrigger that we've all come to know and love.
A broad base with a small outrigger keep your foot from rolling and an internal heel counter holds your foot in place.
Fit of the Nike Kobe AD Mid:
There was some back-to-front slipping in the shoe because I couldn't tie it tight enough.
The overall fit is a strong point of this shoe.
I had no movement side to side and no heel slip from the get-go.
I had a little too much dead space in the toe area, other than that the fit was okay.
Forefoot and midfoot fit are perfect, but the heel feels too small. The tongue should have used more padding,
Once you get your size down I don't think you'll have any real issues.
Lockdown was solid. However, the lacing system is too tight and caused me some discomfort.
Durability of the Nike Kobe AD Mid:
Outdoor of the Nike Kobe AD Mid:
Outdoor use is not recommended because the rubber is super soft.
Outdoor use is not recommended if you want traction that lasts because the rubber is pretty soft.
Don't waste your time or money playing outside in these.
Width of the Nike Kobe AD Mid:
A little narrow on the lateral side.
The Kobe AD Mid is pretty narrow.
Wide footers can go up half a size but expect some extra length.
Wide footers, y'all definitely need to go up a 1/2 a size.
Size of the Nike Kobe AD Mid:
Snug in the beginning but the Kobe AD Mid fits true to size.
Runs true to size, but wide-footers may need to go up a size.
The Kobe AD Mid runs true to size
The Kobe AD Mid fits snug. I went true to size, but it wouldn't have hurt if I went a 1/2 size up.