Nike PG 4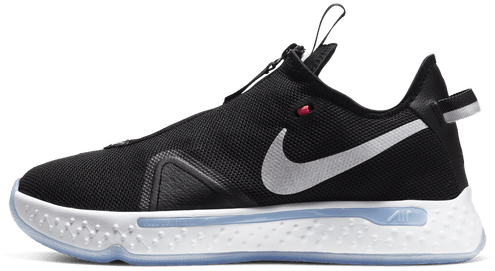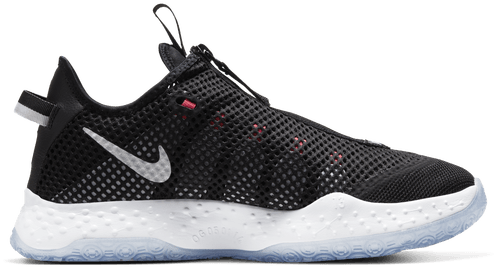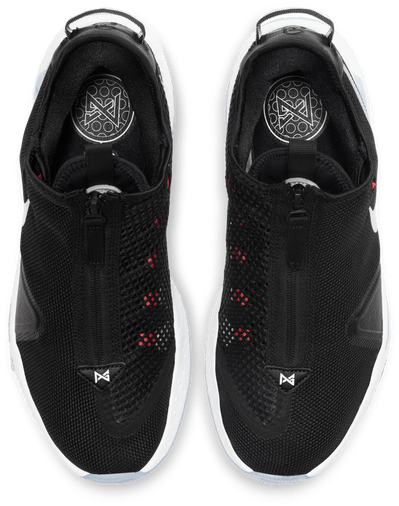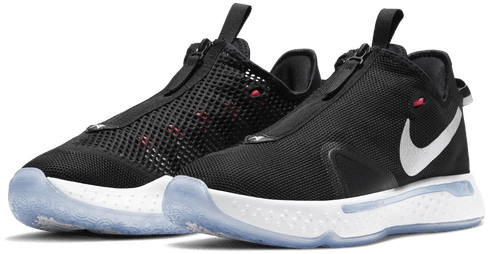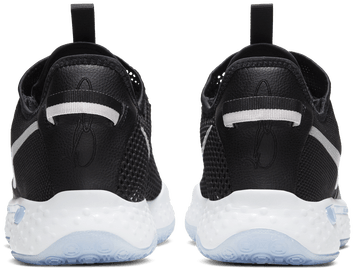 Paul George's 4th signature sneaker is one of the most affordable signature sneakers
Best Suitable For:
Super comfortable and well-cushioned basketball shoes
Price Comparison:
Available at 3 shops | Official Retail Price: $109.99
Category Performance Ratings:
Comparison to Similar Shoes: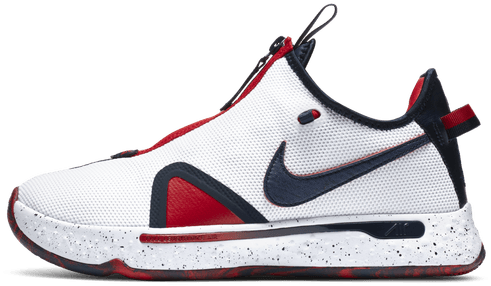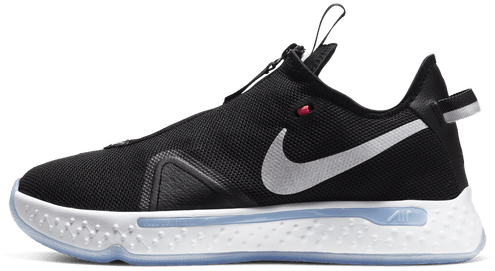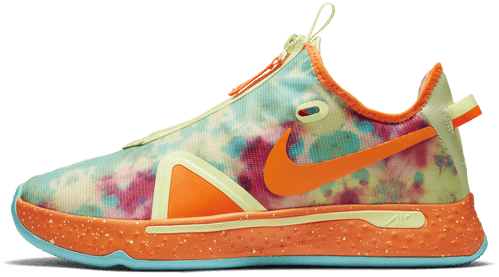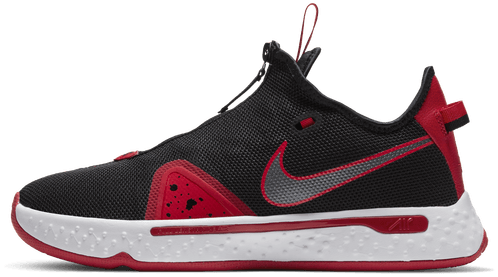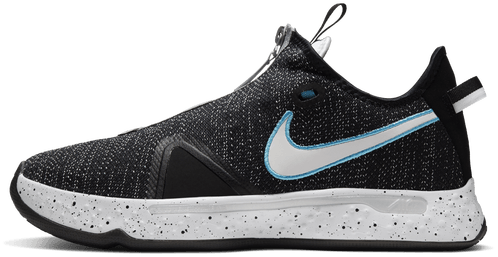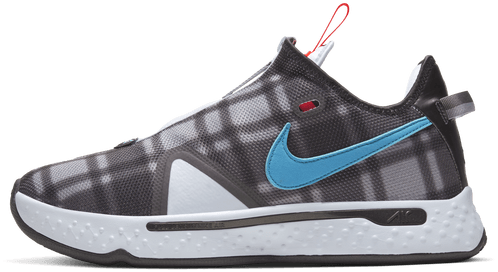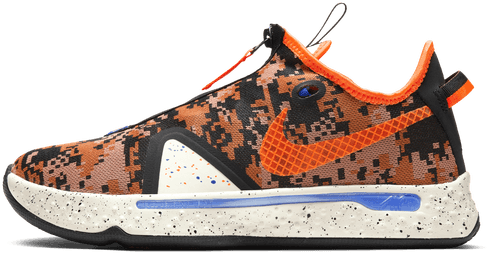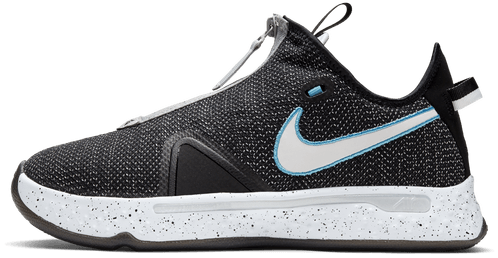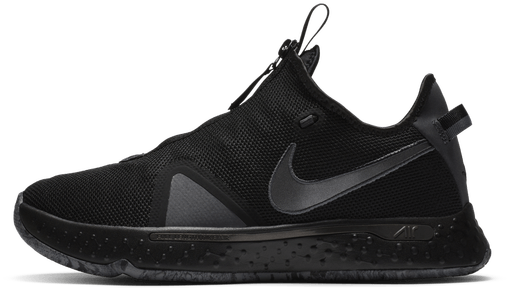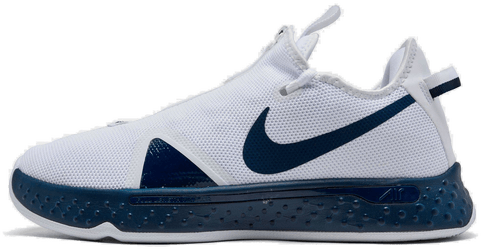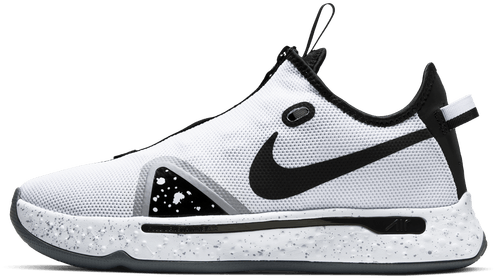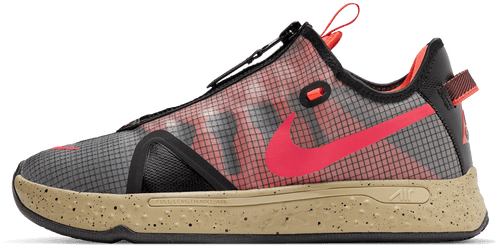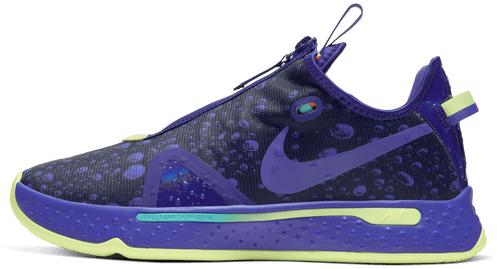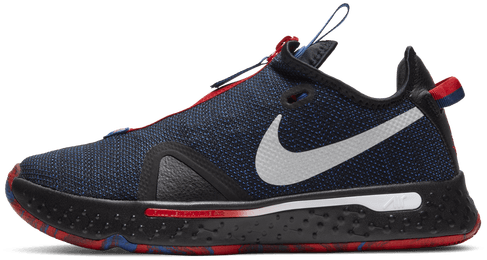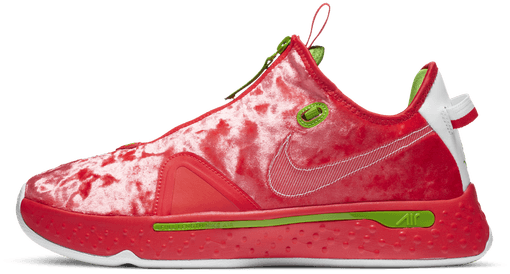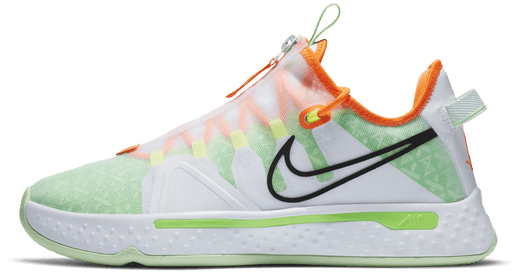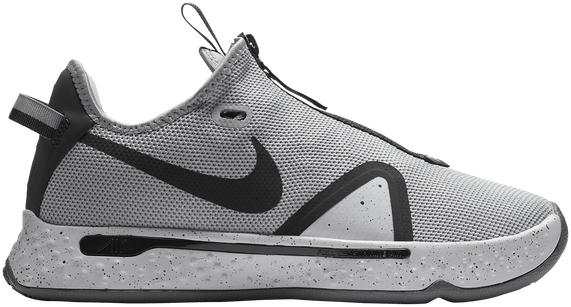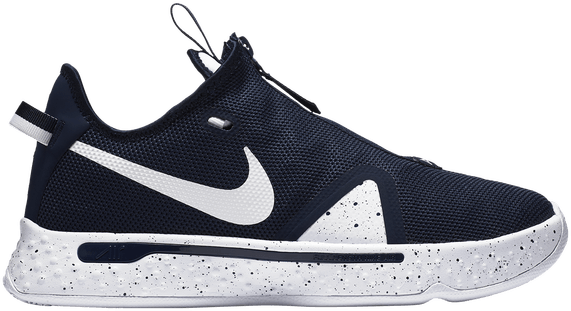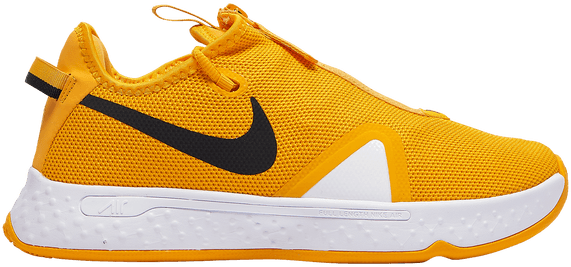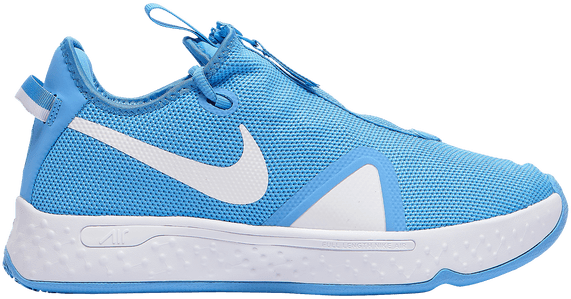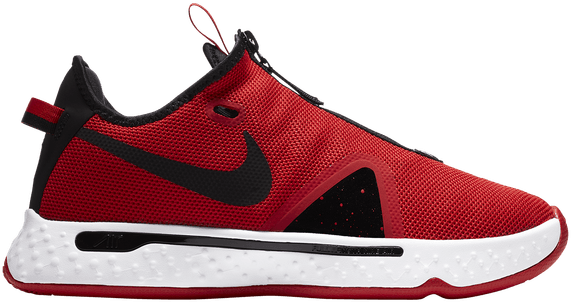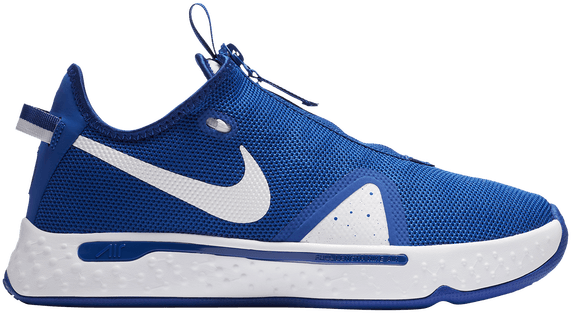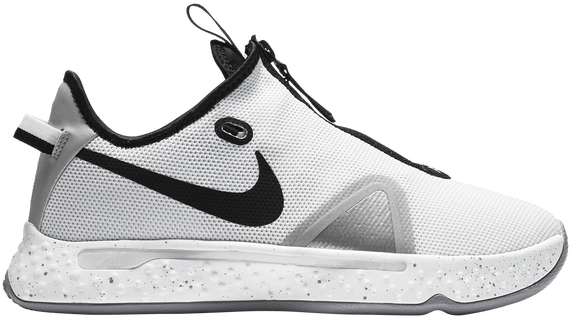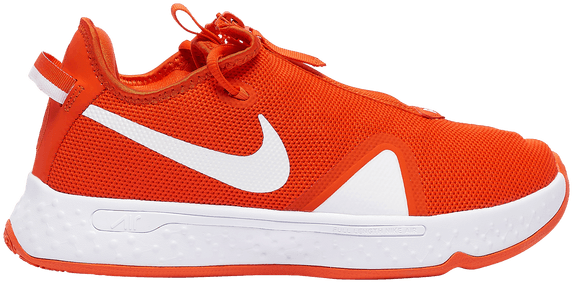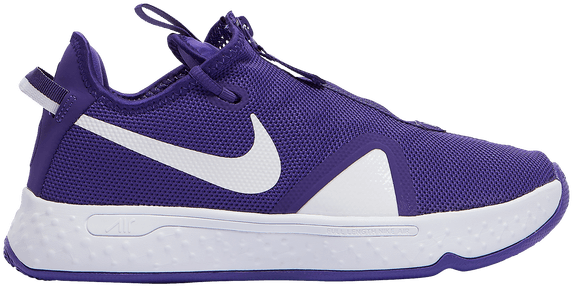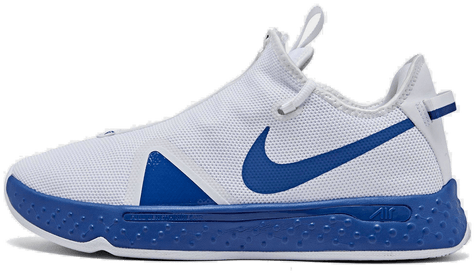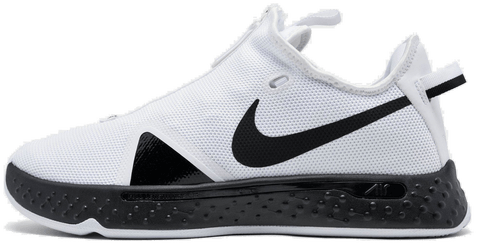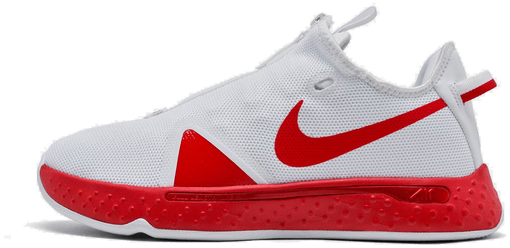 Nike PG 4 Review
Pros:
Super comfortable cushioning
Affordable signature sneaker
Cons:
Lateral support could be better
Performance of the Nike PG 4:
The 4th edition of Paul George's signature sneaker changes things up a little. A Nike Air strobel board that sits directly under your feet replaces the Nike Zoom Air cushioning. This setup gives you a softer and super comfortable, cloud-like feeling. The circular traction pattern works well in all directions and keeps performing solidly even on dusty courts. The biggest weaknesses of the PG4 are the support and lockdown: most critics reported sliding out off the footbed on sharp lateral cuts and some experienced mild heel slippage. Overall, the PG4 is a solid performer that works best for lighter players who don't rely on explosive lateral cuts.
See all 6 reviews
Expert Reviews of the Nike PG 4:
I love the performance of the PG4. This is one of my favorite shoes to play in right now! Probably the most comfortable basketball shoe you can get right now.
The cushioning is perfect, the traction is beastly, and material, fit, and support are all above-average. If you need new shoes, I recommend the PG4!
Overall, the Nike PG 4 was very solid, but not as well rounded as I would have liked. The cushion is super comfortable but the containment and support are lacking a little.
The PG4 is a good solid shoe with no major flaws at a fair price, but it isn't something that I'd say wow, I want to hoop in these today.
Traction and cushioning are really good but materials and especially support are a little disappointing.
For $110, this is a really good shoe. I like the traction, the cushioning is amazing, and for a signature sneaker, the PG4 is super affordable!
User Reviews of the Nike PG 4: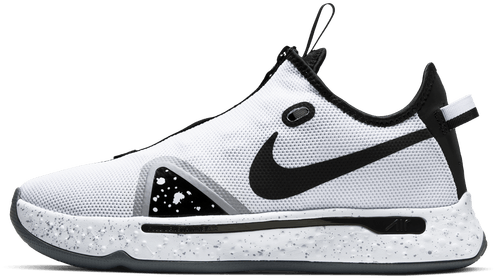 I've played with this shoe for a couple of months now and I can say they're a great affordable option. Traction is great on clean courts but they do slip a bit on dusty surfaces. The cushion is definitely the best part of these shoes, it's everything you could ever ask for. The only small weakness I could find were the materials, not that premium, but expected given the price. Outdoor use is fine with these, they are gonna get damaged over time but not destroyed. Overall, I recommend them a lot.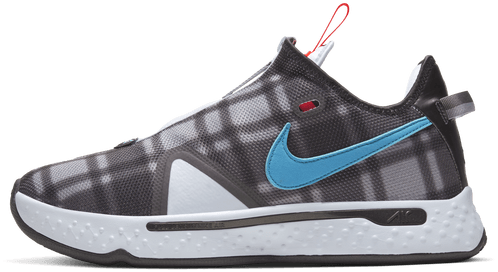 The Nike PG 4 was an amazing shoe! It is great for guards and forwards. It is an all-around shoe that has a bit of everything for everyone. The traction was pretty solid, but durability was a big issue. Do not use these outdoors. The cushion was absolutely amazing and it was very very soft! The support was okay with enough lateral coverage. The material was a little cheap, but it wasn't too bad for the cheap price tag. This shoe was one of my favourites, and it is an amazing shoe for its price.
I got my PG4s of the normal size I wear for basketball shoes(1 size bigger than my exact size) from StockX but it's kinda tight on my foot. So I would highly recommend you to get at least 1.5 size bigger than your precise size of your everyday shoes It is so an amazing indoor-basketball-shoes in all aspects but if you think you will wear them for outside, even just sometimes, I would urge you to change your mind. Overall, it's highly recommended great shoes for indoor, when you have right size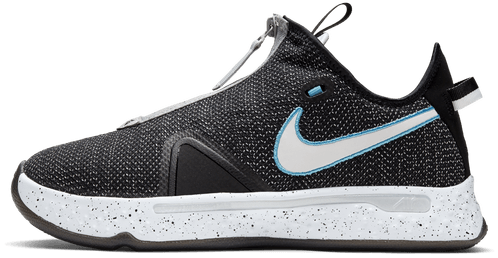 Amazing Shoe, probably the best cushioning I've ever had. However, order 1/2 size up (heel cushioning pushes foot up) The outsole isn't very grippy, but very durable despite soft rubber. I used it outside almost every day for 2 1/2 yrs, but it held up, with only a little wear and tear. If it gets dirty, is washable, so can be used for other activities. Great shoe, with great durability, cushioning, and price (if still available). Solid 9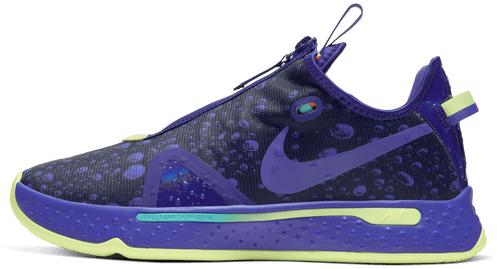 If there was a dream hoop shoe for me, it would be the PG 4. The traction is so dang amazing on both colorways I have (which is the Gatorade and USA). Cushion is goated for me in my opinion. We have plenty of impact protection in that cushion, also it is SUPPERR comfortable. Support Works very well too. I didn't have no issues with my feet in these. Overall, this is the best basketball shoe I've worn in my opinion.
Traction of the Nike PG 4:
The circle traction pattern doesn't seem very durable but works really well on clean courts. On dusty courts, you will need to wipe from time to time but the traction still performed very well.
Even though I played on dusty courts, the traction held up very well! Close to being a 10/10 traction.
Traction was reliable and consistent, even on the dirtiest courts.
The PG4 traction pattern performed well, but I thought the PG2 and PG3 were a little bit sharper.
The traction is pretty solid giving you grip in all directions. The translucent parts of the outsole felt a little more slippy and you will have to wipe from time to time.
The traction is really good on clean courts and still performs well on dirtier courts. Probably just below the top tier when it comes to traction.
Cushion of the Nike PG 4:
The Nike Air strobel brings the comfort level of this shoe to the maximum. The cushioning is super soft, but therefore, less responsive than the cushioning in the PG3. This is probably my favorite cushioning setup of all time!!
The full-length Air Strobel feels like pillows under your feet. It's comfortable, responsive, and I loved the impact protection. Perfection!
The full-length Nike Air cushioning feels soft and pillowy under foot.
The Airsole unit combined and soft foam feel comfortable but don't have the spring of Zoom. It works fine and my feet never hurt, but I enjoy a little bit firmer setup more.
The cushioning is madly comfortable! The full-length Air is super soft and plush.
The Air strobel unit is very plush and comfortable. You don't get the springy feeling you would get from a Zoom unit, but this cushioning setup is super soft and comfortable.
Materials of the Nike PG 4:
The materials are soft, thin, and ventilated. On-foot the materials feel fine, but they look a little cheap.
The Mesh shroud and internal nylon bootie construction hug your feet and are really comfortable. The breathability could be a little better overall.
Materials are pretty standard for today's modern textile/knit builds.
It's mesh and synthetics and it works fine. No pinching Or anything
The quality of the synthetic and Mesh materials feels a little subpar. However, they are thin, flexible, and breathable and get the job done.
The upper is made from Mesh which doesn't feel great to the touch but it gets the job done.
Support of the Nike PG 4:
I didn't have any issues with lateral moves even though the upper isn't super strong and there is almost no outrigger.
For a low-top, the containment is really good. The outrigger gives you lateral stability and the heel is locked in nicely too.
The shoe feels soft overall and doesn't provide as much torsional or lateral support as the previous PG models.
A very solid and wide base gives you plenty of support and stability.
The support and lockdown are below average: your feet are not contained well enough on lateral cuts and there is a little bit of heel slippage.
The support is the weakest part of the PG4. You can feel your foot slightly moving of the footbed on lateral cuts. I would recommend playing with the shroud zipped up as it improves support noticeably.
Fit of the Nike PG 4:
The fit holds you tightly in-place and feels super comfortable.
After the break-in period, the PG4 fit comfortably but a little too sloppy for my liking.
There is no movement inside the shoe or any heel slip thanks to a nice amount of padding.
A very plush and comfortable fit.
I didn't feel any pinching pain and the fit of the one-bootie upper was almost 1:1.
Durability of the Nike PG 4:
Outdoor of the Nike PG 4:
Outdoor use is not recommended as the rubber is super soft.
The traction was solid playing outdoors.
Width of the Nike PG 4:
If you go true to size the shoe feels really narrow and is hard to get on.
The insole is super thick and there's not a lot of room in the toe area.
The materials loosen up over time.
Size of the Nike PG 4:
I went true to size, but the fit is really short. I would suggest going up half a size.
We recommend going up half a size.
They run 1/2 size short lengthwise.
Go up at least half a size as these run small.
I went up half a size and I was perfectly fine as a slightly wide footer.